5 Most Important Free-Agent Targets for New York Giants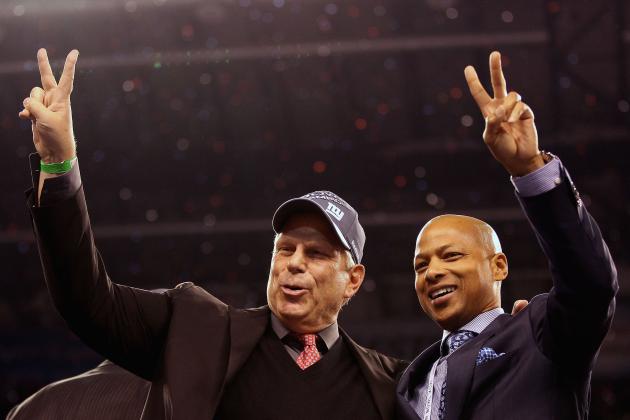 Ezra Shaw/Getty Images

As the NFL offseason continues, the New York Giants have yet to really make any big moves. They placed the franchise tag on punter Steve Weatherford, but let Mario Manningham sign with the 49ers and Aaron Ross go to the Jaguars.
Nonetheless, almost all of the defending Super Bowl champions will remain with the team next season.
Although the Giants did win the Super Bowl last season in impressive fashion, they do have some gaping holes in their lineup. After recently releasing Brandon Jacobs, the Giants will need at least one more running back to compliment Ahmad Bradshaw—especially due to Bradshaw's recent history with injuries.
The Giants also have a need to bolster their offensive line, with aging right tackle Kareem McKenzie very unlikely to return. And of course, with the loss of Manningham, the Giants could always use a dependable third wide receiver alongside Victor Cruz and Hakeem Nicks.
On the defensive side, the Giants' biggest need is middle linebacker.
The Giants' defensive line has led the defense for years, but ever since Antonio Pierce retired, the Giants have struggled to find a leader at middle linebacker. Now would be a good time to either sign a dependable veteran to fill the role for a year or two, or to draft a really good linebacker in the first round of the upcoming NFL Draft.
With Ross no longer on the team, the Giants could also use more depth within their secondary.
Giants' general manager Jerry Reese plans on signing some free agents in the coming days, so it will be interesting to see how this will unfold. With tat being said, in no particular order, here are five players that the Giants should definitely target in the free agency period.
Begin Slideshow

»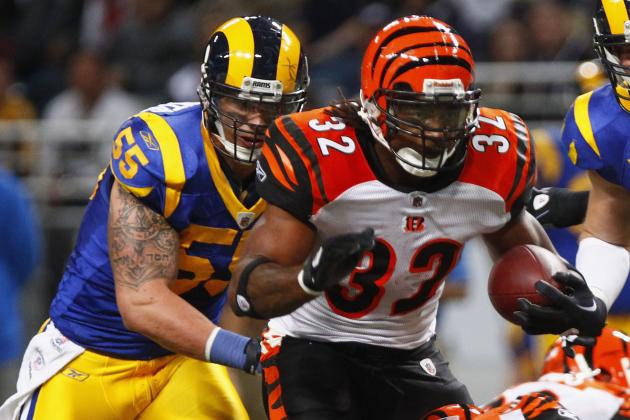 Whitney Curtis/Getty Images

With Brandon Jacobs recently getting released, the Giants need a new power running back to compliment Ahmad Bradshaw, and someone that isn't likely to ask for a large contract. The veteran running back Cedric Benson could be the Giants' answer to that.
As a member of the Bengals, Benson rushed for over 1,000 yards in each of the past three seasons. He has also averaged almost four yards a carry over that period. Furthermore, he has been healthy in the past three seasons, and hopefully, his legal troubles are behind him for good.
A possible running duo of Bradshaw and Benson could be very successful for the Giants in the 2012 season.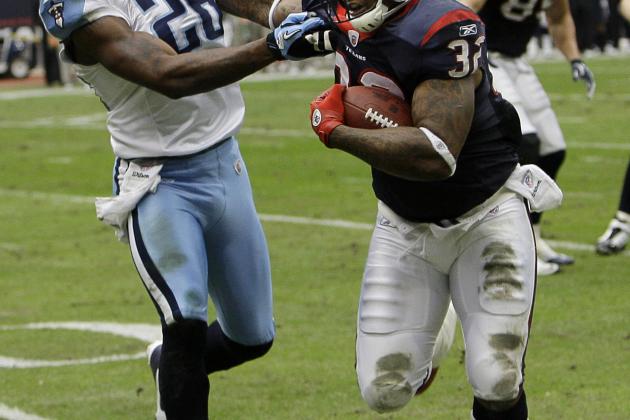 Bob Levey/Getty Images

Remember when the trio of Ahmad Bradshaw, Brandon Jacobs and Derrick Ward was considered one of the best in the NFL in 2008?
With Jacobs' recent release, could the Giants and Ward become reunited this season? It could definitely be possible.
Although Ward has not lived up to his potential ever since leaving the Giants, he is familiar with the Giants' offensive system and the coaches he worked with as a Giant are pretty much all there today. A transition back to the Giants would not be a problem at all for Ward.
The Giants have seen Ward be a productive running back, mainly due to his 1,025 rushing yard season in 2008. The Giants, however, would have to determine whether Ward is still the same player or if he has deteriorated since then.
All in all, if the Giants end up having trouble signing a solid running back at a low cost, Ward should definitely become a fallback option.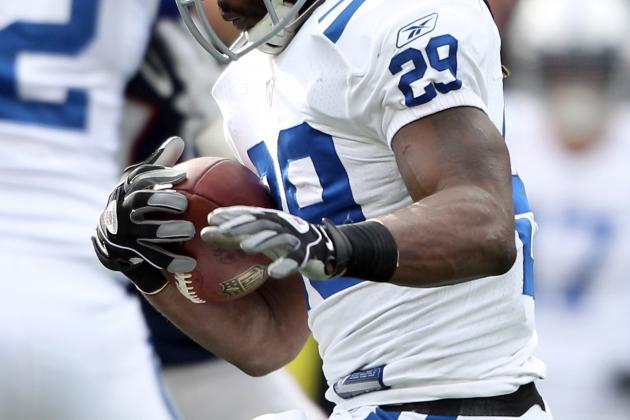 Elsa/Getty Images

Another fallback option at running back for the Giants could be former Colt, Joseph Addai.
Addai got released from the Indianapolis Colts on March 9. It was no coincidence that this was in light of the worst season of his career—he only rushed for 433 yards and one touchdown.
Then again, the Colts ended up being the NFL's worst team last season.
Addai has proven in the past that he can be a solid running back. He rushed for over 1,000 yards in each of his first two seasons and helped the Colts win the Super Bowl in February 2007. However, there may be some concern over his performance within the past two seasons.
Nonetheless, if it comes down to it, the Giants should take a chance on Addai, who has every reason to try and have a bounce-back season in 2012. It would definitely be a high-risk, high-reward situation, but if it all works out, it could pay off for the Giants going forward.
Furthermore, due to his poor 2011 performance, Addai will come very cheaply, which would definitely work for the Giants, who do not have that much salary cap space.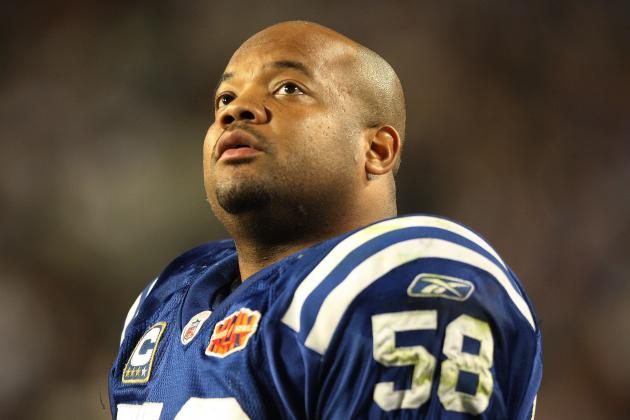 Donald Miralle/Getty Images

One other former Colt who could be a good fit with the Giants is veteran middle linebacker Gary Brackett.
Like Addai, Brackett was released from the Colts on March 9. From 2005-2010, he became one of the more dependable middle linebackers in football. He averaged over 90 total tackles a season during that span.
He was another member of the 2007 Super Bowl Champion Colts.
The Giants might work on their middle linebacker hole through the upcoming NFL Draft, and it would be surprising if they did not use at least one of their first or second-round picks on a linebacker. If the Giants have other needs they plan on fulfilling during the draft, they will need to sign a veteran middle linebacker with leadership experience, and at a relatively cheap cost.
Brackett would definitely fit the bill in that scenario.
Brackett is 31 now, and his age could play a very big role in where he lands his next job, but among veteran middle linebackers in the current free-agent market, he is still one of the best available. Under the right scenario, the Giants should try to sign him.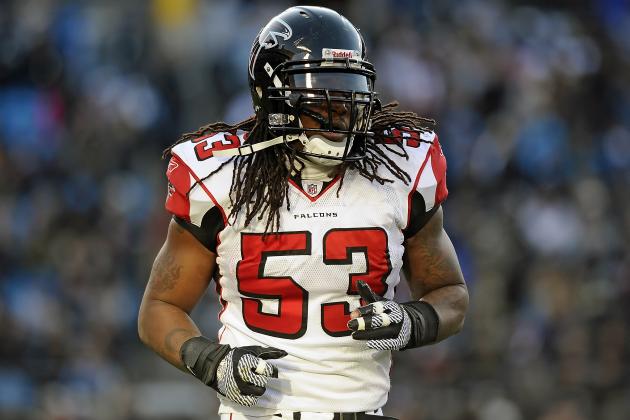 Jared C. Tilton/Getty Images

A second veteran linebacker that the Giants could look at it would be former Falcon Mike Peterson.
Peterson is 35 years old now and did not even start every game for the Falcons in 2011, but the Giants could always use someone like him to improve their depth at the position. He could be a great mentor for some of the Giants' younger linebackers.
Of course, this would all depend on whether the Giants decide to draft a linebacker early in the upcoming draft.
If they choose to do so, a need for someone like Peterson would significantly decrease. But if not, Peterson could fit well as a veteran presence on a young team. He definitely will not be asking for much money, which also works with what the Giants are trying to do.
The market for an aging veteran like Peterson should not be too big, but under the right circumstances, he could fit well with the Giants as either a starter or a backup that would help mentor the younger linebackers.
If the situation arises, the Giants should take a chance on Peterson, especially because they would not have much to lose.