Apoel Nicosia vs Real Madrid: 3 Keys to a Real Madrid Victory
March 27, 2012

Denis Doyle/Getty Images
Today, Real Madrid will play the first leg of their Champions League quarter-final match against APOEL Nicosia. 
The Spanish giants traveled to Cyprus for the front-end of the two-leg tie. 
With a potential Champions League final between Real Madrid and rival Barcelona, Real must first get through the quarterfinals.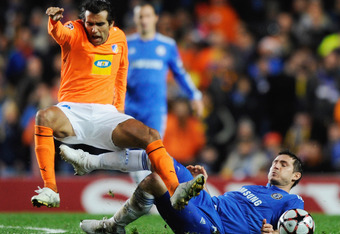 Jamie McDonald/Getty Images
Keep APOEL Nicosia scoreless
It should not be very difficult to keep APOEL Nicosia out of the back of the net. 
Of the remaining teams left in the Champions League, APOEL's seven goals in the tournament are the fewest. 
In the past 15 competitions for APOEL, Ivan Trickovski has gone scoreless.  Trickovski is one of the main attacking options for the club.
Gustavo Manduca will miss out on the first leg as he will be serving suspension.  There are also a number of players who will need to be careful throughout the game.  Trickovski, Marcelo Oliveira, Nektarios Alexandrou, Paulo Jorge and Esteban Solari will earn a suspension for the second leg if they receive a yellow card in the first leg. 
Because of that, APOEL may play a more conservative game, rather than an aggressive and physical match. 
On top of having the lowest goal total of all remaining teams in the competition, Real Madrid has allowed the fewest goals. 
This is not much of a surprise as the team features one of the best goalkeepers in the world, in Spanish national team captain Iker Casillas, as well as fellow Spanish defender, Sergio Ramos and Brazilian left back, Marcelo.   
Having only conceded four goals in this season's competition, it would be no surprise if Real held APOEL scoreless in both legs of the quarter-finals.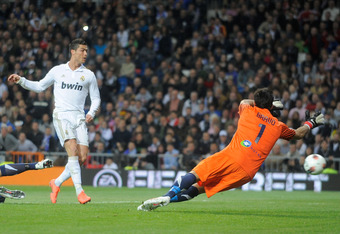 Denis Doyle/Getty Images
Score goals
Real has had no trouble scoring goals lately. 
In their past 38 matches in all competitions, Real has scored at least one goal in each match. 
In each of their eight Champions League matches this season, they have averaged three goals per game.  The club is coming off a big 4-1 victory against CSKA Moscow on March 14 in the Round of 16. 
Portuguese international Cristiano Ronaldo, German international Mesut Ozil and French international Karim Benzema give Real a potent attack that should give APOEL trouble throughout the entire game, even without midfielder Xabi Alonso, who is out due to suspension.    
Ronaldo has scored one goal in each of his six starts in Champions League matches this season, and Benzema has netted five in eight appearances.  While Ozil has only scored five goals this campaign in all competitions (including two international appearances with the German national team), he is still a world-class player that is capable of being a huge offensive threat.
Do not overlook APOEL
APOEL is probably the weakest team left in the competition and Real is perhaps the strongest.  However, Real cannot afford to overlook the minnows from Cyprus.
Manager Jose Mourinho said his side are the obvious favorites, but added that he is not expecting APOEL to roll over and allow the Spanish giants to walk all over them. 
"Of course, we will try to win, but my feelings are that it will be a tough game and that everything will be decided at the Bernabeu."
Becoming the first Cyprus side to reach the quarter-finals of the Champions League, APOEL has been had a historic run in this season's competition.  That run may come to an end as they have not faced a squad like Real Madrid.