2012 Mock NFL Draft | Mock Draft 2.0
March 27, 2012

Joe Robbins/Getty Images
We did our first 2012 NFL Mock Draft about three and a half weeks ago, and there has been a lot of action since then. We saw the NFL combine take place, as well as a wild couple of days of free agency.
Some teams have filled their biggest needs via free agency, and several player's stocks have elevated or plummeted based on their showing at the combine. Based on what has happened, we are tweaking our NFL Mock  Draft. Lets take a look at our draft 2.0.   
1. Indianapolis Colts: Andrew Luck/QB/Stanford- Luck became the number 1 pick in the 2012 draft the moment he announced that he was returning to school for his senior season. He is the only slam dunk, sure-fire pick in this year's draft. The only question now is whether or not he will live up to the legacy of Peyton Manning.
2. Washington Redskins:Robert Griffin III/QB/Baylor- The Skins gave up a number 6 pick, a second round pick this year, and the 2013 and 2014 first round picks to get RG3. I must say that I am very high on Mr. Griffin and I believe that he can make all the NFL throws and is the real deal. It is hard to say at this moment whether or not Washington gave up too much to get him, and only time will tell. In giving up that much though, Daniel Snyder absolutely has to be right on this one.
Discuss this pick with others in our brand new ***NFL Draft Forum***
3. Minnesota Vikings:Matt Kalil/OT/USC- Kalil is a very athletic left tackle who can give the Vikings years of stability, and someone who they can build their offense around. He led a USC line that produced 456.8 yards of offense a game, and allowed a national best 0.67 sacks per game. He's one of the safest picks in the draft, as his speed and agility at the combine were unbelievable.
4 Cleveland Browns: Trent Richardson/RB/Alabama- I have heard a lot of talk about how NFL teams are not valuing running backs as highly as in years past because of the emphasis on passing in the NFL. A lot of clubs are gun-shy about drafting running backs in the top 10 but I think this is a great spot for the Browns and I believe that like Adrian Peterson, Richardson will make teams pay if they overlook him.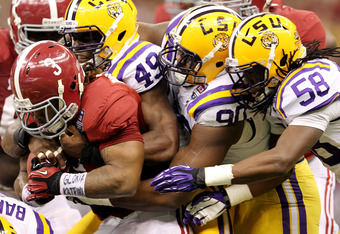 Andy Lyons/Getty Images
5. Tampa Bay Buccaneers: Morris Claiborne/CB/LSU- Claiborne was overshadowed all year by another member of the LSU secondary, The Honey Badger. But make no mistake about it, Clairborne was not only the best defensive back on his team, but was the best corner in the nation. He would be a great addition to a defense that allowed 38,41,31,48 and 45 points in the season's last 5 weeks. Saying that Ronde Barber is getting a little long in the tooth is a huge understatement.
6. St Louis Rams: Justin Blackmon/WR/Oklahoma St.- Blackmon is 6'1 and 215 pounds of pure beast. The Rams need a big time target for Sam Bradford and would be foolish to pass him up. He has tremendous hands and plays bigger than he is. I have heard skeptics talk about his lack of speed, but hopefully the Rams will ignore that nonsense.
7. Jacksonville Jaguars: Quinton Coples/DE/North Carolina- Coples played more at defensive tackle than he did at end for the Tar Heels, but he is a natural defensive end, and better suited for that position at the pro level. Coples is 6'6″, 285 pounds with tremendous length. Look for the Jags to use their pick to return stability to their defense.
8. Miami Dolphins: Riley Reiff/OT/Iowa- Reiff is big and strong, with great length, and excellent blocking fundamentals. He also has very quick feet and great balance. Reiff is very strong at the point of attack, and his awareness is sky-high. If not taken sooner, the Dolphins should gobble him up.
9. Carolina Panthers: Dontari Poe/DT/Memphis- I know this is extremely high considering I didn't even have him in the first round of our original mock draft, but his combine floored me. I initially had Carolina taking Michael Brockers, but he had a terrible combine. As for Poe, a man his size (6'4", 346 lbs) is not supposed to be able to move like that (4.98 40). He also racked up an absurd 44 reps of 225 on the bench. He has the ability to play in the 4-3 or 3-4 defense. Poe is an absolute freak of nature and I think that Carolina will take a chance.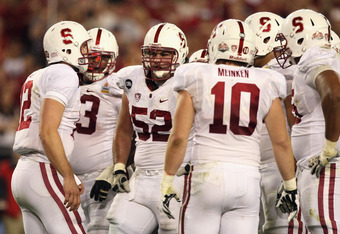 Donald Miralle/Getty Images
10. Buffalo Bills: Melvin Ingram/DE/South Carolina- The Bills need a front 7 player that can make an immediate difference. Ingram may be that player. He has a great first step and has a bevy of rush moves. He is also very versatile, having played outside backer, defensive tackle, and defensive end in college.
11. Kansas City Chiefs: Jonathon Martin/OT/Stanford- Martin is an elite run blocker with a high football I.Q and very good speed for a tackle, which allows him to do a lot of pulling. He is 6'6, 300 lbs and has the athleticism to play at the next level.
12. Seattle Seahawks: Ryan Tannehill/QB/Texas A&M-  Tannehill is another guy that I did not have in the first round in my initial mock draft. The Hawks recently signed Matt Moore, but might want to grab an insurance policy in Tannehill at number 12. He will be the best quarterback left on the board and has impressed scouts with his strong arm and intelligence. I think the Hawks will go with their quarterback of the future.
13. Arizona Cardinals: David Decastro/G/Stanford-Decastro is hands down the best guard in this year's draft. Decastro is an offensive line coach's dream. He is extremely smart and his fundamentals are second to none. According to one scouting report, Decastro is a "master of pulling and trapping". He should be able to start right away.
14. Dallas Cowboys:  Janoris Jenkins/CB/North Alabama-The Cowboys are sure to take a corner in the first round this year, after the secondary underachieved (and in some instances were flat out terrible) last year. I believe Jenkins is the second best corner in the draft, as he has elite quickness and reaction time. He is a great cover corner and could become a "shut down" type.
15. Philadelphia Eagles: Luke Keuchly/ILB/Boston College- Keuchly is a freakishly strong kid with tremendous instincts and a nose for the ball. He is a great tackler (something the Eagles need), can get off blocks and has great closing speed. He should help out a linebacking unit that had serious issues last year.
Discuss this pick with others in our brand new ***NFL Draft Forum***
16. New York Jets: Courtney Upshaw/DE/Alabama- One of the main things that kept the Jet's defense from being elite was their inability to rush the passer. Drafting Upshaw should help as he can play multiple positions and plays well out of a 2-point and 3-point stance, making him a perfect fit for the Jets 3-4 defense. Upshaw has great lateral agility and is very stout against the run.
17. Cincinnati Bengals: Dre Kirkpatrick/CB/Alabama- Look for Upshaw's teammate, Dre Kirkpatrck,  to go next to the Bengals. The Bengals found two future stars (AJ Green and Andy Dalton) in last year's draft. This year, expect Cincy to go defense with their first pick. Kirkpatrick has great size (6'2), athleticism, and speed (4.5 40), with very good corner instincts and ability against the run.
18. San Diego Chargers: Nick Perry/DE/USC- Perry is another player who can play either defensive end or outside backer, depending on the defensive formation. He has tremendous speed coming off of the edge, and is a superior athlete. Perry is strong for his size, has very good feet, and possibly has the best swim move out of all of the college defensive lineman.
19. Chicago Bears: Michael Floyd/WR/Notre Dame- I have seen a lot of Michael Floyd during his college career, and I can tell you that he is the real deal. He has great size at 6'2" and uses his body well to post up defenders. He has excellent hands and comes up huge in big games. I have heard talk that Floyd is not fast enough and that he has no breakaway speed. Take it from me—I've seen it first hand more than a few times.
20. Tennessee Titans: Whitney Mercilus/DE/Illinois- Mercilus elevated his game in his senior year at Illinois and sky-rocketed his way right into the first round after being named a finalist for the Nagurski award. He had a very nice combine, posting a 4.68 40 time, 27 reps on the bench, and a 32 inch vertical jump. He has long arms, can create problems with blockers, and has great athletic ability. The kid's motor is always running on high and he always gives his best effort. This looks to be a good fit for Tennessee.
21. Cincinnati Bengals: Gordy Glenn/OG/Georgia- Glenn is an excellent run blocker because of his quick feet, and has the ability to move well laterally. What sets Glenn apart from other guards is his speed. The kid is an ox, and can open up some holes in the running game. He is a raw, physical talent, good enough for the Bengals to take him with their second pick of the first round.
22. Cleveland Browns: Mike Adams/OT/Ohio State- I like this kid a lot, and Cleveland can get a steal if he his still on the board at 22. (It is possible that the Cardinals, Chargers, or Texans would select him earlier). Adams has good size (6'8", 320 lbs), good feet, and is a raw talent. He would make a good pairing with Joe Thomas.
23. Detroit Lions: Stephon Gilmore/CB/South Carolina-  The Lions need to seriously improve their secondary to go along with their much improved pass rush. Taking a corner in the first round would be a good start. Gilmore has good athleticism and size at six foot one and 193 pounds. He is very physical and had a knack for creating turnovers. Gilmore was named first team all SEC for the second straight year and ran a 4.44 40 at the combine.
24.  Pittsburgh Steelers: Dont'a Hightower/ILB/Alabama- Hightower posses an excellent combination of speed and size at 6 foot 4 and 260lbs. He runs a 4.67 forty and can play any of the linebacker positions. it would be a good fit for Pittsburgh, as their linebackers, and their defense overall, are getting a little older. Hightower would have the privilege of learning from some great veterans as he becomes more familiar with the system.
25. Denver Broncos: Micheal Barron/SS/Alabama- Barron has good size (6'2/223), strength, and length. He played in a NFL defensive system at Alabama and is always in a good position to make a play. He has improved his tackling and cover skills in the last year. He is physical and very good against the run.
26. Houston Texans: Kendall Wright/WR/Baylor- With Andre Johnson coming off of an injury, it might be smart to select a receiver with their first round pick. With Blackmon and Floyd off the board, Kendall Wright is the best available receiver. Wright isn't the biggest guy (5'10/190), but he accelerates like a cheetah, and is very dangerous after the catch. He has great hands and the ability to create distance between his defender. I think Wright can have a decent NFL career out of the slot.
27. New England Patriots: Fletcher Cox/DE/Mississippi State- The AFC champs need to tighten up their defense if they want to make it back to the big game, and Cox is high on the Patriots' radar. Fletcher has phenomenal athleticism for his position and has an explosive first step. Cox is tough to block in one on one situations and can play in several defensive schemes. He will fit nicely in New England's 3-4 defense as he's had snaps at both linebacker and defensive end.
28. Green Bay Packers: Andre Branch/DE/Clemson- Branch is a good athlete and ran a 4.7 40 at the combine and posted a 32.5 inch vertical leap.He is 6 foot five, 260 pounds, and has room for some bulk on his frame. He is a very good pass rusher and knocks balls down at the line of scrimmage. The Packers definitely need to improve their defense, and Branch has room for improvement and plenty of potential.
29. Baltimore Ravens:: Peter Konz/C/Wisconsin- Konz was the best college center in the country last year, paving the way for Montee Ball. If he isn't taken by the Texans at number 20, look for the Ravens to snatch him with their first pick. Konz can protect the passer and run block, and he doesn't have too many weaknesses. He is very intelligent and great at picking up blitzes. He can play guard too if need be.
30. San Francisco 49ers: Stephen Hill/WR/Georgia Tech-  The Niners desperately need a receiver. This was evident in the NFC championship when the receivers combined for 2 catches and 12 yards. They've signed Randy Moss and Mario Manningham, but Crabtree has not developed into the top 10 player they thought they'd drafted and they might look to Hill for help. Hill is 6'4 and 220 pounds and has a great combination of size and speed. He dazzled the scouts at the combine with his blazing 4.36 40 time. Hill only caught 28 balls but amassed 820 yards and 5 touchdowns on a whopping 29.3 yards per reception. He is raw, but could be a game changer.
31. New England Patriots: Alofonzono Dennard/CB/Nebraska-The Patriots seriously need to improve their patchwork secondary to remain competitive. Taking a corner with their second first round pick would be a good start. Dennard has good athleticism and excels in man to man coverage. He plays very physically, and is able to knock receivers off of their routes.
32. New York Giants: Zach Brown/ILB/North Carolina- I originally had the Giants taking a tight end in the first round, but after the signing of Martelllus Bennet, look for the Giants to go in another direction. Zach Brown might be the best available player. Brown runs a 4.5 40 and posted a 33.5" vertical jump. He has tremendous athleticism and balance, and is great when dropping into coverage. He is explosive and can change directions easily. He would be a good fit for the Giants, who have not had a middle presence since Antonio Pierce retired