NCAA Bracket 2012: What Kentucky Has Gained En Route to Final Four
March 27, 2012

Streeter Lecka/Getty Images
After losing to Vanderbilt in the SEC championship game, coach John Calipari and his Kentucky Wildcats were not viewed as the favorite to win it all anymore.
But throughout their journey to New Orleans, the Wildcats and Calipari have been on a mission to prove all naysayers wrong. 
When they arrive in New Orleans for the Final Four, the Wildcats will be bringing key intangibles like momentum, validation, edge and more fans than usual just to point out a few.  
Since No. 1 Kentucky started the tournament, they have been playing with incredible momentum. You would have never thought this team lost their conference championship game against Vanderbilt just days before the NCAA tournament started.
No game has even been close with blowouts against Western Kentucky, Iowa State, Indiana and Baylor.  Somebody even woke up freshman sensation Michael Kidd Gilchrist in the Sweet 16, given the way he has exploded in the last two games.
It seems that losing to Vanderbilt might have been one of the best things that happened to Kentucky. Before the loss, the Wildcats were described as being too confident.
That loss definitely knocked them off their high horse and showed them that other teams could beat them. In the following games, you could see that Kentucky was back to playing at its high rate, but was more humble. 
With a team full of NBA lottery picks, such as Anthony Davis and Terrance Jones, you would think that it would be an individual showcase. That's the one thing that it hasn't been in this tournament. Rather, it's been more like a team game with five starters and key bench players who could start anywhere else.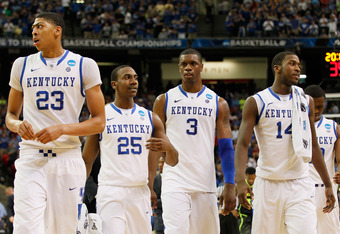 Kevin C. Cox/Getty Images
The Wildcats are one of the most team-oriented teams in the Final Four. Stopping one player on this team is not going to work because they have all come to play and are ready to perform when called upon by Calipari.
Being the overall No. 1 seed in the tournament must have been motivation and fuel to help Kentucky to the Final Four. After their win against Baylor, the team echoed that they were not happy about just making it to the Final Four, but wanted to win a championship.
This team is on a mission to prove why they are the overall No. 1 team. These are not unfamiliar waters for Calipari who has been in this position before with Memphis and the 2010 Kentucky team.
The only difference between those teams and this one now is this Kentucky team is more willing to buy into Calipari's system. Even when Anthony Davis suffered a bruised knee early in the second half, he continued to play as if the game wasn't already decided. This just showed that the Wildcats want to do more than win at this point.
When Baylor had its only lead at 10-5 against Kentucky, you started to see a new Wildcat team. They were more aggressive, playing like a team with its back against the wall.
They forced the Bears to commit numerous turnovers and halted their offensive production. Even going into the half up by 20, the Wildcats did not let off the gas, still playing with intensity  on the defensive end, which led to easy transition buckets. If this type of defense shows up in New Orleans, coach Rick Pitino and the Louisville Cardinals are in for a long day.
Some wrote the Wildcats off because of their loss to a weaker Vanderbilt team, or because they were the overall No.1 seed in the tournament or maybe even because Calipari has never won the NCAA championship.
That will all be forgotten when the games start on Saturday. The Wildcats will have more fans and believers than they started with. When you dominate in every game that you have been involved in, your talent and skill level can't be denied. The road to New Orleans has been a great one for the Wildcats, and hopefully they can keep the wheels turning.