NCAA Tournament 2012 Schedule: X-Factors Who Will Decide Final Four Games
March 27, 2012

Jonathan Daniel/Getty Images
Superstars win championships in college basketball, but X-factors are the glue that holds teams together in the dog days of March.
With the Final Four just days away, there are a number of players flying under the radar for each team that deserve to get their name mentioned, both for their contributions throughout the season and their importance to the games this weekend. 
Here are the underrated X-factors for all four teams playing on Saturday that need to play lights out in order to ensure they make it to the national championship game. 
Kentucky
Darius Miller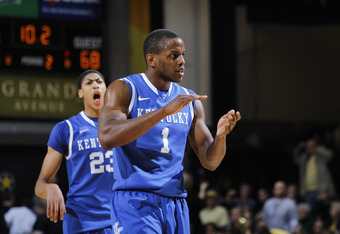 Joe Robbins/Getty Images
While the Wildcats have as much high-end talent as anyone in the country, Miller has not gotten the credit that he deserves for being a dynamic shooter. 
Miller has provided the Wildcats with that leadership they need to keep all their talented freshmen on the right track. He is one of the most underrated players on the Kentucky roster, which will make his performance against Louisville that much more special. 
He is going to hit shots from the outside, which will open up the inside for Anthony Davis against the vaunted Cardinals defense. 
Louisville
Gorgui Dieng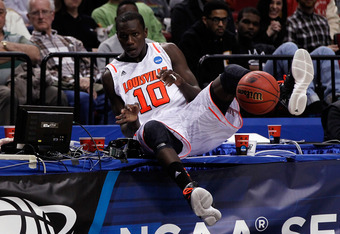 Jonathan Ferrey/Getty Images
Playing against Kentucky means that the Cardinals will have to score a lot more points than they have thus far. We know they play great defense, but their opponents in the tournament have not been dynamic on offense. 
Florida is the best team they have played, but the Gators are useless if they aren't hitting three-point shots. 
Dieng is going to be locked in a matchup with Anthony Davis. He doesn't touch the ball as much as he should, but he makes it count when it comes his way. He needs to have a big game to give the team a chance to win. 
Ohio State
Lenzelle Smith Jr.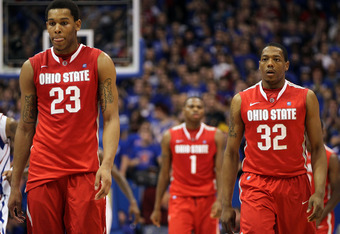 Jamie Squire/Getty Images
Talk about saving your best for last: Smith has played two of his best games while at Ohio State in the Sweet 16 and Elite Eight, scoring a total of 35 points and grabbing nine rebounds. 
Smith will need to have another game like that against the fast Kansas team that seems to be hitting its stride. 
The Buckeyes have found the right formula to win games in the tournament, but they can't ease up now that they are so close to the national title. Smith is going to be the key that determines whether they are playing on Monday night. 
Kansas
Travis Releford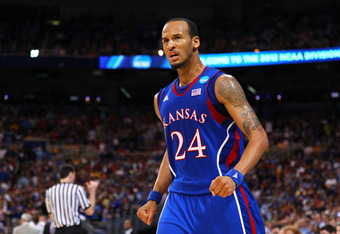 Dilip Vishwanat/Getty Images
The Jayhawks do not have a dynamic offense. They don't shoot the ball well from behind the arc, which means they need all of their scorers to show up and contribute significantly if they want to defeat an underrated Ohio State offense. 
Releford is a big guard at 6'6", and he has created some matchup problems in the tournament. He has scored at least 10 points in two of Kansas' last three games, and his shot selection has been phenomenal. 
As long as he is creating open shots for himself and getting others involved, the Jayhawks will be on their way to the national championship game. 
Final Four Schedule (Game Time is EST)
Saturday, March 31
No. 1 Kentucky vs. No. 4 Louisville at 6:09 p.m. on CBS
No. 2 Ohio State vs. No. 2 Kansas at 8:49 p.m. on CBS
National Championship Game
Monday, April 2
Kentucky/Louisville Winner vs. Ohio State/Kansas Winner at 8:00 p.m. on CBS