Tiger Woods PGA Tour 13: Gameplay Review and Features for Hit Golf Video Game
March 27, 2012

Timing is everything, and that has never been more apparent than right now for Tiger Woods and EA Sports.
On Sunday, Tiger wrapped up his first win in almost three years, and today Tiger Woods PGA Tour 13 is released.
That can't be bad for marketing.
To further increase the actual appeal of the game, this is the first sports simulation with full Kinect support. The hype and intrigue just gets bigger. 
Thanks to EA Season Pass and a midnight visit to Walmart, I've had the full game for the past four days. To sum up my life over those days, I quote Chris Rock:
Tiger, Tiger Woods Y'all....
Let's take a look at the features and the gameplay:
What:
Tiger Woods PGA Tour 13
Release Date:
Today, March 27 (March 24 for Season Pass Owners)
Platforms:
XBOX360 & PS3
Features & Gameplay
Total Swing Control - EA Sports attempts to further their efforts to duplicate a true golf swing. TSC gives you the option to vary your swings of all kind with much more in-swing input.
I've been playing Tiger Woods' games for 10 years, and this is the most natural-feeling swing mechanic I've used since the franchise was released.
There are four factors involved with executing a solid swing:
Swing Tempo - Since it's all done with the right stick, the speed you pull back and then press forward with dictates the power and distance of the shot.
Shot Setup – This is very similar to the way the mechanics have always operated. But you can now use variations like 3/4 or chip when gameplanning for shots. 
Strike Meter – This is one of my favorite new things about TSC. You can alter where you hit the ball. You can strike the ball low to produce a higher shot, high to produce a skipping or  lower-angled shot or right in the center. This option gives more overall control to your swing.
Swing Arc – The swing arc is a bit of a throwback to a system previously used as well, but it is  one I was always fond of.
Essentially what EA has done with TSC is combined various different details from past swing mechanics like Precision Putting and Maximize Your Swing to create the most intuitive swing system in a golf game to date.
Here is a gameplay video demonstrating the swing, as well as other gameplay options:
Additions to the Roster
Tiger Woods 13 has added some well known golfers to the action as well, not to mention the ones you'll likely create. If you go that route, here is a video of the possibilities that can render:
Here is a list of the new golfers added:
Ben Crane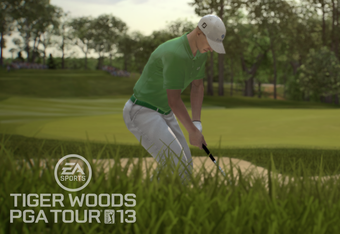 Graeme McDowell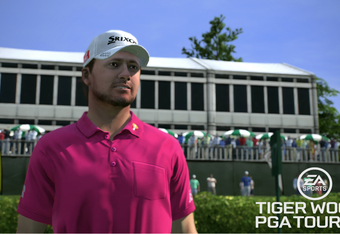 Hunter Mahan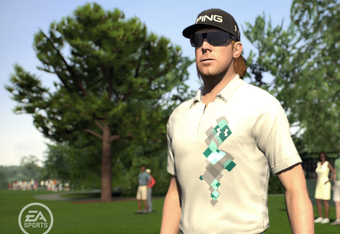 Ross Fisher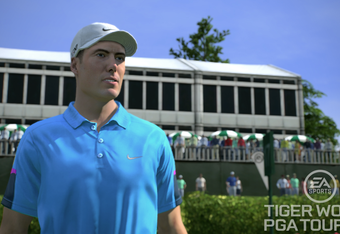 Dustin Johnson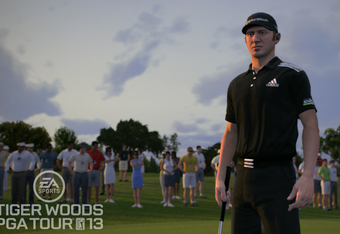 (images from ea.com)
Plus the returning roster:
Tiger Woods
Rickie Fowler
Rory McIlroy
Paul Casey
Paula Creamer
Rhys Davies
Luke Donald
Jim Furyk
Natalie Gulbis (Hubba Hubba)
Zach Johnson
Rocco Mediate
Edoardo Molinari
Ian Poulter
Justin Rose
Adam Scott
Bubba Watson
Boo Weekley
New Courses
You can't update a golfing simulation without bringing in some new courses. TG13 delivers 19 new courses. Some of them have to be purchased as downloadable content (DLC), but I'd say if there is ever DLC worth purchasing, new courses for a golf game qualifies.
The New courses available are as follows:
Crooked Stick Golf Course
The Ocean Course at Kiawah Island
Royal Birkdale
Royal Count Down
Valhalla
PGA National Course (Only available in the Collectors Edition, DLC)
And the returning courses:
Atlanta Athletic Club (DLC)
Augusta National
Augusta National Par 3 (Collector's edition)
Banff Springs Golf Course (DLC)
Bethpage
Celtic Manor - The 2010 Course
Costa Navarino (DLC)
East Lake Golf Club
Greek Isles - Fantasy (DLC)
Highlands -Fantasy (DLC)
Liberty National Golf Club (DLC)
Oakmont (DLC)
Pebble Beach Golf Links
Pinehurst Resort No. 2 Course (Collector's edition)
Predator - Fantasy - (DLC)
River Course at Blackwolf Run (DLC)
Royal Melbourne
Spyglass Hill Golf Course (DLC)
St. Andrews
Straits Course at Whistling Strait (Collector's edition, DLC)
The Els Clubs
TPC at San Antonio (DLC)
TPC at Sawgrass
TPC at Scottsdale
Torrey Pines
The Old White TPC (formerly Greenbrier) Collector's edition (DLC)
Waialae Country Club (DLC)
Kinect & Move Support
This is the first sports simulation ever completely compatible with the Kinect. This is by far the most enjoyable motion-controlled sports game I've ever played.
The game of golf is perfect for motion controls and TG 13 nails it. The sensors on the Kinect capture your entire swing mechanic as you drive, putt and even complete the in-between shots.
Honestly, you feel like you've played a round of golf (minus the walking in between shots of course).
You can also use See it Say it to command any function on the screen with Microsoft Kinect. You can use this to set markers and navigate menus within the gaming interface. 
I am generally not a big fan of motion-controls in sports games, but this is truly the exception for me.
Online Country Clubs
TG13 lets you build and design your own Online Country Clubs. You design the logo, invite members (friends) and this has many purposes.
You can set up matches and tournaments with other clubs, as well as play amongst yourselves. Also, your club members will share achievements. In every mode you play on TG13, you're able to level up, gain prizes and points that allow you to purchase things like new courses and gear.
With OCC, now you can benefit from the success of every one in your club. Think of it as virtual amenities. 
It's a nice component and adds an even larger and more widespread appeal to the title.
Tiger Challenge
Ever wanted to be Tiger?
You probably have, taking a pass on the past three years of course. The Tiger Challenge allows you to play as Tiger from a toddler up to today. You'll trace Tiger's steps on the Mike Douglas Show, through his collegiate and amateur accomplishments, etc.
The mode is a nice diversion from traditional play and it also allows you to level up as a player and or OCC.
Here is a video of the Tiger Challenge:
Summary
TG13 has really delivered the goods for me. Traditionally golf gamers may not feel the need to grab the newest golf sim every year. But in this case, there are certainly enough new goodies to make it worth your while.
Check out franchiseplay.net for a full review of every game mode coming soon, and everything in sports video gaming news and entertainment.
Follow the site on Twitter