MLB Free Agency: 25 'Sure-Thing' 2013 Free Agents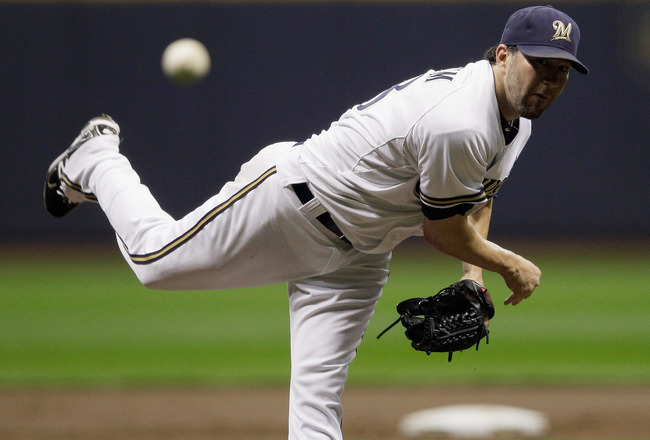 Pool/Getty Images
Big bats headlined the 2012 MLB free-agent class, but in 2013 the power shifts back to the mound.
I mean it really shifts—like a rumbling, tectonic kind of shift.
Cole Hamels, Matt Cain and Zack Greinke—all under 29 and all former All-Stars—could hit the market together. If they do, expect the top three starting pitchers of a single free-agent class to receive somewhere north of $300 million.
As it stands, however, all three are in varying shades of contract negotiation with their current teams. Should two or more ink extensions, 2013 loses its slant and turns into a more balanced class.
For a look at that class, consult the following list. Even without its troika of hurlers, 2013 provides ample intrigue and enough franchise-changing talent to keep hopeful teams right on a-hopin'.
Note: For my "possible destination" designation I excluded the player's current team from consideration. Though I expect a lot of these players will re-up with their current employers, it's a heckuva a lot more fun to imagine them in new uniforms. So that's what I did. Ya dig?
Nick Swisher, RF
Patrick McDermott/Getty Images
Nick Swisher found his happy place in New York, posting the best three-year stretch of his career and taking full advantage of the city's celebrity cache.
But as much as player and team like one another, Swisher doesn't fit the Yankees' long-term plans. New York wants to trim payroll and Swisher will want more than a one-year deal. The fan favorite is likely headed elsewhere according to ESPN's Wallace Matthews.
It's a thin market for outfielders and Swisher should get multiple serious offers. He has topped 20 home runs in each of the past seven seasons and only once had an OBP below .350.
Possible Destination: Atlanta Braves
Atlanta has been jonesing for a corner outfielder for what seems like forever. Swisher should be a target.
Miguel Montero, C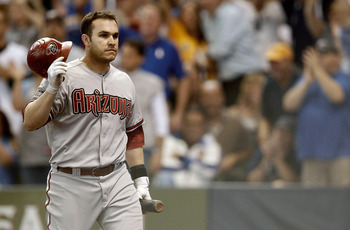 Jared Wickerham/Getty Images
The Diamondbacks broke sweat trying to extend Miguel Montero this winter, but their efforts fell short. Prior to spring training, Montero took a page from Albert Pujols' book and declared that he would not negotiate midseason (according to the Associated Press, per ESPN).
Some speculated that the gap between the two sides widened when Yadier Molina signed a monster five-year, $75 million extension with the Cardinals. Montero doesn't have as lengthy a resume as Molina, but he's a year younger and his 2011 numbers were as good as Molina's best.
Whether it's in Arizona or elsewhere, Montero is going to get big money.
Possible Destination: Los Angeles Dodgers
The Dodgers have missed Russell Martin behind the dish and new ownership will be looking to make a splash. What better way than to fleece a division rival?
Shaun Marcum, SP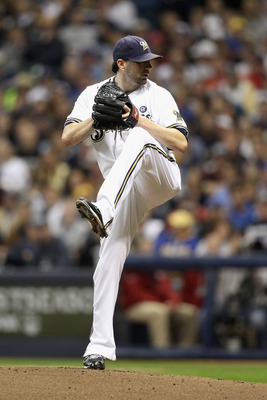 Christian Petersen/Getty Images
According to MLB.com's Adam McCalvy, the Brewers have already told Shaun Marcum that they'll wait until season's end to negotiate a new contract.
Marcum says he prefers to stay in Milwaukee, but nothing is certain once he hits the open market. After missing all of 2009, Marcum has responded with two above-average seasons. At 31 he'll be primed for the biggest payday of his career.
Possible Destination: Kansas City Royals
The Royals' pitching prospects lag behind their everyday studs, and K.C. will want a steady rotation hand to bridge the gap. Marcum's experience in the AL is a plus.
Josh Hamilton, CF/LF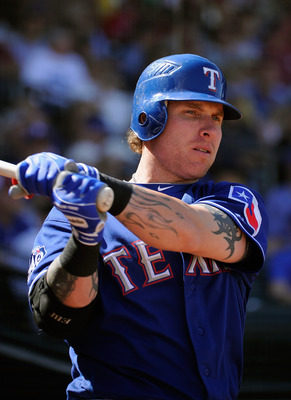 Kevork Djansezian/Getty Images
Josh Hamilton and the Rangers have tabled contract talks and at this point Hamilton is a safe bet to test the market.
Evan Grant, Rangers beat reporter for the Dallas Morning News, writes of the negotiations:
I'd say they are on an indefinite hold. Depending on how he performs during the season, the Rangers' position may change, but I think the sides don't end up talking again in earnest until after the season.
Hamilton presents a tricky case for potential suitors. His upside is high and he can sell tickets on name alone. But his injury history is troubling and his well-documented struggles with addiction figure to temper enthusiasm.
Possible Destination: Los Angeles Dodgers
New ownership is drooling at the possibility of Hamilton and Matt Kemp sharing an outfield. Resuscitating the fanbase is high on the to-do list.
Michael Bourn, CF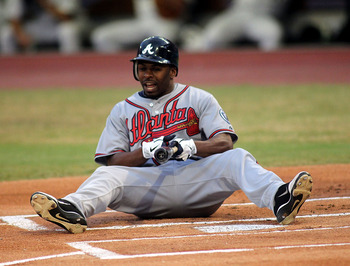 Marc Serota/Getty Images
Michael Bourn told the Atlanta Journal-Constitution's David O'Brien on March 8th that the team hasn't contacted him about a contract extension. He then had this to say about negotiating during the season:
I would rather just play the season with a clear mind and worry about the game, who is pitching, that kind of stuff rather than a deal. I would just rather concentrate on the game.
Sounds like Bourn is headed to free agency. Atlanta brass says they want to re-sign the speedy center fielder, but it looks like they want to see how other teams value him first.
Possible Destination: Cleveland Indians
Going year-to-year on Grady Sizemore already looks like a bad idea. The Tribe remember the halcyon days of Kenny Lofton and take a hard run at the prototypical leadoff man.
Russell Martin, C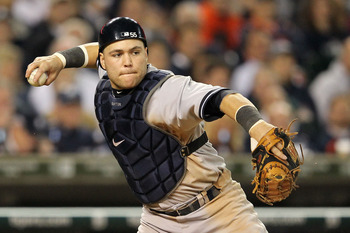 Leon Halip/Getty Images
The Yankees took a run at Russell Martin this offseason, but nothing materialized. New York doesn't like to negotiate in season and it appears they are holding that line with Martin (per Wallace Matthews).
Martin never repeated the success of his breakout 2007 campaign, but he's settled in nicely as an above-replacement regular. The three All-Star appearances are a bit misleading, and he's a tier below Miguel Montero, but the 29-year-old figures to get decent money and the security of a three- or four-year deal.
Possible Destination: Arizona Diamondbacks
He'll make a nice consolation prize if they lose Miguel Montero. Arizona will want a veteran catcher to handle all the young arms coming up through its system.
Anibal Sanchez, SP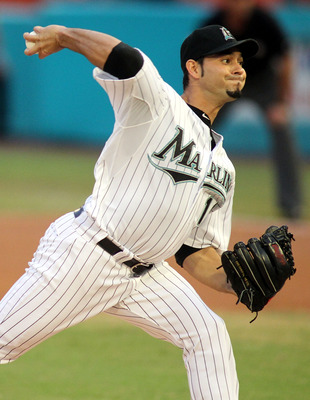 Marc Serota/Getty Images
The Marlins have made no moves toward extending Anibal Sanchez, which tells me their leaning toward non-action.
If Sanchez reaches free agency—and I'm predicting he will—he's a risky proposition. His numbers over the last seasons are excellent, and the peripheral data says he's only getting better.
The risk has to do with Sanchez's throwing shoulder, which has been hurt on-and-off for most of his professional career. As with teammate Josh Johnson, the injury has never totally subsided. And unlike elbow surgery, whereby players can make a full recovery, there isn't a certain, long-term solution for shoulder woes.
Measure all that against Sanchez's considerable potential and relative youth—he'll be just 28 next winter—and you've got a recipe for intrigue.
If Miami's retooled offense can help Sanchez to more than 15 wins this year, the stakes will grow even higher.
Possible Destination: Colorado Rockies
I like Colorado to exceed expectations this year and make a hard run at the NL West crown. If it does, the momentum should carry it into the free-agent market.
Shane Victorino, CF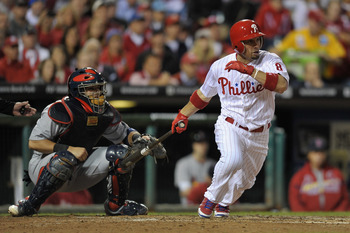 Drew Hallowell/Getty Images
As the rest of the lineup ages, Shane Victorino has quietly become the Philadelphia Phillies' best everyday player.
He's a plus defender, an efficient base stealer and possesses surprising power for his position. His 35 home runs and .799 OPS over the past two seasons both rank fifth among NL center fielders.
The Phillies extended him before he reached the free-agent market last time around, but they're unlikely to do it again. Cole Hamels' impending free agency will draw most of management's attention, and until those two sides reach an agreement it will be difficult for the front office to set a price on Victorino.
Expect the Phillies to treat Victorino much like they treated Jimmy Rollins last year. He's an important player without an obvious in-house replacement, but Philly likes to let the market set itself for players on the wrong side of 30.
To wit, Victorino told the Philadelphia Inquirer's Matt Gelb he hasn't begun to talk about an extension with the Phillies.
Possible Destination: Washington Nationals
The Nationals would prefer a younger center fielder to build around, but if the team shows significant progress this year they'll be tempted to steal a key player from a division rival (see: Werth, Jayson).
B.J. Upton, CF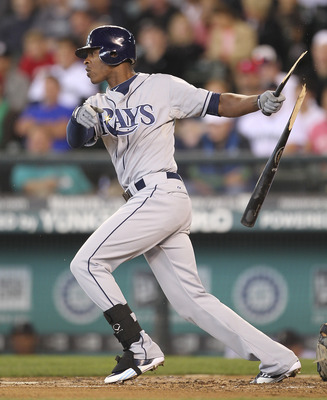 Otto Greule Jr/Getty Images
Though it gets lost in his untapped potential, B.J. Upton is a good major league player.
He's a patient, powerful hitter who adds value with his speed and ranks among the game's better defenders up the middle. Since 2007, only four center fielders have had a higher WAR.
The quick ascent of Desmond Jennings gives Tampa little reason to re-up with Upton, and that ought to open the door for outsider suitors. Expect a spirited bidding war.
Possible Destination: Washington Nationals
The Nats have long sought Upton via trade, but were never able to align assets. Now all they need is money, and Washington has plenty.
Joe Blanton, SP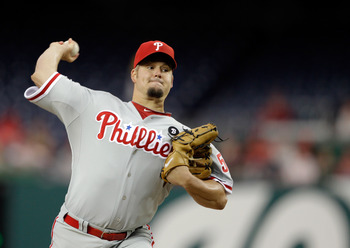 Rob Carr/Getty Images
In the six seasons between 2005 and 2010, Joe Blanton pitched at least 175 innings every year and posted a cumulative ERA plus of 99.
If he can regain that form in 2011, there should be a good market for his services. A league-average 32-year-old won't excite the fanbase, but it will play well at the back end of big league rotation.
Possible Destination: St. Louis Cardinals
If Blanton proves himself this year he should land as the fifth starter on a contender.
James Loney, 1B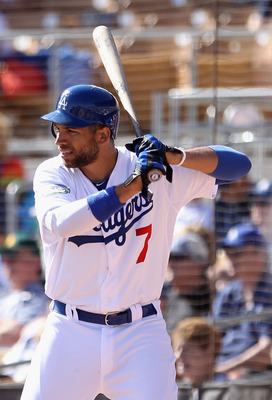 Christian Petersen/Getty Images
After his breakout 2007, James Loney looked like a fixture at first base for the Dodgers. Four years later he's unlikely to earn even a modest multi-year deal, an indication of how quickly he has fallen from favor.
The backsliding began when Loney's power stagnated, a development that allowed pitchers to become more aggressive in the strike zone. Loney quickly became a low-OBP, low-OPS option at a deep offensive position.
To the Dodgers, who had once cast Loney alongside Matt Kemp and Andre Ethier as a budding star, simply playing him became a chore.
A slight uptick at the end of last season provides some optimism. If Loney can carry that play into 2012, he becomes an intriguing free agent.
Going on 28, there's still the chance he develops added power and becomes an above-average major league first baseman.
Possible Destination: Pittsburgh Pirates
The Pirates have no long-term answer at first base and could probably get Loney under their budget.
Mike Napoli, C/1B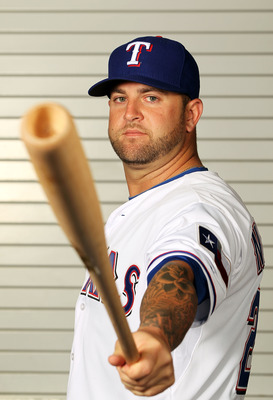 Jamie Squire/Getty Images
Despite early optimism that Mike Napoli would sign an extension before Opening Day, the Fort Worth Star-Telegram's Drew Davison reports the Rangers starting backstop is now telling the media that he will test free agency.
That's big news—bigger than the casual fan might realize.
Napoli's .312 Isolated Power last year was the highest mark among catchers since Javy Lopez in 2003, a testament to his rare production at a premium position.
And although Napoli isn't young—he'll turn 31 in October—he has less wear and tear than most catchers his age. After splitting time with Jeff Mathis in Los Angeles, Napoli figures to have some good years ahead of him.
Possible Destination: Boston Red Sox
Unless Ryan Lavarnway proves his defensive worth, catcher looks like a long-term trouble spot. The Red Sox, as always, have the funds to make a splash.
Ryan Madson, RP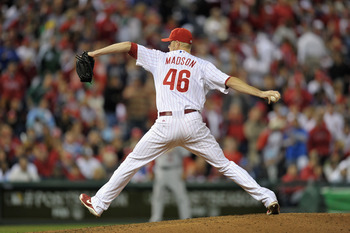 Drew Hallowell/Getty Images
Ryan Madson won't pitch in 2012, and that lost year muddies his market value.
The good news for Madson is that he should heal. Contrary to the length of convalescence, this is a fixable problem and Tommy John surgery has great recovery rate.
Where Madson runs into trouble is his age (going on 32) and his insistence that he remain a closer. Those demands are what landed him an unsatisfactory one-year deal with the Reds this past offseason and they will cap his value again next winter.
Teams are moving past the idea that you pay premium dollars for a ninth-inning specialist, but Madson limits his potential suitors by demanding he be cast in that role.
Possible Destination: Oakland A's
The A's like taking low-risk fliers on damaged veterans and they can offer Madson a chance to close. In return, Madson gets a one-year audition in a pitcher-friendly park.
Erik Bedard, SP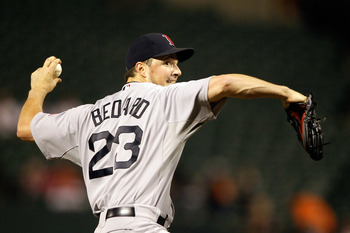 Rob Carr/Getty Images
It's unfair to lump Erik Bedard with other oft-injured veterans like Jake Peavy and Jeff Francis.
When healthy, Peavy and Francis have been, at best, marginal performers over the last few seasons. Bedard, however, has been distinctly above average.
Relentless as the injuries have been, that simple fact merits mention.
To wit, I give you Bedard's ERA plus over the last six seasons in which he has played: 108, 122, 146, 116, 153, 110.
Impressive stuff.
If Bedard can make it through 2012 without a serious injury setback I anticipate someone, somewhere giving him a multi-year deal. Bottom line, there aren't many left-handed starters capable of whiffing eight to nine batters every nine innings.
Possible Destination: New York Yankees
Stocked as the Yankees rotation looks now, remember that Freddy Garcia, Hiroki Kuroda and Andy Pettitte are all on one-year deals. The Bombers will gladly like take a low-cash risk on a veteran if the prospects aren't ready.
Melky Cabrera, CF/LF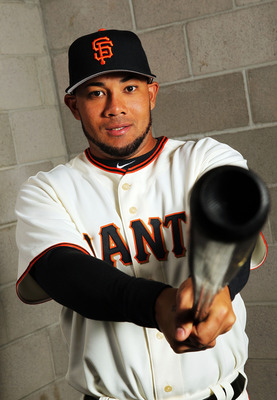 Jamie Squire/Getty Images
Don't buy into Melky Cabrera as an everyday center fielder that can hit .300.
Sure, he hit .305 last year, but that was largely due to an aberrant batting average on balls in play. Cabrera still has a poor command of the strike zone and showed no signs of improvement.
And yes, Cabrera played 144 games in center for the Royals, but the advanced metrics don't give his play high marks. He's still better suited for the corners.
But it's not all gloom. Cabrera posted career highs in HR, OPS and Isolated Power, indicators that at 27 he is growing into his power.
If he can sustain that surge in spacious AT&T Park, Cabrera should command a multi-year deal.
Possible Destinations: Milwaukee Brewers
Nyjer Morgan is arbitration-eligible and as such, the Brewers have no commitment to him beyond this year. Cabrera makes for a nice flex outfielder, and he could even give Milwaukee some leverage in negotiations with Corey Hart. Either way, this prediction is a bit far-fetched.
Brandon McCarthy, SP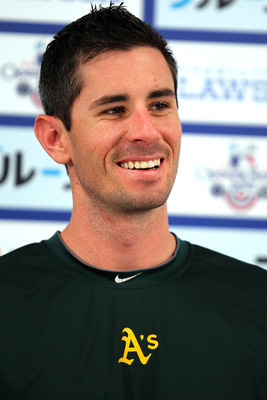 Koji Watanabe/Getty Images
After years spent shuttling between the rotation, the bullpen and the disabled list, Brandon McCarthy broke out with a 3.32 ERA over a career-high 170.2 innings in 2011. Concurrent spikes in his strikeout-to-walk and ground-ball-to-flyball ratios suggest that it wasn't a fluke.
McCarthy attributes the improvement to his study of sabermetrics. Advanced statistical principles, he says, convinced him to develop an arsenal geared toward inducing ground balls.
With another strong campaign there should be a healthy market for his services, especially if headliners Cole Hamels, Zack Greinke and Matt Cain sign extensions with their current teams.
C.J. Wilson, another two-year wonder, walked into a similar market this winter and walked out with a stunning financial windfall. McCarthy's injury history precludes him from commanding similar figures, but he'll still get plenty rich.
Possible Destination: Toronto Blue Jays
With some of their young pitchers on the skids, Toronto wants arms. It fell short on Yu Darvish, but McCarthy would make a nice consolation.
Jonathan Broxton, RP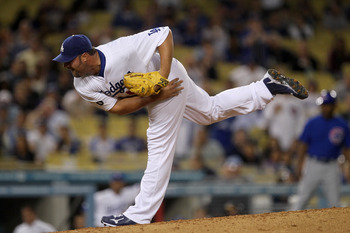 Stephen Dunn/Getty Images
With teammate Joakim Soria headed for Tommy John surgery, Jonathan Broxton gets a big-time chance to resurrect his career.
Should he win the closer's job over Aaron Crow and Greg Holland and perform well in that role, the hard-throwing Georgian should get multi-year stability.
Broxton has the stuff to make it happen. Over the first six years of his career he struck out at least 10.5 batters per nine innings every single year. If he returns to those rates and registers north of 25 saves, the market will open up.
Possible Destination: Minnesota Twins
The Twins are the type of organization that prefers a traditional ninth-inning specialist. Watching Broxton dominate the AL Central should inspire them to tender an offer.
Carlos Pena, 1B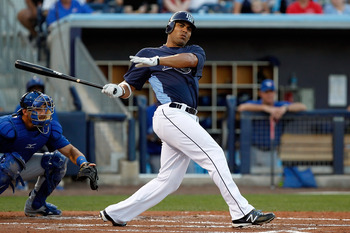 J. Meric/Getty Images
Carlos Pena provides enough value with his power and patience, but not enough to keep him off the one-year-contract treadmill.
Obviously his value is almost completely contingent on how he performs with the Rays this year. Consider 30 home runs and a .240 average his benchmarks. Surpass both of those, and Pena can expect a pay raise.
Possible Destination: Cleveland Indians
According to the Cleveland Plain Dealer's Paul Hoynes, the Indians have interest in Pena. They could make another run at him if Casey Kotchman doesn't pan out.
Casey Kotchman, 1B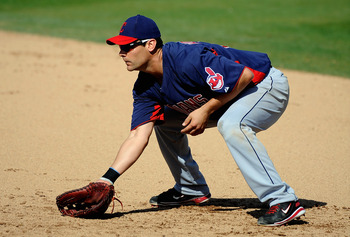 Kevork Djansezian/Getty Images
Signed on a minor league deal by the Tampa Bay Rays in 2011, Casey Kotchman bought himself a few more years in baseball with a resurgent campaign.
If he can repeat the performance he should get another chance to start in 2013. If he's solid but unspectacular, he'll get a bench spot. If he's neither, he can expect another minor league deal.
Possible Destination: Baltimore Orioles
Why the heck not? Baltimore keeps the door open for veterans on short-term contracts and Kotchman fits the bill.
Carlos Lee, 1B/LF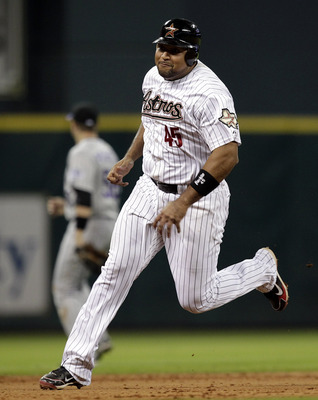 Bob Levey/Getty Images
On a forgotten team playing under a forgettable contract, Carlos Lee's bounce-back 2011 went largely unnoticed.
No, it wasn't earth-shattering, but a .275/.342/.446 slash says he's still a useful player. Another year along those lines should get him one more guaranteed payday and a chance to play a meaningful role.
Possible Destination: Texas Rangers
Mitch Moreland has this year to prove himself. If he doesn't, Lee makes a nice 1B/DH/LF flex player and shouldn't cost much.
Edwin Jackson, SP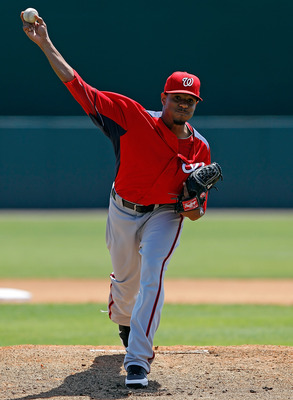 J. Meric/Getty Images
Edwin Jackson took the same gamble Ryan Madson took, hedging his bets on a one-year deal when the market didn't satisfy him.
Madson suffered a season-ending injury before the season began. Jackson hopes to fare better.
Jackson has been worth, on average, three wins above replacement over the last three years. Translation: He's an above-average pitcher.
Maligned a bit by his high expectations as a prospect, Jackson should solidify his reputation as a good starter in Washington this year and expect a comfy contract to match. I don't know if he gets the five years that Wallace Matthews reported he was seeking, but three or four seems reasonable and ought to carry him through his prime.
Possible Destination: Boston Red Sox
Boston still needs pitching and Jackson is a young, reliable arm.
Mike Adams, RP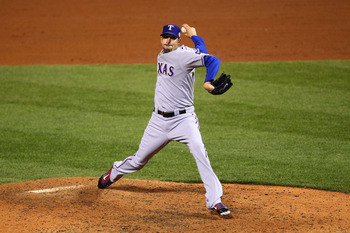 Dilip Vishwanat/Getty Images
Mike Adams has run up some impressive numbers over the last four seasons, but the following might be my favorite.
Of the 80 relief pitchers who have thrown 200 innings since 2008, Adams ranks fifth in strikeout-to-walk ratio. That number puts him ahead of bullpen luminaries like Huston Street, Joakim Soria, Heath Bell and Brian Wilson.
It raises testament to Adams' ability and his staying power. Rare is the reliever who maintains his dominance over a four-year stretch.
Assuming he makes it a fifth this year, Adams deserves to get paid like one of the game's top setup men. A Rafael Soriano-like contract is not out of the question.
Possible Destination: Toronto Blue Jays
The Jays are ready to compete and looking for some finishing-touch-type players. Adams is one of those guys.
Brandon League, RP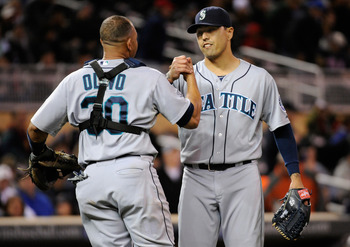 Hannah Foslien/Getty Images
Brandon League never missed enough bats for a guy with his velocity, but he seems to have finally fine-tuned his stuff. His walk rate reached a career low last year and the result was a successful first year in the closer's role.
When he enters the market next year he'll have two years of experience on his closer resume and, at 30, should command multiple years.
Possible Destination: Cincinnati Reds
The Reds knew they'd be in the market for a closer whether or not Ryan Madson performed. League can give them nice end-game punch during what could be their last go-round with Joey Votto.
Marlon Byrd, CF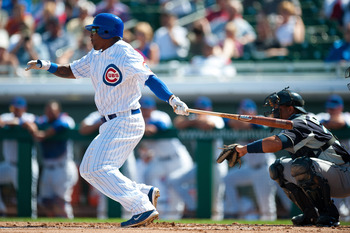 Rob Tringali/Getty Images
The Chicago Sun-Times' Gordon Wittenmeyer reports that the Braves and Nats are interested in acquiring Byrd before Opening Day.
Overall, that's good news for his market value next winter. Clearly he's an in-demand player with the necessary skills to help a contender. If he can help turn those contenders into winners, his value goes even higher.
If going to a contender relegates him to a part-time role, however, the move hurts him.
Byrd is coming off a tough year and he needs at-bats to prove he's worth another guaranteed contract. Without some bounce back, he could be looking at minor league money.
Possible Destination: Atlanta Braves
The Braves want him now and they'll want him later. A thin outfield will only get thinner when Chipper Jones retires and Martin Prado has to cover the hot corner.
Jeremy Guthrie, SP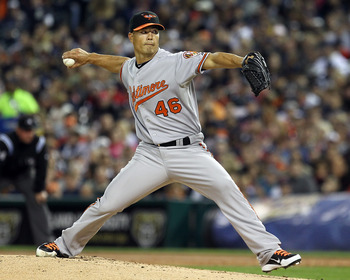 Dave Reginek/Getty Images
Baltimore miscast Jeremy Guthrie as an ace, but he's a reliable arm.
There aren't many pitchers who can say they've thrown 200 innings each the last three seasons and, as you have probably already surmised, Guthrie is one of those pitchers.
Expect to hear the cliche "workhouse" thrown around when he hits the market next fall.
Possible Destination: Los Angeles Angels
Even if they land Roy Oswalt this year, they'll be back in the market for a fifth starter in 2013. Guthrie can give them good innings in that role.
Keep Reading