Wayne Rooney vs. Sergio Aguero: Who Will Come Away with Premiership Crown?
March 27, 2012

Alex Livesey/Getty Images
We are down to the serious part of the season, and the title now is a two-horse race between the two Manchester clubs.
The winners could be decided on whether or not their top marksmen continue to fire in the goals.
The two clubs both have world-class strikers in Wayne Rooney and Sergio Aguero who have the proven records to show they could help win a title.
Aguero has dried up slightly recently, but he is capable of going on a scoring run from now until the end of the season.
Rooney, on the other hand, has not relented at all as his Manchester United side have overtaken their rivals to go back ahead in the table.
Both are behind Arsenal's Robin Van Persie in the race for the Golden Boot, with Rooney in second place on 21 league goals and Aguero in third place on 17 goals..
So who would you rather have in your side if you were picking a side to win the league?
Let's have a look at Rooney first.
He has been excellent this season and really is the lynchpin of this Manchester United side.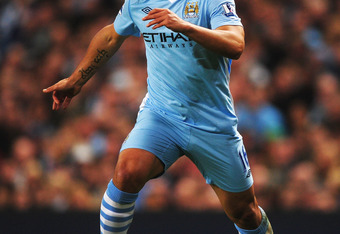 Laurence Griffiths/Getty Images
Without him, Manchester United would not be in the title race. He is that important to them.
They are not the greatest United side of all time—far from it. But with Rooney they are capable of winning trophies that is how good he is.
His goals have been paramount in United regaining the advantage over their so-called "noisy neighbours."
His link-up play, his technical ability and his all-round attitude make him one of the best players in the world.
As a Manchester City fan, it pains me to say this, but I think the only chance City have of winning the league is if Rooney gets injured.
Aguero, on the other hand, does have the players around him. He has had a superb first season in English football and it has been surprising how quickly he has settled into the Premier League.
His main strength is his excellent finishing ability. He is one of the best in the world when it comes to that.
Strong, pacey over short distances and bristling with confidence, he is very much a natural striker—unlike Rooney, who could play farther back.
Aguero has been likened to the Brazilian great Romario, for his style of play and his goal-scoring exploits.
If the Argentine hit man can get on some sort of goal-scoring run, then the Premiership may well be decided on Derby day as so many are hoping it will be.
In terms of first seasons in the best league in the world, Kun's has been superb and there is definitely more to come in the future.
But for this season I think Rooney and Sir Alex Ferguson's experience will take the title to the red half of Manchester.