NBA Draft 2012: Could Austin Rivers End Up on the Celtics?
March 27, 2012

Streeter Lecka/Getty Images
Duke shooting guard Austin Rivers, son of Boston Celtics head coach Doc Rivers, announced yesterday that he was forgoing the rest of his college career and declared himself eligible for the 2012 NBA Draft.
Instantly, chatter started of whether Austin would be picked by by his father Doc in the first round. It seems pretty logical for Doc to take his son with his first pick, but things aren't as cut and dry as they may seem.
On paper it does make some sense.
The Celtics have an aging, but still somewhat effective shooting guard in Ray Allen, who has been the topic of trade talks for months now. Replacing Allen the younger Austin wouldn't be a bad option.
One major thing may land in the way of the Celtics in drafting young Austin: the draft order.
According to NBADraft.net's most recent mock draft, Austin is expected to go within the top 15 picks, specifically 12th. 
The Celtics are seemingly on their way to the postseason and will not possess a lottery pick because of it. As of right now, the only way the Celtics will slotted high enough to select Austin is if they somehow trade up into a lottery spot.
Ideally, the Celtics could trade away Allen and swap picks with a team that is willing to take on the aging veteran.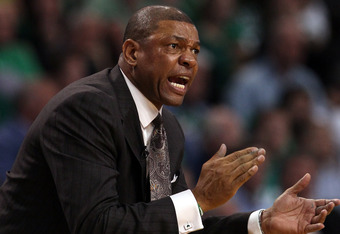 Elsa/Getty Images
Would Austin playing for his father Doc be a good fit? Most would think so because they have the instant chemistry of being father and son.
But, the pressure of playing for your father is immense and not to be underestimated.
You see it a lot more in high school and college more than in professional sports and, in almost every situation, the son feels a little more pressured playing for his father than he would another coach.
From what my memory serves, this is a rare possibility that a father could coach his son in professional sports. The most notable case was the Ripkens in Major League Baseball and that turned out pretty well.
If this possibility becomes a reality, it will be interesting to see Austin not only adapts to the NBA, but also being coached by his father.