How Injuries to Star Players Will Cripple New York Knicks' Playoff Chances
March 27, 2012

Chris Chambers/Getty Images
The most important players on the New York Knicks are getting injured at the least opportune time.
Amar'e Stoudemire is out indefinitely with a bulging disc in his back and could be facing season-ending surgery.
Carmelo Anthony aggravated a groin strain in Monday's win over Milwaukee and will be reevaluated on Tuesday.
Jeremy Lin, who averages 34 minutes per game in a starting role, is dealing with a sore left knee. While his injury is not considered serious, it's certainly something to monitor given the minutes he plays on a nightly basis.
The Knicks were going to practice on Tuesday, but head coach Mike Woodson decided to cancel it because the team is so "beat up," according to Marc Berman of the New York Post.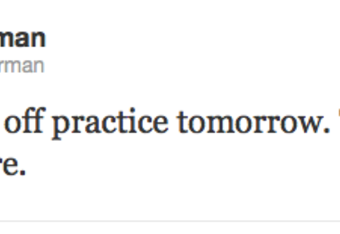 This is not the time for injuries to mount for a playoff-hopeful team.
Anthony has dealt with a myriad of injuries all season long. Whether it's ongoing issues with his wrist or perennial problems with the groin, Melo's inconsistency has been highlighted by the trouble he's had fighting through the problems this season.
For the season, Anthony is shooting just 39.9 percent from the floor, the lowest mark of his career.
Stoudemire was just beginning to regain his explosiveness that was seemingly lost for most of the season and was enjoying his best month of the season in March with averages of 18.0 points, 8.2 rebounds and 1.1 blocks on 56.3 percent shooting.
Although Lin's knee soreness isn't believed to be a major issue, he's managing just 14.6 points and 6.2 assists per game on 40.7 percent shooting in March.
His efficiency hasn't been where it was previously, and he's dished out double-digit assists in just two March games after accomplishing the feat five times in February.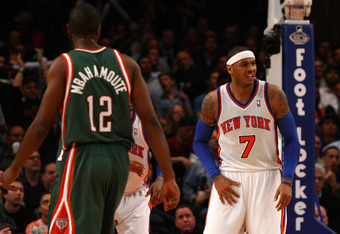 Chris Chambers/Getty Images
Now, the Knicks enter the most critical stretch of the season with just 16 games left on the schedule and the three of the most important players on the team all facing uncertain outlooks.
It's not going to be easy. The Knicks have a grueling end to the campaign, and have to face Orlando, Atlanta and Chicago twice before the year concludes.
Additionally, New York has contests left against such teams as Indiana, Milwaukee, Boston and the Los Angeles Clippers.
This is going to be a brutal test of resilience.
The Knicks currently sit in the eighth seed of the Eastern Conference playoff picture with the Bucks just two-and-a-half games behind. In other words, there isn't a lot of wiggle room available.
Even if New York does make it into the postseason, there is no chance for this team to succeed without Stoudemire in the lineup.
Should Anthony and Lin make it through the remaining regular season schedule unscathed, the Knicks currently stare at a first-round matchup against either Chicago or Miami, and both teams would present serious problems.
This team might be deeper than it was to begin the year, but there is no way this Knicks team will have a prayer in the postseason with its most important cogs banged up.
Mike Woodson told Steve Sterby of the New York Post last week that his team had a "legitimate shot to win the title."
What a difference a week makes.