Buffalo Bills Could Cash in with Compensatory Pick
March 27, 2012

Chris Trotman/Getty Images
With the NFL draft just under a month away, the Buffalo Bills are prepping themselves for a busy day in the war room. On Monday, they found out they'll have to prepare a little more.  
As owners gathered for their annual meetings in Palm Beach Florida, the NFL awarded a total of 32 compensatory picks. Fifteen teams were the lucky recipients, and according to the team's website, the Buffalo Bills were one of them.  
Buffalo received just one extra selection in the seventh round, but for the Bills it makes for a perfect 10 in total choices. 
The seventh rounder is the 251st pick overall, which happens to be the third-to-last pick in the entire draft. That player may not contribute very much or even make the 53-man roster, but as Bills star wideout Steve Johnson can attest, strange things can happen in the NFL, if you "Bill-lieve."  
Johnson, of course, may be the most successful seventh-rounder in Bills history. Since being selected with the 224th choice in 2008, he has caught 170 passes and has earned back-to-back 1,000-yard seasons.  
"SJ13" also has 19 touchdowns over a four-year span, but he would be the first to admit that he's not the only one to make the best of an opportunity.  
Unrestricted free agent left tackle Demetrius Bell was also picked in the seventh round in 2008, just 27 picks after Johnson (No. 251). Bell has still not signed with another team, and there's an outside chance he could return to the Bills in 2012.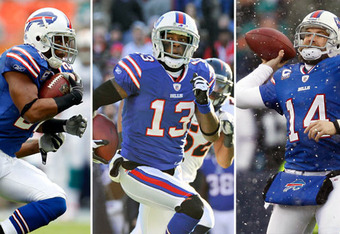 Buffalo's current team also features the "Misfit Bills," who have shined despite being undrafted. RB Fred Jackson leads the charge, along with the pass-catching trio of David Nelson, Donald Jones and Naaman Roosevelt. 
Believe it or not, Ryan Fitzpatrick was a seventh-round choice. The Bills quarterback was selected 250th overall by the St. Louis Rams in 2005.  
In 2011, two players impressed the Bills after being selected in the seventh round.  
Talented young cornerback Justin Rogers was selected with the 206th pick. Buffalo then chose gigantic defensive tackle Michael Jasper at No. 245.  Jasper was one of last season's "feel good" stories after he was urged to drop a significant amount of weight by Bills head coach Chan Gailey. Jasper, who was originally 450 pounds, lost 75 pounds to make the practice squad at a svelte 375.
Other seventh-rounders to make names for themselves in Buffalo included: DB Jimmy Williams (2001), who played in 80 NFL games; LB Dashon Polk (2000); DE Bryce Fisher (1999), who totaled 26 sacks over an eight-year career; and long-time TE Jay Riemersma (1996). Riemersma had 221 receptions and 23 TDs during a stellar nine-year career with the Bills.  
DB Kurt Schulz, DL Mark Pike, K Gary Anderson, fan-favorite WR Bobby Chandler and former NFL head coach Marty Schottenheimer were some other seventh-rounders who enjoyed success with the Bills and a couple of other NFL teams. 
Buffalo's extra 2012 draft pick was rewarded for the following reasons: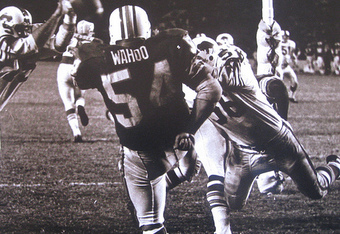 In order to receive compensatory picks, teams had to lose more free agents than they acquired in the previous year. The picks are based on the number of free agents and the impact of those players and salary.
Buffalo, Indianapolis and St. Louis did not have a net loss of free agents, but when salary was taken into account, the Bills received one compensatory pick.
According to the NFL's press release:
Buffalo signed QB Tyler Thigpen and QB/WR Brad Smith, but lost S Donte Whitner and LB Paul Posluszny, who was signed to a large contract by Jacksonville. His salary impact helped the Bills case for the extra pick.
Buffalo has seven regular selections, the compensatory choice and two more picks from trades they made the past two years (RB Marshawn Lynch to Seattle and WR Lee Evans to Baltimore).
For a complete list of all of the the league's compensatory selections, please click here. The 2012 NFL Draft is a three-day event that begins in prime-time on Thursday, April 26.