Arizona State Football: Sun Devils 2012 Success Relies on Cameron Marshall
March 27, 2012

Norm Hall/Getty Images
The Arizona State Sun Devils need to make a huge bounce back after their collapse in 2011, and the only player who can make sure they head into the right direction is running back Cameron Marshall.
The Sun Devils saw their most success on the offensive side of the ball when Marshall was able to go off, and with quarterback Brock Osweiler gone, as well as wide receivers Gerell Robinson, Aaron Pflugrad and T.J. Simpson, the team will need him to play huge now more than ever.
Coach Todd Graham was left over with this weapon, and he is going to have to utilize to the max in his first season as the Sun Devils head coach.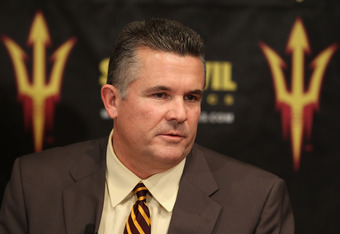 Christian Petersen/Getty Images
This past season, Marshall ran for 1,050 yards on 230 attempts. More impressively, he had 18 touchdowns on the ground, making him so dangerous despite playing injured most of the time.
Marshall dealt with a lingering ankle injury that was clearly affecting him against the Illinois Fighting Illini in the third game of the season, as the junior back was only able to run for 69 yards on 13 carries.
Don't get that wrong, that is an impressive 5.3 yards per carry, but fact of the matter is he was only able to carry the ball 13 times.
If Marshall can stay healthy throughout the entire 2012 season, the Sun Devils could certainly surprise some teams.
Don't forget, this team took down the USC Trojans in the fourth game of the season, with a lot of that being attributed to Marshall's 141 yards and three touchdowns and 25 carries.
It also won't hurt if he has a healthy Deantre Lewis ready to go, as he will have more of a true running back than players like Jamal Miles or Kyle Middlebrooks fulfilling those duties.
The team has yet to really close in on who will be playing quarterback this next season, as it will likely come down to a battle between Mike Bercovici or Taylor Kelly. Michael Eubank has a shot too, but considering the years he has left, the team may decide to go with one of their sophomores.
Either way, they will have one less thing to worry about with Marshall standing behind them in the backfield.
Jeff Chase is a Featured Columnist for the Chicago Cubs and Arizona State football.
Follow @Real_Jeff_Chase