Chicago Cubs Trade Rumors: Time to Move Marlon Byrd in Favor of Brett Jackson
March 27, 2012

Ezra Shaw/Getty Images
The Chicago Cubs are clearly rebuilding for the future, and they must continue with that direction by moving outfielder Marlon Byrd in the near future in order to bring prospect Brett Jackson up with the opportunity to be able to play.
According to the Chicago Sun-Times' Gordon Wittenmyer, the team has been open to moving the veteran before the season starts, but nothing has been set in stone with spring training nearing a close.
Center fielder Marlon Byrd's name is making the rounds in the final-week-of-spring hot stove as the Cubs try to bolster a thin bullpen and teams such as the Washington Nationals and Atlanta Braves try to shore up outfield needs.

One major-league source said the Cubs offered Byrd — who's in the final year of a contract that pays $6.5 million in 2012 — to the Nationals for pitching, with the Braves also believed to be discussing Byrd. Another source said the Cubs don't appear to be shopping Byrd as much as listening to offers.
Byrd isn't bad, but he also isn't great. Considering the team just signed David DeJesus this offseason, and the contract of Alfonso Soriano is pretty much unmovable, Byrd is the ideal guy to deal to make room for the prospect.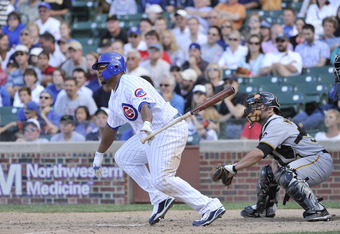 Brian Kersey/Getty Images
The 34-year-old was battling many injuries this past season, including a fracture in his face. He still battled it out to finish the 2011 season with a batting average of .276 while knocking out nine home runs and 35 RBI in just 119 games. His on base percentage was his lowest in five years at .324, but he has the most to give at a good price for any team interested.
It appears that the Cubs have a few interested clubs in taking on Bryd, and they could jump on that opportunity to get one of their long-time prospects the proper playing time needed in the big leagues to finally fully develop.
There would be no point in keeping him out of an opportunity to develop in the minors if there was no room for him in the Cubs' current outfield. If Byrd were to be moved, that would give Jackson a greater opportunity to make the jump much sooner than later.
Many didn't likely expect Jackson to make it out of spring on the final roster, but he could certainly be fighting for such a spot soon if there is an opening.
According to the source, new Cubs' manager Dale Sveum believes the young outfielder is ready to take a role in the MLB, but finds it difficult to do so if he doesn't have the right amount of opportunities.
On the other hand, manager Dale Sveum made it clear Jackson didn't make the roster only because the Cubs have veteran starters across the outfield, and Jackson needs to play every day.

"Brett Jackson is ready to play here for sure,'' Sveum said.
That means a lot coming from his manager, and may be an indication on why the club is supposedly becoming more active in moving Byrd with Opening Day quickly approaching.
Jackson did have a nice spring, as he batted .276 with two home runs and seven RBI in 29 at bats. In his last outing against the Texas Rangers on March 22, Jackson went 1-for-1 with a two-run home run.
He surely went out with a bang, and would likely want to return soon to once again prove that he is ready to contribute right away.
Still, moving Byrd remains to be the only road block in such a situation happening.
It likely won't be easy to move Byrd and $6.5 million contract, but if teams are already showing interest, that is a good sign for the club. They may not get exactly what they want in return, but if they could rid themselves of that contract and give Sveum more flexibility with his outfield, the team may just have to pull the trigger on the best offer they can get.
Jeff Chase is a Featured Columnist for the Chicago Cubs and Arizona State football.
 Follow @Real_Jeff_Chase