2012 NFL Draft: Arkansas State Safety Kelcie McCray Can Play
March 27, 2012

Kelcie McCray is a good-sized, sure-tackling strong safety from Arkansas State.  At his pro day, he measured 6'1-3/4" and 202 pounds and ran an official 4.54 40-yard dash.
He can eat up space with his feet, especially at the safety position.  McCray is a solid player with very good coverage skills.
I talked with him after his pro day about his time at college.  We also talked about his future, looking toward the NFL.  He was invited to the combine, so I asked what the combine process was like.
"It was fun,'' he said. "It was a different experience getting to go up against other guys from different schools for the first time in a long time.  It was definitely a good experience.''
Like some of the others that we have talked to, he didn't like the emphasis on medical exams at the combine. "The most frustrating part was in the things like that," he said. It reached a point where he just wanted to go show them what he could do.
I asked him what his favorite moment was as a college football player.  "This past season, we went 10-2 in the regular season, but we lost the bowl game.  It was the best season in Arkansas State history.  We had a lot of fan support and we did a lot of great things."
I asked if there was an aspect of his game that he has been told needs to be worked on. He said that "being a more physical tackler at the point of contact" was something a few teams had mentioned. 
While he acknowledged that he needs to tackle better, perhaps look at technique, he says that he is a sure tackler and that he didn't miss a lot of tackles. He played strong safety at Arkansas State.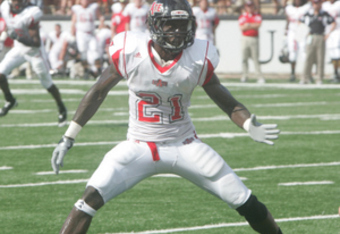 I asked what he felt he could offer an NFL team.  "My experience, my athleticism, my knowledge of the game and my ability to make plays on the ball," he said.

He said that being a playmaker in the secondary "is very valuable to any team, you know. Turnovers and interceptions are game-changers."
We talked about his love for the game and how he watches football to learn things and pick up traits from the best.  He said he watches a lot of Ed Reed because Reed is his football role model. "I try to watch the things he does and take the little pieces and incorporate them into my game." 
At 6'2", McCray is tall and rangy.  I asked if he considers his size an advantage. "Definitely...not only with receivers, but my size allows me to match up against tight ends.''
I asked him what he would want the fans of the team that drafts him to know.  He told me "they are definitely getting a guy that's going to work, work his butt off, and that wants to win. I'm going go out every practice and work the hardest, just do whatever I'm asked; do whatever's asked of me."
He said that there won't be any reason to worry about off-the-filed issues with him.  .
McCray is a good football player, and a player who is going to surprise some people.  His ability to cover from the back end, especially in a league that wants to throw the ball at every opportunity, is going to help him.
He has been productive everywhere he has been. There is nothing preventing McCray from having success in the NFL.
Scott Bischoff is a Contributor for Bleacher Report. Unless otherwise noted, all quotes were obtained first-hand or from official interview materials.