Washington Redskins: 6 Players That Underperformed in 2011 and Need to Step Up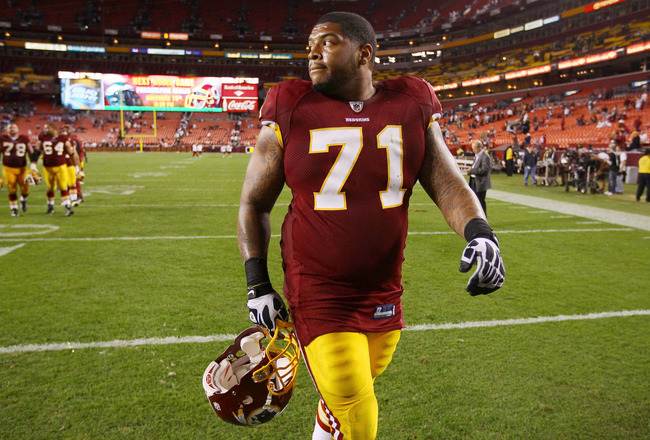 Win McNamee/Getty Images
For those of you looking for a completely revamped 2012 Redskins roster, don't hold your breath too long. As savvy as Bruce Allen and Mike Shanahan were in creating a tremendous amount of cap space for this offseason, the recent $36 million cap penalty threw a wrench into the team's plans.
Also, with the four free-agent additions to date (not counting re-signings), the draft looks to be where any further change to the roster will come from. The big money names in this year's free-agency class are all gone; Williams, Manning, Nicks, Grubbs, Wells, Myers—and that's not to say the 'Skins were players in any of those.
What it leaves you with is a second tier of free agency that consists of players who may command more money to come here and yield less productivity than the current depth chart affords.
Let's take a look at six players that underperformed last year that need to and are expected to step up in 2012.
Rex Grossman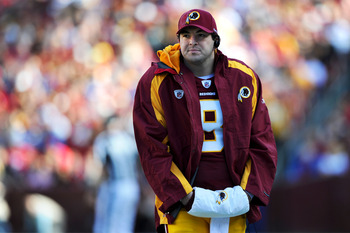 Patrick Smith/Getty Images
Underperforming and Rex Grossman go together like Tim Tebow and unnecessary media attention. It's hard to argue that Grossman had a good start to the season when the team had a winning record and he was still benched for John Beck. But crucial interceptions and bad throws are what we've come to expect from Grossman.
But 2012 is going to bring with it a whole new set of responsibilities for this former Super Bowl quarterback. For the first time in his career, Grossman is going to have to be the example for a young top draft pick. Looking back at how Shanahan slowly introduced Jay Cutler into the starting lineup, I've got a feeling that whomever the Colts give to the Redskins at the No. 2 pick won't be starting opening day.
Now Grossman's on-the-field performance shouldn't be anything that RGIII or (there's still a chance) Andrew Luck looks to model themselves after. But it's his off-the-field preparation and rapport with the team that Grossman needs to solidify. His work ethic, no matter how terrible the on-field translation is, should be something that the new franchise QB tries to replicate. By re-signing a one-year deal, Shanahan has told Grossman to warm the car up while the new quarterback learns the rules of the road.
Perry Riley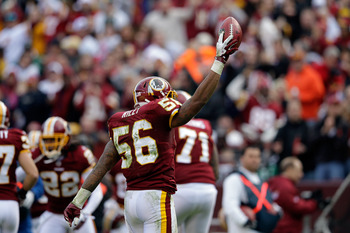 Rob Carr/Getty Images
First—let me qualify this selection. The only reason I'm saying that Perry Riley underperformed is that it took him until Week 10 to supplant Rocky McIntosh as starter.
That being said, Riley broke out last season and showed the spark and promise that the coaching staff saw in him before the 2010 draft. Looking back at Riley in the 2010 season compared to last year is a night and day comparison. The consistency and measured aggression that marked his 2011 season was lacking significantly in his rookie campaign.
This upcoming season puts Riley in a very precarious position. He's shown, to a limited extent so far, that he's got the ability to start in this league. But can he translate that into a full 16-game season and maintain his high level of play?
His task is made even more arduous by the London Fletcher contract situation. Starting a full season in the middle of the 3-4 next to Fletcher would take some of the pressure off of the third-year pro. Unfortunately, if Fletcher cannot be retained, Riley may find himself starting next to Lorenzo Alexander (in yet another positional move) or a rookie.
Either way, Perry Riley has fought his way into a starting spot for the 2012 season.
DeAngelo Hall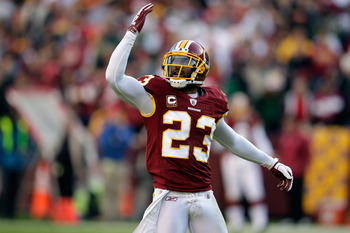 Rob Carr/Getty Images
Having infamously declared after the Week 11 loss in overtime to the Cowboys that he should be cut, DeAngelo Hall's play started to improve for the remainder of the season. His time in DC has been marked with inconsistency. At times he looks like a former top-10 pick should and other times he leaves you wondering when he'll be shipped out of town.
With Josh Wilson and, hopefully, a healthy Cedric Griffin, Hall has some support behind him and also some competition. His base salary and bonuses put him at the third-highest cap number on the team behind Trent Williams and newly acquired Pierre Garcon.
Hall needs to return to his Pro Bowl form or else risk the chance of becoming a cap casualty with the three years remaining on his deal, including 2012.
Chris Chester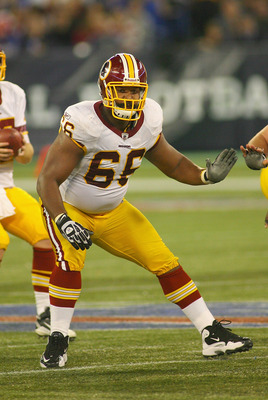 Rick Stewart/Getty Images
I've said my peace before regarding my thoughts on Will Montgomery and Jammal Brown. Thankfully, Montgomery's new deal has already been restructured and his base salary is low. But I'm surprised the Redskins didn't make a stronger push for Texans center Chris Myers. He is a career Shanahan system guy from his days in Denver.
But I digress.
Who else is to blame for the status quo on the Redskins offensive line? Chris Chester. According to our own Senior NFL draft lead writer Matt Miller, Chester is the 29th best right guard in the league.
Take that Cooper Carlisle, Ryan Diem (he did just retire) and Adam Snyder!
But I've got to agree with Miller's assessment of Chester. He's not a good fit in the Shanahan system; doesn't have the ability to pull and lead around the edge, which is a staple of Shanahan's running game, and lacks the agility to run block effectively.
Look for the 'Skins to take a versatile guard in the later rounds for whom Chester is currently keeping their starting spot warm for now.
Trent Williams and Fred Davis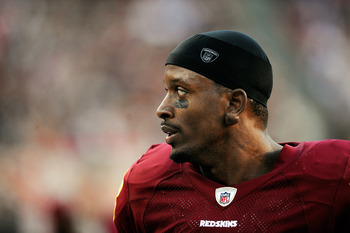 Patrick McDermott/Getty Images
Lastly we come to the two players with the greatest unrealized potential on the team. Trent Williams and Fred Davis missed only four games at the end of last year stemming from their drug suspensions.
These two each failed at least three drug tests in their careers. Both failed two tests after the lockout ended. Frankly, they're lucky to have played a down in the 2011 regular season. The league and the player's union had started negotiating the terms of their discipline back in August.
Both Williams and Davis face pivotal points in their careers. For Davis, he has signed his franchise tender and is riding on a one-year deal. One misstep and he's out for a full season. When he returns, he's left without a contract and presumably anyone willing to take a risk on him.
Davis has seized his opportunities on the field so far in the wake of all of Chris Cooley's injuries. But now the team has to make a decision based on Cooley's health and Davis' maturity on who they are going to invest in long term. Hopefully, Davis will make that decision for them based on his play and not his immaturity.
Trent Williams and Fred Davis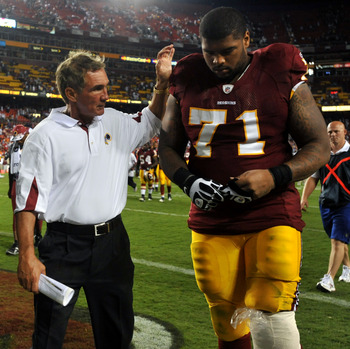 Larry French/Getty Images
And speaking of immaturity, I now bring you to Trent Williams. The major knock on him coming out of Oklahoma was his dedication to the game. Early on in the 2011 season, I thought Williams was turning a corner. He was playing angry and aggressive but not out of control. Little did we know he was playing that way because he was on borrowed time.
Fortunately for Trent, this year's draft pick will be known from here on out as the pick that shaped Shanahan's tenure here in DC. Either Griffin or Luck will be the lasting representation of the Shanahan-Allen draft era. Frankly, they have to be. After giving up two future first-round picks, the team is mortgaging their future on this pick.
If they're a hit—Williams could potentially be a small misstep that the team corrected with their franchise QB. However, if Williams can rebound from last year and establish himself as a top-10 tackle in this league, we could look back at him as the first piece that Shanahan acquired to put the team back on the right track (I'm still pretending that whole Donovan McNabb thing never happened).
Trent Williams is the last top pick the Redskins made under the old CBA and old rookie wage scale. His contract is worth more than last year's No. 1 overall pick, Cam Newton, and will be presumably more than the 'Skins first pick this year. Step up Trent and silence the critics. You could be looking at a long career ahead of you blocking RGIII's blind side.
For more by Scott and his cohorts, check out The Recap.
Keep Reading

Washington Redskins: Like this team?