NHL 2012: MVPs for Every Team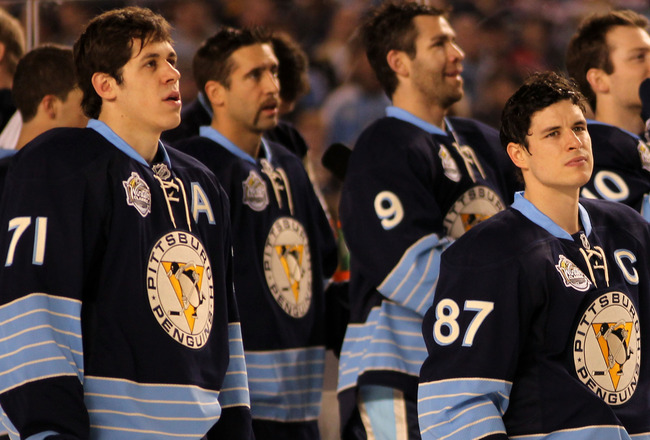 Jamie Squire/Getty Images
As another NHL season comes and goes, it's always fun to look at which players meant the most to each franchise this season. Often, it is a superstar who simply continues to perform at a high level, but occasionally, a rookie emerges as a focal point or a veteran goalie finally steps up.
Here's a look at which players were the best on their respective teams in 2011-2012.
Anaheim Ducks: Teemu Selanne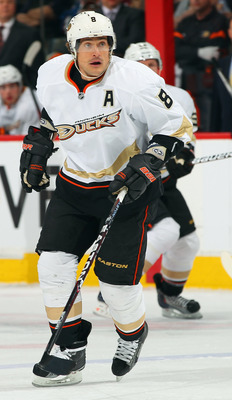 Doug Pensinger/Getty Images
Teemu Selanne is incredible. First, he scored 76 goals as a rookie. Then, after being written off and expected to retire, he proved that he is still a top forward. With Corey Perry having some early struggles, it became clear that the Ducks are still Selanne's team.
Boston Bruins: Milan Lucic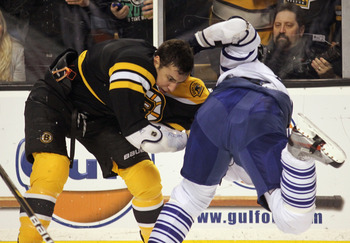 Bruce Bennett/Getty Images
There are a few deserving candidates on the Bruins, however, Lucic brings more intangibles than Tyler Seguin or Zdeno Chara. It's Lucic's tenacity and downright terrifying presence that has established the Bruins' intimidating identity among their NHL opponents.
Buffalo Sabres: Ryan Miller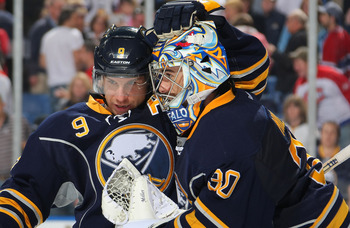 Dave Sandford/Getty Images
Ok, so the first half of this season was hardly MVP-caliber for Ryan Miller. But as Miller goes, the Sabres go. Since Miller has turned his game around, the Sabres have gone on an absolute tear and are in the mix for the seventh and eighth spot in the Eastern Conference; something that didn't seem to be in the cards at the start of 2012.
Calgary Flames: Miikka Kiprusoff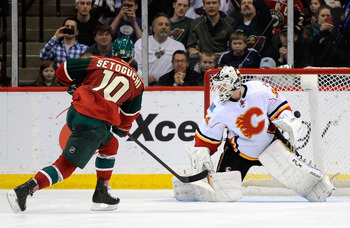 Hannah Foslien/Getty Images
I really wanted to say Jarome Iginla, but Kiprusoff has been too good this year. He's stolen more games than I can count on my fingers and has shown no signs of fatigue on the cusp of his 36th year.
Carolina Hurricanes: Jeff Skinner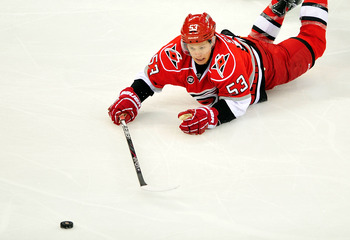 Grant Halverson/Getty Images
The Hurricanes have had a fairly disappointing year. The reason I'm picking Jeff Skinner, who was hurt for a large portion of the season, is because I think they might be in a playoff spot if he had never been injured.
Chicago Blackhawks: Duncan Keith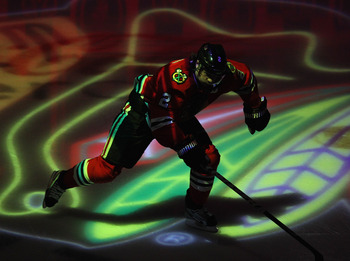 Jonathan Daniel/Getty Images
...for that hit on Daniel Sedin. I'm kidding, I'm kidding. But seriously, Keith has regained his Norris form. On top of playing more than 26 minutes a night, he seems to be playing with a bit of an edge lately, which bodes well for the Hawks' playoff chances.
Colorado Avalanche: Gabriel Landeskog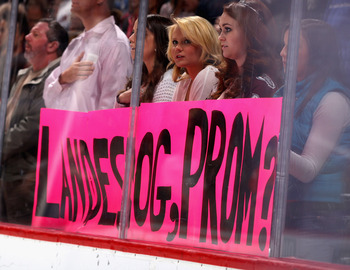 Doug Pensinger/Getty Images
The rookie from Kitchener has been the Avs' most consistent two-way player, kills penalties and is a serious candidate for the Calder Trophy.
Columbus Blue Jackets: Rick Nash Rumors
Doug Pensinger/Getty Images
It really was an incredible season for Rick Nash rumors. They flew under the radar at the beginning of the season, but an unbelievable January and February made it clear they were the best thing coming out of Columbus this year.
Dallas Stars: Jamie Benn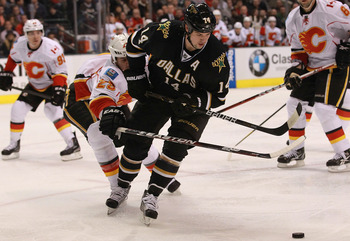 Ronald Martinez/Getty Images
Benn is one of the most underrated players in the NHL. He plays tough, scores and kills the occasional penalty. Here's the most revealing stat: seven game-winning goals.
Detroit Red Wings: Pavel Datsyuk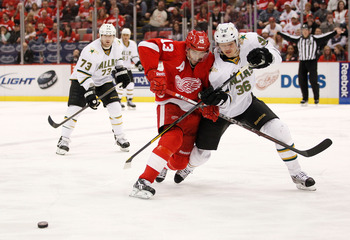 Gregory Shamus/Getty Images
I know it's the obvious choice, but Datsyuk really is one of the most consistent top-tier players in the league. He's hugely respected by his peers as well: he was voted at the top of many of ESPN's player polls in 2012.
Edmonton Oilers: Jordan Eberle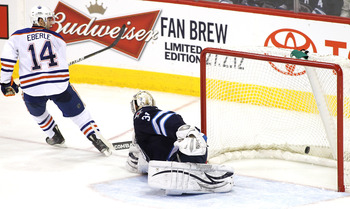 Marianne Helm/Getty Images
Eberle has arrived. It was really only a matter of time before he became a top scorer in the NHL. But I didn't think it would happen this quickly. As a 21-year-old, he's already 10th in league scoring.
Florida Panthers: Jason Garrison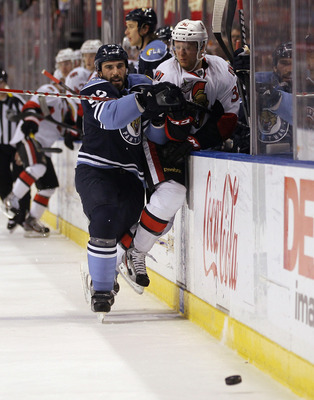 Bruce Bennett/Getty Images
His cannon from the point made the Panthers a much more intimidating offensive team and his very solid defensive play solidified their once shaky blue line. He also kills penalties, and let's not forget his three game-winning goals.
Los Angeles Kings: Jonathan Quick
Stephen Dunn/Getty Images
Quick has been far and away the Kings' best player. With the team's offensive disappearing act, Quick picked a good time to have one of the best statistical seasons since the lockout. His paltry 1.98 GAA is third among goalies with more than 40 starts.
Minnesota Wild: Niklas Backstrom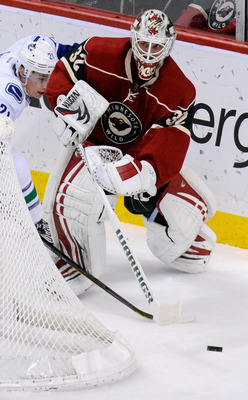 Hannah Foslien/Getty Images
Since the Wild can't score to save their lives, he wins by default. That's not to say Backstrom hasn't been very good—a 2.44 GAA and .920 save percentage—but Minnesota has had a season to forget.
Montreal Canadiens: Max Pacioretty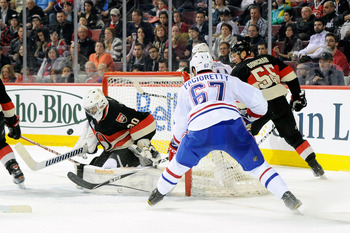 Richard Wolowicz/Getty Images
Coming off Chara-gate, "Patches" has established himself as a productive power forward. While Montreal has had problems from day one, Pacioretty has been a lone bright spot, especially considering his future as a hockey player was in doubt.
Nashville Predators: Shea Weber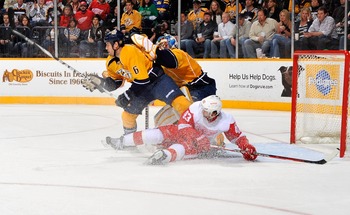 Frederick Breedon/Getty Images
Weber's great season has been somewhat overshadowed by his impending free agency. But he's scored 16 goals, logged more than 26 minutes a game and has led the Predators into a position to make a serious playoff run.
New Jersey Devils: Ilya Kovalchuk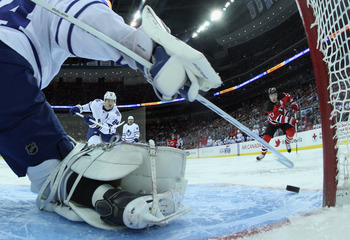 Bruce Bennett/Getty Images
Finally, he's starting to play like he's worth the money. Kovalchuk has become a player who scares you every time he gets the puck. He's also 11-of-13 in shootouts, with seven game-deciding goals, something hugely important in the post-lockout NHL.
New York Islanders: John Tavares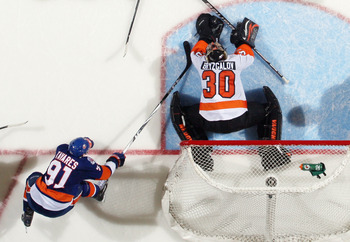 Bruce Bennett/Getty Images
Tavares has reached the point-per-game plateau and has also tapped into his clutch potential, scoring eight game-winning goals. He makes everyone around him better, which is what a truly great player does.
New York Rangers: Henrik Lundqvist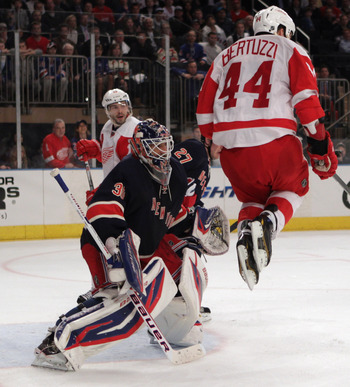 Bruce Bennett/Getty Images
Lundqvist is the favorite to win the Vezina Trophy and for good reason. He's in the top three in all main goaltender categories, including eight shutouts.
Ottawa Senators: Erik Karlsson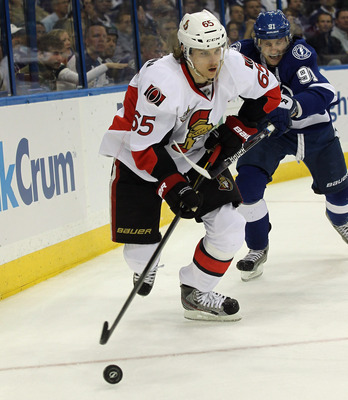 Bruce Bennett/Getty Images
It was between Karlsson and Jason Spezza, but Karlsson will likely win the Norris, so it's hard to argue with that. It's almost surreal what the 21-year-old has accomplished this season. He has 76 points through 76 games and sits a comfortable 27 points ahead of Brian Campbell in scoring among NHL defensemen.
Philadelphia Flyers: Scott Hartnell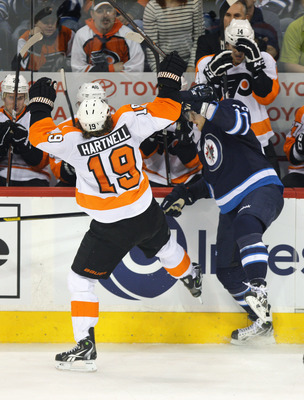 Tom Szczerbowski/Getty Images
Hartnell has outdone Claude Giroux in the intangibles important to every team. Hartnell brings toughness, intensity and leadership. Throw in 36 goals and he's the main reason Philadelphia is such a difficult team to play.
Pittsburgh Penguins: Evgeni Malkin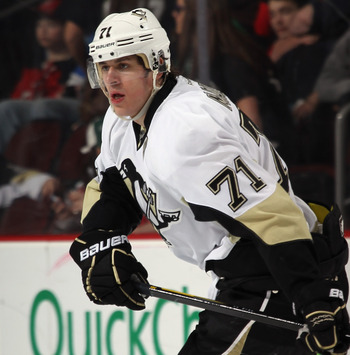 Bruce Bennett/Getty Images
The best player in the world right now. He's a lock for the Hart Trophy and could be in for his second Conn Smythe.
Phoenix Coyotes: Mike Smith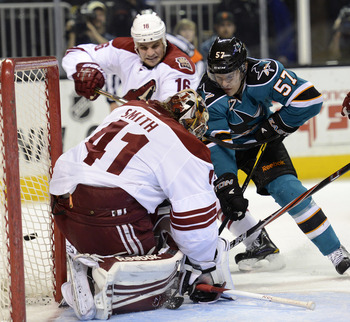 Thearon W. Henderson/Getty Images
After the departure of Ilya Bryzgalov in the summer, Mike Smith stepped in beautifully, providing the Coyotes with consistent and occasionally brilliant goaltending. He's a steadying force within an unpredictable franchise.
San Jose Sharks: Logan Couture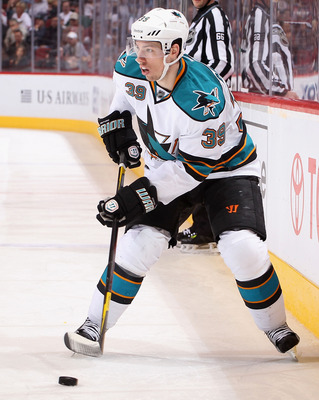 Christian Petersen/Getty Images
While the Sharks have disappointed this season, Couture has avoided the sophomore slump, posting his second straight 30-goal season. He will be the face of the franchise going forward.
St. Louis Blues: Jaroslav Halak and Brian Elliott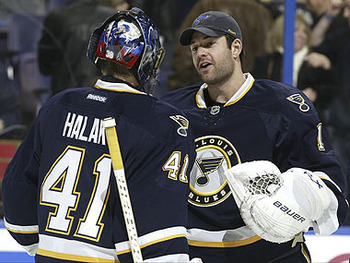 Both of these goalies have been unbelievable. It was impossible to pick one. Each have GAA under 2.00 and post-save percentages of .927 and .941. Those numbers are outrageous for a goalie tandem. It's because of these two guys that St. Louis is among the big boys in the Western Conference.
Tampa Bay Lightning: Steven Stamkos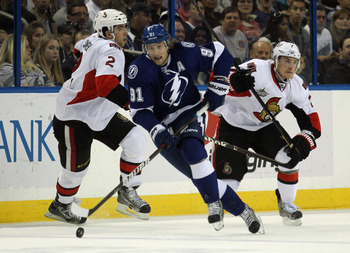 Bruce Bennett/Getty Images
Move over, Alex Ovechkin, Steven Stamkos is the premier scorer in the NHL. His 53 goals put him seven up on Malkin and his 10 game-winning goals are tops in the league.
Toronto Maple Leafs: Phil Kessel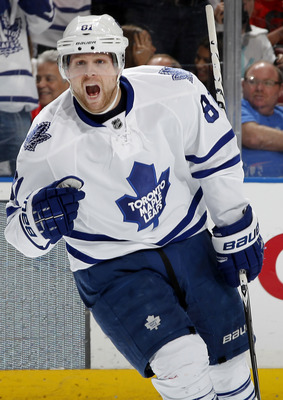 Joel Auerbach/Getty Images
Kessel has his detractors, but he is fifth in league scoring with two weeks remaining and has emerged as a legitimate top-10 forward.
Vancouver Canucks: Kevin Bieksa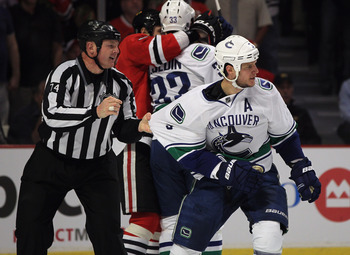 Jonathan Daniel/Getty Images
While the Sedins have taken something of a step back this season, Bieksa has taken a big step forward. He's easily the Canucks' most reliable defenseman and has pitched in 42 points to go along with two game-winning goals from the back end. He's also the team's most vocal and demanding leader. Pretty darn solid stuff.
Washington Capitals: Dennis Wideman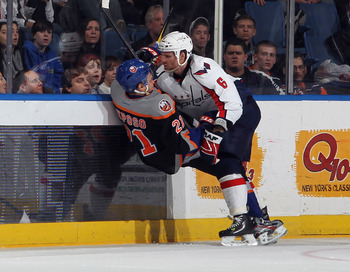 Bruce Bennett/Getty Images
Another winner by default. The team hasn't performed to expectations, and while Wideman has not been excellent, he's been a steady scorer and reliable minute-muncher on the Caps' blue line.
Winnipeg Jets: The Fans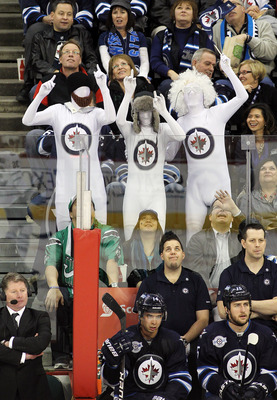 Marianne Helm/Getty Images
The entire Winnipeg Jets season has been so awesome to watch because of the fans at the MTS Centre. They've made a tangible difference in the team's performance, as shown by the Jets' ridiculous home and away records. It just feels nice giving a shout-out to die-hard Canadian hockey fans.
Keep Reading