New Jersey Nets: Re-Visiting the Deron Williams Trade
March 27, 2012

Chris Chambers/Getty Images
Last season, after months of trying to complete a deal for Carmelo Anthony fell through, the New Jersey Nets and the Utah Jazz agreed to a deal at the trade deadline that stunned the league.
The Nets agreed to send Devin Harris, Derrick Favors, two first-round picks and cash to Utah for Deron Williams.
Each team seemed to get what they wanted. Utah sold high, getting a serviceable point guard, Harris with a reasonable contract, a young power forward with a lot of potential in Favors as well as two picks to help speed up the rebuilding process. One of the picks turned out to be 6'11'' Turkish big man Enes Kanter.
In completing the deal, the Jazz also acted proactively, eliminating the distraction of Williams' contract-ending season that would have been filled with just as much speculation of his uncertain future as everyone saw with Anthony's contract-ending season last year and Dwight Howard's season this year.
This season, the Jazz are already back in playoff contention with a record of 27-23 to date. They are playing as a team without any distractions.
While Harris is not putting up big numbers, averaging 10.4 points and 4.8 rebounds per game, he is a solid starter on a winning team.
Favors is averaging 8.8 points and 5.9 rebounds in 20 minutes per game. He also has six double-doubles on the season and has scored in double-figures in 18 games. When he is given starter's minutes, he will be a double-double machine.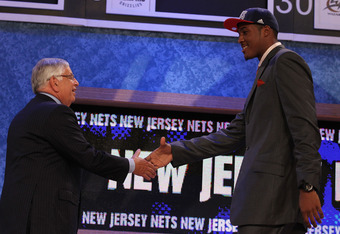 Al Bello/Getty Images
Kanter has a long way to go on developing an offensive game but appears to be a very good rebounder at only 19 years old. In just 13.8 minutes per game, he is grabbing 4.6 rebounds per game. He had three games this season where he went for double-digit rebounds.
With Utah having a bright future ahead, the Nets are a team in peril.
And not because of Williams' lack of effort. The Nets got an All-Star point guard as advertised. This season, Williams is averaging a career-high in points with 21.8 per game as well as averaging 8.2 assists per game.
The team's losing record has been the result of many factors.
New Jersey failed to complete a trade before the season and again at the trade deadline that would have landed the team their dream pairing of Deron Williams and Dwight Howard as they head into the $1 billion Barclays Center in Brooklyn next season.
While the trade did not happen, it had an effect on the Nets players as they had to deal with the Howard distraction since training camp. The roster also had to deal with multiple injuries to key players.
Brook Lopez, the team's leading scorer from last season, has played in only five games due to a broken foot in the preseason and an ankle sprain that occurred after recovery.
Mehmet Okur, Damion James, Keith Bogans and Shawne Williams have all suffered season-ending injuries early this year.
DeShawn Stevenson, Anthony Morrow, Kris Humphries, Jordan Farmar and Deron Williams all sat out multiple games with various injuries.
All of the injuries forced head coach Avery Johnson to lead the league in different starting lineups this season. Without any stability in the starting lineup and rotation, the team was unable to build any real sort of chemistry.
This season is a lost one for the Nets. And not only because of their 16-35 record. They also lost a high draft pick in this year's draft in a desperation trade for Gerald Wallace. Unless the pick is in the top three, it goes to Portland. They could have also lost the Williams trade if he leaves for greener pastures in the offseason.
Everything that could have gone wrong for the Nets has gone wrong.
The Williams trade was a night away from being every bit worth the gamble as it would have lured the NBA's best big man in Dwight Howard before Howard had a change of heart.
Howard would not have even flirted with the Nets if Deron wasn't on the Nets roster.
Now, heading into Brooklyn, the Nets are left with nothing but questions. Will Deron leave? What could have this team accomplished if healthy? Have management and players showed Deron enough to get him to commit long-term? Will he give them a pass due to injury and Howard's indecision?
And most importantly, was the Williams trade worth it?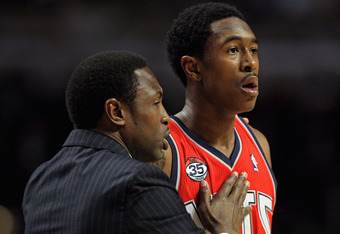 Jonathan Daniel/Getty Images
If the Nets did not trade for Williams, they would have a young promising frontcourt in Lopez and Favors. Harris would have been a short-term answer at the starting point guard. MarShon Brooks would have most likely still have been their pick late in the first round of last year's draft.
If they didn't take Brooks, the Nets would have had last year's No. 3 and 26th picks along with their own first-round pick, the Houston Rockets' lottery-protected pick and Golden State's top-seven protected pick, all from this year's upcoming draft.
The Nets also would have had ample salary cap space to work with.
While no one knows what that team would have looked like, no one might ever know what a healthy Nets team led by Williams would have looked like either.
Hopefully, for the Nets organization, NBA commissioner David Stern can make a Ewing-like move to secure the team with No. 1 pick, which in turn would lead to Williams re-signing causing all of Brooklyn to rejoice.  
Because, if a similar scenario doesn't work out, the Nets will be headed for Brooklyn as a decimated, expansion-like team. And that would not be good for the NBA, Brooklyn, Stern or the Nets.