2012 NFL Mock Draft: Who's Rising, Who's Falling?
March 27, 2012

Darren Carroll/Getty Images
1. Indianapolis Colts: Andrew Luck, QB, Stanford
This pick is pretty well set in stone. Successor to Peyton Manning and franchise QB with unreal intangibles, he is about as close to a sure thing as they come.
Other possibilities: None
2. Washington Redskins: Robert Griffin, QB, Baylor
Washington mortgaged its entire future to draft RGIII. He definitely has the ability and athletic prowess, but will he be able to put it all together in a pro system?
Other Possibilities: None; they didn't give up that much to take Kalil, I can tell you that.
3. Minnesota Vikings: Matt Kalil, OT, Southern California
Needing to protect QB Christian Ponder along with bolstering the run blocking are the Vikings' biggest needs. Lucky for them Kalil fits the bill for both of those needs and will be an anchor on their O-line for years to come.
Other Possibilities: CB Morris Claiborne, LSU
4. Cleveland Browns: Trent Richardson, RB, Alabama
The Browns need just about everything. However, Richardson offers the widest array of threats to fit into the Browns offense to help out Colt McCoy. Richardson can run through and around defenders, pass block and catch balls out of the backfield; it's hard to pass that up.
Other Possibilities: CB Morris Claiborne, LSU; WR Justin Blackmon, OK St.
5. Tampa Bay Buccaneers: Morris Claiborne, CB, LSU
Claiborne has been deemed by many the best corner in this draft and maybe one of the best all-around athletes in the field this year. It is still to be seen how much his upcoming surgery will affect his value, but if Richardson is off the board this is a no-brainer as the Buccaneers desperately need to fill the void at cornerback left by Ronde Barber and Aqib Talib.
Other Possibilities: If Trent Richardson is on the board and Claiborne is not, he will be their pick.
6 St. Louis Rams: Justin Blackmon, WR, Oklahoma State University
The Rams gained a plethora of picks from the trade down with the Redskins, and sure enough—in this mock, anyway—they get their No. 1 target in Blackmon even with the trade down. Blackmon is extremely talented but his separation ability is his biggest question mark.
Other Possibilities: If the Browns take Blackmon, this changes things up for STL. Trent Richardson could be a choice as an eventual successor to Steven Jackson.  Riley Reiff the OT from Iowa is an option here as well, as they desperately need to keep Bradford on his feet this year. Also ,any of the top defensive linemen (Coples, Ingram, Poe, Cox) could be options as well.
7. Jacksonville Jaguars: Michael Floyd, WR, Notre Dame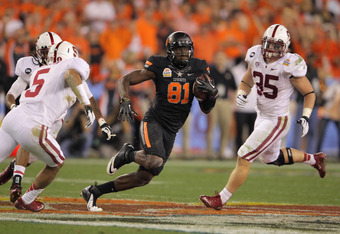 Doug Pensinger/Getty Images
This is a little unconventional compared to most mocks, but Jacksonville desperately needs a playmaker for Blaine Gabbert to throw to. Gabbert to Floyd with Maurice Jones-Drew in the backfield would be an instant improvement.
Other Possibilities: Riley Reiff OT Iowa is an option here. Protecting Gabbert is just as important as getting him a playmaker. It's 50/50.
8. Miami Dolphins: Ryan Tannehill, QB, Texas A&M
Miami finally gets its QB it has been desperately attempting to get all offseason. He is no Peyton Manning and he has a lot of maturing to do, but he shows some potential of being a franchise QB.
Other Possibilities: Quinton Coples or Melvin Ingram could be options; besides Cameron Wake, Miami doesn't really have anyone else to try to get to the quarterback.
9. Carolina Panthers: Dontari Poe, DT, Memphis
The strongest man in the draft comes off the board at No. 9. Poe is a beast and ran a freaskish 40 time for such a big man. He has drawn comparisons to Haloti Ngata, and that's exactly what I would looking for to beef up an awful defensive front.
Other Possibilities: DT Fletcher Cox, Miss. St.; DE Melvin Ingram, South Carolina. Carolina will look defense, as it was the defense that blew multiple games in which Cam Newton had put the Panthers in good shape to win in.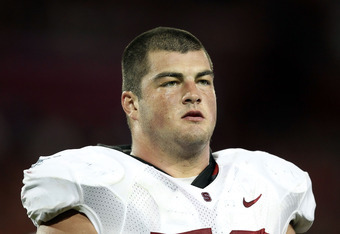 Christian Petersen/Getty Images
10. Buffalo Bills: Riley Reiff, OT, Iowa
Protection for Ryan Fitzpatrick will be huge for this offense. I would have previously mocked the Bills going defense, but with the recent additions of Mario Williams and Marc Anderson I think they will choose to protect their QB instead.
Other Possibilities: Buffalo could look to upgrade the WR position if Michael Floyd is available or it could look to Luke Kuechly to improve that linebacking corps behind Mario Williams and Marcell Dareus.
11. Kansas City Chiefs: David DeCastro, OG, Stanford
The Chiefs have shown their commitment to their offense, specifically the running game, so far this offseason, and I don't see that changing. By selecting DeCastro they will put up a devastating line for Jamal Charles and Peyton Hillis to run behind that could be unstoppable and certainly is hard to pass up.
Other Possibilities: LB Luke Kuechly, Boston College. Kuechly coupled with Derrick Johnson could lead to a lethal linebacking corps.
12. Seattle Seahawks: Quinton Coples, DE, North Carolina
Seattle needs a pass rush, bad. Coples is a great fit for this team. He brings size and athleticism to the front line of the D and will allow the Seahawks to reach the other teams QB consistently.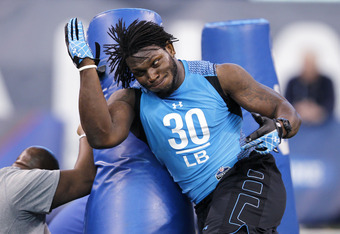 Joe Robbins/Getty Images
Other Possibilities: DE Melvin Ingram and LB Luke Kuechlyare other defensive options. However ,an offensive lineman such as OT Jonathan Martin of Stanford would be a fit to protect newly acquired QB Matt Flynn.
13. Arizona Cardinals: Melvin Ingram, DE, South Carolina
Arizona is another team in need of defensive help. One of the top ends in the draft comes to the Cardinals here in Melvin Ingram, and I would be surprised if they pass him up.
Other Possibilities: OLB Courtney Upshaw, Alabama. He has the ability to fit nicely at OLB in this defensive scheme. Also, if either David DeCastro or Riley Reiff fall here, I could see Arizona picking them up to bolster their offensive line.
14. Dallas Cowboys: Fletcher Cox, DT/DE, Mississippi St.
The Cowboys could definitely use an upgrade on that defensive line and Cox is just the man to do it.
Other Possibilities: Secondary is an area of concern, and CBs Dre Kirkpatrick or Janoris Jenkins could each be options here.
15. Philadelphia Eagles: Luke Kuechly, LB, Boston College
The best linebacker in the draft falls to Philly and Andy Reid couldn't be happier. He would instantly add stability to that Eagles defense that it needs so badly. With Philly having added DeMeco Ryans at ILB, Kuechly would most likely play the weak OLB spot for the Eagles.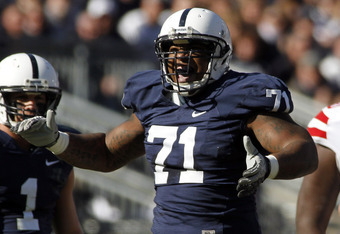 Justin K. Aller/Getty Images
 Other Possibilities: The Eagles could look corner or defensive line with this pick as well. I don't think they will go corner, even though they potentially should if Kuechly isn't on the board, but I could see a defensive lineman like Whitney Mercilus potentially being the pick here as well.
16. New York Jets: Courtney Upshaw, OLB, Alabama
New York needs help with pass rush and it will definitely look to upgrade that need with this selection. The Jets will be looking between Ingram, Coples and this guy Courtney Upshaw.  In this mock Upshaw is the man left out of those three and he will be the pick.
Other Possibilities: The Jets could also look to improve the safety position, in which case SS Mark Barron of Alabama would be a solid choice.
17. Cincinnati Bengals: Dre Kirkpatrick, CB, Alabama
The Bengals will be looking corner with their first pick due to the unfortunate injury Leon Hall suffered. I would be surprised if they looked anywhere else with this pick if Kirkpatrick is on the board.
Other Possibilities: Janoris Jenkins could be an option here; his character problems are an issue, but that has not stopped Cinci in the past. DE Michael Brockers of LSU could replace some of the free-agent linemen they have recently lost.
18. San Diego Chargers:  Michael Brockers, DE, LSU
Brockers could very well be the best 3-4 end in the draft, and he falls right to San Diego, which could definitely use an upgrade at the DE position.
Other Possibilities: DE Whitney Mercilus could be a choice here and so could OT Jonathan Martin, who could help anchor that shaky offensive line that GM A.J. Smith has ignored for quite some time.
19. Chicago Bears: Whitney Mercilus, DE, Illinois
With the addition of Brandon Marshall, Chicago can either look defense or O-line.  Here's a power defensive end to put opposite of Julius Peppers and he is the hometown boy hailing from the University of Illinois. What's not to like about this move for Chicago?
Other Possibilities: Jay Cutler spent a lot of time on the ground so offensive line is a definite option, such as Jonathan Martin or Mike Adams.
20. Tennessee Titans: Janoris Jenkins, CB, North Alabama
With the loss of Cortland Finnegan, the Titans will definitely need to add a corner at some point in the draft. I believe they will address it with their first pick and Janoris Jenkins, minus the personal issues, has fantastic upside and could end up being the best corner to come out of this draft.
Other Possibilities: CB Stephon Gilmore of South Carolina could easily be swapped in place of Jenkins—both are extremely talented. Also, the Titans could look defensive line in the form of DT Devon Still or DE Nick Perry.
21. Cincinnati Bengals: Cordy Glenn, OG, Georgia
Another need of the Bengals is on the offensive line; with him they could form a formidable line for the newly added Law Firm to run behind.
Other Possibilities: If the Bengals choose to go defensive end over cornerback with the first selection, they will look corner here and Stephon Gilmore will be the man. D-line is another option (Devon Still, Nick Perry).
22. Cleveland Browns: Kendall Wright, WR, Baylor
The Browns need playmakers, and that's what they will get here with Kendall Wright. His value dropped a little with a lackluster combine performance, showing up heavier and slower than expected, but the dude proved he is a burner on the field and would be a perfect target for Colt McCoy in the WCO.
Other Possibilities: WR Stephen Hill of Georgia Tech; if they choose WR it's a toss-up between Wright and Hill—both will be great wideouts, but I just feel Wright is more pro-ready immediately. Jonathan Martin or Mike Adams both would be instant starters at RT, which is a huge void for this team.
23. Detroit Lions: Jonathan Martin, OT, Stanford
Detroit has ignored its offensive line for too long. Here the Lions add a great talented starter in Jonathan Martin and take a big step toward protecting Matthew Stafford and developing better running lanes. With this pick, Motor City's offense will be revving up its engine even louder this year.  
Other Possibilities: Secondary could also be an option here as that was another one of the team's glaring weaknesses. In a division with Aaron Rodgers and Jay Cutler, a few good corners may not hurt, so Stephon Gilmore could go here as well.
24. Pittsburgh Steelers: Mike Adams, OT, OSU
The Steelers offensive line is old and the ones who aren't old are hurt. For this reason I see them taking the best available O-lineman with this pick, and in this mock that happens to be Adams. He would add some youth and energy to a line that, to this point, is beaten down and ravaged.
Other Possibilities: Pittsburgh also has some holes at defensive line and linebacker from cuts made this offseason, so Dont'a Hightower would be a great fit here.
25. Denver Broncos: Devon Still, DT, Penn State
The Broncos will bolster the already solid defense they have with a massive presence up the middle. Add him to the large amount of great talent already on this defense and it may be tough to do anything against these guys.
Other Possibilities: Denver could also look to upgrade the wideout position to give Peyton Manning more targets, WR Stephen Hill could be an option, or even TE Coby Fleener of Stanford. Fleener could be Manning's new Dallas Clark.
26. Houston Texans: Stephen Hill, WR, Georgia Tech
Hill is a little raw but the man is a playmaker. With a little coaching and time under Andre Johnson, the two could make for one of the most dynamic receiving duos in the NFL.
Other Possibilities: TE Coby Fleener is by far the best tight end in the draft; the Texans could go this route with Owen Daniels' injuries being a lingering issue.
27 New England Patriots: Dont'a Hightower, OLB, Alabama
The Patriots love adding linebackers and they need some more. Hightower is the best available one at this spot and we all know from the past that Bill Belichick likes to go after Nick Saban-coached players. Hightower is experienced in the same system and could be quite an instant impact.
Other Possibilities: New England could address its secondary need with this spot with a safety, but I think it goes with linebacker whether it's Hightower or a guy like Nick Perry.  Patriots could also address an offensive line issue with drafting C David Molk from Michigan. Many have Peter Konz as the top-rated center, but with his injury issues and low rep total at the combine I just don't see it. Molk is a beast, posting 41 reps at the combine, running a 4.8 40 and being a smart natural leader.
28. Green Bay Packers: Stephon Gilmore, CB, South Carolina
The Pack beef up their defense to help support that amazing offense they have.  Charles Woodson is old and Gilmore fits their system quite nicely. If he does fall to them here it will be a steal for them.
Other Possibilities: I thought Peter Konz or David Molk could be an option, but with the signing of Jeff Saturday I don't see that happening any longer, though it still could if they want to build the line for the future. Other DE/OLB picks could be Nick Perry, Bruce Irvin or Kendall Reyes.
29. Baltimore Ravens: Mark Barron, SS, Alabama
Right when divisional rivals are thinking Ed Reed may be gone after this year and the middle of the field may be open against the Ravens, they must think again. Barron will be a great successor and could end up being on the same level as Ed Reed.
Other Possibilities: Matt Birk is getting old and Baltimore will need to find his successor. With that in mind Peter Konz OL Wisconsin would be a great pick and could play at guard, in replacement of Ben Grubbs, until Birk's departure.
30. San Francisco 49ers: Coby Fleener, TE, Stanford
I know, I know, why is San Fran taking a tight end when it has Vernon Davis already? Well, Fleener is too good to pass up. He is athletic and versatile just like Davis and could allow them to have a dynamic tight end duo equal to that of the New England Patriots with Rob Gronkowski and Aaron Hernandez.
Other Possibilities: San Fran could go offensive line here and select James Brown from Troy to bolster the line in front of Frank Gore and Alex Smith.
31. New England Patriots: Harrison Smith, FS, Notre Dame
The Patriots secondary was a disaster last year. Smith would be a big improvement at the safety position for them and would boost one of the league's worst defenses against the pass.
Other Possibilities: See pick No. 27 for offensive line alternatives.
32. New York Giants: Zach Brown, OLB, North Carolina
The Giants upgrade their linebackers here with Zach Brown, who is a talented player with a lot of upside and could fit into this Giants system quite well. However, he is still raw and could take awhile to develop into a full-time starter.
Other Possibilities: The Giants could also upgrade offensive line with either James Brown or Bobbie Massie of Ole Miss.