NFL Draft 2012: 10 Things We've Learned from Pro Days so Far
March 28, 2012

Joe Robbins/Getty Images
10. Cliff Harris does not know how to put on a show
There once was a time when Oregon defensive back Cliff Harris was considered a potential first-round pick. But a few run-ins with the law and an eventual booting from the Ducks football team sent Harris' stock right down the tubes.
But there remained hope. Harris was invited to the Combine where he ran an average 4.59 40-yard dash, 28th among corners and hardly impressive enough to grab scouts attention. 
So maybe at his pro day, Harris would get his act together and find his name circling around NFL execs? Not exactly.
Harris ran in the mid 4.6's and was only average in his position drills, prompting NFL.com analyst Gil Brandt to say that Harris "might not get drafted."
So much for that potential first-round pick, but hey, there's always that lucrative racing career.
9. Luke Kuechly could be sneaking into the top 10
As if his 191 total tackles weren't enough for NFL scouts, Boston College inside linebacker Luke Kuechly wowed viewers at the Combine showing a dangerous blend of speed and athleticism.
Kuechly then set his stock soaring even higher after his March 21st Pro Day.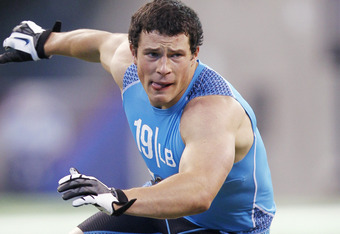 Joe Robbins/Getty Images
Kuechly didn't participate in any running drills, but showed scouts his pass coverage ability (including a much improved man-to-man repertoire), footwork and reading and reacting drills.
The all-time leading tackler for the Eagles is now getting a lot more attention, and don't be surprised if Kuechly's name is called inside the top 10.
8. Twenty-eight receptions is enough to be a first-round pick
Both Calvin Johnson and Demaryius Thomas are recent Georgia Tech receivers who caught limited balls in a run-heavy offense and went on to be first-round picks in the NFL.
Well, it looks like the Yellow Jackets might have another high drafted receiver in 2012.
Stephen Hill blew scouts away at the Combine with his unnatural blend of size (6'3", 206 lbs) and speed (4.36 40-yard dash). He didn't disappoint at his Pro Day either.
Hill caught all 12 of his passes (which had been a major concern after dropping five balls last season and only catching 28) and ran crisp routes. Word around the league now is that Hill, "will not get past pick #26." 
7. Vontaze Burfict is either really lazy or just unathletic
Burfict's stock really was hanging by a thread after his initial interviews and on-field character concerns, but the Combine put the Arizona State linebacker in a deep hole. 
Burfict ran by far the slowest time (5.09) of all the linebackers in Indianapolis and in fact was slower than well over half of the defensive lineman. 
Matters didn't get much better for the once-promising linebacker at the team's Pro Day.
The junior didn't run the 40-yard dash or even attempt to improve on his embarrassing numbers. The only thing Burfict did do was bench...16 reps at 225 lbs. Another non-impressive number for a player who's now a fringe late-round pick. 
6. A strong Pro Day can erase a poor Combine...ask Kendall Wright
NFL Network draft analyst, Mike Mayok, hyped Baylor receiver Kendall Wright up so much before the combine, it seemed he was much closer to Justin Blackmon than the second round.
But when teams saw a 5'10", 190 pound receiver run a 4.6 40-yard dash, they started to think twice about his first round status.
Wright, once again, changed scouts minds at Baylor's Pro Day. Even with most scouts fixated on RGIII, Wright caught scouts eyes with crisp routes and good hands.
He also ran both his 40 times in the mid 4.4's. When speaking to reporters after the Pro Day, Wright said, "Obviously, everyone thought that I ran a 4.6 (at the combine), but I'm pretty sure that I haven't run that since fifth grade." 
Wright probably eased his way back as the number three rated receiver in this April's draft behind Blackmon and Notre Dame's Michael Floyd.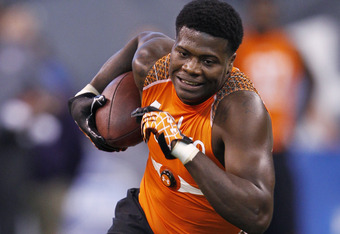 Joe Robbins/Getty Images
5. Despite injuries, Alabama can still draw a crowd
Yes they were national champions and boasted maybe the best collegiate defense of all time, but you'd think when the Crimson Tide hosted their Pro Day without three potential first-round picks participating, it might not be as big an uproar? 
Still, all 32 NFL teams were well represented to see potential first rounders Dre Kirkpatrick and Dont'a Hightower show their skills. 
Hightower shed 10 pounds to get himself down to a more manageable weight before the draft. He also measured just six feet tall, an obvious error as he's listed at over 6'3".
Kirkpatrick helped out his cause after an arrest for marijuana possession hurt his stock some. He impressed scouts most by showing much better ball skills than anyone had anticipated (0 interceptions in 2011).
The injured Tide players will host their own Pro Day on March 29th, where Hightower will also bench for scouts. This will be first chance NFL teams get to look at safety Mark Barron who had a double hernia surgery before the Combine.   
4. Wisconsin has some GOOD offensive linemen
It's no wonder Monte Ball set NCAA rushing records last season with the Badgers. He was running behind a human wall.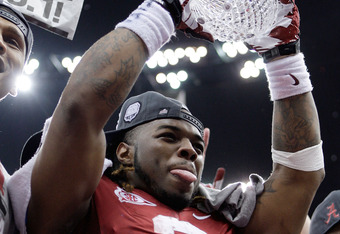 Andy Lyons/Getty Images
Guard Kevin Zeitler and center Peter Konz are two drive-blocking powerhouses who could both be off the board by the end of round one. 
Zeitler impressed scouts with his preparations and showed better than expected athleticism. He's got a lot of starting experience and prompted one scout to say that Zeitler, "should start in the NFL for eight to 10 years."
Zeitler was put through his workouts by Bears offensive coordinator Mike Tice, who knows good offensive linemen.  
Konz, who will work out in early April due to an ankle injury, looked very good at the combine and has been linked to the Baltimore Ravens, who pick 29th in the draft.  
3. Stanford just might have as many first-round picks as Alabama
Andrew Luck was obviously the star of the Stanford Pro Day, but you'd have to be crazy to think he was the only guy scouts had their eye on. 
In fact, the Cardinal now realistically post four potential first round draft choices, one behind the number projected for the national champion Alabama Crimson Tide. 
The cast behind Luck leads off with monster guard David DeCastro. 
DeCastro didn't really need to have an amazing pre-draft as his game tape spoke for itself.  But the All-Pac 12 offensive lineman looked very good in his drills. 
Tight end Coby Fleener finally got to show his skills after injuring his ankle in the Fiesta Bowl loss to Oklahoma State. After missing the combine, there were some questions whether Fleener was worth a late first-round pick.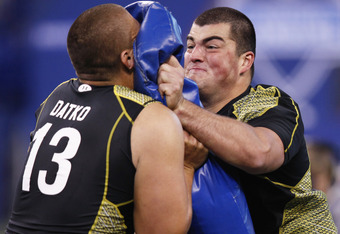 Joe Robbins/Getty Images
Fleener took a big step towards getting his name back in that mix by running both his 40-yard dashes in the mid 4.5's. He also looked great running routes and catching the ball. 
Jonathan Martin wanted to see his stock soar like his teammates after his pro day, but for the blindside blocker of a franchise QB, more questions remain than answers. 
Martin added about 10 pounds to his thin frame which is good, but looked slow in his 40 (5.43) and didn't display much lateral quickness. 
Tackles tend to rise in the draft, however, and Martin does have a lot of upside so he does still have first round potential. 
2. Andrew Luck is a stud; so is RGIII
There was no question going into the draft that Andrew Luck is the best quarterback prospect in over a decade. 
His Pro Day workout just bolstered that argument. 
Luck, who purposely threw many of his 50 passes inaccurately to show the skills of Stanford's other receivers, completed all but four of his throws. Luck's final throw was a 70-yard bomb to wide receiver Chris Owusu, showing off the arm strength that has been the only criticism of the Cardinal quarterback. 
But Robert Griffin III didn't disappoint either. 
Hardly any of his 51 scripted passes touched the Baylor turf and Griffin looked at ease as a contingent of scouts and NFL execs looked on. 
Redskins owner Daniel Snyder and head coach Mike Shannahan met with Griffin the night before his pro day and looked impressed with him on the field
1. Apparently, the Colts have a decision to make
The man who beat Andrew Luck for the Heisman Trophy may now be trying to beat him to the number one pick. 
What once was a foregone conclusion now has turned into some major back tracking. 
In an interview with USA Today at the owner's meetings, Colts owner Jim Irsay said "it's up in the air" on whether the team will take Luck or Baylor's Robert Griffin III with the first pick in April's draft. 
This news comes not long after both players had their Pro Days, so obviously something there drew the Colts closer to Griffin. 
This could all be just posturing by the Indianapolis front office. The team has a scheduled private workout with Luck and, to my knowledge, does not have one with Griffin. 
The Colts will most likely take Luck with the first overall selection, but it's interesting to see Irsay make a statement like this.