Oakland Athletics: Forecasting the Team's Pitching in 2012
Otto Greule Jr/Getty Images
Cue the band and the television intro music: Are you ready for some baseball!?
Yes, most Major League Baseball teams are still finalizing their rosters, evaluating players and determining key position battles in preparation for Opening Day. Lineups are being brainstormed and pitching rotations are beginning to fall in order.
But, for the Oakland Athletics, all personnel housekeeping has to be set in stone now. After all, the team prepares for its season opener this Wednesday against the Seattle Mariners, in Tokyo, Japan.
While the rest of the MLB has a few more days to begin their seasons, the A's—and the Mariners—must ramp up their preparedness for Opening Day. Last week, Oakland announced its roster for the team's trip to Japan. Because the season opener is earlier than all other teams, both the Mariners and Athletics are allowed to bring 27 players instead of the 25 that is the normal maximum.
The final countdown is approaching. Over the next couple of days, the A's will look to nail down their starting lineup and batting order for Opening Day. While there are some kinks to iron out, they've figured out who the key components are for their 2012 season.
As the Athletics' season opener rapidly approaches, the team can only project what's in store for the rest of the year. While it's hard to determine exactly how they'll perform offensively, defensively and on the mound, given their current roster, we'll attempt to forecast how the team's pitching will look for the 2012 campaign.
Starting Rotation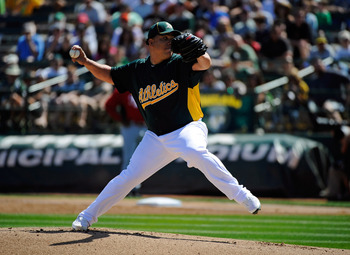 Kevork Djansezian/Getty Images
Who's out from 2011: Trevor Cahill, Gio Gonzalez, Josh Outman, Guillermo Moscoso, Rich Harden
Who's in: Bartolo Colon
Starting pitching has been the Oakland Athletics' bread and butter—along with their main course and dessert—for the past several years. Since 2000, the A's have finished outside of the top five in the American League in team ERA just once, 2007, when they ranked sixth. In that span, Oakland has led the AL on three separate occasions, and finished in the top three eight times.
Last year, A's pitchers kept trending in the right direction, posting a 3.71 ERA, good for third in the league, while their starters logged a similar 3.70 ERA. At first glance, it doesn't seem like that big of a deal—after all, the A's have always had solid pitching, and 2011 should have been no different.
But that could all change this season.
Gone are five—yes, five—starters from last year's squad: Trevor Cahill, Gio Gonzalez, Josh Outman, Guillermo Moscoso and Rich Harden. That's an entire starting rotation—and a pretty good one at that. Cahill, Gonzalez, Outman and Moscoso were each traded away during Oakland's winter sale; while Harden is sitting out the season with a shoulder injury.
Replacing that much artillery is daunting enough for any team, let alone a young squad like the Athletics, who'll additionally begin the season with Brett Anderson and Dallas Braden on the disabled list, as both are still recovering from injuries suffered last year.
To provide a veteran presence in the rotation, Oakland went out and signed right-hander Bartolo Colon. This pitching overhaul creates an entirely different makeup behind ace Brandon McCarthy.
Manager Bob Melvin has his work cut out for him in devising a starting rotation for the interim. Candidates who made cameo starts last season include Tyson Ross and Graham Godfrey—also in the mix are Jordan Norberto and Tommy Milone. Though each has shown significant promise, it's truly hard to determine how they'll fare as full-time starters.
For sure, however, Melvin will benefit from having so many starters to evaluate and use throughout the season. Should any of them produce substandard performances, someone else is capable of sliding in to start some games.
For now, it's not quite certain who'll form the rotation and what order they'll be in—they don't really need to determine that as of yet, because of the unorthodox Opening Day schedule.
But one thing's for certain—Ross, Godfrey, Milone and Norberto have all had very brief exposure to the major leagues. They don't scare opposing teams like A's starters of yore used to. And a lot of subliminal pressure will be on each of them to secure their spots in the rotation once Anderson and Braden return to the team—particularly Milone, who is the lone lefty among the available starters.
2012 Forecast: A little foggy. It's going to be difficult to really know how the rotation will perform. Ross, Godfrey and Milone have 17 MLB starts combined; meanwhile, old man Colon almost has too many (351)—how much does he have left in the tank, and can he really be expected to contribute a lot for this team?
As an entire five-to-10-man rotation this season (other potential starting pitchers include Brad Peacock and Jarrod Parker), the A's will indeed struggle to continue their pitching prowess.
There may be some surprising performances but nowhere near the number of gems that the team was accustomed to seeing from Cahill and Gonzalez. Even McCarthy's stats from last season could drop, as 2011 was the first significant success of his career.
Look for Oakland's starters to struggle, unable to provide significant quality starts. This young rotation will get peppered more often than not. It could get ugly.
Bullpen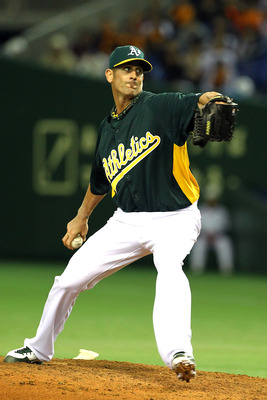 Koji Watanabe/Getty Images
Who's out from 2011: Michael Wuertz, Craig Breslow, Andrew Bailey
Who's in: Ryan Cook
In an interesting turn, the strength of the A's pitching staff may be its bullpen. Though the A's shipped away Craig Breslow, Andrew Bailey and did not re-sign Michael Wuertz, the bulk of the members of the relief corps are familiar faces.
Last season, Grant Balfour, Brian Fuentes, Jerry Blevins, Fautino De Los Santos, Andrew Carginan and Jordan Norberto each saw action with the Oakland Athletics. One new addition to the Opening Day roster is Ryan Cook, who came over in the trade that sent Breslow and Trevor Cahill to the Arizona Diamondbacks. Cook gives the A's four left-handed relievers (Blevins, Fuentes, Norberto), which is important considering the pitching staff currently possess only one southpaw starter.
In 2011, Oakland's bullpen posted a 3.74 ERA, good for seventh in the American League. The team struggled a bit early on with the absence of closer Andrew Bailey. But once he returned to the fold, the relievers seemed to gel a bit better. However, as a unit, A's relievers were simply middle-of-the-pack performers: seventh in blown saves and ninth in opponents' batting average and bases on balls issued.
This season, with a year under their belt as a group, Oakland's bullpen will be able to perform at a higher level; especially given the fact that each reliever's role has been pre-outlined and should not confuse any of them moving forward. Balfour has been named the full-time closer, and Fuentes is the top set-up man, with Blevins serving as a key situational lefty.
The A's are going to rely heavily on their relief corps this year, as the starting pitchers are a young and generally inexperienced unit. There will be times when the relievers might seem overworked, but the versatility of Norberto and potential long-relief roles for Tyson Ross in the future, will ultimately stretch the bullpen out.
Still, it could be quite scary to see some of Oakland's games, watching their relievers in some significant garbage time. And with Balfour closing full-time for the first time in his career, it's uncertain how the back end of the bullpen will fare.
2012 Forecast: Turbulent. There will be some irregular and gusty performances from the Athletics' relievers this season. Manager Bob Melvin might have to go to the well early and often, especially given the fact that the starting rotation will be composed of fill-ins until regulars Brett Anderson and Dallas Braden return from injury. Until then, there will be some tropical storms coming Oakland's way, as they attempt to stay afloat while they're gone.
And yet, ironically, it will be the bullpen that will save the day more often than the starting rotation will. A's relievers will be worked quite often—they'll get roughed up some, but they'll also be quite valuable.
Overall Outlook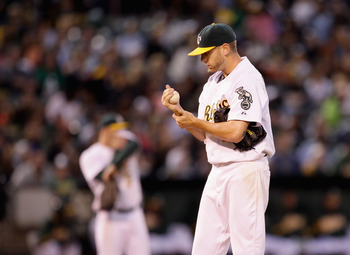 Ezra Shaw/Getty Images
For an organization that has had continuous upheaval and personnel instability, one thing that has amazingly remained constant is the pitching of the Oakland Athletics. After all these years, after multiple trades and injuries and various adjustments, the pitching staff annually exceeds expectations.
With the reunion of pitching coach Curt Young, the A's will rely heavily on a variety of arms.
As has been the case in previous seasons, considering that Oakland's offense is still a great unknown, the pitching staff will be called upon to win as many ballgames on their own. The question remains, however: will this unit of young and inexperienced pitchers be able to carry the team?
The A's will fight hard—there's no doubt about that.
Bob Melvin will have his team ready and prepared—that is a fact. But there's something to be said about promising talent and actual capabilities. Oakland has had a ton of hope and potential come through its system, especially quality pitchers. The caveat has always been whether they can stay healthy and execute at the major league level. This is a time for the Tyson Rosses, Godfrey Grahams, Fautino De Los Santoses and Joey Devines of the world to step up and demonstrate that they are legitimate pitchers.
If they can't provide significantly consistent performances this season, they might find themselves out of a job sooner rather than later.
Overall Forecast: The A's pitching staff will fall to the middle of the pack this season, one of the few times that they are not ranked in the American League's top five.

Follow me on Twitter: @nathanieljue
Keep Reading

Oakland Athletics: Like this team?