The First 10 Picks of the NFL Draft
Of course, you will get sick of these. As soon as the season ends come the mock drafts.
You see, I study the NFL and College, because I really got nothing better to do on weekends.
I have noticed what teams need and what they are going to do, most likely barring Matt Millen-esque stupidity in handling them.
So let us start with the first pick of the NFL Draft:
With the First Selection of the NFL Draft, the Detroit Lions Select
Mark Sanchez, QB, USC
Watch him smile; that is the next rookie of the NFL who is going to start. You see, Dan is a decent back-up, Daunte has just entered oblivion, and Drew Stanton went off the face of the earth
Plus, chances are Jon Kitna will retire soon. The 0-16 Lions need something, and Mark has a USC pedigree, an arm, and the Pro offense he worked in.
Sanchez also has the rare "I don't see many blemishes" that come from a player who's played as little as he has and did so much in the Rose Bowl against a dangerous Penn State defense.
Let's hope he doesn't turn from Mark to Ryan, for Detroit's sake.
With the Second Selection of the NFL Draft, the St. Louis Rams Select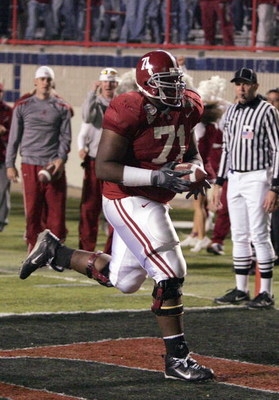 Andre Smith, OT, Alabama
Run, Andre...you are going to be a part of one fairly oft-injured corps of linemen. You will inherit where Pace left off and protect Marc Bulger and possibly get really beaten up by...Patrick Willis?
Well still, Andre Smith is to be the second pick. Honestly, watching him against Florida, I did not become a big fan, or against Utah...but a lineman is a lineman, and he has it all.
With the Third Selection of the NFL Draft, the Kansas City Chiefs Select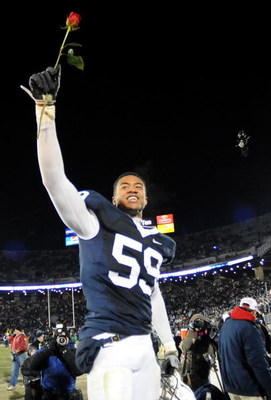 Aaron Maybin, DE, Penn State
OK, I might get some WTH? remarks over this, but think of it like this:
The Chiefs were among the worst this year in sack production. Of course, the pedigree of Penn State speaks for itself.
He is a Penn State player with little time, but he could jump to the third pick in the combine and on his ability to be tough at the trench and as seen now lately with New York, Pitt, and others, "manhood" football is in.
With the Fourth Selection of the NFL Draft, the Seattle Seahawks Select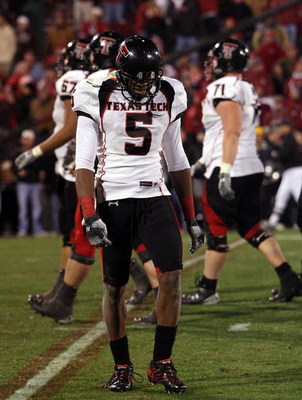 Michael Crabtree, WR, Texas Tech
OK with the lack of anything this year for the good ol' Seahawks, is this pick really a no-brainer, people? Come on he is the No. 1 receiver in a corps beyond lacking. Let's move on.
With the Fifth Selection of the NFL Draft, the Cleveland Browns Select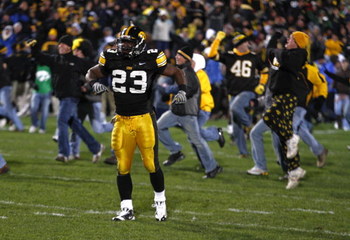 Shonn Greene, RB, Iowa
What? What? Did I shock you? What is that? Who is this guy? He is actually a surprise Heisman candidate who beat the mighty Penn State defense and ran for quite a large chunk of yards.
So he isn't as flashy as Wells or Moreno; he gets the job done and scouts see that. So I actually see him as a sleeper pick and the first one taken, huh?
Watch out for him.
But why do the Browns pick him? Lewis ain't getting younger, and they need some offensive spark. Another choice would be Maclin or Curry, but I see this being a more pressing need.
With the Sixth Selection of the NFL Draft, the Cincinnati Bengals Select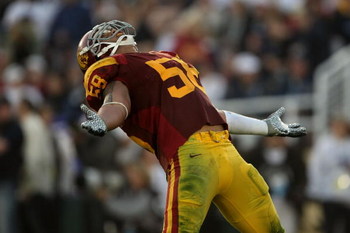 Rey Maualuga, LB, USC
There are needs everywhere on this team, one thing they will do is create a stronger defense. What Marvin Lewis does, as I have noticed is after Palmer spent time and patience with their defense before running through backs.
Since Benson has had a resurgence and with a deep class in the trenches; I see the USC linebacker get here through his pedigree. I could also go WR if Chad and TJ leave, but then we go into What-ifs.
There is also a rumor the Dolphins are interested in trading to get up here; this is only speculation.
With the Seventh Selection of the NFL Draft, the Oakland Raiders Select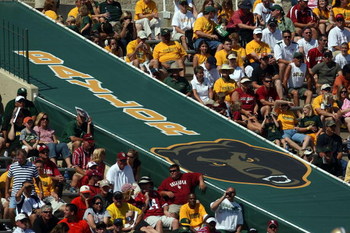 Jason Smith, OT, Baylor
Try finding this kids picture or anything Baylor XD
In a tie where really no lineman is better than the other, I put Jason Smith above the others simply since he played the Big 12 South.
Since he was there, people paid more attention. That puts him over Oher and Monroe, no matter how much (including Oher) the other one is better.
Oakland needs to use this pick to get a big snarling kid to kickstart their OL and the team which rose the last weeks of the season. Al Davis likes fast and also likes snarling, and nothing snarls like a bear.
With the Eighth Selection of the NFL Draft, the Jacksonville Jaguars Select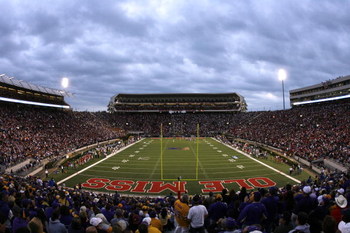 Michael Oher, OT, Ole Miss
Another player and team that is hard to find anything of.
This goes back to manhood football. He played the SEC and was able to survive the Florida defense! Anyone who can stand up to that gets my draft pick.
Once again, Jacksonville (who would think they'd wind up here) needs help on the line, which moves faster than the Florida Turnpike on a Monday. For Garrard's sake, they need a big guy to avoid his getting sacked.
With the Ninth Selection of the NFL Draft, the Green Bay Packers Select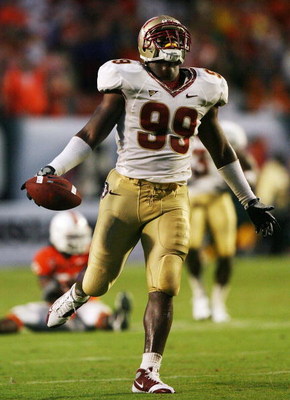 Everette Brown, DE, FSU
A Bobby Bowden product goes to a defensive line needing bodies.
The Packers collapse this year, which some Favre fanatics peg on a QB who had really astounding numbers and a WR core that did wonders, was actually all in the trenches.
A young inexperienced trench team which improvement is needed. So I see the Packers selecting Brown and bringing a pass rusher on the other side of Kampman and giving more life to AJ Hawk. Another possibility is a second back for Ryan Grant.
With the Tenth Selection of the NFL Draft, the San Francisco 49ers Select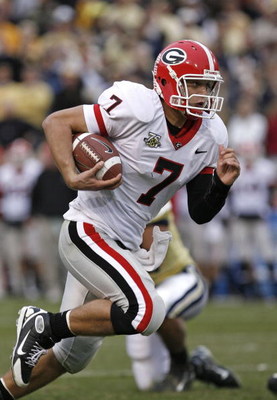 Matthew Stafford, QB, Georgia
OK how do I have Todd McShay's No. 1 pick out to pick No. 10? Well, the interceptions and his failures in the big game led to it. He needs room for improvement.
I like Shaun Hill, but the problem is: How long can he keep it up? With Stafford they will have a pro-ready QB in case Hill does not work out and can raise him like the Pack did Rodgers.
Plus as seen earlier with Mike Singletary and the close of the year, the sky is looking better for the 49ers.
Coming Soon: Picks 11 through 20
Stay Posted!
Keep Reading