Rugby: Top 5 Inside Centres in Super Rugby History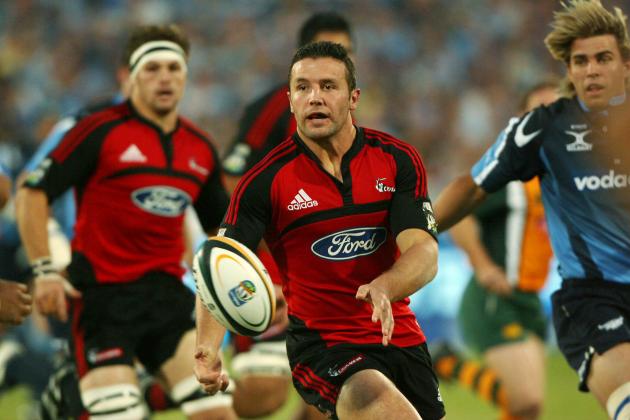 Gallo Images/Getty Images

The series of Super Rugby's greatest ever players continues this week by looking at the top five Inside Centers, or Second Five-Eighths in the competitions history.
Although these terms are often used interchangeably, there is a difference between the two. An inside center generally refers to a player who will make strong runs, provide a threat on attack and offer a strong defensive game. Meanwhile a second five-eighth tends to be a more skilful player who can kick and pass well.
As the game continues to evolve, the positions have become more alike and traits of both are needed to an extent if one is to wear the No. 12 jersey.
For the purposes of this article, we will look at each as being the same position as teams will choose one or the other and both wear the No. 12. But each player will be looked at based on what he brings to the game and will not be advantaged or disadvantaged for being more in one mould than the other.
As always, each player is available for selection in only one position, and the list only takes into account Super Rugby form.
Begin Slideshow

»
We begin our list with the sometimes controversial, but undoubtedly brilliant, Matt Giteau. He was a player capable of playing in both the No. 12 and 10 jerseys and even had a stint at halfback.
He was best known for his playmaking ability, putting others into gaps well and creating general havoc in the opposition defence. He also had a good kicking game, in both general play and in kicking at goal.
He made his debut in 2001 with the Brumbies, where he played for six years, winning championships in 2001 and 2004. He then moved to the Force for two years, before returning to Canberra where he played up until 2011.
It was hard to know what to do with Steyn, as he has played multiple positions during his career. Inside center may not have seemed like the obvious choice for him, but given the depth at flyhalf and fullback it seemed sensible to include him in the 12 jersey to maximize the quality on each list.
As a player he was a strong defender who generally could get some go-forward on attack. But it was his kicking that made him world-famous, possessing arguably the biggest boot in Super Rugby, and possibly world rugby, history. He has been known to comfortably slot goals from inside his own half, while seeing him pull up for a drop goal from long range is also reasonably common.
He played just three years of Super Rugby, all with the Sharks, in a career which saw him play in the centres, flyhalf, fullback and wing. Had he played longer he almost certainly would have appeared higher on this list, but as it was, the lures of the money in Europe were too much.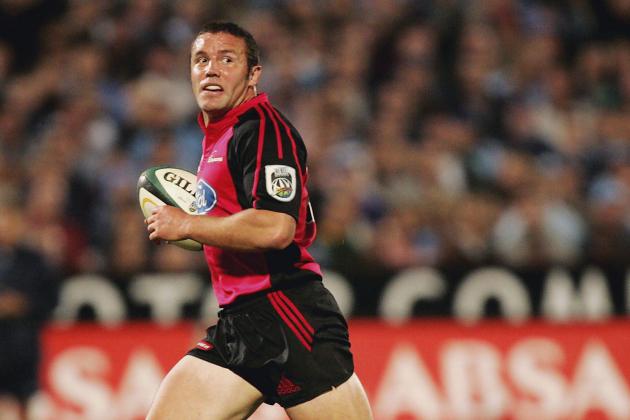 Touchline/Getty Images

Maybe the last pure second five-eighth Super Rugby has seen, Aaron Mauger claims the No. 3 spot on our list.
He was a very well-rounded player, capable of passing, kicking and running well, while also bringing an intelligence that helped him take the right options. Such was the extent of this skill set, he also dabbled at first five-eighth, but it was No. 12 where he made his home and played his best rugby.
He played out his entire career with the Crusaders, first playing for the franchise in 2000 and leaving after the 2007 season. During his early career, he played outside Andrew Mehrtens, whilst later-on he paired in the five-eighths with Daniel Carter. He finished his career with four Super Rugby championships.
He started out on the wing, but as time has gone by has made his name in the midfield and has developed into one of the top inside centers in the competition. He made a name as a thief for the first years of his career for his uncanny ability to snaffle intercepts. But as time has gone on and his defence has improved, he finds these less now as he backs himself to make the tackle.
On attack he is a strong runner with a turn of pace making him a dangerous weapon and hard to stop.
He has played his entire Super Rugby career with the Stormers where he has made one final, in 2010.
Darren England/Getty Images

Hands down the greatest 12 in Super Rugby history, and quite possibly the greatest 12 to ever step onto a rugby field. There was daylight between Horan and his nearest competitor when compiling this list, showing a possible lack of depth in this position compared with others, but also just how good Tim Horan was.
He was all you could ask for in a midfield back with his strong defence, top playmaking abilities and general intelligence. But above all, it was his ability to cut opposition defences to bits that separated him from the rest, making him always one of the most heavily marked players on the field.
His career started long before the inception of Super Rugby and consequently played just five years in the competition, all with the Queensland Reds. But in this time he did more than enough to build a legacy and become the greatest inside centre in Super Rugby history.