Los Angeles Lakers: What Kobe Bryant Needs from His Teammates
March 28, 2012

Christian Petersen/Getty Images
A 14-time All-Star, five-time champion, two-time Finals MVP and one-time regular season MVP, Kobe Bryant certainly has the accolades to be labeled as one of the top 10 basketball players of all time.
Nonetheless, Bryant still has a few years ahead of him—enough time to improve his legacy.  
With a dominating frontcourt of Andrew Bynum and Pau Gasol and speedy point guard Ramon Sessions, Bryant and the Lakers can contend for a title this year and in the future.
If Bryant wins just one more title, he will likely propel himself near the very top of the list of greatest players of all time.
If he wins two more, however, many would argue that Bryant would be the greatest player of all time, ahead of transcendent players like Michael Jordan and Bill Russell.
Clearly, Bryant can't achieve this on his own. At 33 years old, he isn't getting any younger. Although he is very adept at it, scoring efficiently and consistently is a big challenge.
That's why Bryant needs his teammates now more than ever. Winning a championship is, in fact, a collaborative effort.
In order to win a championship, Bryant needs his teammates to play their best at a consistent level.
Against the Memphis Grizzlies on March 25, the Los Angeles Lakers played far from what's expected of them. Gasol was 4-of-15 from the field. Bynum had 30 points but only four rebounds, and the Lakers' bench only scored nine points.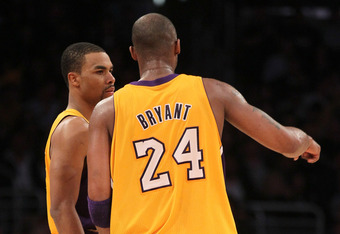 Stephen Dunn/Getty Images
Yes, this was only one game, but the Lakers need to play better in order for them to compete for a title.
After the game against the Grizzlies, Bynum noted that he needs to play better defensively. While it's good that he realizes this, he needs to show it—the 7-footer has been held to single-digit rebounds the past four games.
Meanwhile, Gasol needs to continue attacking offensively, using his wide and unique array of post moves, while continuing to grab rebounds.
Sessions needs to continue to use his youth and quickness to his advantage.
The biggest problem for the Lakers, however, is their role players. Metta World Peace, Matt Barnes, Troy Murphy, Steve Blake and Josh McRoberts, among others, need to score and rebound, providing relief for the starters, who are already playing too many minutes as it is.
The blame cannot be put entirely on Bryant's teammates. Bryant has had his fair share of poor games this season, and he continues to take a lot of ill-advised shots that make many scratch their heads in bewilderment.
However, without a doubt, Bryant needs his teammates to continue to improve their play—he's depending on them.
Because without them, he cannot win a title and boost his name atop the list of the greatest ever.