An Adjustment Each San Francisco Giant Needs to Make Before Season Starts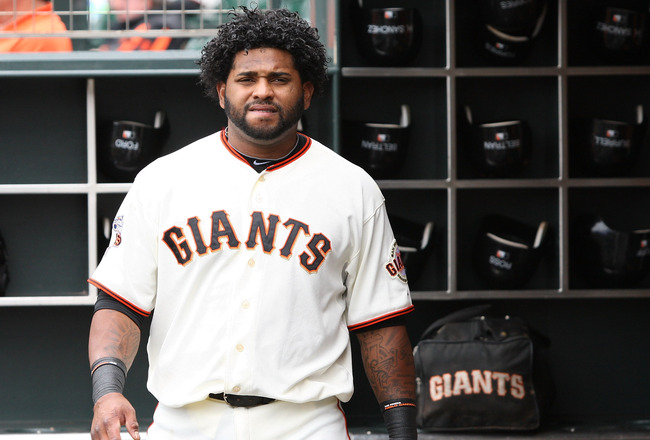 Tony Medina/Getty Images
Now that we are under two weeks away from Opening Day of the 2012 MLB season, players will spend their final spring training at-bats trying to make some last-minute adjustments.
It will be no different for the San Francisco Giants either, as they are only 10 days away from playing the Arizona Diamondbacks on April 6.
Not only will this list be my prediction of the final 25-man roster, but I'll also mention one thing that all of these players need to work on before the games actually count.
Starting Pitchers (5)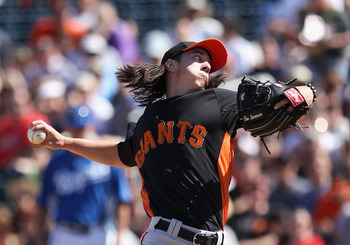 Christian Petersen/Getty Images
Tim Lincecum: Needs to work on limiting his walks. This will directly allow him to pitch deeper into games by limiting his pitch count. If there is one thing you can knock Lincecum on, it's his inability to keep his pitch count low, but that comes with the territory of being a strikeout pitcher.
Madison Bumgarner: "MadBum" doesn't need to make many adjustments before Opening Day. In fact, the Giants are probably hoping that Bumgarner keeps doing exactly what he's been doing all spring, which is a 2.21 ERA and a 20/3 strikeout-to-walk ratio.
However, if anything, Bumgarner needs to work on being more consistent during his starts, as he compiled five games last year in which he gave up five or more runs.
Matt Cain: Needs to sign a long-term extension with the Giants. That is all.
Ryan Vogelsong: Needs to work on building his stamina before he is eligible to be taken off of the disabled list on April 16. Vogelsong threw well during his Cactus League debut on March 26 and had some nice zip on his fastball.
Barry Zito: Where to even start. Zito doesn't need to make adjustments; he needs to completely refine his game and channel his inner Jamie Moyer.
Relief Pitchers (7)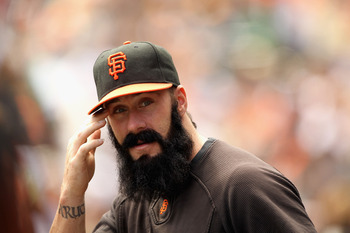 Ezra Shaw/Getty Images
Long relievers
Clay Hensley: Needs to limit the walks. In 2011 with the Florida Marlins, Hensley allowed 30 walks in 67.2 innings pitched, which is a 3.99 BB/9 ratio.
Guillermo Mota: Become more of a complete relief pitcher. During long relief appearances in 2011, Mota was one of the best in the business. He pitched at least three innings seven different times (24.2 innings pitched), and only allowed a total of four runs. Aside from that, Mota was nothing more than an average relief pitcher.
Middle relievers
Jeremy Affeldt: Needs to learn how to separate frozen burger patties without slicing open his hand.
Santiago Casilla: The most underappreciated stat of the 2011 season was Casilla's season-ending ERA of 1.74. He's at it again this spring, as evident by his ERA of zero after eight innings of work. However, his command is a little suspect. He had a BB/9 ratio of 4.4 last season, which is way too high.
Javier Lopez: Doesn't need to work on much. He has given up 10 hits during nine innings of work, however, so there is always room for improvement.
Setup man
Sergio Romo: Just read some of these statistics and learn to appreciate how dominant of a pitcher Romo is. He did give up 11 hits in 13 innings to lefties in 2011, but that's just being nit picky.
Closer
Brian Wilson: Continue to remove all doubts about his health. If Wilson truly is healthy, he needs to continue to remain healthy all the way through the season. Wilson can also continue to tune his new and improved mechanics that he developed during the offseason.
Catchers (2)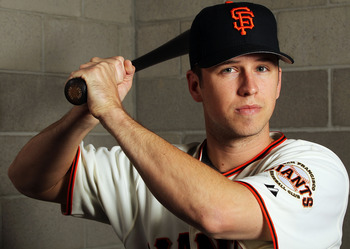 Jamie Squire/Getty Images
Buster Posey: Stay healthy.
Chris Stewart: We all know about Stewart's abilities when catching behind the plate, but it's his inability with the bat that has put his roster spot in jeopardy.
He's currently hitting a modest .241 this spring, which should be enough to win the job as Posey's backup catcher. And with Posey potentially starting around 100 games at catcher, the backup will certainly be getting a lot of playing time.

Infielders (7)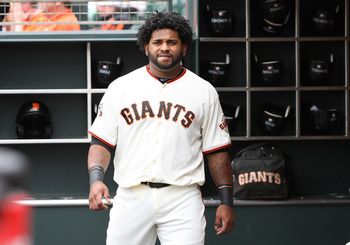 Tony Medina/Getty Images
Aubrey Huff: He started off the spring hot, but his average has dropped down to .262, which wouldn't be enough to keep his starting spot at first base during the regular season.
Huff needs to focus on staying in shape and staying focused. He will have a shorter leash in 2012, as Brandon Belt will be nipping at his heels for the starting job at first base.
Emmanuel Burris: He is one of the surprises from spring training this year, and he could be rewarded with the starting job at second base if Freddy Sanchez is unable to play.
However, he's a career .250 hitter, so Burris needs to quickly prove that he's capable of hitting at the major league level. If he can't, he'll likely be released at some point this season.
Brandon Crawford: Crawford is flawless with the glove at shortstop, but that's the only reason he's in the starting lineup. However, Crawford gave us the sense that he can become solid hitter last season by being patient and working the count on a consistent basis.
Now, Crawford needs to follow that up by consistently stringing together solid swings during every at-bat.
Pablo Sandoval: Needs to continue tearing the cover off the ball and make sure his numbers from spring training translate into the regular season.
Ryan Theriot: Needs a fresh start after his disappointing spring training was topped off with a pickoff throw striking his nose.
Mike Fontenot: Needs to block out the rumors of being on the trading block and be ready to compete with Burris and Theriot for the starting second base job.
Brandon Belt: Similar to Crawford, Belt needs to work on being more aggressive at the plate. He showed great plate discipline during his rookie year in 2011, but he also let a lot of hittable pitches go by.
Outfielders (4)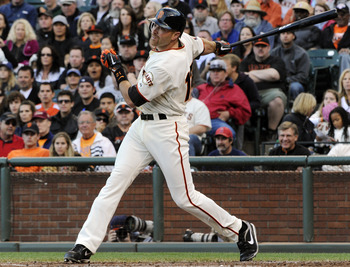 Thearon W. Henderson/Getty Images
Angel Pagan: Needs to gather some sort of confidence heading into the 2012 season. He has had a rough spring this year, and his .176 batting average can attest to that.
Melky Cabrera: For those who said Cabrera's breakout season in 2011 was a fluke, he's currently proving them wrong with monster numbers during spring training. Whatever adjustments he made at the plate last year, they are continuing to pay dividends.
He'll also need to learn how to be a full-time No. 2 hitter if Freddy Sanchez starts the season on the disabled list. Andrew Baggarly reported this morning that his injury could be career-threatening, so the No. 2 slot could be Cabrera's for at least the entirety of the 2012 season.
Gregor Blanco: He is the surprise player of spring training in 2012. He leads the team with 19 hits and nine stolen bases, and he has been playing an excellent center field as well. If Blanco keeps doing what he's doing, he'll find himself on the 25-man roster.
Nate Schierholtz: It isn't a forgone conclusion that Schierholtz will be the starting right fielder come Opening Day. As Andrew Baggarly reported, he is in danger of losing his spot in right field (h/t CSN Bay Area). With the emergence of Blanco and Schierholtz's .217 batting average, he needs to turn things around in a hurry.

Keep Reading

San Francisco Giants: Like this team?