Fantasy Baseball Sleepers 2012: Every Team's Hitter Ready to Break out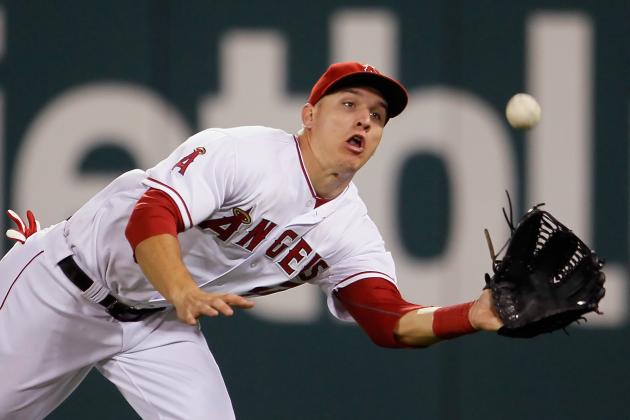 Jeff Gross/Getty Images

What defines a breakout? Is it the kid who comes up to the majors and makes himself fantasy useful right away? Is it the guy who we all thought we knew and then takes his game to the next level? Is it the injury-prone guy who suddenly stays healthy?
This article will cover some examples of each, as we hit on one hitter from each team who is ready to break out, in one way or another.
Now, don't take this as license to take these players three rounds earlier than they are ranked, or pay $10 more than they are worth in auctions, but consider them worth the extra dollar or a one-round bump for the upside.
NOTE: They are listed by division, so don't read into the order as any kind of ranking.
Begin Slideshow

»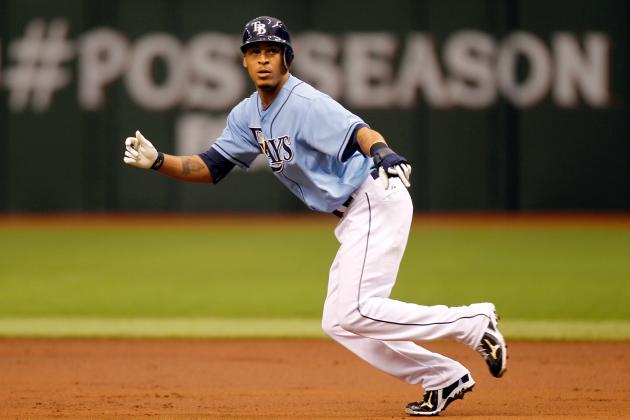 Mike Ehrmann/Getty Images

The speed was well known by those who followed Desmond Jennings' rise through the minors. The power was a surprise. 41 home runs in 1,919 minor league at-bats don't seem to indicate 10 in his first 268 major league at-bats.
True, 2011 was a small sample size, but he can clearly hit for power at this level. Even if he doesn't hit bombs at the same pace, which he likely won't, 15 home runs isn't too much to hope for, along with 30 steals.
The average won't be great, but there's upside for 20 HR and 35 SB from the 25-year-old. This is also a guy who will score a lot of runs in an underrated Rays lineup, and might knock in his fair share if the power stays.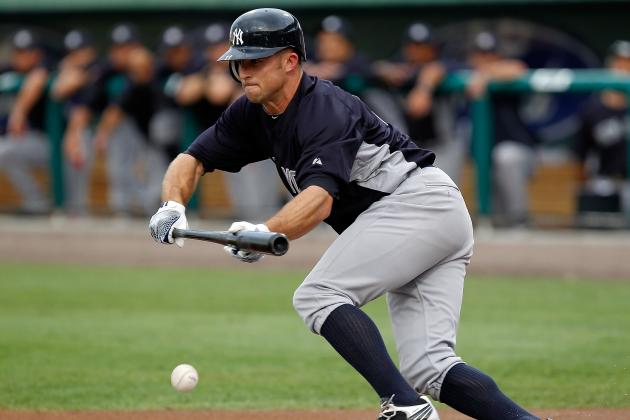 J. Meric/Getty Images

If you enjoyed Brett Gardner's 49 steals and 87 runs scored last season, how does 60 and 110 sound? That's the potential if Gardner can improve his contact rate.
Gardner has struck out 194 times in the last two seasons, which is not terrible, but for a Yankees' leadoff man with this kind of speed, it leaves much to be desired. Considering the ample run production waiting behind him in the order, Gardner could push himself into the Michael Bourn realm if he turned a few more of those strikeouts into slap hits.
The fact of the matter is Gardner is only 28 and in his prime. In 2010, he scored 97 runs while batting .277. Even if he could bat .280, he should surpass 100 scored and in the process provide himself with additional steal chances.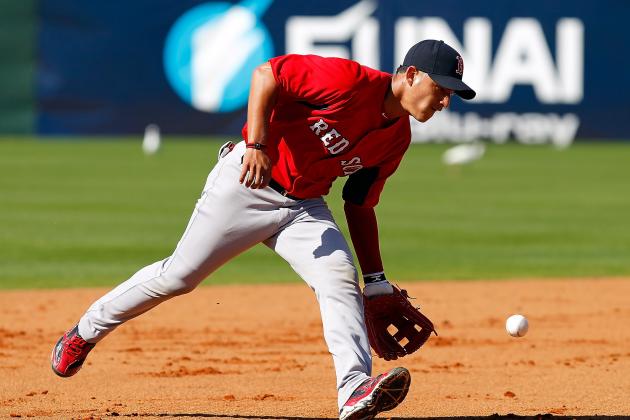 J. Meric/Getty Images

Jose Iglesias is one of the best fielding shortstops in baseball at any level. His glove is major league ready. The concern is his bat. He is just a .261 hitter in 171 minor league games and he is only 22 years old.
Boston will likely send him down to work on his bat in Triple-A for a while, but only Nick Punto and Mike Aviles stand in his way to the starting shortstop job in Boston. Iglesias won't likely hit you any home runs. But if he can hit enough to get on base, he has the speed to steal some bases.
This isn't a guy to draft in standard leagues, but Iglesias is the most likely Red Sox player to "break out" this season as the lineup is aging.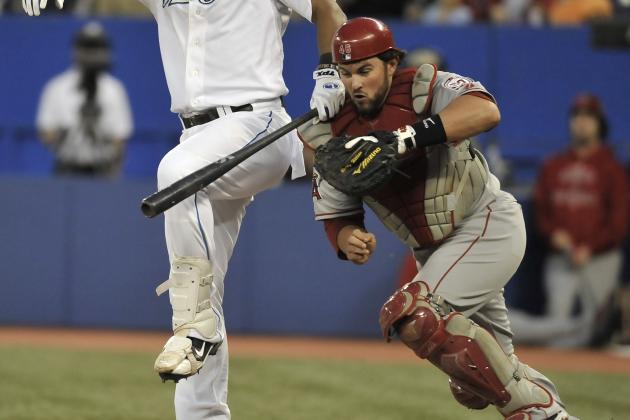 Brad White/Getty Images

Of course there's Brett Lawrie, but he's being wildly overrated in fantasy drafts this season, so let's look at someone who might be good value on draft day.
Affectionately called "E5" because of his defensive ineptitude, Encarnacion looks like a good bet to at least match his 481 at-bats from 2011. He hit 17 home runs playing part time, due in large part to his fielding problems.
Encarnacion has serious power, the kind of power that seems to erupt in Toronto and there's 30 or more home runs in his future if he can continue improving his contact rate, which has steadily increased in recent seasons.
Some other breakout candidates in Toronto could be Travis D'Arnaud and Travis Snider, both expected to start the year in the minors, but both also likely to have a shot at useful at-bats with the big league club.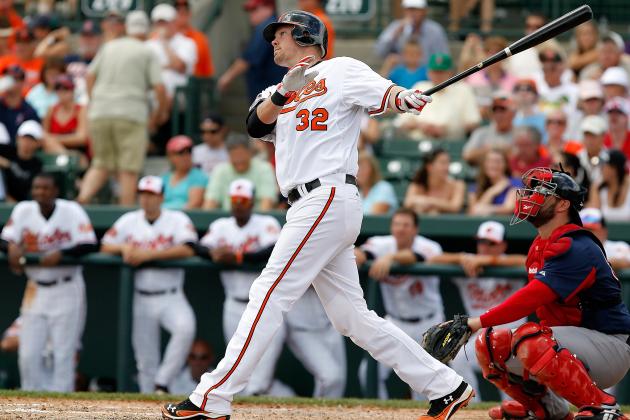 J. Meric/Getty Images

Between 2010 and 2011, Matt Wieters went from .249, 11 HR and 37 runs scored to .262, 22 HR and 72 runs scored. At just 25 years old, there is still room to grow for the young catcher in Baltimore.
People have been waiting for Wieters to break out since his rookie year, perhaps unfairly. In the last two seasons, Wieters has shown he can hit both right-handers and left-handers, he just hasn't done it in the same season.
In 2010, he had a .744 OPS against right-handed pitching, but just .564 against lefties. In 2011, that skyrocketed to 1.124 against lefties, but his OPS against right-handers fell to .662. This might just be the year he decides to hit both.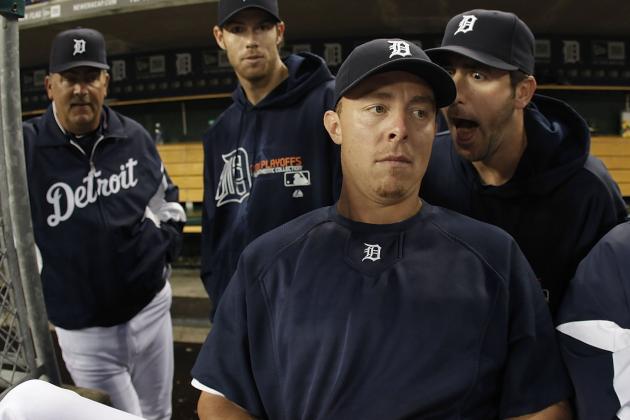 Leon Halip/Getty Images

Brennan Boesch batted .283 with 16 HR and 75 runs scored in just 115 games last season. Now he will be playing full time, and looks like he has a shot at the No. 2 spot in the order, right in front of the best 3-4 combination in baseball.
Boesch has 20 HR/90 RBI potential, sure, but he could add 90 or more runs scored to those numbers. He won't steal a lot of bases, but he is smart on the basepaths, doesn't run into outs and that adds to those scoring chances.
And moving up in the order will also add to his at-bats, increasing all the counting numbers that make him so fantasy valuable.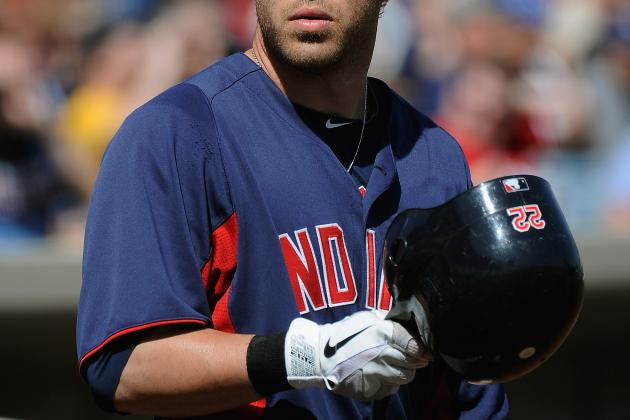 Kevork Djansezian/Getty Images

Jason Kipnis hit .272 with seven home runs in just 36 games last season in the major leagues. Kipnis had another 12 home runs in the minors before being called up, and 16 in the minors in 2010.
Power hitting second basemen are valuable in fantasy sports. There aren't many around and even less with a useful average. In Kipnis, you could see .275 to .280 average, plus 20 home runs by the end of 2012 and decent RBI and runs totals to go along.
There's likely to be some slumps in the season, as with anyone in their first full season of baseball, but be patient with the young Indian. You're likely to be rewarded.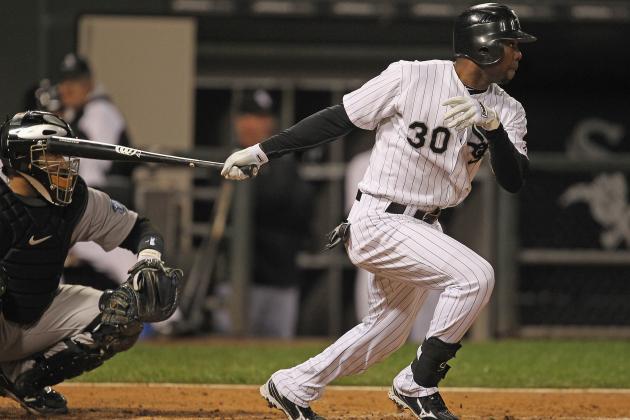 Jonathan Daniel/Getty Images

Alejandro De Aza is slated to start in the outfield for the White Sox this season. He has spent eight years in the minor leagues, never quite breaking through until 2011, when he hit .329 over 54 games, with four HR and 12 SB.
De Aza had a .920 OPS last season, and he added nine home runs and 22 steals in Triple-A in 2011 before being called up. De Aza is a sneaky late-round pick, who could hit for a high average, steal 20 bases and even hit 10 to 12 home runs if he sticks in the lineup.
Additionally, if the White Sox veterans Paul Konerko, Adam Dunn and Alex Rios perform as they are capable, De Aza could find himself scoring a lot of runs as well.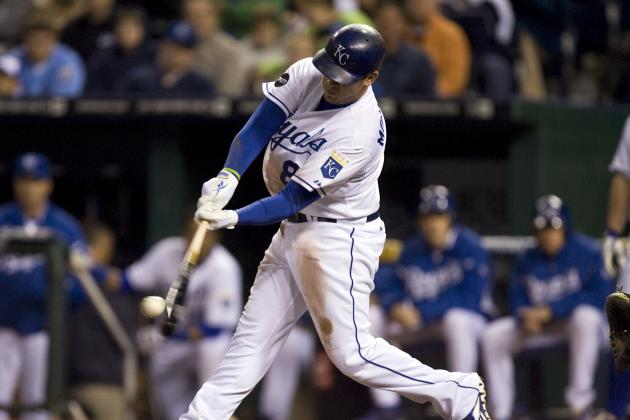 Ed Zurga/Getty Images

The easy pick here is Eric Hosmer, who could very well step into Joey Votto territory this season, but everyone knows Hosmer will be great. People seem to be doubting Mike Moustakas.
In 103 plate appearances before the All-Star Break in 2011, Moustakas had a .228 average and a .577 OPS. Some fans in Kansas City thought perhaps he wasn't ready and needed to go back down to the minors. But the organization stuck by him.
The one they call "Moose" responded with a .283 average in August and a massive .352 number from September 1 to the end of the season, with a .960 OPS in that stretch, including four home runs. Even if he bats .285 with 15 to 20 HR in 2011, he's a bargain at his current draft position.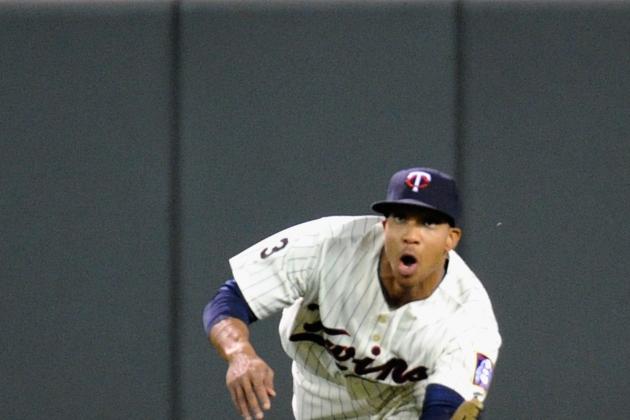 Hannah Foslien/Getty Images

This selection is as much a lack of options in Minnesota as it is a vote of confidence for Revere. But this is a guy who stole 34 bases in only 117 games last season, so the speed is undeniable.
He is expected to begin the season as a fourth outfielder in Minnesota, but can earn regular at-bats if his on-base percentage (.310 last season) is closer to his .385 number from the minors. There is a 40 SB/80 R player here, but he has to earn the at-bats.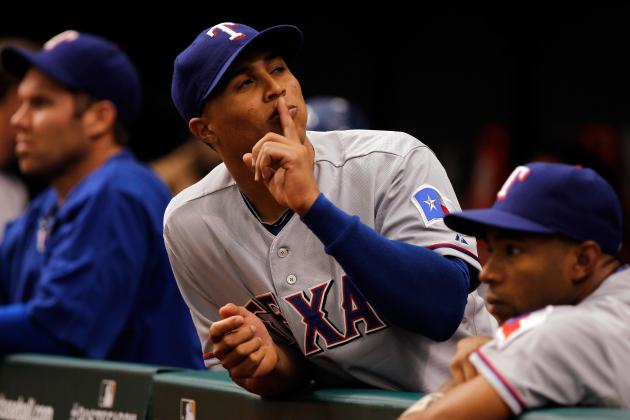 Mike Ehrmann/Getty Images

Leonys Martin went from rookie ball, through Double-A and Triple-A and played in eight games for the major league club, all in 2011. The fact he flew through the minor leagues is an indicator of how talented he really is.
Martin batted .295 with 19 steals in the minors, adding four home runs during his 29-game stint in Double-A, where he batted .348. He also plays for an organization full of injury-prone outfielders...and Julio Borbon.
Martin was optioned to Triple-A Round Rock this past weekend, but center field will be manned by Borbon at the season's outset, a proposition that may incite the Rangers to call up their top prospect by the end of May.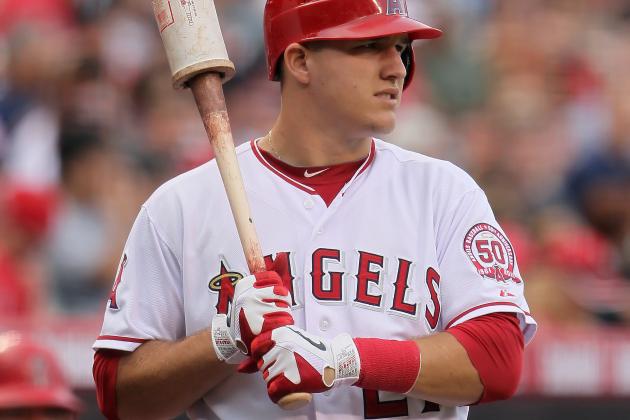 Jeff Gross/Getty Images

Everyone knows the name and the skills. And yet, Trout will begin 2012 in the minor leagues, while the Angels trot out Vernon Wells every day to play the outfield. Wells hit .218 in 2011 with a .660 OPS. Meanwhile, Trout hit .326 in the minors with a .958 OPS.
The Angels can keep making things up for Trout to work on at Triple-A (stealing home, bunt triples, walking on water, etc.) but Angels fans are among the more intelligent in baseball, and will be calling for the phenom every time Wells saunters back to the dugout after striking out, or fails to run down a lazy fly ball in left field.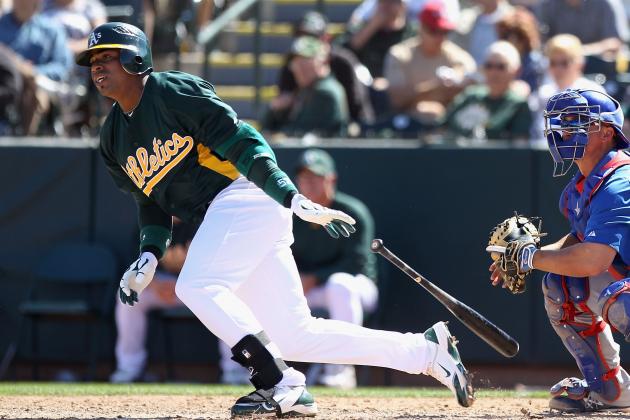 Christian Petersen/Getty Images

There isn't a ton to be excited about in Oakland. They spent the offseason trading away their talented major league pitchers to restock the minor league system. Then they signed Yoenis Cespedes.
The talented Cuban is drawing a variety of comparisons, and projections, all across the board. He may not break out in 2012 to the .280/25/25 kind of production people think he is capable of. But .265/20/15 would show the world that he is capable of those lofty projections given another season against American pitching.
Don't overly invest until you see him play a month or two, but if there was one Athletics player capable of "breaking out" this season, it's Cespedes.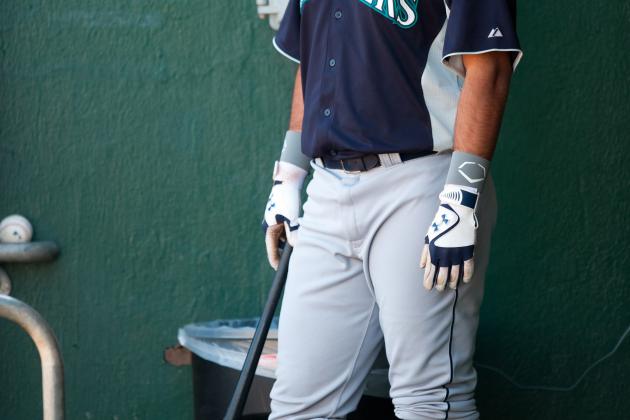 Rob Tringali/Getty Images

Jesus Montero will hit. No one seems to doubt that, but the question has always been whether he can catch or not. Most people say no, but for fantasy purposes, he will get enough games behind the dish for Seattle to gain eligibility in most leagues.
That's enough for you. Montero could rank among the top five catchers in fantasy at the end of the season and you don't care if he spends 120 of his 140 games at DH, as long as you can slot him into the shallow catcher slot.
And .280 and 25 home runs might be fair expectations for this season. With Ichiro batting ahead of him, Montero could knock in 75 runs, and score 50 to 60.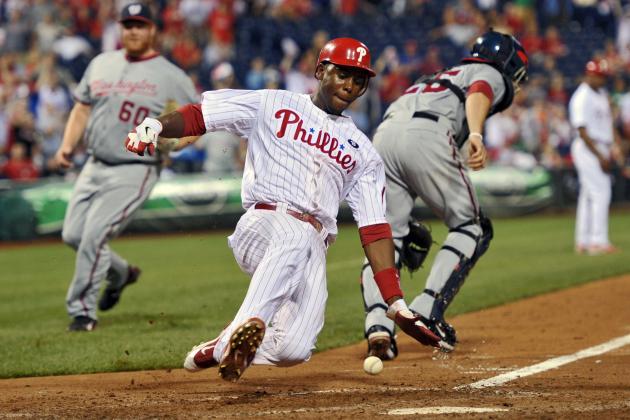 Drew Hallowell/Getty Images

This time last year, another Phillies corner outfielder, Domonic Brown, would have been here, but now John Mayberry Jr. has stepped into the vacant left field spot and has a chance to shine.
In 104 games last season, surrounding the Brown experiment, Mayberry batted .273 and added an .854 OPS. He hit 15 home runs and added 49 RBI. He even stole eight bases. Mayberry is a sneaky late pick in fantasy drafts right now, but could very well finish up with a .280/25 HR/15 SB season, and there's upside even from those projections.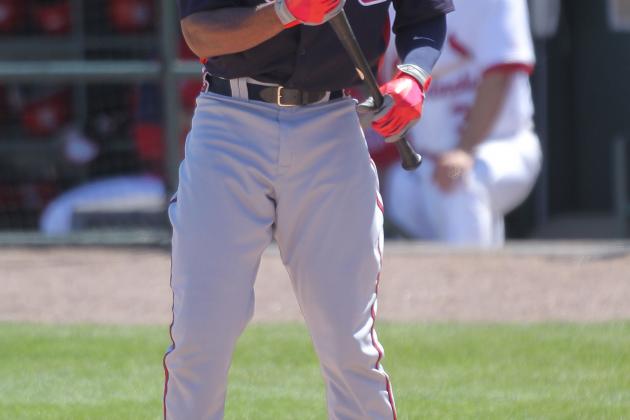 Marc Serota/Getty Images

The expected savior of the free world in 2011 sputtered as he battled injuries all season. The expectations were so high going in that he was ridiculed by fans for missing time with legitimate injuries and attempted to play through more.
Playing hurt, Heyward hit 14 HR and stole nine bases in 128 games. Now healthy, fantasy owners seem hesitant to re-invest with the same vigor, but if there was ever a year to buy in before his value skyrockets, the time is now.
Heyward is the gleaming star in a lineup full of talent. With Michael Bourn constantly in scoring position (after all, a single is basically a double for the 60-steal man), Heyward could easily push 90 RBI, along with 25 HR and 20 SB if he's healthy all season. Expect 20 and 15, and be pleasantly surprised.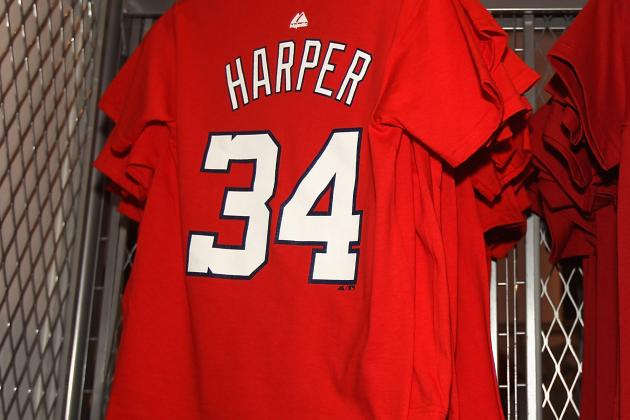 Christian Petersen/Getty Images

The 19-year-old wonderboy will start the season in Triple-A, but considering Davey Johnson was pushing for him to break camp with the major league team, it seems unlikely this No. 1 overall draft pick stays down for long.
Also helping Harper is the fact that the Nationals need a center fielder, and as soon as he shows himself capable of handling the defensive rigors of the position, there doesn't seem much opposition in his way.
If the call-up date was June 1, fantasy owners could expect 20 HR and 15 SB on the low side, with an average around .265, and this guy is capable of doing 25/20 and .280 or more.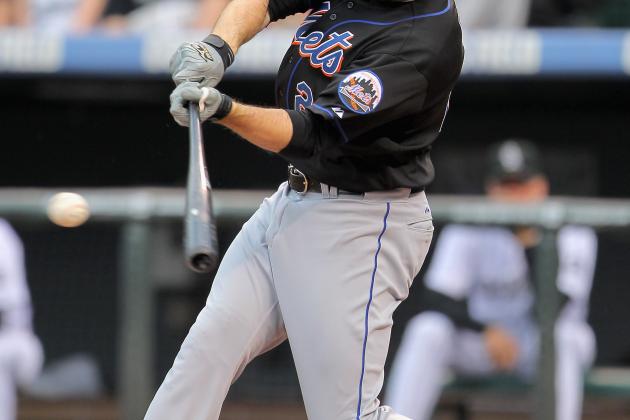 Doug Pensinger/Getty Images

In his rookie year of 2010, Ike Davis hit 19 home runs, with 71 RBI. Last season, he was hitting .302 with seven bombs before an injury ended his season after 36 games.
Now Davis comes in healthy and underrated in fantasy drafts. Davis' last minor league season, 2009, he hit .298 with 20 home runs, so there's reason to believe in both the average and the power. With the dimensions of Citi Field changing, no one knows how it will play, but any aid for hitters is welcomed.
Consider Davis a safe bet for .280 and 20 HR if he stays healthy, with upside for much more.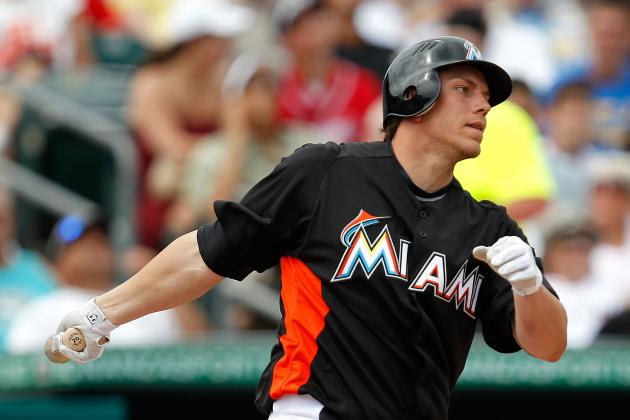 Sarah Glenn/Getty Images

In his first major league season, Logan Morrison hit two home runs in 62 games. In his second major league season, Logan Morrison hit 23 home runs in 123 games and his OPS dropped 40 points. The problem was, Morrison's on-base percentage dropped 60 points due to the power uptick.
For fantasy owners' sake, it seems Morrison is best somewhere in the middle, batting .280 with decent power. He's not going to steal many bases, but if he can regain his on-base ability, then he should score plenty of runs surrounded by the likes of Hanley Ramirez, Giancarlo Stanton and Gaby Sanchez.
Kevork Djansezian/Getty Images

In 128 games for Triple-A Nashville in 2011, Mat Gamel hit .310 with 28 HR, 96 RBI and 90 runs scored. Gamel will now take first base where Prince Fielder used to roam.
Gamel was once a top prospect in the Brewers system, but defensive ineptitude at third base slowed and eventually prevented his climb to the majors. Now manning first base, Gamel still has the bat to produce right away.
Nashville plays in the offense-friendly Pacific Coast League, so temper expectations, especially for average, but the power will be there, and the opportunity will be there for Gamel to emerge as a viable hitter in the middle of a competitive lineup.
Sarah Glenn/Getty Images

David Freese went a respectable .297 with 10 HR in 2011's regular season and gained immediate notoriety for his 21 postseason RBI. He will get a chance to play every day at third base for St. Louis, and there is breakout potential.
That being said, temper expectations. He has been a streaky hitter in his career and has never shown prolonged power. He has also never played 100 games in a season, so there's the risk of wearing down in the second half.
The ceiling could be as high as .295 and 25 HR, but don't buy in for more than .290 and 15.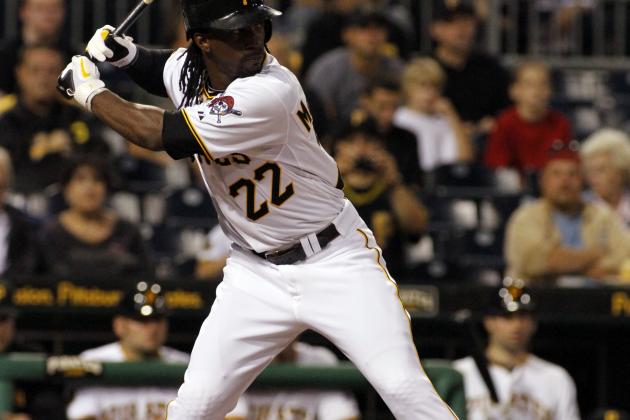 Justin K. Aller/Getty Images

To say that Andrew McCutchen has already "broken out" is like saying Justin Upton had already broken out before 2011. He was a very good outfielder, but there was always the feeling he had more in the tank, another gear he hadn't gone to yet.
This is exactly my feeling on McCutchen this season. There is power for 30 or more home runs and speed for 40 or more steals. But he has yet to put it all together and some who bought in early are starting to lose faith.
The fact of the matter is, McCutchen is still young, and the lineup around him is very young and incomplete. One of these years, the talent will no longer be restrained and, like Upton or Matt Kemp of 2011, McCutchen will take his place among the elite players in baseball.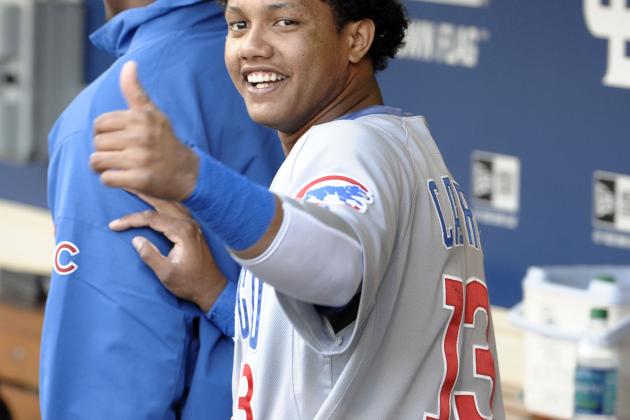 Denis Poroy/Getty Images

In his rookie year of 2010, Starlin Castro batted .300 over 125 games, scoring 53 runs, with three home runs and 10 steals. In 2011, he played 158 games, and shot up to .307, 10 HR, 22 SB and 91 runs scored...and he was just 21 years old.
Projections for Castro seem to be all over the board, but even if he hits 15 HR with 25 SB, reasonable growth for a player his age, he's among the best shortstops in baseball, and still five years from his prime.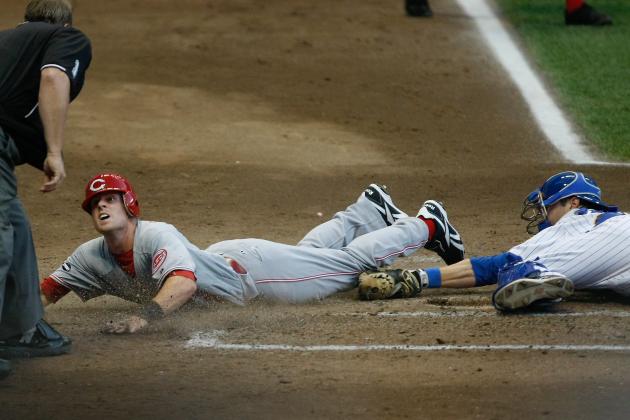 Scott Boehm/Getty Images

The starting shortstop for the 2012 Reds, Zack Cozart hit .324 with two home runs in 11 games with the big league club at the end of 2011.
Before injuries knocked Cozart out some of 2011, he was coming off an impressive 2010 with 17 HR and 30 SB. However, he batted just .255 in 2010, and in 77 minor league games of 2011, Cozart hit .310. So he has hit for average, power and speed, just not all at the same time.
Cozart will be given ample opportunity to stick in Cincinnati, and the Reds provide plenty of run-scoring potential for fast young middle infielders who know how to get on base, so don't forget about Cozart late in deep league drafts.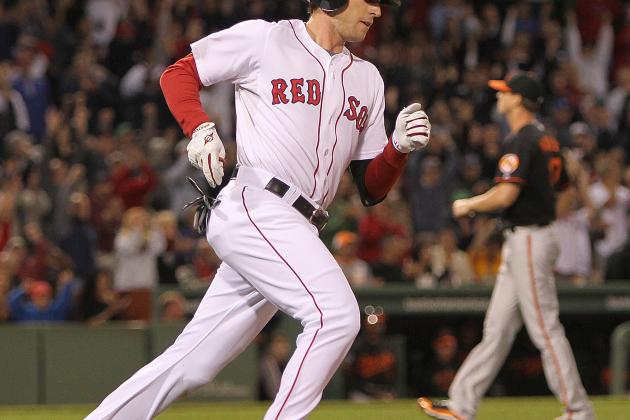 Jim Rogash/Getty Images

Jed Lowrie is injury prone. He's playing for a terrible team, and he hasn't played 90 games in any season. But he had a .907 OPS in 2010, which seems to show some power potential. He also got off to a hot start when given a chance in Boston last season before injuries derailed the season.
Lowrie will play shortstop full time for the gutted Astros, and there's no reason to think he will stay healthy for 130 or more games, but even if he played 115 games, Lowrie might have enough pop to give you 15 home runs and a decent average. And there's always room for power from the shortstop position on a fantasy team.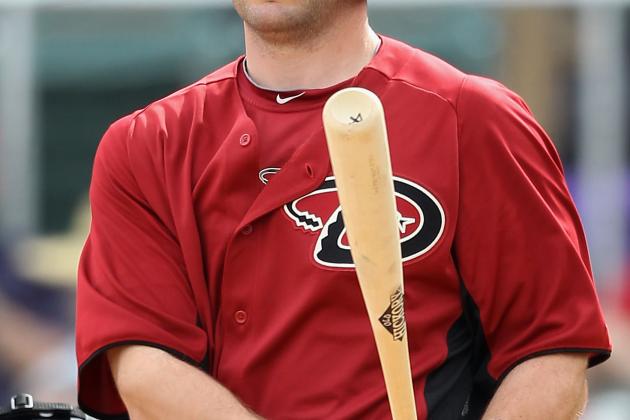 Christian Petersen/Getty Images

A masher in the Mark Reynolds mold, Paul Goldschmidt managed a .250 batting average and an .808 OPS while striking out 53 times in 48 games for Arizona in his rookie year of 2011.
On the flip side, Goldschmidt had 65 HR and 202 RBI in 241 games between 2010 and 2011 in the minors. That's 32.5 HR and 101 RBI over just 120.5 games per season. Realistically for 2012, fantasy owners should expect some massive home runs and a lot of strikeouts, hoping for 25 of the one, and less than 150 of the other.
There's 30-HR upside here, as well as 180-K downside, and the average to go with it.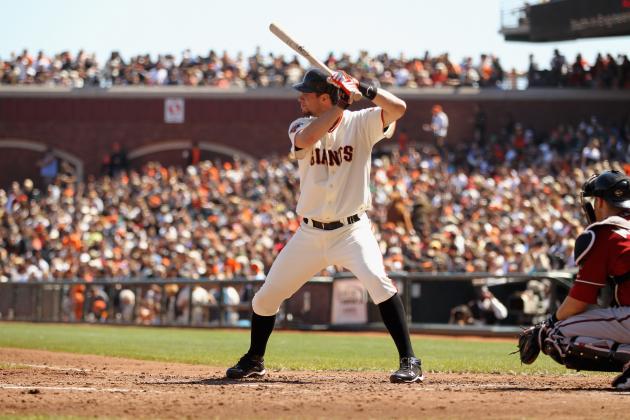 Ezra Shaw/Getty Images

The easy name here is Buster Posey, who looks healthy, says he is and could go .290 and 20 HR in the middle of the Giants batting order.
But Brandon Belt is the other member of this duo who could take the Giants out of their offensive woes and into division contention if he can hit for a decent average and start to fulfill that potential. There is the possibility for .275 and 25 home runs from Belt if he corrects some of the pitch recognition problems from 2011.
The Giants seem committed to giving Belt his chance, and he could prove a late-round bargain if he takes advantage.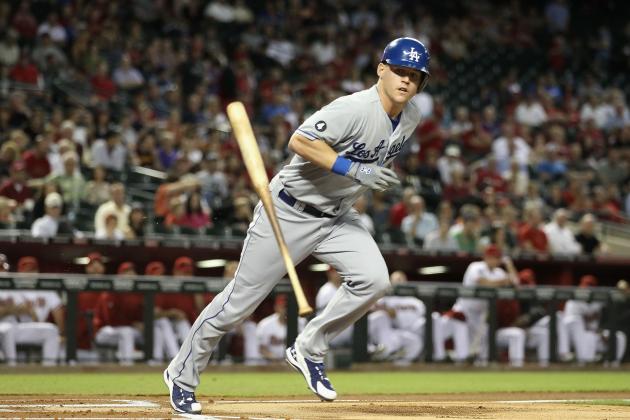 Christian Petersen/Getty Images

This is not a pick for the faint of heart. Sands struggled mightily out of the gate last season when he was called up and rebounded to finish with a .253 average over 61 total games.
However, in his last two minor league seasons, Sands hit 64 home runs, including 29 in just 94 games in Triple-A in 2011. He was a career .286 hitter in four minor league years, with a .952 OPS. Sands will begin this season back in the minors, but the Dodgers don't have great options in left field, so Sands could get his chance early on, and .270, with 20 home runs is not out of the question.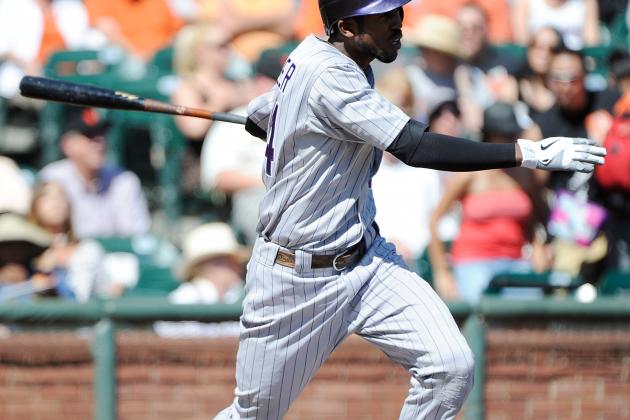 Thearon W. Henderson/Getty Images

Dexter Fowler quietly had his best year for the Rockies in 2011. His .796 OPS was 26 points higher than his previous career high and his 84 runs scored was also his best showing yet.
Part of the issue with Fowler is his lack of steals compared to his speed. Fowler stole 43 bases and scored 92 runs in just 99 games in 2006 at A-Ball. He stole 20 each of the next two years, and battled injuries throughout his early 20s.
Fowler emerged in 2009 to steal 27 bases while batting .266, and was dubbed the Rockies leadoff man of the future. However, in three major league seasons, Fowler has yet to reach 140 games played, or strike out less than 100 times. Both will need to be improved if Fowler is to reach his potential.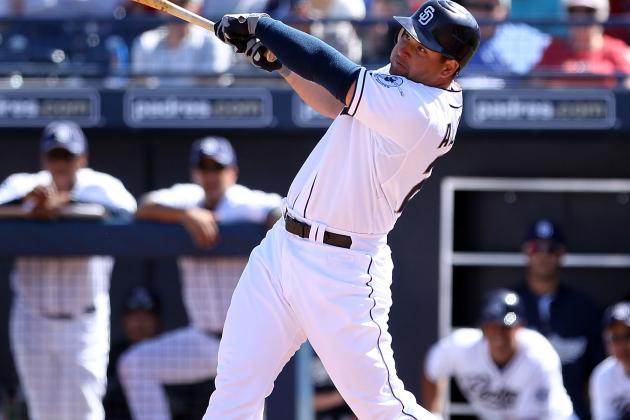 Christian Petersen/Getty Images

One piece of the Padres' haul when they sent Mat Latos to Cincinnati, Yonder Alonso is expected to settle in as the Padres every day first baseman.
In 47 games with the Reds in 2011, Alonso batted .330 with an impressive .943 OPS, showing an approach mature beyond his 24 years. Now in Petco, the home runs will come harder, but Alonso has the pop to hit for a solid average and still produce adequate runs to be valuable in a fantasy context.
Alonso might not hit 25 home runs, like he might in another home ballpark, but draft him for a good average and adequate run production, and enjoy the 15 or so home runs that come with it.