Power Ranking the Top 5 Prospects Magic Must Target in 2012 NBA Draft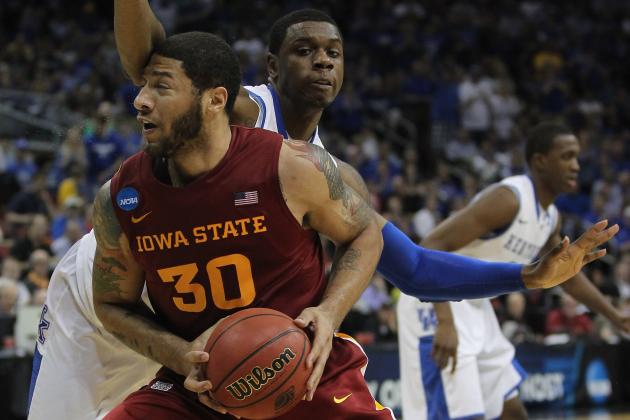 Jonathan Daniel/Getty Images
Royce White and Terrence Jones
With the end of the NBA regular season fast approaching, the Orlando Magic, owner of an elite 32-18 record, have much to think about. Not only are the playoffs right around the corner, but the NBA draft is only a few months away.
Over the last week, college basketball's elite talent has been on full display, and don't think for a second that the Orlando Magic scouts haven't been watching. From Jared Sullinger to Michael Kidd-Gilchrist, this year's draft class is undoubtedly the deepest in recent memory.
Due to the plethora of talent, the Orlando Magic may be able to acquire another future star in the draft, even though their draft pick will almost certainly be quite high.
Nonetheless, here are the top five prospects the Orlando Magic must target in the 2012 NBA draft.
Begin Slideshow

»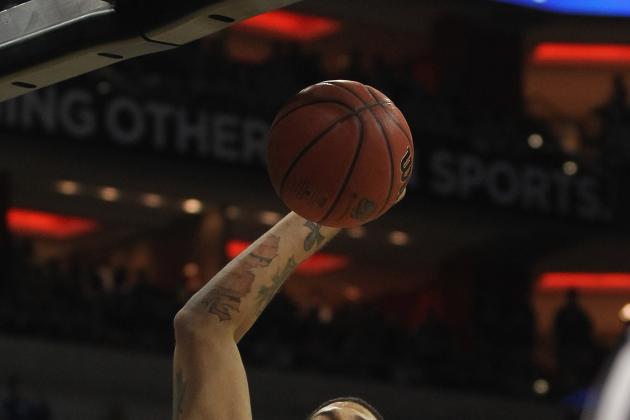 Jonathan Daniel/Getty Images
Royce White
Earlier this week, news broke that 6'7", 270 pound forward Royce White signed with an agent and is ready to start his NBA career by declaring for the draft. Despite only one year of college basketball, the versatile big man will leave Iowa State for the bright lights of the association.
White, though undersized, can play a plethora of position. From small forward to center, White proved this season that he is one of the most multidimensional players in the country. Not only is he capable of bringing the ball up court, but White has a refined post-game and solid play-making ability.
However, there are a few red flags regarding White. The prospect has been noted for maturity issues. Plus, the forward will need to lose some extra weight if he wants to make a successful transition to the NBA.
In Orlando, White would be able to jump to the NBA with ease. The Magic are accustomed to having versatile forwards and White will be able to learn from one of the best point-forward in the NBA in Hedo Turkoglu.
In addition, White will acquire major minutes due to the Magic's weak bench.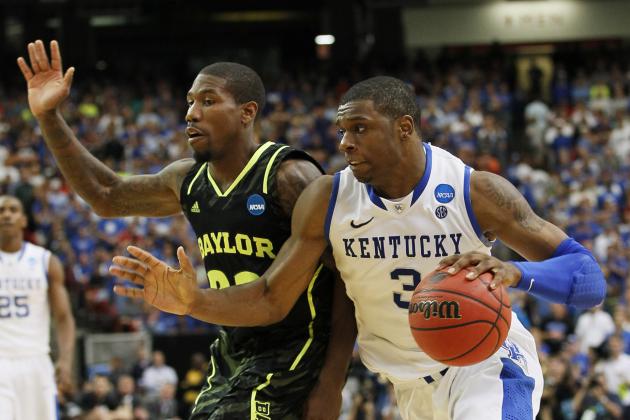 Kevin C. Cox/Getty Images
Terrence Jones
At times, Terrence Jones' production is overshadowed by the Kentucky trio of Doron Lamb, Michael Kidd-Gilchrist and Anthony Davis. While all of those players are expected to be picked higher than Jones, the starting forward's potential is nothing to scoff at. After all, Jones may be the most NBA ready player out of all the Kentucky prospects.
Jones, who has been stellar in the tournament, has become a leader on a star-filled roster. Not only has he become a leader, however, but he is a lethal scorer from deep and in transition.
With the Magic, Jones would be able to compete for Turkoglu's starting role, as the veteran's production has been on a sharp decline. Plus, Orlando's three-point heavy offense will allow Jones to receive major minutes due to his ability to knock down the open trey.
However, Jones' play this season may have moved him out of Orlando's reach in the draft.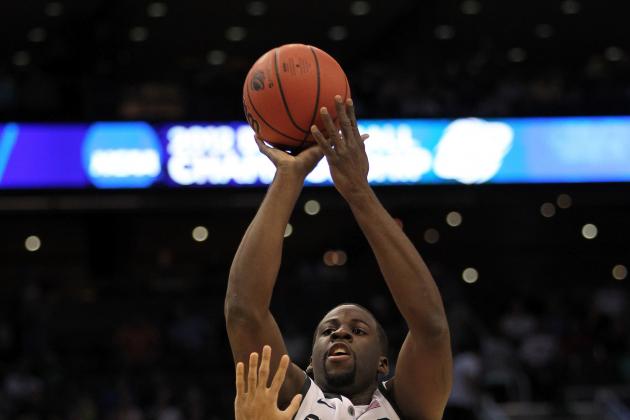 Jamie Squire/Getty Images
Draymond Green
Senior forward Draymond Green was arguably the most dominant big man in the NCAA tournament before Louisville pulled an upset on the Michigan State Spartans. Now eliminated, Green's next game will probably be in a NBA uniform.
Green showcased his versatility all season, as the forward can play numerous position and roles. From play-caller to center, Green was a nightmare for opposing colleges to match-up with.
However, Green does possess many question marks. The biggest is the fact that Green is too small to be a traditional power forward and too slow to be a traditional small forward in the NBA. In college, Green's size was not a disadvantage, but the NBA is a totally different game. At 6'7" and 230 pounds, his size is absolutely a red flag.
But, how much would his size be taken advantage of if Dwight Howard was his front-court mate? After all, Howard is an All-NBA talent who specializes on off-ball defense.
Coach Stan Van Gundy and Orlando would definitely be able to reap the benefits of Green.
Streeter Lecka/Getty Images
Austin Rivers
If there is one player's draft stock that his hard to gauge, it is Austin Rivers of Duke. Some experts have him as a top-five selection due to his grand potential, while others have him in the 20's due to his inability to be a consistent force in his one-year college tenure.
If Rivers does fall, however, who wouldn't want to see a reunion between the guard and the city where he became famous.
During his high school career at Winter Park, Rivers dominated competition. Not only was he recognized as a top-tier basketball player, but the 6'4" guard became arguably the best scorer in the nation. Basically, if he was past half-court, he was a threat to score.
A pairing between Rivers and the Magic would be a match made in heaven. Rivers has the tools to be an elite scorer at the professional level, a role the Magic desperately need filled. He can penetrate with effectiveness and shoot from deep with efficiency. While his defense may be lacking, his offense more than makes up for it.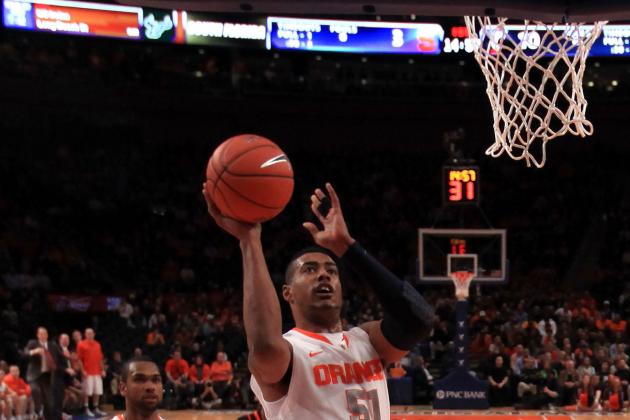 Chris Trotman/Getty Images
Fab Melo
Fab Melo's absence from the NCAA tournament due to academics has definitely put a few question marks in the heads of NBA scouts. Not only did it show a lack of commitment on his part to the program, but they were unable to see how the Brazilian center would react when the pressure was on.
This, in turn, has dropped Melo's stock significantly. In fact, the 7'0" center has become the most realistic option for Orlando come draft day.
Over the course of the NBA season, the Orlando Magic's lack of front-court has definitely cost the team a few wins. After all, they only use three big man (Ryan Anderson, Glen Davis and, of course, Dwight Howard) and none of them are seven feet tall.
The lack of a back-up big man should be a necessity for Orlando come the off-season and Melo would be a perfect fit with the Magic. Not only would this young shot-blocker be able to learn from one of the NBA's premier centers, but Melo would log major minutes from the beginning.