San Francisco 49ers: Taking a Closer Look at the Niners' Offseason Needs
Jed Jacobsohn/Getty Images
Alex Smith will return to the 49ers under a three-year contract
The San Francisco 49ers and GM Trent Baalke have been very busy. They were successful in keeping their defense together and making some valuable additions this offseason.
The 49ers re-signed Carlos Rogers, Ahmad Brooks and put the franchise tag on Dashon Goldson. This kept the entire starting defense intact from 2011. The 49ers had the top-rated rushing defense and the second-best scoring defense in the league.
In addition to the 49ers coming to terms with quarterback Alex Smith, they also added Randy Moss, Mario Manningham and Rock Cartwright to their offense.
At this point, there are still areas that should be fortified. Let's take a closer look at what the 49ers still need to do in order to best position themselves for another run at the Super Bowl.
Begin Slideshow

»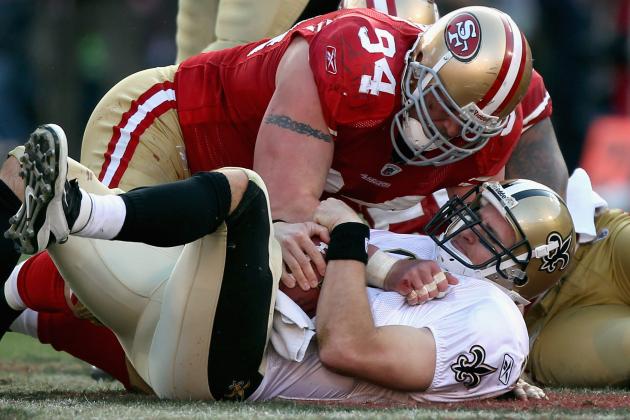 Jed Jacobsohn/Getty Images
Justin Smith was a First-Team All Pro in 2011
The San Francisco 49ers were very fortunate in 2011, as they suffered no major injuries to their defensive line. Justin Smith, Ray McDonald and Isaac Sopoaga missed only two games out of a combined 48 possible games this past year.
The 49ers reserves on the defensive line include Ricky Jean-Francois, Demarcus Dobbs and Will Tukuafu. Jean-Francois has shown the most promise, although there was a noticeable drop-off when any of the starters were out.
The odds of the 49ers defensive line staying as healthy in 2012 as it was in 2011 are slim. For this reason, it would be wise for the 49ers to add more quality depth in this area.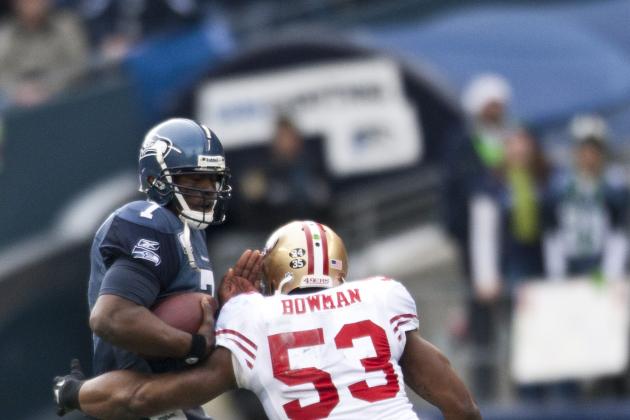 Jay Drowns/Getty Images
NaVorro Bowman emerged as a star in 2011
Patrick Willis and NaVorro Bowman form arguably the top inside linebacker duo in the NFL. Both players earned first-team All-Pro honors in 2011.
The key is who would back up this dynamic pair in the event of injury. Last year, Larry Grant did the job remarkably well when Willis was hurt and missed three games.
Grant is currently a restricted free agent, and it's not yet determined if he will return to the 49ers. Undoubtedly, Grant believes he showed enough to warrant being a starter in 2012, so he is exploring those options.
The 49ers have tendered Grant a contract, so they would have the chance to match any offer to which he agrees. If Grant does not stay in San Francisco, the only real inside linebacker reserve is Tavares Gooden.
In 2011, Gooden did not start a game, playing mostly on special teams. Gooden had only one tackle last year, so he can hardly be relied upon to step in for Willis or Bowman without a significant drop off.
If the 49ers do come to terms with Grant, the need for another inside linebacker diminishes, but at this point, there is a definite concern.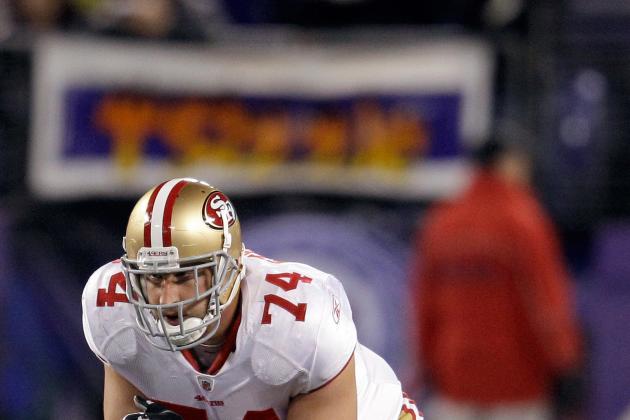 Rob Carr/Getty Images
Joe Staley played all 16 games at left tackle in 2011
I will address the specific departure of Adam Snyder later in this article, but even with Snyder, the 49ers need to improve their offensive line depth. Without Snyder, the depth is even more of a concern.
The 49ers offensive line stayed relatively healthy all season in 2011. The 49ers were very lucky with regard to injuries this past season, and to expect that again is unrealistic.
Joe Staley started all 16 games at left tackle after starting only 18 games in the prior two seasons combined. Left guard Mike Iupati started all 16 games also.
Center Jonathan Goodwin also started all 16 regular season games, but he was starting to wear down toward the end of the year. I would be pleasantly surprised if Goodwin, who will be 34 years old in December, is able to play all 16 games in 2012.
At right tackle, Anthony Davis also started all 16 games and improved a lot this past season. Once Snyder replaced Chilo Rachal at right guard early in the season, his steady play helped Davis become more comfortable, and he did a much better job.
The 49ers may decide to go with Daniel Kilgore to replace Snyder at right guard. More on the right guard situation later in this article.
Rachal was abysmal last year and has not played up to the promise of his second-round draft selection in 2008. A free agent, Rachal has likely played his last game as a 49er.
In addition to Kilgore, the only other reserves on the roster are tackles Alex Boone and Mike Person, who rarely played in 2011. Chase Beeler is a reserve center, who spent the majority of 2011 on the 49ers practice squad.
The 49ers have shown interest in various free-agent guards, but to date, they have not signed anyone with the pedigree to replace Snyder.
Having quality depth on the offensive line will be critical to the 49ers. In addition to protecting Alex Smith, the line also needs to open holes for Frank Gore and the 49ers running game.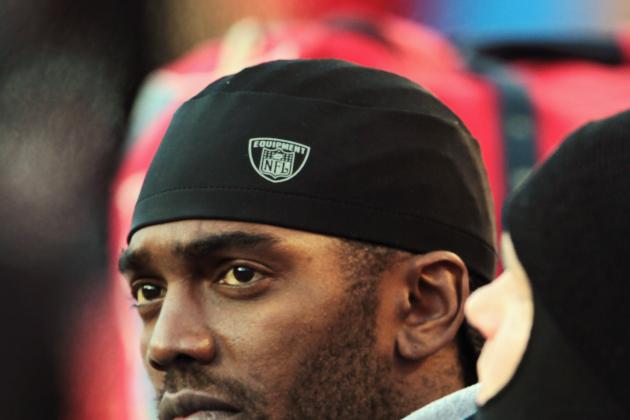 Jamie Squire/Getty Images
Randy Moss returns to the NFL after a one year hiatus
It did not take a genius to realize that the 49ers' biggest need following the 2011 season was to upgrade their wide receiver corps.
GM Trent Baalke and head coach Jim Harbaugh have already taken steps to accomplish this upgrade. Randy Moss was signed after he worked out with Harbaugh, who believes Moss will stay focused and be a positive addition.
If the Moss signing proves to be detrimental, he will be released. A sizable portion of Moss' contract is incentive-based. In reality, if Harbaugh decides to cut Moss, it's a low-risk move.
Mario Manningham joins the 49ers after helping to lead the New York Giants to their Super Bowl victory over the Patriots. He replaces Joshua Morgan, who signed with the Redskins. This is a solid upgrade.
Michael Crabtree is still with the 49ers, so they're hoping to have three quality wide receivers for Alex Smith to throw to.
In a somewhat surprising move, the 49ers came to terms with wide receiver and return man Ted Ginn. He is a below-average receiver and is best used as a punt and kickoff returner.
The goat of the NFC Championship Game, Kyle Williams is also on the roster. In addition to his two botched punt plays, which cost the 49ers a shot at the Super Bowl, Williams has had problems staying healthy. He has shown some potential, but his spot on the 2012 roster is far from certain.
With the acquisitions of Moss and Manningham, the 49ers have made positive upgrades at wide receiver. Nevertheless, I don't think they're done here yet.
Look for Baalke to select a young wide receiver that the Niners can develop, somewhere in the top three to four rounds of the upcoming draft. This is a very deep class of receivers coming out of college, so the 49ers should be able to get a quality young player somewhere in their top four picks.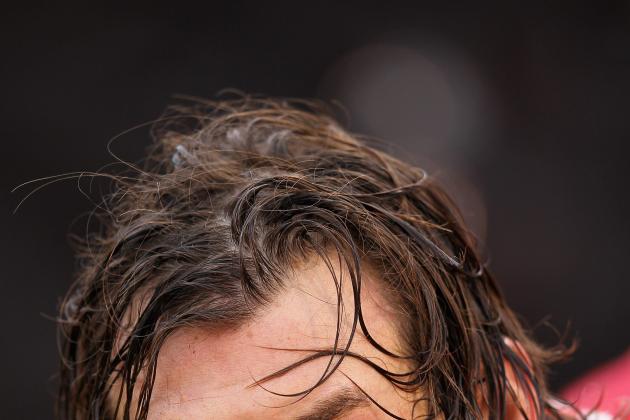 Ezra Shaw/Getty Images
Adam Snyder goes to division rival Arizona
The San Francisco 49ers offensive line suffered a big blow when starting right guard Adam Snyder signed a free-agent contract with the Arizona Cardinals.
Snyder replaced Chilo Rachal after the third game of the year and started the remaining 13 games at right guard for the 49ers. He also started both of the 49ers' playoff contests. Once Snyder took over for the struggling Rachal, the 49ers offensive line immediately started to gel.
The line improved steadily throughout the remainder of the season, and Snyder was the missing piece of the puzzle. Snyder played seven years with the 49ers, and his versatility is something the team will certainly miss.
Snyder could play all five line positions and was effective in any role the 49ers put him in. The 49ers must now find a replacement at right guard for Snyder and also add depth because of the loss of Snyder's versatility.
Daniel Kilgore was a rookie in 2011 and played sparingly. Even if he's ready to step into the starting job, which would be a big jump for him, the 49ers will need to find a competent backup for the interior line.
If Chase Beeler, a practice squad player for most of 2011, looks like he can handle the starting center job, the 49ers' other option is to move Jonathan Goodwin from center to right guard.
The 49ers are also looking at free-agent guards, although with the prior signings of Carl Nicks, Ben Grubbs, Steve Hutchinson, Geoff Schwartz, Chad Rinehart and Evan Mathis, the pickings are getting increasingly slim.
The 49ers will continue their search and evaluation of the remaining free-agent guards available. However, with the talent pool still currently on the market, the 49ers will be hard-pressed to land a top-notch starter.
Even if a free agent does sign with the 49ers, look for them to select an interior lineman within the top four rounds of the draft. If they are unable to land a starting guard, then their first pick could very well be a right guard, if they find one that meets their needs.
The acquisition of a quality interior lineman, preferably a right guard, is the 49ers' top need at the present time.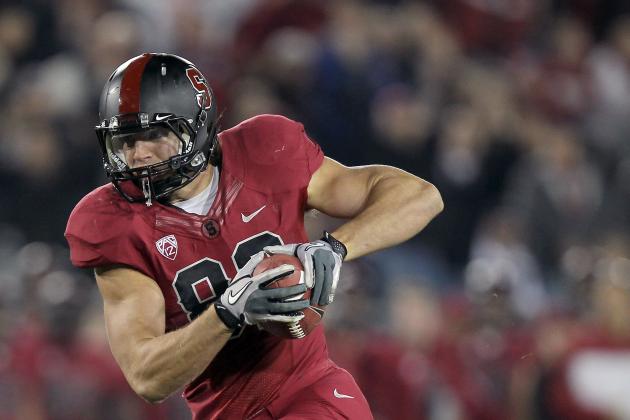 Ezra Shaw/Getty Images
If Coby Fleener is available, he would look great in red and gold
In less than one full season, Jim Harbaugh transformed the San Francisco 49ers from an also-ran to a winner. He had the 49ers in the NFC Championship Game, and save for two botched punt returns, he would have had the 49ers in the Super Bowl.
Harbaugh returns his entire highly rated starting defense, and outside of the issue at right guard, has strengthened the offense.
Look for the 49ers to sign a solid right guard in free agency, although the top players are already gone. Drafting late in the first round, the 49ers will find it tougher to land an impact player that can step in and have the same kind of impact that Aldon Smith had in 2011.
One such player that seems like a perfect fit in San Francisco and could be available when the 49ers select at No. 30 is tight end Coby Fleener. Harbaugh is very familiar with Fleener, having coached him at Stanford.
Harbaugh is a master of utilizing multiple tight end formations and creating mismatches for the defense. The combination of Vernon Davis, Delanie Walker and Fleener is potentially devastating for an opposing defense.
Expectations are running high in San Francisco. I have no doubt that the 49ers will solve their remaining hole at right guard, whether it be through free agency or the draft.
It promises to be an exciting season for the 49ers, who are poised for another deep postseason run.