Final Four 2012 Predictions: Winners and Losers for Unpredictable Final Weekend
March 26, 2012

Jamie Squire/Getty Images
The madness of March is coming to a close which makes me sad beyond belief.
The good news is that we still have a few more games to keep us all fat and giggly until One Shining Moment plays us out. 
We have seen epic crashes as Duke bowed out early. Syracuse was able to hold on for just a shade longer than most gave them credit for after losing Fab Melo. 
We had Cinderllas in Ohio and NC State that very nearly gave us a shock the size of last year's VCU team. 
In short, the 2012 NCAA Tournament has been absolutely nuts, and that is what we love so much about this crazy tourney. 
We have a touch more dancing to do and here are the teams that will bring us home. 
Final Four (Saturday, March 31) - CBS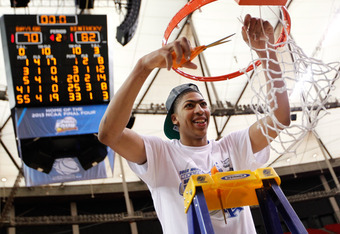 Streeter Lecka/Getty Images
Louisville vs. Kentucky (6:09 p.m. ET)

Yes, there is something magical and special about this Cardinals team. I would even go so far as to say that they just know how to get things done, but all of the mystical part of competition goes out the door when you are playing the flat-out best team in the nation. 
I love what GoguI Dieng has meant to this team in terms of an inside presence, but he and the rest of the fellow Louisville big men are negated by a dominant Kentucky front line helmed by Anthony Davis. 
The Wildcats are only getting better as they go through the tournament and showed no signs of slowing down. This should be a relatively easy game as Kentucky begins to sniff a title. 
Prediction: Kentucky 74, Louisville 68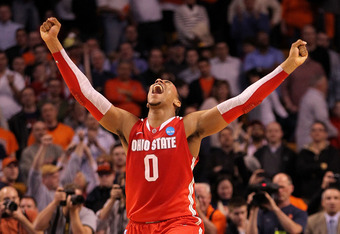 Jim Rogash/Getty Images
Ohio State vs. Kansas (8:49 p.m. ET)

We end a great day of basketball with a game that could go either way. Both the Buckeyes and Jayhawks have the talent to destroy most teams, and will be clawing at one another from the tip off. 
The Jayhawks showed that they can get buckets as good as any team against North Carolina, but that would assume OSU is about to play the same sloppy ball we saw in that game. 
Ohio State plays tough defense and closes out remarkably well. This game goes to the Buckeyes who will have Jared Sullinger this time around. 
Ohio State has kept teams to under 66 points in the tournament and have forced 51 turnovers, making them my favorites to win this nail biter. 
Prediction: Ohio State 71, Kansas 70.
National Championship

(Monday, April 2, 9:00 p.m. ET ) - CBS
We get down to who I think will feature a week from now, Kentucky and Ohio State. The battle of the big men goes to Kentucky who make it difficult on teams to get a consistent presence in the paint. 
Jared Sullinger will be relegated to a perimeter player who has to work harder for his shots than he ever has before. 
More than that, Kentucky is just a deeper team with too many NBA-level players that can light up the stat line when needed. 
John Calipari has a monster of a team, and there is no excuse for them to not close this one out in New Orleans. 
Kentucky wins.