Texas Rangers: Why the Wilson-Napoli Exchange Will Spark Angels-Rangers Rivalry
March 26, 2012

Jeff Gross/Getty Images
The Angels-Rangers rivalry is still about winning the AL West, make no mistake. However, things have gotten a lot more interesting this year. 
Over $400 million has been spent between the two teams this offseason in an effort to improve their ball clubs. That's the business side of the rivalry. 
It looks like C.J. Wilson just made things a little more personal.
By now you are all aware of the story. Rangers' catcher Mike Napoli allegedly told a reporter he was looking forward to going yard on his former teammate, C.J. Wilson. 
Wilson's idea of getting "even" to this remark was by tweeting Napoli's phone number for all his 100,000 plus followers to see. Napoli not only said he didn't find the prank funny, but was also surprised by it because the two did not have that kind of relationship when they were teammates.
Okay, so Wilson probably didn't have any ill intent and the prank luckily turned out to be pretty harmless. As far as intense rivalries go, this one has a somewhat tame start to it. There were no ejections, no punches thrown, and no fastball's headed toward a player's temple.
Not yet anyways. It's still spring training and there is plenty of time for animosity to build momentum. Things are going to get more intense because of how high the bar has been raised.
Teams don't spend the kind of money these two did without expecting a divisional championship at minimum. The players know this. Despite missing the playoffs the last two years, there are still players on the Angels' roster who remember being regulars atop the AL West.
Wilson brings two pennants with him to Los Angeles, and Albert Pujols is bringing three of his own plus two World Series rings.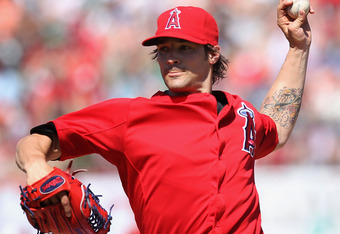 Christian Petersen/Getty Images
No one has to tell the Rangers what they are playing for. October baseball is addicting. Sitting this one out after being big players the last two years will be tough.
Playoffs spots aren't guaranteed. Even the extra wild card doesn't mean much if one of these teams loses that game and doesn't get a chance to move forward. 
All of this competition is going to create some hostility. This isn't football where you play your biggest rival once or twice a year and then move on. The Angels and Rangers play almost 20 games against each other in 2012.
There is also some emotion mixed in here as well. Napoli was an Angels' castoff when he made his way to Texas, where he had the best season of his career.
Wilson was the Rangers' number one starter last year, only to sign with the rival Angels after the Rangers didn't really make a big effort to re-sign him. 
Sometimes all it takes is for a player (like Wilson) to say or do something dumb and set off a spark. It doesn't have to be much, but it can still spread through the whole team.
Wilson deleted the tweet, but everyone knows the Internet isn't written in pencil.   
Things may not be intense yet, but if  players begin to get testy we can look at the Napoli-Wilson exchange as a starting point. 
Just another reason to be excited for the season to begin. Besides, what's baseball without a good rivalry?