We have reached the Final Four of the NCAA tournament.
Or at least, we will once Saturday rolls around. Until then, we have no choice but to pass the time analyzing the matchups from every which way and bickering and arguing about how good Kentucky, Louisville, Ohio State and Kansas really are.
Obviously, the four of them are all really, really good. If they weren't, they wouldn't have made it this far. Simple as that.
But since we must argue about how good the four teams still standing are, here's how I rank them.
4. Kansas Jayhawks
By ranking the Jayhawks fourth, I'm saying that they're the worst team still standing in the tournament.
I'm aware of that, but that's not how I prefer to look at things. Instead of saying they're the worst team still standing, I prefer to call them the most beatable team still standing.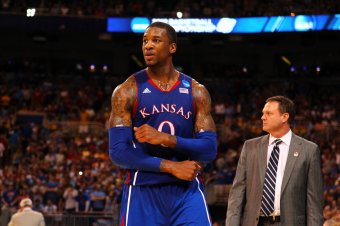 Dilip Vishwanat/Getty Images
We keep talking and talking about how Kansas is all about Thomas Robinson and Tyshawn Taylor, and this is true. Robinson is one of the greatest players in the nation, and Taylor is one of the more underappreciated guards in the country. When he gets hot, as he did against North Carolina, he's as good as anyone.
There are two issues with this tandem. First, Taylor has proven to be highly inconsistent, and he is not impossible to defend. That worries me seeing as how he's about to come face to face with Aaron Craft.
Second, Robinson himself is not superhuman. He will lay an egg here and there, and when he does the playing field is leveled in a significant way.
Ohio State has the goods to give both Taylor and Robinson a hard time. This is as good a way as any of saying that the Buckeyes have the goods to beat Kansas.
3. Ohio State Buckeyes
There aren't many teams out there as deep and as well-rounded as Ohio State. The Buckeyes have talent in the right places, and they are dangerous on both ends of the court.
Jim Rogash/Getty Images
The trouble with playing Ohio State is having to contend with its two star forwards, Jared Sullinger and Deshaun Thomas. Both of them have played outstanding basketball thus far in the tournament, and the scary part is that Ohio State just proved it can keep on ticking when Sullinger gets in foul trouble and has to sit.
The Buckeyes will spell trouble against Kansas because their bigs will be able to get in Robinson's way, and I've already mentioned that Craft is going to give Taylor a lot of trouble in the backcourt. Because the Buckeyes will give the two of them trouble, they should win Saturday's game.
At the very least, nobody should be surprised if Ohio State proves to be the better team. The Buckeyes hale from the toughest conference in college basketball, and they're the only team from it still standing. That has to be worth some consideration.
2. Louisville Cardinals
In terms of sheer talent and overall firepower, the Cardinals are the worst team still standing in the tournament.
I have them at No. 2 because the Cardinals are so much better than the sum of their parts.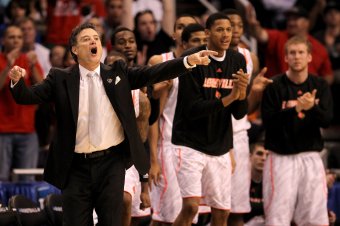 Jamie Squire/Getty Images
That's all thanks to Rick Pitino. He doesn't have elite talent to work with, but he's led Louisville this far because he's coached his players to play a brand of basketball that is very frustrating for their opponents. The Cardinals play pesky defense, and Pitino has a very good feel for knowing when to switch it up. He'll throw multiple defensive looks at opponents, and there's no telling when they're coming.
The Cardinals are not a team that will light up the scoreboard, but they score enough points because of their ability to create offense out of their defense.
What Louisville does, essentially, is bring its opponents down to its level and then dare them to survive. So far, so good.
1. Kentucky Wildcats
The other three teams on this list can beat Kentucky, make no mistake about that.
But make no mistake about this either: Kentucky would be favored to beat any one of them.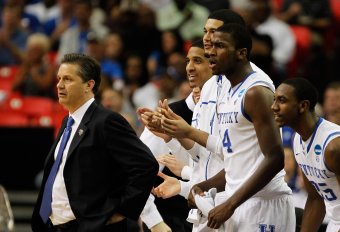 Streeter Lecka/Getty Images
The Wildcats had more talent and firepower than any other team during the regular season, and they still have more talent and firepower than any other team now. They're going to have several potential lottery picks out on the floor at any given moment, led by super freshmen Anthony Davis and Michael Kidd-Gilchrist.
A lack of experience and veteran leadership has been the knock on Kentucky since the start of the season, but the fact that the Wildcats are still standing and still dominating should tell you that John Calipari is not too shabby as a coach. A lot of people out there think he's overrated, but, well, haters gonna hate.
Kentucky started this thing as the favorite to win it all. Based on what we've seen, it should still be the favorite to win it all.