Final Four 2012: Important Matchups That Will Determine Winners
March 26, 2012

Andy Lyons/Getty Images
The NCAA tournament is all about matchups.
An underdog can upset a favorite based on matchups. In the same breath, a favorite can dominate an underdog without mercy if there's a one-on-one clash it can exploit.
The biggest underdog remaining as we head into the Final Four is Louisville. The West Region's No. 4 seed knocked off Davidson, New Mexico, No. 1 seed Michigan State and high-powered Florida. The Cardinals take on the top team in the land, Kentucky.
On the other side of the bracket we have Kansas vs. Ohio State, a battle featuring two premier NBA prospects in Thomas Robinson and Jared Sullinger.
Here are the matchups that will determine each Final Four game.
Louisville vs. Kentucky
Gorgui Dieng vs. Anthony Davis
It isn't easy being matched up against Anthony Davis. In short, he's a freak of nature who attacks the rim, crashes the rim and block shots into the bleachers. He's likely the No. 1 overall pick if he declares for the NBA draft this year.
But Dieng is no slouch defensively. That's one thing Louisville has going for it. Dieng has averaged 9.0 rebounds and 3.2 blocks this season. He has 13 blocks in four NCAA tournament games and he had seven blocks against Draymond Green and the Spartans.
Dieng isn't going to get Davis in foul trouble with his offense, but a couple of charges and, who knows, Dieng could alter the game.
Peyton Siva vs. Marquis Teague
Peyton Siva has been Louisville's leader this season, while Marquis Teague has directed Kentucky's high-powered offense.
Siva's job, beyond getting into the paint and dishing off to teammates, will be to disrupt Kentucky's offense. That starts and ends with pressuring Teague, who isn't immune to turning the ball over.
Louisville has averaged 8.2 steals this season, and Siva has been the Cardinals' second-best ball hawk. Siva is averaging 1.7 steals. Getting after the Wildcats' talented freshman will be key for Siva and the Cardinals to pull off what would be a monumental upset.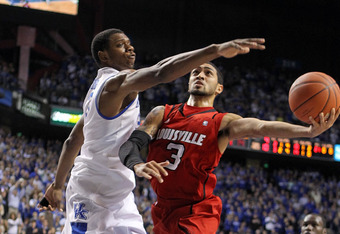 Andy Lyons/Getty Images
Kansas vs. Ohio State
Tyshawn Taylor vs. Aaron Craft
Tyshawn Taylor is Kansas' second-best player this season, but he's proved to be inconsistent. He struggled mightily in the first three games of the NCAA tournament, then came alive against North Carolina in the Elite Eight. 
But Taylor was aided by the fact that he was matched up with Tar Heels freshman Stilman White after Kendall Marshall's injury. He has an entirely different player on his hands in Aaron Craft.
Craft has averaged 2.5 steals this season. He's a big part of Ohio State's pressure on defense. There's a very good chance he could frustrate Taylor and take him out of the game.
Taylor stepped up big time against North Carolina. He's going to have to play even better to make an impact for Kansas against the Buckeyes.
Thomas Robinson vs. Jared Sullinger
You can bet each team's superstars will be matched up against each other come Saturday. Thomas Robinson, a potential top-three pick in the NBA draft, has averaged 17.7 points and 11.8 rebounds this season. Jared Sullinger, a potential top-10 pick, has averaged 17.6 points and 9.1 rebounds.
Sullinger has a much better post game than Robinson and Robinson isn't a shot-blocker. In that regard, I could see Sullinger having a very good offensive game.
On the other hand, Robinson is a better rebounder and if he gets the ball deep in the post, his explosiveness will take over. He's extremely dangerous close to the rim.
That makes this a very close matchup where both players could star in their own ways. But, if one somehow gains distance on the other, it has the potential to change the game entirely.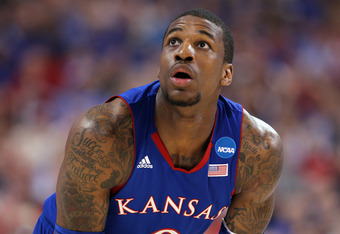 Andy Lyons/Getty Images
Follow me on Twitter. We can talk about the Final Four.