6 Reasons Why the Raiders Should Not Be Concerned with Manning's Signing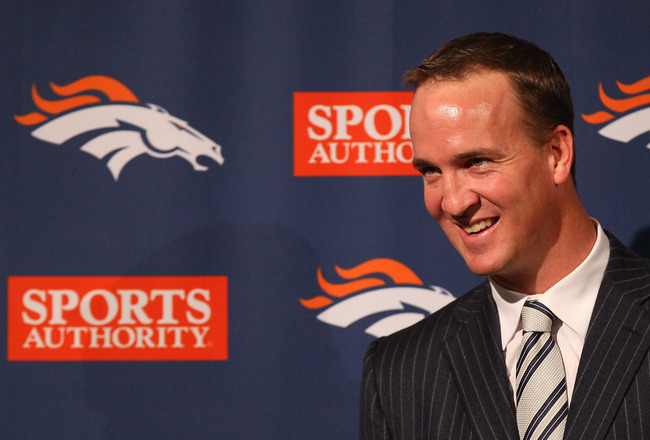 Justin Edmonds/Getty Images
Peyton Manning is a lot of things. He is a great quarterback, one of the top players in NFL history and is one of the most intimidating players to step foot on a football field. He is, however, not invincible.
The Raiders should not, and will not, be fazed when they lineup against No. 18 in the fall. The Raiders are capable of dominating Peyton and analysts should not be so quick to board the Broncos bandwagon.
Health Issues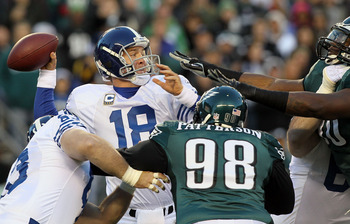 Jim McIsaac/Getty Images
First, let's start off with the obvious. Peyton Manning's neck is a target. He was already a target before, being one of the most elite quarterbacks ever, but this puts a whole new spin on it.
Teams will be trying to get to Manning faster and especially harder. Even with the bounty scandal unraveling, this type of behavior will continue to go on. The only difference between the Saints and the other cases was that the Gregg Williams was dumb enough to plan the entire thing.
Teams will go after Manning and who knows if he will be able to withstand the force. Doctors seem to have the most knowledge on the situation, but the game of football can be so unpredictable that one hit could end his career for good.
Clearly, no one knows what will happen. He could go on to play another five years, but it seems unlikely, to this writer at least, that he will go unaffected.
Physicality of the Raiders Defensive Line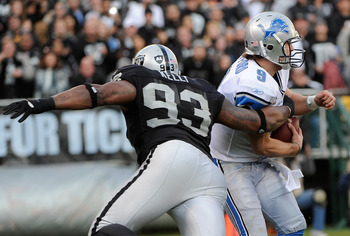 Thearon W. Henderson/Getty Images
The Raiders defensive line, despite underachieving last season, is one of the best. The number of sacks as a unit was down, but the pressure was constant.
This season, the Raiders will get defensive Matt Shaughnessy back. In 2010, Shaughnessy was tied with Tommy Kelly for most sacks by the defensive line with seven. Kelly, Seymour, and Houston had 17.5 combined sacks.
Another reason why the number of sacks by the defensive line was lower was the defensive scheme. In 2010 defensive coordinator John Marshall blitzed a lot more than Chuck Bresnahan ever did. With more blitzers, it allows more rushing lanes for other players, and the defensive line ate up quarterbacks.
Under Bresnahan, the Raiders played basic coverage and occasionally blitz. I read an article where it said that Al Davis was not a fan of blitzes and relied on the defensive line for pressure. Bresnahan was brought back by the late Al Davis to run exactly what he wanted.
Dennis Allen will have the Raiders ready to hunt the quarterback. With the Broncos, Allen had the Broncos as the fifth best team in terms of rushing the quarterback.
Broncos Offensive Line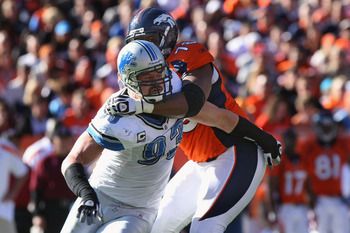 Doug Pensinger/Getty Images
Ryan Clady, Zane Beadles, J.D. Walton, Chris Kuper, and Orlando Franklin.
Clady is the only offensive lineman on the Broncos team that is worth talking about, and he is nowhere close to being the player he once was.
Manning demands above-average play from his offensive line. I believe it was the game against the Chargers in 2010 where Manning was getting flustered by the pressure. Manning was only sacked once that game, but threw four interceptions.
With a weaker offensive line, the Raiders are more than capable of exploiting their weaknesses and causing pressure on Manning. With his injury, it is possible that multiple interception games will turn into a common affair for Manning as a Bronco.
In 2011, Denver allowed 42 sacks, good enough for ninth worst. In 2010, they allowed 39, eighth worst. Just a couple of stats to think about.
Last Time Manning Played the Raiders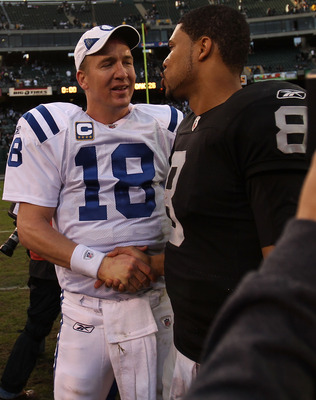 Jed Jacobsohn/Getty Images
The Raiders last meeting with Peyton and the Colts resulted in a loss, but the final score was much closer than expected. The Colts had beaten the Raiders 31-26 in Oakland.
Looking at the stats, it is remarkable how much the Raiders were able to keep Manning in check. The running game, well, that's a different story. The Colts ran the ball for 191 yards, including a big 27 yard run by Manning to ice the game.
However, at a passing standpoint, Manning had one of his worst games of the 2010 season. In the game against the Raiders, Manning only completed 16 of 30 passes, good for a 53.3 percent completion percentage. That was the worst he had all year. He only threw for 179 yards, the lowest of the entire season. His quarterback rating of 76.9 was his sixth worst of the season.
But that's not the whole story, of course. He did throw three touchdown passes and the Raiders no longer have Nnamdi Asomugha or Stanford Routt, a respectable number two.
Despite that, the Raiders still have seven of 11 starters from that game, including the two safeties in Michael Huff and Tyvon Branch.
Last Time Manning Played Dennis Allen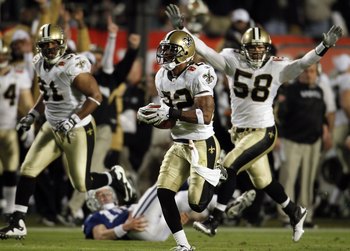 Donald Miralle/Getty Images
The last time Dennis Allen coached against Peyton Manning, it was in the Super Bowl.
Manning had a good game that day, but by no means spectacular. He completed 31 passes on 45 attempts, which comes out to a 69 percent completion percentage. He also threw for 333 yards, but that was it.
The Saints' defensive backs held Manning to only one touchdown and forced Manning into one, crucial interception. Not only that, they were able to keep the Colts' receivers in check.
In Super Bowl 44, Dallas Clark was Manning's best receiver with 86 yards on seven completions. Collie and Garcon had 66 yards each, but what was most surprising was that Reggie Wayne was held to only 46 on five catches.
What does that tell me, exactly? Well, Dennis Allen can sure coach up his players. If his defensive backs could effectively contain Manning's passing game, imagine what he could do as the full-time head coach. Demaryius Thomas and Eric Decker are undoubtedly talented, but they are not as good as the group of Wayne, Garcon and Collie, yet, that is.
Raiders Offense Can Keep Up with Manning
Ezra Shaw/Getty Images
It has been a while since the Raiders have had a quarterback who can throw the ball with the best quarterbacks. Carson Palmer is not in elite company, but he can definitely match Manning stride for stride.
The Raiders offense is full of fast and skilled players who can take it to the house on any given play. With receivers like Moore, Heyward-Bey and Ford, all it takes is a short play to go the distance. One hand off to McFadden or Jones and Manning will be coming back onto the field.
No matter how well Manning plays with a mediocre surrounding, the Raiders can, and will keep up. The defense may bend, but the offense will always be in position to keep the team in the game.
Keep Reading

Oakland Raiders: Like this team?