2012 NFL Free Agents: Why the Chicago Bears Must Sign Demetrius Bell
March 26, 2012

Rick Stewart/Getty Images
We are two weeks into NFL free agency and somehow a young left tackle remains unsigned.
How can Demetrius Bell still be a free agent?
Bell, who will turn 28 in May, was a seventh-round pick by the Buffalo Bills in 2008. The Bills kept him inactive during the 2008 season, but then in 2009 he earned the starting left tackle job.
Bears fans, isn't this what we want J'Marcus Webb to turn into?
Interesting that since I mention Webb, I have to mention that the Bills lived through Bell being flagged numerous times that first season. I know many fans don't want to be patient with Webb, but maybe they should be.
Bell has been the Bills starting left tackle ever since, and somehow, after spending all that money on Mario Williams and Mark Anderson, has yet to be re-signed. Maybe his inability to stay healthy could have something to do with it.
In the last three seasons, Bell has missed 17 games. He missed eight games in 2009 and another nine last season. In 2010, he did start all 16 games.
Bell isn't a great pass blocker or run blocker, but he isn't awful in either. Ultimately, he might be better suited on the right side in the long run.
The Bears could bring in Bell and allow a full competition between him, Webb and Gabe Carimi for the two tackle spots. As another bonus, at this point in free agency, he could be potentially brought in at a bargain price.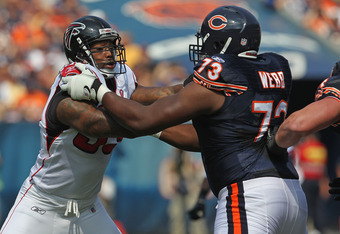 Jonathan Daniel/Getty Images
If Webb and Carimi prove up to the task then Bell provides great depth, and as I said before, shouldn't require a big money deal.
In my opinion I would rather see them add someone like Bell who has proven he can handle the left-side rather than use another first-round pick on a tackle.
Also, it has been reported that his next trip is to Green Bay, and we can't allow the Packers to keep protecting Aaron Rodgers.
So Bears fan, who do you want protect jay Cutler's blindside next season: Webb, Bell or a rookie? Sound off below.
Make sure to follow me on Twitter @dachicagofan, and check out my weekly Bears podcast every Monday on my site The MG Experience.