Slopestyle Skier Simon Dumont Discusses the Olympics, His Injury and More
March 26, 2012

Justin Edmonds/Getty Images
Simon Dumont is the biggest name is slopestyle skiing. Ever since he came into the circuit, making his Winter X Games debut in 2002 at age 15, he has dominated the sport, winning four gold medals at the competition over the past decade in everything from SuperPipe to Big Air.
No longer viewed as an up-and-comer in the sport, he is entering the second act of his career, where the energy and vitality of all things new is making way to the true achievements that define a legacy.
Only 25 years old, he has already founded his own slopestyle competition, the Dumont Cup, held annually at Sunday River in Newry, Maine. It is the only exclusive slopestyle competition to achieve a platinum ranking, the same status as the X Games.
And hours that used to be spent training rigorously for self pride at the X Games will soon be put toward much greater focus as he competes for national pride in the upcoming 2014 Winter Olympics in Sochi, Russia, the first to include slopestyle as an event.
I had a chance to speak with Simon on this reality, a future one and perhaps one he may even dream of.
You're only in your mid-twenties, you already have started your own competition, you have won tons of medals and you are one of the most accomplished people in your sport. What else are you looking to do to further your own legacy beyond just continuing to win?
One of the big events that I haven't won yet obviously is the Olympics. [Slopestyle skiing] just got inducted into the Olympics, so I think that is one medal I'm missing and it would be a great one to have with it being our first time in it.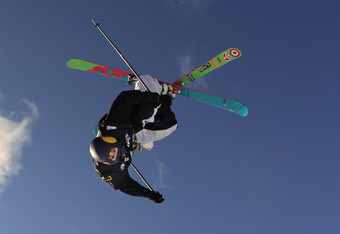 Doug Pensinger/Getty Images
I also really just want to keep at it with some really good movie segments and things of that nature. I would like to film a couple of my own movies, you know. Just leave something that people can watch over and over and over.
What kind of films are you interested in making?
Well my background is in movies—all well-rounded schemes. Half pipe, slopestyle, backcountry. Pretty much every aspect of skiing I can get my hands on I hope to display in the movie.
It seems you are really into originality. Is that true?
It's hard to come up with something different and creative. There are so many kids out there skiing and there are only so many things you can do with the snow to build a certain feature or film it a certain way, but I try to do something unique and different.
Do you have anything in the works right now we could look forward to?
No, I just suffered an injury in tryouts. I blew out my knee. Never thought it would happen to me, but it did and I am just on the mend right now. I didn't have anything filming or that type of stuff and that will probably be after the Olympics because right now that's my main focus.
Considering your injury, what was the worst crash you ever had, not necessarily in terms of the extent of an injury, but rather the pain itself?
The injury part is not the hugest part. I guess it's the emotional toll of how long I am going to be out. What I did to hurt my ACL: I didn't even fall, I skied away, went to the bottom, thought I was completely fine and then found out I was going to be out for six to nine months. Emotionally that was very tolling. Obviously the big crash in 2006 where I overshot a jump really badly and landed like a hundred feet flat. That was another one that just kind of stuck with me mentally.
When did you decide to stop going down the mountain in the traditional sense and start to jump for a living?
Since I was like five years old and my mom didn't have me in her harnesses anymore I was just kind of doing whatever I wanted to do. If I saw a little jump off the side of a trail I would hit it. I think it was when I was 13 years old I realized you can actually kind of make a living out of this, so I ended up qualifying for the X Games and the rest is history. That's when I realized there was a name to what I was doing.
Did you deciding to do this ever worry your parents at all?
No, my parents are very supportive. My dad gets a little more nervous than my mom, but they're fine. It's what I do and I love it, so they are very supportive.
There is obviously a lot of planning and calculations that go into some of these stunts and performances. Are you actually interested in any of these pre-planning events or do you just prefer to hand it off to those experts, let them figure it out and get back to you when they are ready?
I'm not really interested in all the calculations that are behind it, but when I have the idea in my head I obviously need to figure out how we're going to do it. I bring in the right people and we have the discussion and I'm a part of it. But I'm not the one behind the Snowcats that cut out these channels or control the self-leveling lasers. I bring in professionals to do everything of that nature. I just need to make sure it's cut correctly and every dimension and everything is perfect, so I can come in and do what I need to do.
So you really just want to get all that stuff done so you can go out there and perform?
Jonathan Moore/Getty Images
Yea, but at the same time you have to oversee it because if they do something without letting you know, one tiny little error can change the entire thing and it could be the difference between life or death, or at least a serious injury.
I also read that you have done some auto racing?
Yea, I have been to a couple rally schools, I went to the NASCAR school and I have done some track racing with Red Bull.
How does that stack up against skiing?
I think it's amazing! I respect he NASCAR stuff, it's really gnarly, but I like the track racing and rally is on a whole other level. It's just crazy what you can do with a car. It's related to skiing in that everything needs to be very precise and things come really quickly. Just like in skiing, if a tree is in your way, boom, you got to correct and get around it quickly. Or if you're in the air and your tilting a certain way or something happens and you catch an edge, you really have to correct super quickly. It's kind of the same thing in cars and I get that same type of adrenaline, so it's pretty amazing.
Do you want to pursue racing after you are done skiing?
Yea, it's something I am interested in and I think the biggest part of auto sports is finding sponsors to back you because it is not a cheap sport. I feel like I have some of the ins, so I think it is something I am pretty intrigued to pursue.
Do you follow any other sports or sports teams?
Yea, I am a Pats fan, hate the Giants! Celtics, Bruins, motocross, Tiger Woods. Even though he has fallen off a little bit, he is one of my favorites because he was so dominant. I watch a little bit of everything.
Has your fame ever lent you the opportunity to meet someone that you would not have been able to otherwise?
Nothing like hung out with them, but I have shook hands with a lot of people I respect that I guess my name has brought on. I have met some of the Celtics. I was having a birthday party in Vegas and Nate Robinson came in and called me "a big pimp" right after he won the dunk contest, so yea I have met some cool people. In the action sports world I have met a lot of different people that are super cool. It's nice to be able to pick the brains of top-caliber action sports athletes.
Famous person you would most like to meet, dead or alive?
Girl, I would probably have to say Minka Kelly just because she is so hot. I think she is mildly available right now.  But I think it would be kind of cool to meet Michael Jordan, just because he was so dominant for so long. I mean you can bring up basketball to someone who has never even heard of the sport, but I bet they know who Michael Jordan is. Or even Tiger Woods, those are two people that in my era are so dominant and I just think it would be cool to hang out with them. I heard Jordan is kind of a smooth pimp.
Isn't the perception of them that they are difficult to be around?
I think that is a common misconception. For someone to be so dominant they have to be so focused and have to have a certain mindset. I think it's hard for a lot of people to understand it and misconceive them as being difficult, and I think they are very misinterpreted.
Follow me on Twitter: @thecriterionman