Final Four 2012: Defense Will Propel Ohio State Past Kansas
March 27, 2012

Jim Rogash/Getty Images
Ohio State and Kansas both head into the Final Four with similar teams.
They both have a dominant big man, they both have solid defenses and they both have point guards who can change games, one way or another.
But Ohio State has the type of defense to create problems for Kansas, and that will be the difference in the end.
It's easy to focus on Jared Sullinger and Thomas Robinson in this game, but, let's be honest, both are going to dominate, whatever the defense throws at them. They are both premier NBA prospects who are on a roll in the NCAA tournament.
I am convinced that the biggest matchup in this game will be Aaron Craft vs. Tyshawn Taylor. That's right, Aaron Craft vs. Tyshawn Taylor.
Taylor has the ability to be a game-changer on the offensive end, as he proved against North Carolina in the Elite Eight. You can look at Robinson's performance in that game, but without Taylor, the Jayhawks don't win that game.
The problem is, Taylor has proven to be inconsistent throughout the season. Before the Elite Eight, Taylor was averaging 8.6 points in three tournament games, while shooting 11-of-33.
But Taylor also racked up 10 turnovers in those three games. And that's the biggest problem for the Jayhawks.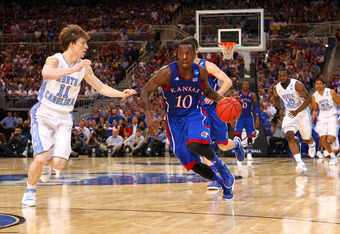 Dilip Vishwanat/Getty Images
Not only has Ohio State swarmed to the ball on defense this season, Craft has led the charge. The pesky sophomore has averaged 2.5 steals this season. On top of that, he has 13 steals in four NCAA tournament games.
Taylor was my X-factor for the Jayhawks against North Carolina. He's once again my X-factor against Ohio State.
The difference is, Taylor isn't matched up against Stilman White. He's matched up against against Aaron Craft.
That's really all it comes down to.
Follow me on Twitter. We can talk about the NCAA tournament.