The 100 Ugliest People in Sports
The sports world is stacked with world-class athletes, full-bellied coaches and obnoxious announcers.
But success isn't always synonymous with looks, and many of those who dominate their playing field will never be given a chance to electrify the modeling world, to say the least.
Whether they resemble an extraterrestrial being, a Jurassic Park inhabitant or a bowl of questionable pudding, these guys have yet to elude the comical exterior they have so eloquently fashioned during their illustrious time on Earth.
We're not here to judge or ridicule, but we are here to observe the most curious looking cats in sports...those who give most mirrors nightmares.
Here are the ugliest athletes in sports, with several other individuals tossed in for kicks.
Grab a helmet: we could experience some shattered glass.
Begin Slideshow

»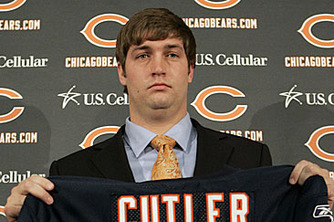 We once believed quarterback Jay Cutler had to be an average looking guy, considering he graced the cover of famous magazine Michigan Avenue and had smoking hot actress Kristin Cavallari by his side.
That was until we noticed that his chins' chins had chins.
An occasional smile couldn't hurt either.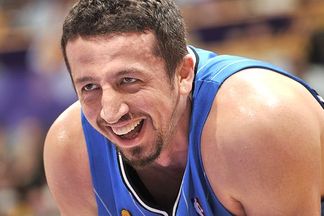 What he lacks in average appearance, Hedo Turkoglu makes up for in three-point shooting.
But this creepy display leads us to believe it's "all part of the plan."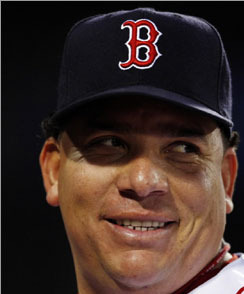 There was a time when we believed Kenny Powers was made from the mold of New York enemy No. 1 John Rocker...that was until we saw Bartolo Colon up close.
He looks to be crafting some sort of intricate plan inside that large noggin as his chins multiply exponentially by the second.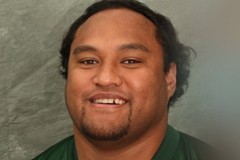 We've also been intrigued by what's under the helmet of a ferocious nose tackle, underneath the slaughtering of opposing backs.
His smile is contagious, his eyes somehow friendly, but he's surely got a crazy side.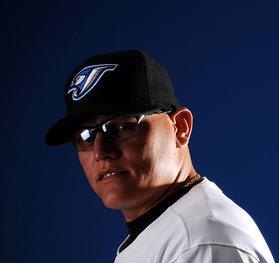 Amid ferocious shrieks and shattered glass is a crew guy looking to help out with pitcher Gustavo Chacin's photo shoot.
Yeah, let's dim the lights just a bit.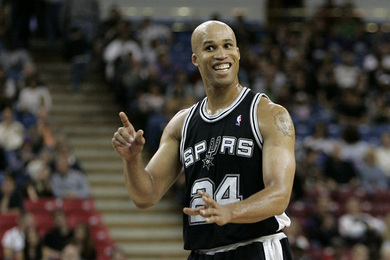 A crafty veteran we can add to the E.T. phone home list, Richard Jefferson seems to be paging an alternate universe as we speak.
Now we know where Tim Burton got his idea for the enormous heads featured in Mars Attacks!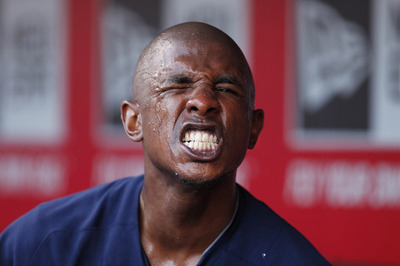 While he likes to refer to himself as Tony Plush, we prefer the moniker Field Mouse for outfielder Nyjer Morgan.
Scrappy and often obnoxious, Morgan can be seen scampering about Miller Park's diamond with a sense of entitlement that borders on insanity.
At least he's got a perfect set of shiny molars.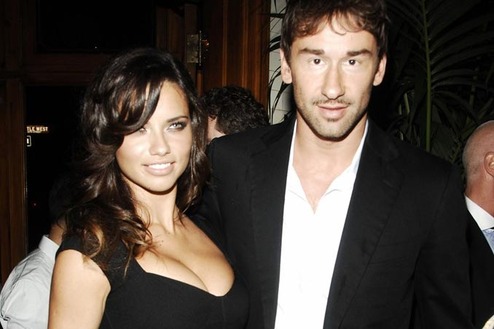 Few men wouldn't relinquish everything they own to go on one date with model Adriana Lima, but balling journeyman Marko Jaric has already put a ring on it.
Sure, he looks like a paranoid Stuart Little, but it's Jaric's free-moving eyes that have us curling our eyebrows.
They're always looking for a way to escape.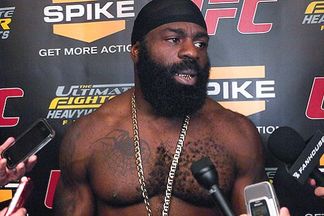 A thick slice from the Rick Ross mold, street fighting extraordinaire Kimbo Slice is perhaps the most misunderstood martial artist in all of sports.
While he routinely appears to be an intimidating piece of muscle, he's unquestionably a loving, gentle soul deep down.
We can hear the echoes of Maybach music subtly in the background.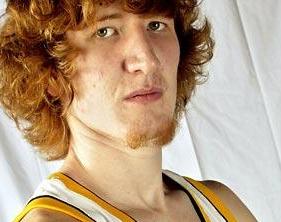 Sure, he looks like Klitz from The Girl Next Door, but center Robert Swift evidently has a lot more to share with the world than a just an ironic last name (yeah, he's slow).
His wild-fire hair and melancholy stare give us plenty to question and a lot more to applaud.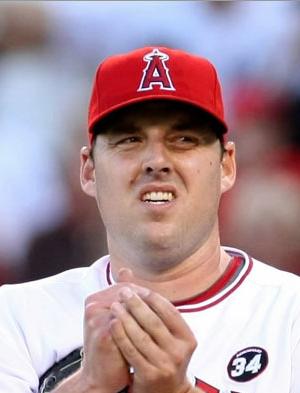 Seemingly a combination between Ed Helms and steel-toothed Jaws from James Bond's The Spy Who Loved Me, pitcher John Lackey always looks ready for battle.
But the Red Sox might tell you he rarely shows up.
There's a fine line between interesting and obscure, and Rajon Rondo seems to be leaning heavily towards strange.
His long fingers and tiny head are clearly more fit for a role in Men in Black.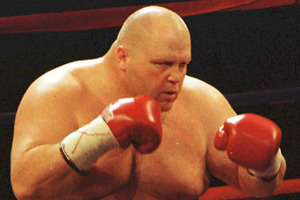 Looking more like a questionable dessert than a former IBA Super-Heavyweight Champion, Butterbean is quite the anomaly.
With a combined record of 97 wins and 20 losses amid an illustrious MMA, boxing and wrestling career, it's clear most of his opponents were just as baffled...or hungry.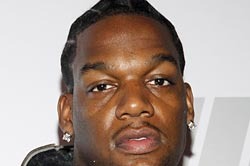 He may be a Tyrannosaurus Rex off the court, but on it he's just another high draft pick who didn't pan out.
One of the lazier prehistoric species to grace the Earth.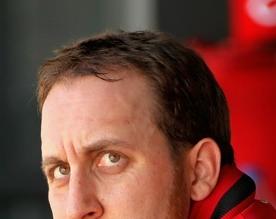 We're a bit surprised to not find Dodgers pitcher Aaron Harang either sitting next to a similarly-expressed Orangutan or chewing on a bright banana.
He must be too focused on climbing into the stands.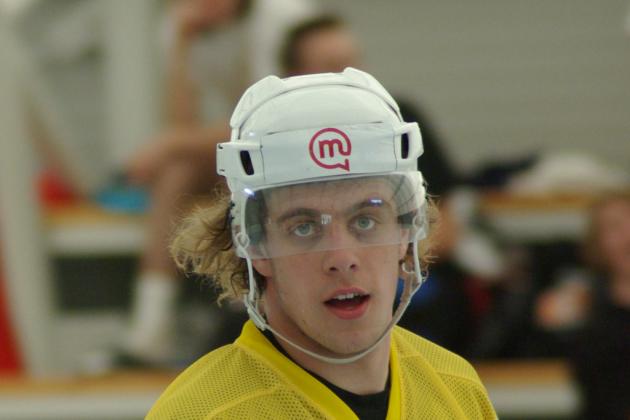 There are few individuals who could have played the role of Joker better than Heath Ledger (R.I.P.), but we believe we've finally found the right man for the job.
Kings scoring threat Anze Kopitar soars past defenses with a cringing smile and plenty of hyena-like laughs.
The exploding hairdo is just for good measure.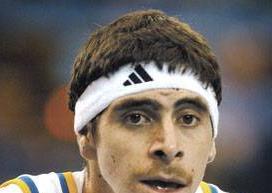 Sure, he was an integral part of UCLA's Final Four runs in '06, '07 and '08, but that's not what has us remembering Lorenzo Mata.
His superfluous amount of wrist, arm and head bands often kept us wondering if he was trying to keep warm or cover up.
Either way, we could never forget his prehistoric display.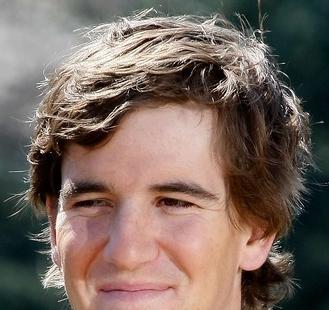 While doofy, goofy and awkward are more fitting labels for star quarterback Eli Manning, we're ready to place him next to some of the most unfortunate individuals in sports because we know he can handle the pressure.
We're always intrigued by what's happening in that mind of his.
With a clueless-like look towards the ground, goalie Pascal Leclaire begins to remember the promise he once had when he was drafted as the eighth pick of the 2001 NHL Entry Draft.
But his lack of dental cohesion makes even Steve Buscemi cringe.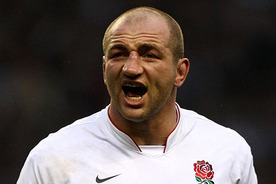 We can already here the train whistle noise echoing loudly from this curious display.
English rugby man Steve Borthwick has future coach and constant road rage written all over him.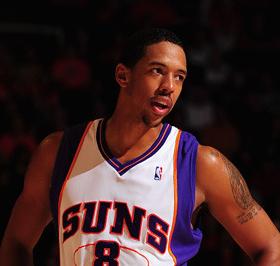 Resembling an even lankier giraffe with a good jump shot, Channing Frye is always enjoying his environment.
Quite the neck indeed.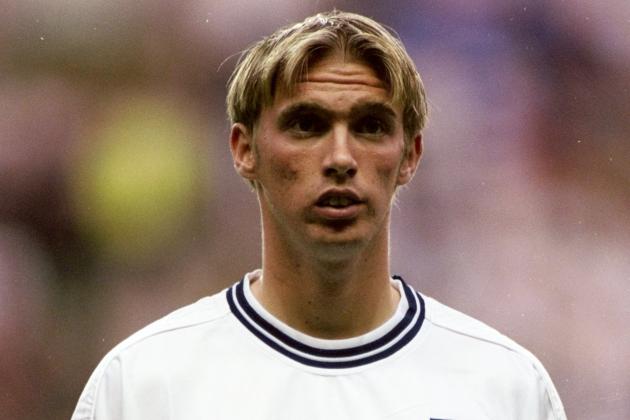 Not only does he look like a disturbed Mr. Smithers, but English footballer Luke Chadwick doesn't seem to have any idea why he's on the field.
It's all part of his master plan to elude defenders. They never even see it coming.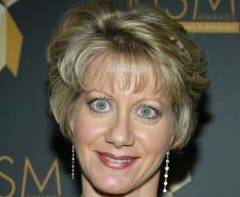 Piercing eyes forcing you to detail the truth...the ultimate form of torture.
While we're always intrigued by correspondent Andrea Kremer's NFL analysis on Real Sports with Bryant Gumbel, we'll never quite be ready for her striking focus.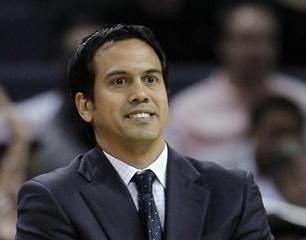 Considering he's only 41 years old and looks like a helpless hamster, it's curious as to how Erik Spoelstra gets any of Miami's Big Three to listen.
If Elin Nordegren had gotten a free whack at Tiger Woods' face, she might have created a Spoelstrasaurus.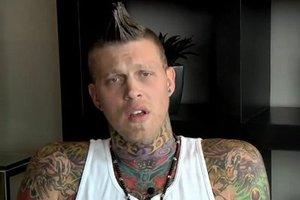 We honestly love the intricate tats, but Chris Anderson's melancholy expressions and exuberant finishes seem to detail Kid Rock following an overdose.
Not for one moment did we believe the moniker Birdman was a compliment.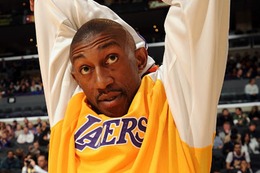 We once were convinced he was Sloth from The Goonies, and all we wanted to hear was the loud utterance of, "Heyy youu guyyys".
But D.J. Mbenga's two rings are a bit more noteworthy.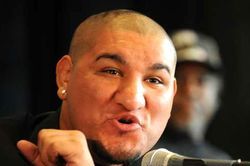 Sure, he's the current WBC FECOMBOX Heavyweight Champion, but Chris Arreola's super heavyweight nose is what truly has us following his fights.
Well done, sir.
At this point, we're honestly searching the cast and crew list to see if A.J. Hawk did indeed star in House of Wax.
But the smiley linebacker certainly has no trouble with the ladies, considering he married Brady Quinn's sexy sister.
Long hair never cares.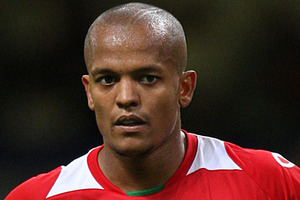 If we have forehead extraordinaire James Van Der Beek procreate with Megamind, the result would seemingly be Welsh footballer Robert Earnshaw.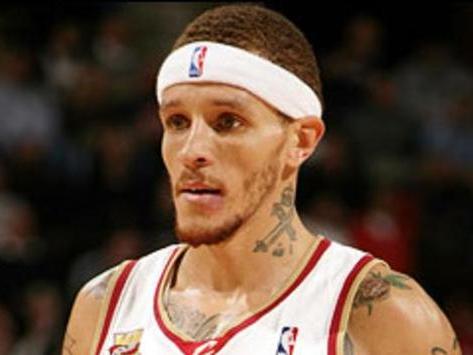 While looking like the love child of Oprah Winfrey and Steven Tyler, NBA journeyman Delonte West has created quite the career for himself.
Especially with the King's mom.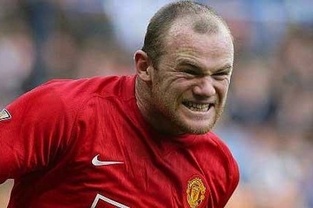 We'll never question Wayne Rooney's inner beauty, considering he secured the beautiful former columnist Coleen McLoughlin as his now-longtime wife.
However, when we count sheep tonight, his face will surely grace each ball of confused fluff.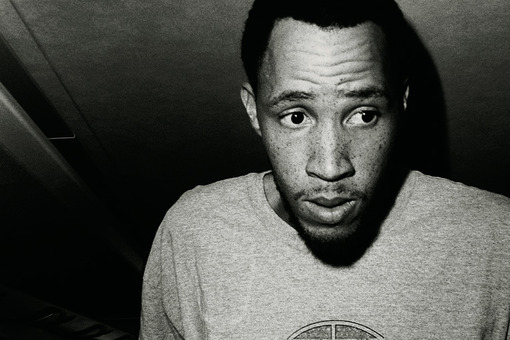 An unfed version of Wiz Khalifa, small forward Tayshaun Prince seems a bit too skinny to function correctly.
We'd prefer to see him behind a rock, eerily screaming "My preciousssss".
It's like freeing the beast every time Luis Scola comes on the floor, a fearless warrior off the court and a ferocious gorilla on it.
He'd fit right in as the leader of Germanic tribes at Vindobona, ready for battle against the Romans.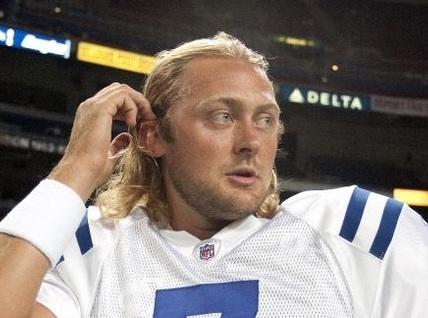 Tearing a page out of Jeff Spicoli's book, Curtis Painter is perhaps the most curious player in the NFL.
The long-haired backup seems destined for the shadows, yet his hair is fighting for a chance in the spotlight.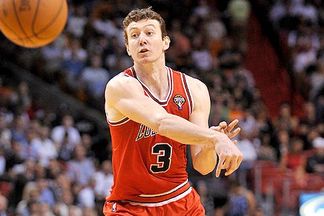 Sure, he looks like Judge Reinhold, but it's Omer Asik's goofy demeanor that has us constantly smiling.
The Bulls are lucky to have such a creative presence on their bench.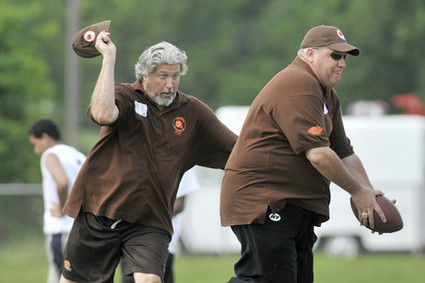 There's something about this tandem that always keeps us smiling, always keeps us wanting more.
It's about time we put these legendary brothers on the same sideline, each one disguising the other. It's perfect.
The Chris Farley's of the NFL, Rob and Rex Ryan always present hard knock weirdness at its finest.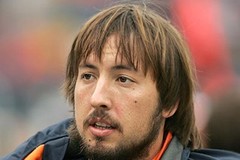 There's something about Kyle Orton's exterior that resembles a squealing pig, not in weight but rather in expression.
He has yet to find the proper hair style to compliment his quirky exterior.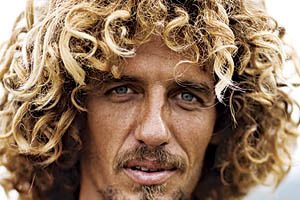 We'd like to call him Sideshow Bob from The Simpsons, but professional surfer Rob Machado is much more interesting.
Like his goofy foot placement, Machado has a curious flow about him that simultaneously engages and baffles us.
But, of course, in a good way.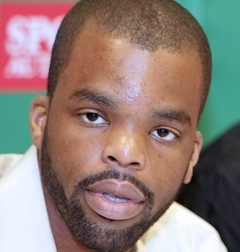 Sure, he's got the biggest forehead known to mankind, but we respect Shelden Williams's classy approach on the hardwood and respectful nature off of it.
And we must commend his acquisition of WNBA bombshell Candace Parker.
Dominant stare.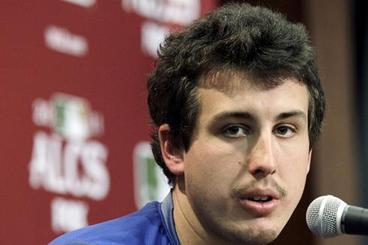 Sure, we can blame it on the mustache, but Derek Holland's constant look of bewilderment seems quite natural even without hairy facial distractions.
But after signing a five-year, $28.5 million deal almost a week ago, it's clear Holland has earned himself the last laugh.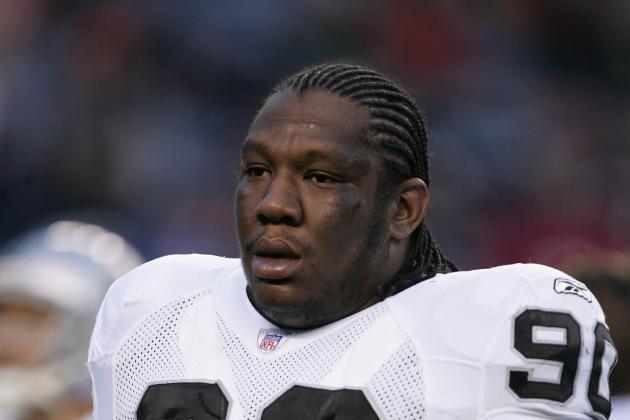 Brian Bahr/Getty Images

Defensive tackles are rarely known for their boyish good looks, but Terdell Sands broke the mold when he reached the gridiron.
This braided gargantuan is quite the spectacle.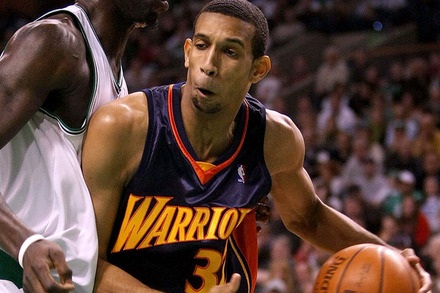 With perhaps the largest ears in NBA history, Brandan Wright continues to be revered more for his potential and hilarious exterior than he does his production.
Perhaps he hears footsteps when they're not even there...a constant battle.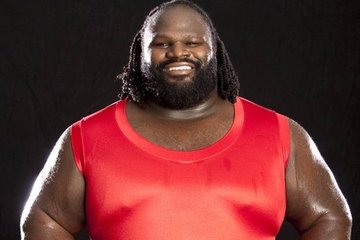 Some may call him sexy, others Barry White-esque, but we see Olympic champion powerlifter Mark Henry as quite the voluptuous bowl of pudding.
His intricate hairdo is just the extra whipped cream on top.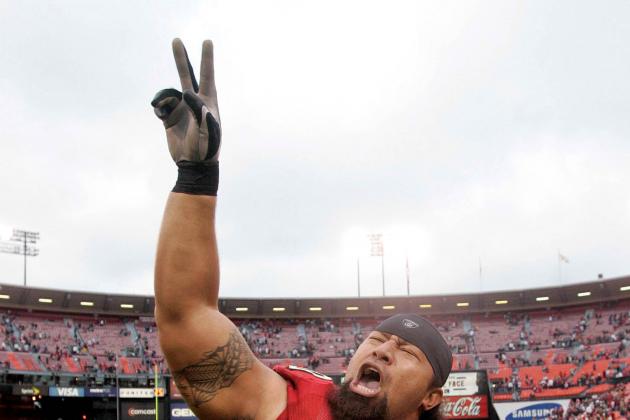 We love this defensive end's versatility on the field, but we're inspired by his barbaric demeanor away from it.
His exotic and tribal flow never ceases to make us think he's ready to kill someone.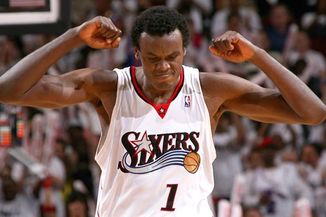 Like his free throw percentage (70 percent), Samuel Dalembert's looks aren't quite where we'd like them to be.
But playing alongside Luis Scola, it's curious as to how anyone scores on the Rockets interior defense.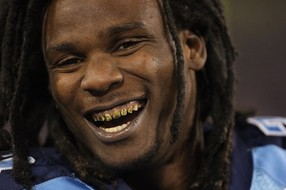 Whether he's ready to become the next James Bond villain, or he's simply emulating rapper Paul Wall, tailback Chris Johnson has the grills to make any young fan run for cover.
But with his 4.24 40-time, few can elude the speedy back.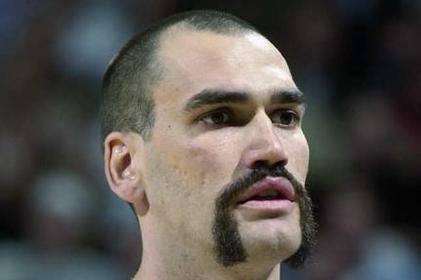 Scott Pollard has gone through plenty of phases throughout his career, the handlebar mustache perhaps the least ridiculous.
But he has yet to find an acceptable look.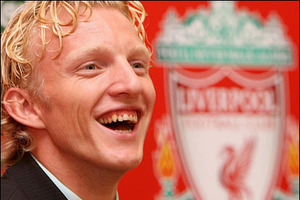 Seemingly a well-fed version of Paris Hilton (and not in a good way), Dirk Kuyt makes every Kodak Moment memorable.
At least he's got a brilliant smile to distract the critics.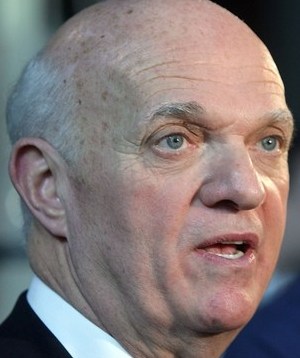 He's been with the Devils since '87, and for that we commend him, but Lou Lamoriello always has that look of despair, as if nothing ever goes right.
His turtle-esque neck is undoubtedly shadowed by confidence. In reality, everything always goes right.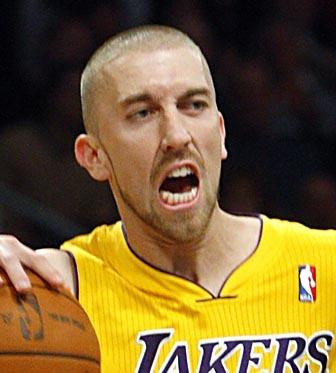 While he does scamper about the court with a feistiness that somehow can't be stopped, Lakers guard Steve Blake is just as much a Boston Terrier away from the court as he is on it.
Always fierce, always driven, always hungry.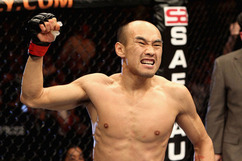 The MMA world is clearly full of some creative looking fellows, but none more enthralling than Tiequan Zhang.
He can't possibly be called "The Mongolian Wolf" for his production.
It's the memorable game face.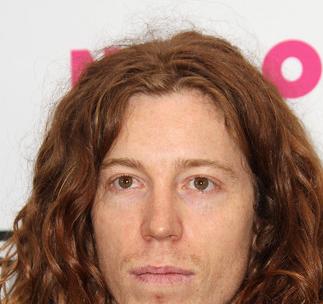 He may look like an underfed piece of furniture left over from Woodstock, but snowboarding legend Shaun White is quite the talent.
As the Wendy's girl, that is.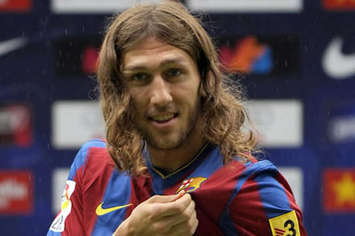 While he clearly thinks his jersey is a bit more unpleasant, Dmytro Chygrynskiy can't possibly deny his own ridiculous strands.
A comb, or perhaps a pick, would be a start.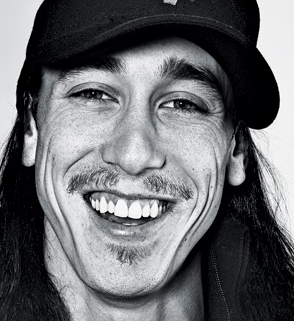 Some might call this two-time Cy Young winner thrilling and intriguing, but we see Tim Lincecum simply as a brown-haired Shaun White.
Or perhaps an aged Mitch Kramer, if that hasn't been overplayed already.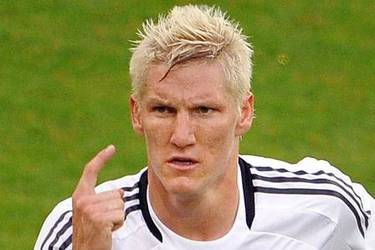 German midfielder Bastian Schweinsteiger may resemble a tall glass of Hefeweizen (and we didn't believe that was possible), but he has perhaps the sexiest girlfriend to grace his team's stands in Sarah Brandner.
She must really love soccer.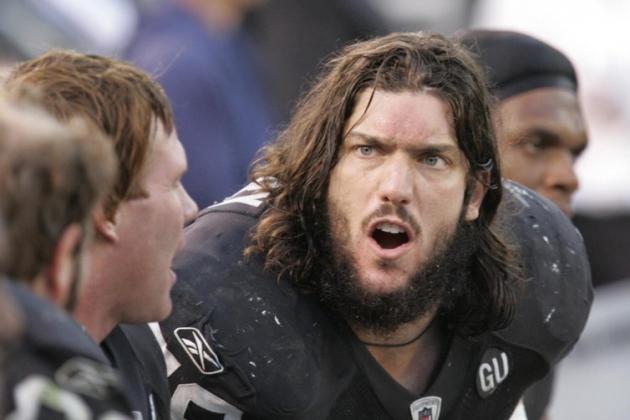 Once seen as a can't-miss left tackle prospect out of Iowa, Robert Gallery took a while to find his groove on the Oakland front five.
But with his scruffy, angry and ruthless exterior, he's always looked more than the part.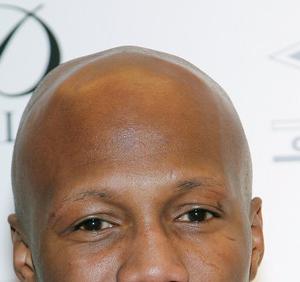 Boxer Zab Judah seems cut from the same mold as Def Jam co-founder Russell Simmons and not quite in a good way.
The obscure lack of balance keeps us taking a second look.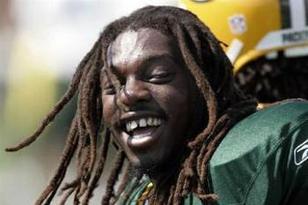 Few have dominated the art of scaring opponents like Chargers safety Atari Bigby.
And he never even needs to step on the field.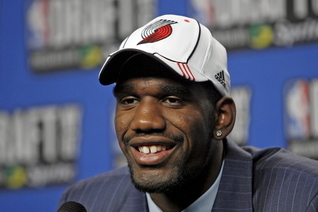 He may have looked much better on the court than he did battling injuries on the bench, but Greg Oden has seemingly looked 50 years old since he was in first grade.
Perhaps the oldest 24-year-old ever to trample the surface of the Earth.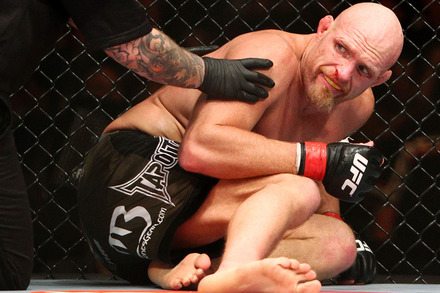 Rarely does a fighter look good during a brutal battle, but, on the other hand, this is Keith Jardine's typical morning mirror check.
The glamorous martial arts master has perfected the art of intimidation.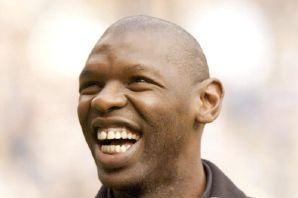 As his forehead claws to get away, all Bermudian footballer Shaun Goater can do is smile.
And we love him for that.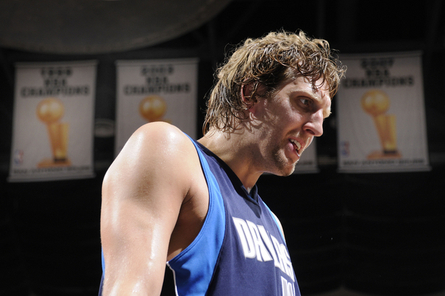 Whether he looks like Shaggy from Scooby-Doo or one of the annoying cavemen from the Geico commercials is irrelevant: the man can ball.
But let's be serious, Dirk Nowitzki most resembles a barbaric Viking from the tenth century...and plays like one too.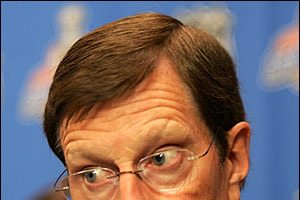 Something about David Poile makes us think he does more than act as the General Manager and Executive Vice President of the Nashville Predators.
He's got that cynical look that reeks of a judging nature...an angry uncle, perhaps.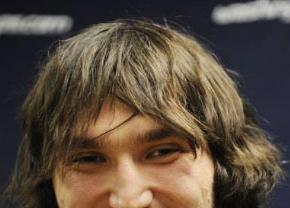 While tennis beauty Maria Kirilenko clearly wasn't scared off by her beau's huge gap and caveman-like exterior, we're a bit baffled as to why Alexander Ovechkin hasn't trimmed his rough edges a bit.
Because the NHL star can rap.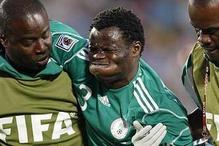 Nigerian defender Taye Taiwo may have the best name in professional soccer, but it's his humorous expressions that have us intrigued.
While certainly extreme, this sight needs sharing.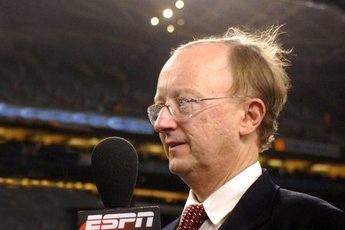 We always find ourselves engulfed in NFL writer John Clayton's meticulous football analysis. We can't possibly deny that.
But with his lightbulb head and alien-like exterior, we often get lulled into a comfortable relaxation that demands concern.
It must all be part of his extraterrestrial takeover.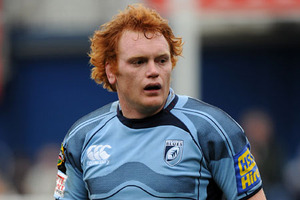 Few approach the camera with as much enthusiasm as New Zealand rugby lock Paul Tito.
It's all about the fiery 'do.
We've got the last member of the forehead man group, with Ghanian boxer Joshua Clottey providing the final star.
Like an angry ram, Clottey is not to be messed with.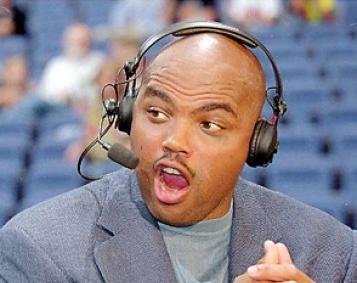 Perhaps it's his lack of inner beauty that really earns Charles Barkley this glamorous spot, but it seems more like his obnoxious nature that keeps us losing our cool.
Just something about his face.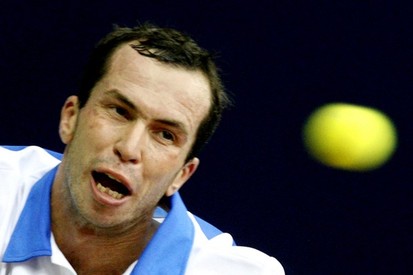 While he seems to be numbingly incoherent in this shot, Radek Stepanek interestingly built a career off of colorful celebrations and echoing grunts.
Just as jaw-dropping and ridiculous in a photograph.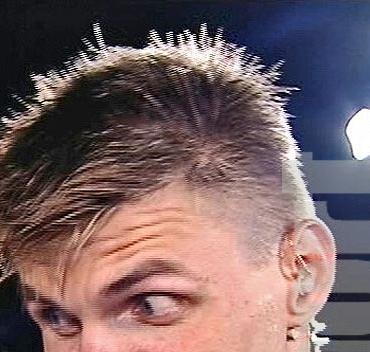 After about two decades of being missing in action, it appears Ivan Drago is back, thinner and hipper than ever.
Box-head and disturbing smile intact, Russian baller Andrei Kirilenko is always eager to make history.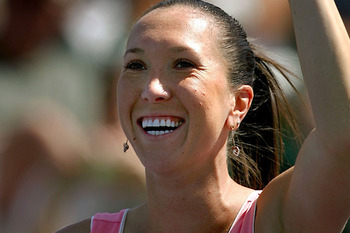 She may have a stunning curvature, but Serbian tennis icon Jelena Jankovic seems far above our species.
Seemingly a new breed, the former World No. 1 is slowly taking over the world one shot at a time.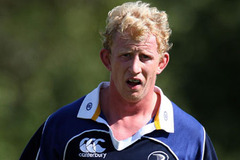 The rugby world is full of artistic displays, some a bit more abstract than others.
Leo Cullen seems stuck on what that means.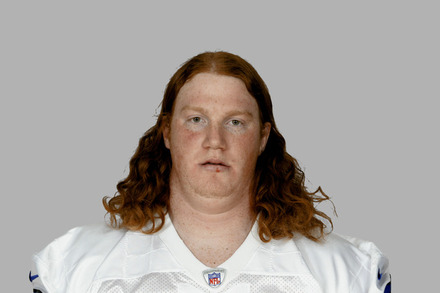 Pat and Paul McQuistan sure know how to rile a crowd, despite being offensive linemen.
One twin brother should suffice.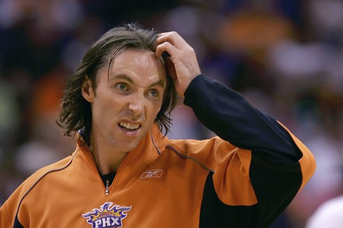 Yeah, we're not quite sure what to think either, as we often are too frustrated with Steve Nash's feisty, yet effective performances on the hardwood to find a comparison.
Some believe he looks like Tom Petty, but we see him more as Jack Skeleton from The Nightmare Before Christmas, always deciding what door to chose.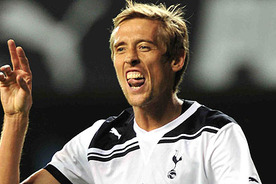 How this starved buck-toothed footballer ever earned Abbey Clancy's love is beyond us, but we're not here to dissect Peter Crouch's love life.
Not really feeling the tooth-to-gum ratio though...too much gum.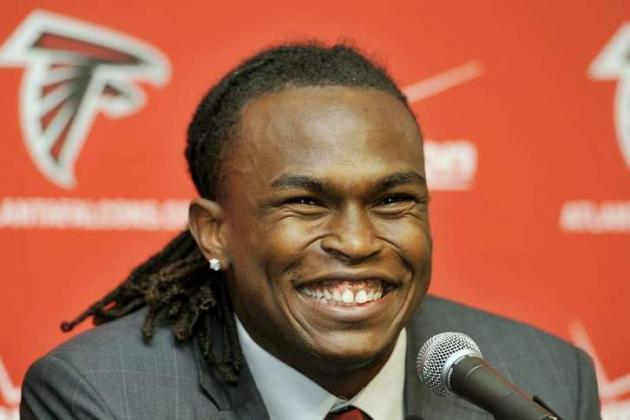 While it's his speed and sticky hands that have separated Julio Jones from eager defensive backs since his days as a Crimson Tide receiver, we believe his resemblance to the Predator is perhaps his most threatening trait.
Opponents never have a chance.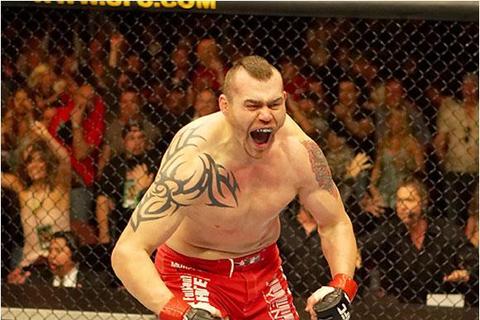 Not really sure what to think here, except that this surely isn't human.
Although it's not like we ever thought former two-time UFC Heavyweight Champion Tim Sylvia was really all that normal.
Impressive? Certainly.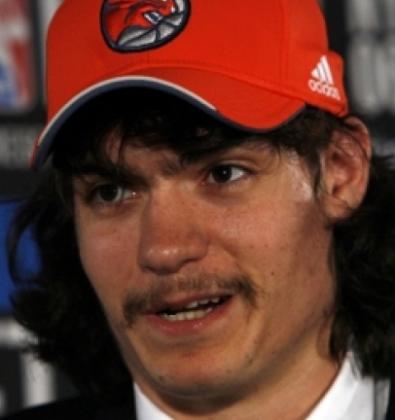 There was a time when many believed former Gonzaga star Adam Morrison was the second coming of Larry Bird.
While he failed mightily on the court, the mustache wonder of the world certainly surpassed the legend's looks, although not by much.
We'll never forget this man's ridiculous image.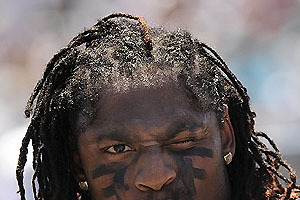 Yeah, sorry, bud, we're choosing you.
Perhaps some occasional shaving, a hardcore facial and some age-defying face cream might change our minds about Marshawn Lynch, but it doesn't seem as if Beast Mode is ready to fade just yet.
On the other hand, nobody likes a pretty boy...so, well done, sir.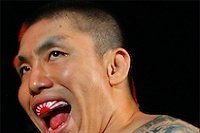 Whether it's his disturbing smile or meticulous eyelids that really have us scratching our heads, we're sure fans are always intrigued by Ryo Chonan and his wild fights.
The MMA continues to change the pace.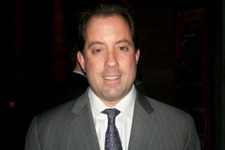 As chin fights to merge with neck, we can fully appreciate Kenny Albert without his obnoxious tones and mundane detailing of games.
Marv Albert's son has a long way to go in matching his dad, and that starts with sculpting a proper neck line.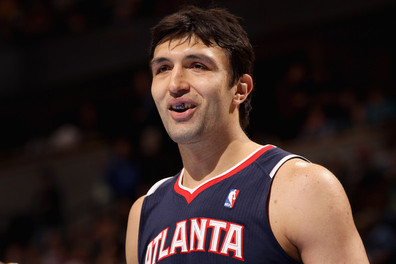 Without Billy Crystal next to him, this odd giant seems a bit confused.
Zaza Pachulia must have a lulling nature to him that gives opponents nightmares.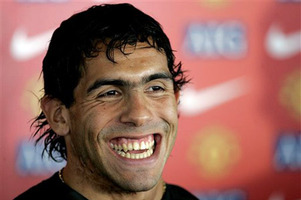 On second thought, perhaps Argentine star footballer Carlos Tevez looks like a perfectly normal human being...from 230,000 years ago.
But his cave drawings were surely breathtaking.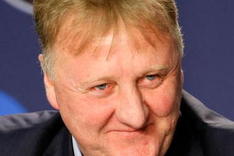 He's been around the professional hardwood since 1978, when the Boston Celtics chose him sixth overall in the draft.
And every moment of Larry Bird's presence has made us question his intentions.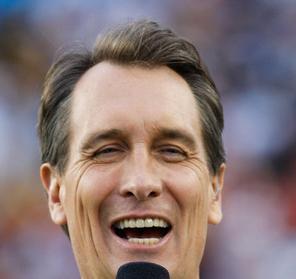 As strange as he is on camera, former Bengals receiver Cris Collinsworth is that much more obscure in his comedic attempts.
He's quietly scraping the edge of horrific announcing, closely behind ol' Barkley.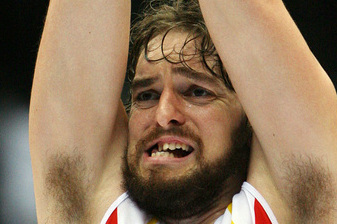 We often have a difficult time discerning between two-time champion NBA star Pau Gasol and a gargantuan llama eagerly waiting for a handful of grass to chew on.
Time to grab that razor. We've seen the possibilities.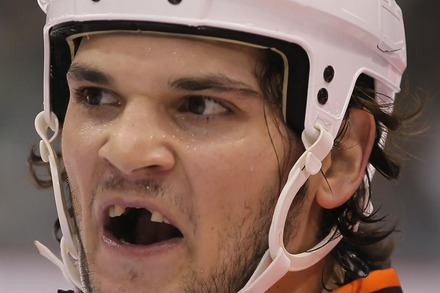 Sure, he's a stud, but it's winger Daniel Carcillo's proud aura that's got us thoroughly smiling.
Nobody has embraced such a free-flowing gap since Michael Strahan in '02.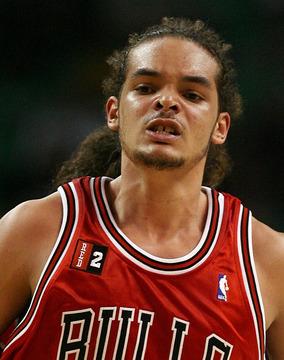 His mother was Miss Sweden 1978 and his sister is a model, but that didn't stop Joakim Noah from becoming one of the most unfortunate looking dudes on the hardwood.
With his long hair, don't care attitude and ferocious nature, it seems the former Gator likes to embrace his wild ways.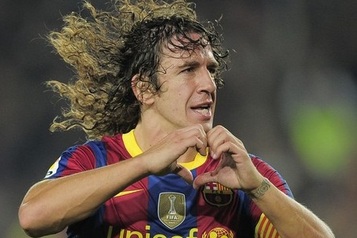 Despite looking like a deformed Andy Sandberg, footballing extraordinaire Carles Puyol bagged himself sexy model Malena Costa.
But his hair has yet to find a comfort level.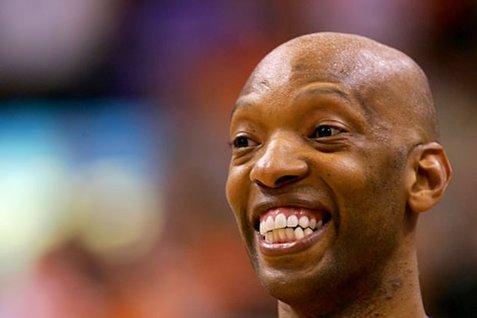 Now that he's an assistant coach for the Wizards, we can once again honor Sam Cassell's cringing exterior.
Even his former trainer couldn't stifle a smile when stretching the E.T.-esque guard.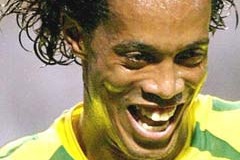 Like a wild horse, Brazilian footballer Ronaldinho must have 12 incisors at the front of his mouth and a constant need for grazing.
But the legendary two-time FIFA World Player of the Year has perhaps the strongest legs in the world of soccer and a nonstop motor like his common resemblance.
We'll always respect the graceful creature.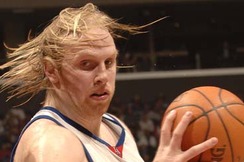 Whether his roots have shut down, or he is a thoroughly aged Will Ferrell, NBA mammoth Chris Kaman seems like he should be singing "Goodbye Horses" by Q Lazzarus instead of dunking basketballs.
But we'll always love the former Central Michigan star for his humble nature and promising shot.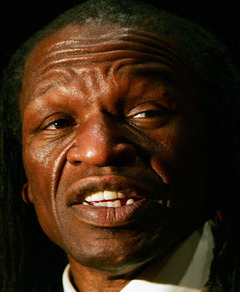 Half predator, half carnivorous dromaeosaurid dinosaur, Floyd Mayweather Sr. is perhaps the scariest man on the planet.
And he's got the talkative nature to back it up and tell us why.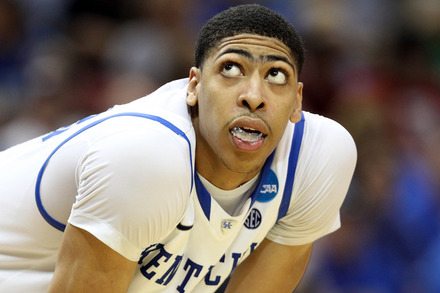 One quiet rip down the center of his forehead would quickly eliminate most of the beliefs that Kentucky star Anthony Davis is indeed related to Bert from Sesame Street.
But strange is always more intimidating. We still respect you, big guy.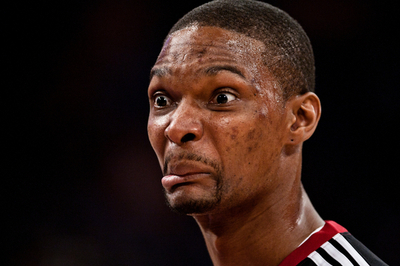 For those who believe Dinosaurs are truly extinct, think again.
We're not yet convinced that lanky Heat forward Chris Bosh isn't a direct descendant of the dromaeosaurid theropod dinosaur that existed during the later part of the Cretaceous Period, about 75 million years ago.
Or rather, a Velociraptor.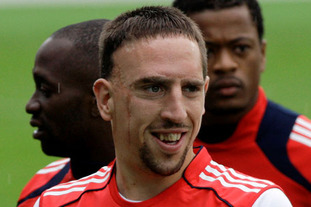 We'd love to believe his great-grandfather was Quasimodo from The Hunchback of Notre-Dame, but Franck Ribery seems cut more from the mold of Igor from Young Frankenstein.
All he needs is a constantly-changing hump.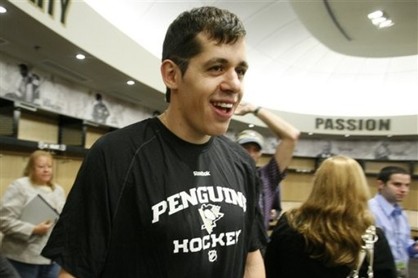 Sure, he looks like an even more confused Sylvester Stallone, but Penguins superstar Evgeni Malkin is (dare we say) perhaps the most lethal stick artist in Pittsburgh.
A young and energetic, yet thoroughly discombobulated, Rocky Balboa. We can't deny the resemblance.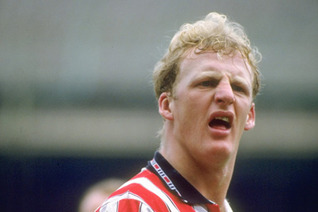 During his playing days, footballer Iain Dowie seemed ready to star in The Hills Have Eyes or The Goonies, but he will always remain a historic presence on the field.
Now that he's working as a commentator for Sky Sports News, we can fully appreciate the Joan Miro masterpiece even more.