Kevin Durant and Dwight Howard Are Only Players That Can Stop LeBron James
March 26, 2012

Dirk Nowitzki proved last season that there aren't many players in the NBA that can overcome a LeBron James, but that there are a few. 
He was one of them last year. This year there are only two.
The Orlando Magic's stud center Dwight Howard, and Oklahoma City's electrifying forward Kevin Durant.
These two players alone are the keys to beating the Miami Heat in the coming years, further explaining Orlando's reluctance to move their prized big man.
Durant and Howard seem to overwhelm and frustrate LeBron like no player he's ever faced - Durant doing it on the offensive end, and Howard on defense.
James can guard almost anybody and get past almost anyone on his way to the rim. But Durant is showing that he is a player at the same position who is virtually unguardable. LeBron looked clueless trying to contain KD and the Thunder on Sunday night as Durant went for 28 points, nine rebounds, and eight assists.
He put up LeBron-like numbers against the King himself, and is starting to do it on a consistent basis (remember he's a few years younger).
And with the OKC defense showing it can compete at the highest level, the Thunder match up well with Miami and will stand in the way of James' championship quest for the next decade.
Russell Westbrook and James Harden can match Dwayne Wade offensively, as Durant can James. But Serge Ibaka and Kendrick Perkins are the defensive keys that can offset Chris Bosh and the Miami enforcers, as well as slow down the Heat's aerial assault on the basket.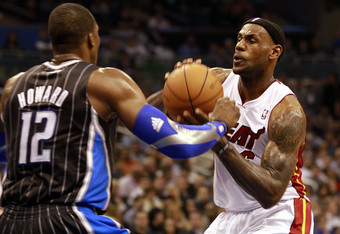 Orlando's Howard has shown that he is the ultimate rim-protector, even possessing the ability to bottle up LeBron's explosive finishes.
We've seen it multiple times, where James becomes flustered with his lack of success attacking the rim and settles for jump shots.
Of course, he can still beat you shooting jumpers, but you'd rather have him beat you that way than watching your team give up easy dunks and three-point plays.
There is only one player that can force James to be one-dimensional offensively, and that's why whichever team Howard plays for, it too will be an obstacle not easily overcome by LeBron and the Heat.
Kobe Bryant and LeBron James match up well but don't necessarily frustrate each other in any way. They can both hold each other in check at times, and other times neither can slow down the other. But Kobe alone won't overwhelm James.
I don't believe Andrew Bynum is athletic enough to shut down LeBron, and Blake Griffin is as explosive, but still too young a player to challenge James.
Derrick Rose and the other point guards have shown that they don't have an answer for LeBron's defense, as his combination of size and athleticism are too much for them.
But Durant and Howard's size and athleticism are comparable and possibly even superior to James', something LeBron isn't accustomed to facing. Which is why these two guys alone present significant matchup problems for the King in his search for a ring.