College Football's Top 25 Sideline Reporters by Brains, Not Beauty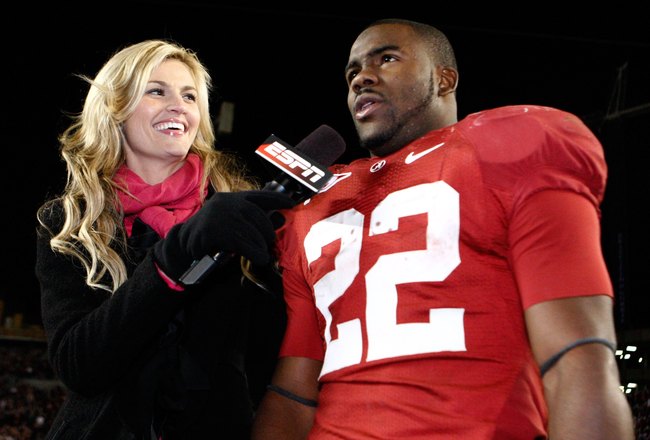 Mike Zarrilli/Getty Images
How many of you out there could honestly give me the entire broadcasting lineup across the nation?
This is the true time to test your true die-hard addiction with college football. Ranking the best sideline reporters by brains and not beauty is no easy task.
However, somebody must be able to pull it off.
With that said, here are your top 25 sideline reporters that grace the sidelines on beautiful fall Saturdays.
25. Eamon McAnaney, ESPN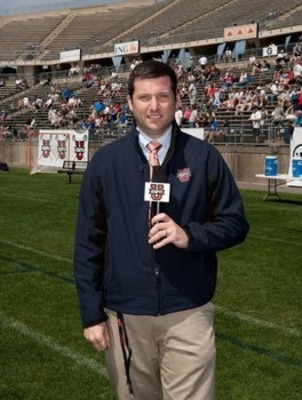 McAnaney might be better known for his lacrosse knowledge, but he isn't too shabby of a college football reporter.
He gets no love and is unknown in college football because he is often put on ESPNU, ESPN2 or regionally syndicated contests.
The perfect example would be him sideline reporting the BBVA Compass Bowl between SMU and Pittsburgh earlier this year.
24. Cara Capuano, ESPN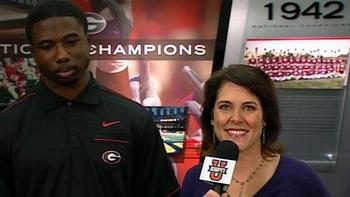 Cara Capuano has called her fair share of games, but she is the main sideline reporter when Rob Stone and Danny Kanell are in the booth.
Stone started off as a reporter but moved up to the booth before leaving for Fox's soccer coverage over the winter, allowing such talents such as Capuano to develop.
Used mainly as an SEC sideline reporter for the ESPN family of networks, Capuano once worked for FSN Detroit and the Seattle Seahawks.
23. Tim Brewster, Fox/FX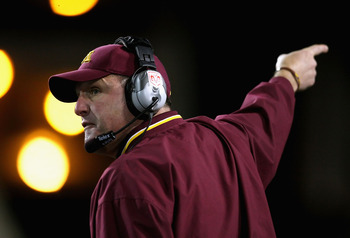 Christian Petersen/Getty Images
It is never bad when you have a former head coach (Minnesota 2007-2010) explaining to you what exactly is going on, but that is normally the jobs of the announcer.
Still, after one season, Tim Brewster was entertaining alongside the tremendous Fox crew of Gus Johnson and Charles Davis.
22. Brooke Collins, CBS Sports Network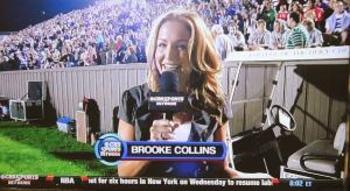 Joining CBS in 2010, Brooke Collins is grabbing attention after her previous work as a sideline reporter for FSN West/Prime Ticket during UCLA football broadcasts.
Nowadays, she is normally seen as the sideline reporter for the games that CBS Sports Network covers, such as Mountain West and Conference USA football.
21. Allison Williams, ESPN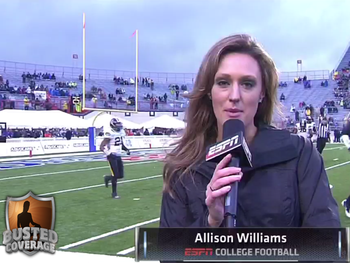 Working ESPNU games during Saturday afternoons, Allison Williams is another young reporter making a name for herself.
She started her season off on ESPNU covering the Louisville-Murray State game and has since stayed around SEC football for the majority part of the season (save for the Independence Bowl between North Carolina and Missouri).
20. Lewis Johnson, CBS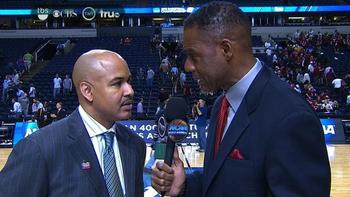 Lewis Johnson has been around for a little while, reporting on anything from March Madness to Notre Dame football.
This past season, he was the sideline reporter on CBS alongside the team of Spero Dedes and Steve Beuerlein.
19. Jeannine Edwards, ESPN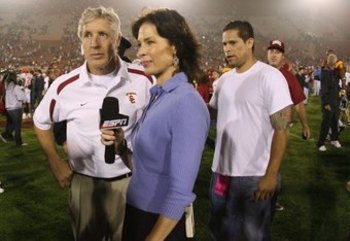 I guess this is where I can talk about where I miss Ron Franklin and Ed Cunningham together on ESPN, but Jeannine Edwards is a hard-working reporter that will get to the bottom of a story.
She may not be the most entertaining person to listen to, according to most, but Edwards reports her news and doesn't disappoint in terms of updated news occurring on the field.
18. Rob Stone, Fox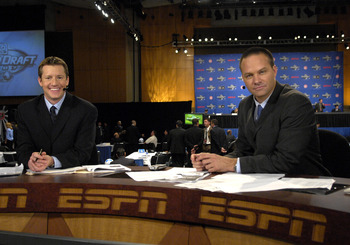 A. Messerschmidt/Getty Images
Rob Stone isn't completely done being a sideline reporter (at least now officially yet).
Whether he is in the booth or on the sidelines, Stone makes it an enjoyable game for the viewers watching and listening intently back home. Here's hoping he gets a few college football assignments with Fox next season.
17. Todd Harris, ESPN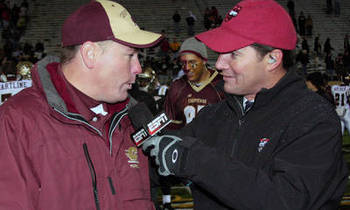 Whether Todd Harris is the play-by-play announcer or the sideline reporter, his professionalism is always intact.
He does not get much talk by the average fans, but he is consistently a guy that keeps you watching despite how bad the game he's covering may be.
16. Jeremy Bloom, Fox Sports Net/FX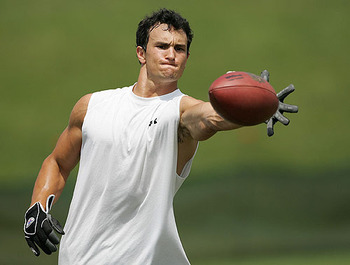 Bloom is a former Colorado wide receiver and one of the finest skiers in U.S. Olympic history.
The three-time World Champion, two-time Olympian and eleven-time World Cup gold medalist in freestyle has since taken his talents to fall sidelines.
Bloom had a quick cup of coffee in the NFL, but he can break it down for you on the gridiron to go along with his sideline reporting talents.
15. Shannon Spake, ESPN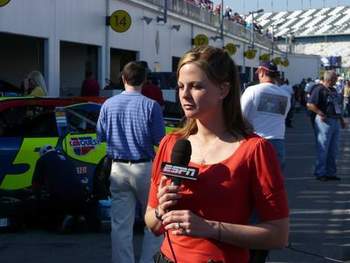 Shannon Spake has been catching America's attention for her work as a sideline reporter in SEC basketball, but it won't be long before she jumps up the charts in college football.
14. Wendi Nix, ESPN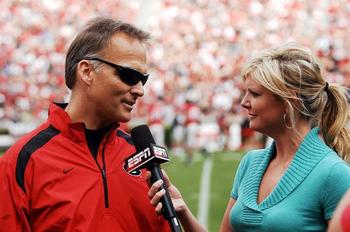 Wendi Nix is well-known for staying in studio for NFL Live and College Football Live throughout the week, but seemingly works her tail off every weekend.
Mainly used as in-studio host, Wendi Nix has been widely known for her sideline reporting whether it be during halftime or in between plays.
13. Shelley Smith, ESPN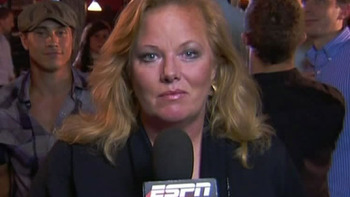 She may forever be known as the reporter who had the tough job of remaining in Cleveland when LeBron James made his decision to take his talents to South Beach.
Maybe it was just me, but it felt like I saw death in her face since that was surely the look of everyone when the Cavs found out their hometown star had left them.
That doesn't take anything away from he,r because she has been around for awhile now and college football should be appreciative for all of the breaking news and reporting she has done.
12. Jim Knox, Fox Sports Net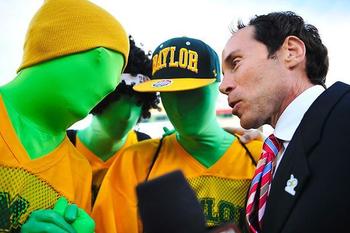 Jim Knox is your typical funny dude that can report college football with ease.
I do not study his games on Fox Sports Net like I would compared to other networks, but Knox has had his fair share of hilarious moments (such as attempting to run with Ralphie at Colorado).
11. Jenn Brown, ESPN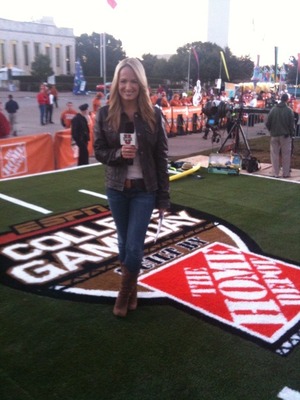 Over the last few seasons, people who watch ESPN have had a bit of their attention swayed by Jenn Brown.
However, she is underrated from a talent aspect and is always prepared for her primetime games. She also is a College GameDay reporter in both football and basketball.
10. Heather Cox, ESPN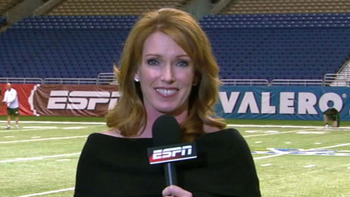 Some may get persuaded by her red hair, her history of being an absolute filthy volleyball player at Pacific or maybe you like her because she just does her job so well.
The in-depth analysis from her as a sideline reporter is something that tells you the difference from being a mediocre to an arguably exceptional college football reporter.
9. Quint Kessenich, ESPN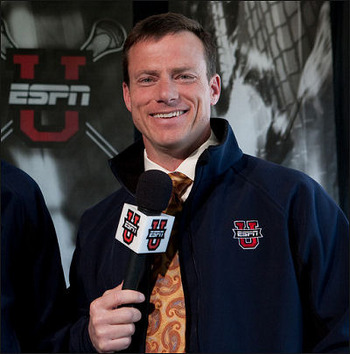 Quint Kessenich has announced some games before, but as a sideline reporter he is on the money. We saw him alongside Dave Pasch, Chris Spielman and Urban Meyer last season.
The most notable interview from last season was his postgame interview with an enthusiastic Dabo Swinney after dethroning the defending national champions.
8. Holly Rowe, ESPN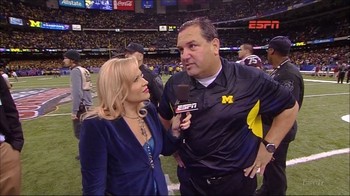 Arguably the most underrated one on this list, Holly Rowe can report college football and basketball exceptionally well.
Rowe isn't always paired up with the best broadcaster, though we have seen her with the likes of Mike Patrick or Brad Nessler.
7. Jenn Hildreth, ESPN/Fox Sports Net/Turner Sports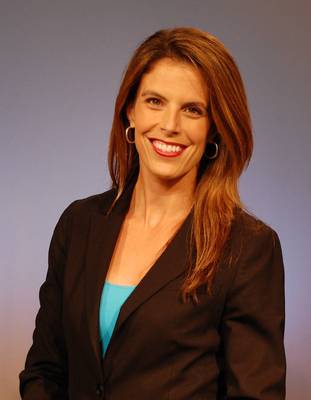 Skyrocketing up the charts in both college basketball and football is Jenn Hildreth.
She knows her sports extremely well and does it in the way she connects with the players and coaches at all points of a game.
6. Samantha Steele, ESPN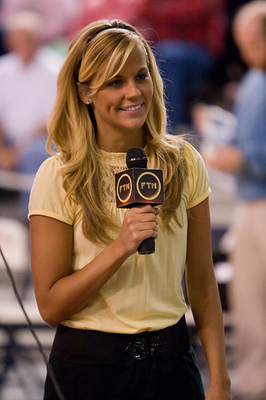 Some still may be unaware of who Samantha Steele is, but outside of being a solid Twitter follow, she is also an overall sports junkie.
Like the best she is never caught by surprise by what a coach may throw her way, Steele is really electric in the way she presents herself in all of her interviews.
Formerly with Fox Sports (no wonder why she wasn't hyped much), she also interned for ABC Sports before ESPN picked up her top-notch talent.
5. Alex Flanagan, NBC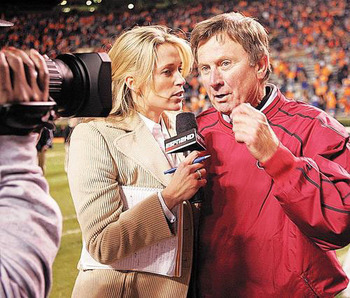 It was funny watching Alex Flanagan interview Charlie Weis or Steve Spurrier, since either coach is never afraid to say what is on their minds, but it isn't easy interviewing the current head of coach of Notre Dame either.
Working with the NFL Network on top of NBC Sports for Notre Dame football (formerly ESPN), Flanagan is no slouch when comparing her to the best reporters in the game.
4. Lisa Salters, ESPN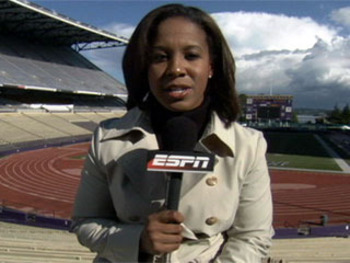 If it is in primetime with Kirk Herbstreit and the legendary Brent Musburger, then Lisa Salters will be right there with you.
For some reason sideline reporters (specifically college football) do not always ask the vital questions, but Salters never seems to fail at such.
Salters has been given the chance to shine during the national primetime games and has thrived in the process.
3. Tracy Wolfson, CBS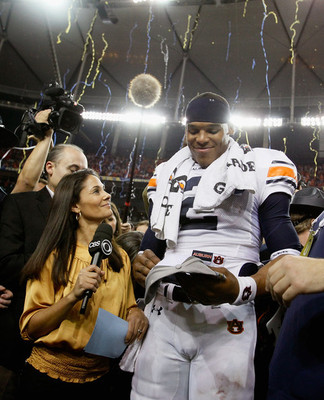 SEC football is as entertaining as it gets, but Tracy Wolfson probably deserves more credit towards her way.
Some are anti-Wolfson and anti-CBS because of their bias towards the conference, but always remaining upbeat while talking to some of the more intimidating coaches in the country ranks her high on my list.
Plus, in my opinion it is easy to tell right away if a reporter has that swagger or talent. I will either change the channel if I am bored (plus I have 50 other games to watch) or I will stay tuned if find the reporting to be fairly entertaining.
2. Tom Rinaldi, ESPN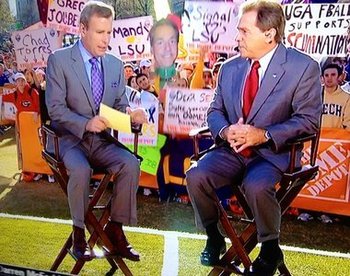 If I needed somebody to ever tell a story on my life or anybody's for that matter, I would choose Tom Rinaldi.
His knack of storytelling on top of in-game reporting is legit and he just demands and grabs your attention.
Always reporting his heartfelt story every Saturday on College GameDay, I probably wouldn't watch if another reporter was telling it.
Luckily, Rinaldi is the best in the business and his words are often like magic for a die-hard sports fan.
1. Erin Andrews, ESPN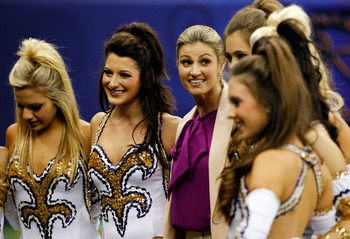 Michael Heiman/Getty Images
Arguably the best sideline reporter in college football, Erin Andrews is all that and then some. People just watch her games because of her looks and that is untrue in my books.
I watch college football because I am a die-hard who has an addiction to watching every snap, but her work should be the first thing mentioned.
She is involved with so much people really wonder how she excels in all of it. It is simple:she loves what she does and her drive always allows her to come out on top.
The former Florida Gator has a tremendous knowledge for the game and she is also determined and as talented as anybody out there.
Lastly, it is her swagger and upbeat ability to go with the flow that separates her from the rest of the competition.
Keep Reading