Ranking LeBron James with the NBA's Worst Salesmen
March 27, 2012

Harry How/Getty Images
LeBron James is the best player in the NBA (let us not lose sight of this fact).
He is also one of the league's worst salesmen.
In a league featuring players like young stars Kevin Durant and Derrick Rose, LeBron sticks out as different.
While Rose and Durant are humble to the point of driving interviewers crazy, LeBron is never far away from negative press.
With LeBron, the league has a physical talent not seen since Michael Jordan in the early- to mid-1990s. He is capable of sending audience numbers through the roof and of selling out arenas pretty much on his own.
It's his demeanor that grates on many people.
After the NBA suffered during the early part of this century with negative public perception surrounding the then-stars of the league, LeBron came in in 2003 and turned everything around. He changed the public seeing the league as something full of overpaid young men with poor attitudes, dress sense and public image.
Except LeBron's closer to that group than the current much-loved cast of young stars. LeBron's ego takes precedence at times. That does not happen with most of those other guys.
Case in point: The Miami Heat 'Big Three' unveiling before the beginning of the 2010-11 season. LeBron's now (in?)famous quote of the team winning "not two, not three, not four.." championships really rammed home how he fails to grasp how he should be acting.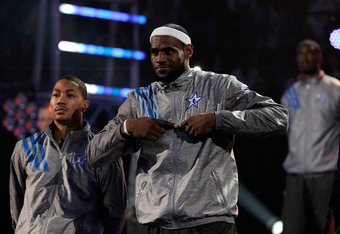 Ronald Martinez/Getty Images
Take a look at any LeBron drive to the basket. If he isn't given a foul, watch how he reacts. (Watch Dwyane Wade, too, for that matter). Now go and look up the rules on how technical fouls are awarded for aggressive demonstrations towards officials.
Somehow, James gets away with a lot. The perks of being a star player, it seems.
He does it because he knows he can get away with it. He knows he won't be called up for it because he knows that the league values him too much. That would play on anyone's mind.
I'm not going to put LeBron James in the category that includes Metta World Peace (formerly Ron Artest, suspended for a year for going into the stands to fight fans) and other thuggish buffoons like him.
He's not quite that bad. And he's certainly a much better player, which makes up for a lot of this.
The NBA doesn't want its public face to be seen as an arrogant millionaire, but sometimes that's the persona that comes across from LeBron.
Especially in some post-game interviews. His reactions to some questions are a little off-center at times. The ego comes through as if he's thinking "how dare you criticize me."
Perhaps if you rank him in among the JaVale McGees and DeMarcus Cousinses of the NBA: those guys who just have something about them that lead to bad press fairly often.
After a prolonged lockout that led to the cancellations of many games, the one thing the NBA needs more than ever is genuinely likable superstars.
Or perhaps LeBron looks bad only because of how incredibly marketable and likable the likes of Kevin Durant and Derrick Rose are?