As sports fans we love to debate. We can sit and spend endless hours talking who is the best at this, which team from which era could dominate today, who is the best of all time?
The funny thing about these debates is that the two sides never really come to a resolution, often leaving things where they started, with some extra hurt feelings or bruised egos thrown in for good measure. In the interest of keeping the long-standing tradition of sports debates running, it's time to explore who the most valuable player is to their team: Sidney Crosby or Steven Stamkos.
Let's look at what each of these players have in common. Both are in their early 20s, Crosby 24 and Stamkos 22. Both players were drafted first overall, Crosby in 2005 and Stamkos in 2008. Both players are franchise players and may very well spend their entire careers with the teams that drafted them. Finally, both players are or have been scoring leaders on their teams.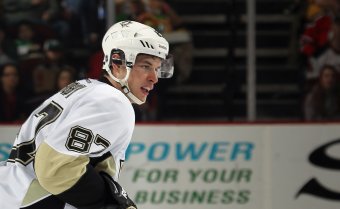 Bruce Bennett/Getty Images
From a starting point, the two are fairly evenly matched, but digging a bit deeper, differences can be found. Crosby, while no slouch in the goal-scoring department, gets most of his points by dishing to his teammates, while Stamkos is a goal scorer first.
Where things really get interesting is when we take a gander at the play of each individual's team as a whole. Crosby has only played 16 games this season and the Penguins have fared extremely well in his absence, racking up 100 points, putting them fourth overall in the league. The Penguins are the definition of a team. Any time you can take the best player in the NHL out of the equation and still dominate your competition, you have a solid team that does not fully rely on just one player. With that being said, it doesn't hurt to have Evgeni Malkin as your team's second-best player.
One would think that Stamkos having Martin St. Louis and Vincent Lecavalier as teammates would be in a similar situation as Crosby, but he isn't. It's a good thing that Stamkos is a durable player because without him, the Lightning would struggle. Don't believe that? Consider the fact that Stamkos' league-leading 55 goals account for almost 26 percent of his team's total goals this season.
Another thing to consider is who would you build a team around at this point? Would you roll the dice on Crosby with his concussion issues, or would you elect to go with the player that has missed only three games in his career? Injuries can happen at any time, no doubt about that, but one would have to be a little nervous building around Crosby at this point.
On the other hand, there's no doubt that Crosby is the type of player that makes those around him better. When he's on the ice, he adds confidence to the entire club. Stamkos has not reached that level as of yet.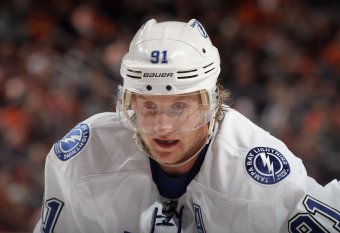 Bruce Bennett/Getty Images
So, what do we have? Crosby is the more well-rounded player, Crosby is the more experienced player and Crosby is, in short, the best player in the NHL. However, you would have a very hard time convincing me that right now he is the more valuable player to his team.
Everyone saw what the Penguins did in his absence and while we don't know how the Lightning would do without Stamkos, looking at how much the team leans on him for their success, you can't say that they would be able to deal with his loss for any amount of time.
Right now, Steven Stamkos is more valuable to his team than Sidney Crosby.