Final Four 2012: Each Team's X-Factor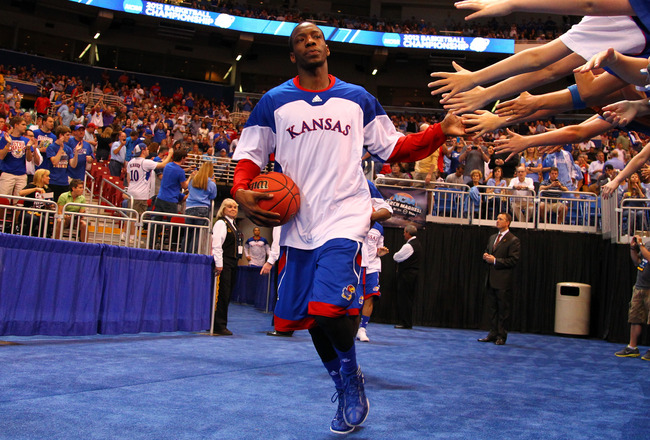 Dilip Vishwanat/Getty Images
The Final Four has been set, with four of the best and hottest teams in the country playing in New Orleans.
One thing these teams has in common is that each of them has an X-factor.
An X-factor is the player the team can't live without—the player that determines if the team wins or loses.
The play of these X-factors will determine just how far the last four teams from the field of 68 will go, and they are the players to watch when these teams link up.
Louisville: Peyton Siva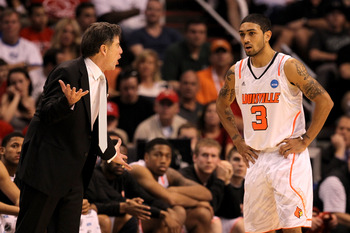 Jamie Squire/Getty Images
Peyton Siva is listed as a point guard for the Louisville Cardinals, but he is also the team's X-factor.
Siva is averaging 7.0 assists per game in the Big Dance, including 8.5 over the last two games. He also rarely makes mistakes, as he has cut down his turnovers by 0.5 per game.
Siva's assists are what make him elite, but he can also score if the defense focuses too much on his teammates, averaging 9.1 points per game.
The worst losses for Louisville came when Siva proved ineffective. Without him, the Cardinals would not be in the Top 25, nor would they have been one of the nation's last undefeated teams.
The Cardinals will need Siva to play well if they are going to beat Kentucky on Saturday—and if he stays hot, this team has a chance to replicate what UConn did last year, winning the Big East tournament and the NCAA tournament.
Kentucky: Marquis Teague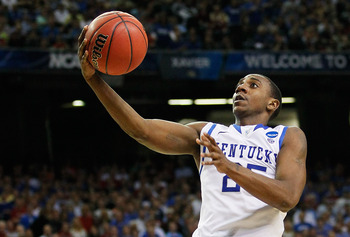 Kevin C. Cox/Getty Images
The X-factor for the Wildcats is also their point guard.
Marquis Teague is only a freshman, but he is already being heavily relied upon by John Calipari and the No. 1 team in the country, playing the most minutes of any player on the team.
Teague has the ability to take over a game, which he has been demonstrating during the tournament.
He has improved all of his numbers during the tournament, averaging 14.5 points, 5.3 assists and 2.8 turnovers per game in the Big Dance. He is quite possibly playing the best basketball of his collegiate career, which is a great sign for Kentucky.
In the last three games, however, Teague's numbers have all gotten progressively worse. He played very well against Iowa State, then had some problems against Indiana before being stifled by Baylor.
Teague's next opponent is one of the best point guards in the nation in Peyton Siva, and he will have to play well if Kentucky wants to win that game.
Ohio State: William Buford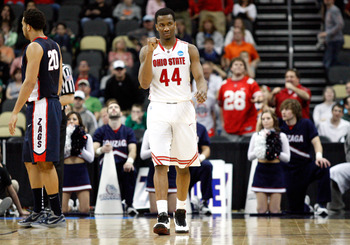 Jared Wickerham/Getty Images
Ohio State is the only team on this list whose X-factor is not its point guard. Shooting guard William Buford is the man to watch for Ohio State.
We all know about Jared Sullinger and DeShaun Thomas on the inside. Sullinger is a beast who will just about always get a double-double, while Thomas is averaging 23.5 points per game during the tournament.
We also know about point guard Aaron Craft, who is playing some of the best basketball of his career and shutting down the opposition on defense.
The one key player not playing up to his potential is Buford, who is averaging only 11.8 points per game and is shooting 13-of-44 from the field during the Big Dance.
Buford has the potential to explode on any given night, and if he can turn it on, the Buckeyes will be unstoppable. Just about every player has been consistent during the tournament except for Buford, and he needs to step up if this team is going to win it all.
Kansas: Tyshawn Taylor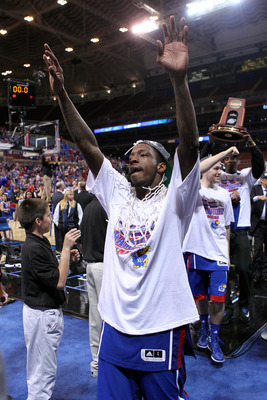 Andy Lyons/Getty Images
It's shocking, but Kansas made it to the Final Four while playing at a level that can only be described as mediocre.
The Jayhawks played better against No. 1 North Carolina than they had in their previous three games, but they still had some major problems.
The biggest problem for Kansas has been point guard Tyshawn Taylor, who is the team's X-factor.
Taylor averaged less than nine points per game and had just as many turnovers as assists through the first three games.
He stepped it up against North Carolina, dropping 22 points and recording five assists, but he has still been underwhelming in the Big Dance.
If Taylor plays well, this team is deadly, but he will have his hands full against the likes of Aaron Craft, Peyton Siva and Marquis Teague.
Keep Reading