NBA Mock Draft 2012: The Best First-Round Fit for Each Team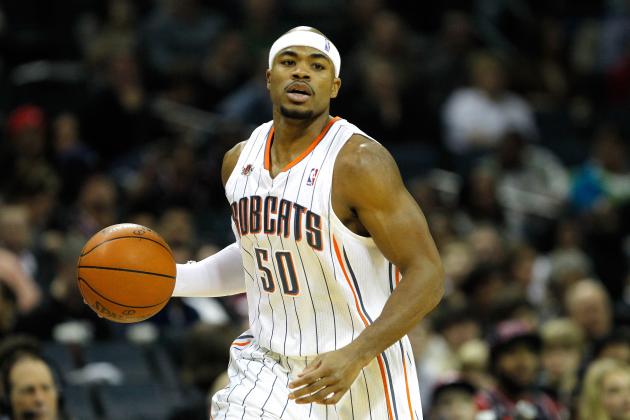 Streeter Lecka/Getty Images
Maggette and the Bobcats are already on the clock.
With the NCAA tournament in full swing and the Final Four just days away, the first of what will be a slew of 2012 mock drafts are already appearing. Teams are undoubtedly scouting some of the tourney talent in an effort to get a leg up on June's draft.
Every team has needs for the 2012-13 season, some more dire and desperate than others. Here's a look at some possible good fits for each NBA team come draft day.
Begin Slideshow

»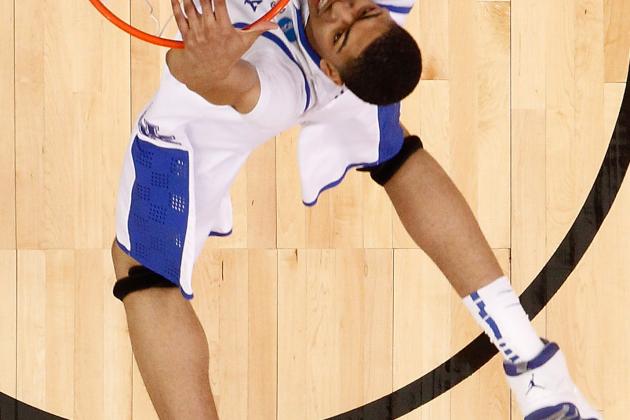 Kevin C. Cox/Getty Images
Davis, already a consummate shot blocker, is getting better on offense.
Davis, Kentucky's freakishly athletic big man, has been the presumed consensus No. 1 overall pick pretty much all season.
A monstrous defender, the 6'11", 220-pounder needs to bulk up a bit, but is getting stronger and, more importantly, becoming more polished on the offensive end. The Bobcats, who have major needs everywhere, had better hope they win the lottery and can get their hands on this draft's best player.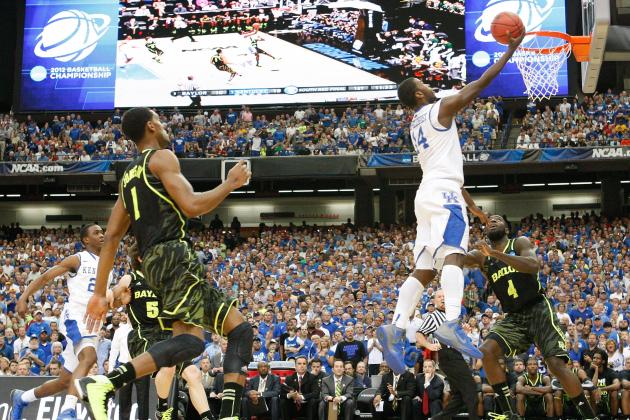 Kevin C. Cox/Getty Images
Kidd-Gilchrist can ball and he cares, both huge needs for the Wizards.
Yep, another Wildcat. Kidd-Gilchrist was Kentucky's best player in its Sweet 16 win over Indiana and appears to be as unselfish and team-oriented as he is explosive and talented.
The Wizards are a mess, a cadre of "me-first" boneheads who need an infusion of dedication, among other things.
Things started in the right direction when they traded Nick Young and JaVale McGee at the deadline, but bringing in a polished, proven commodity like Kidd-Gilchrist would be another positive step.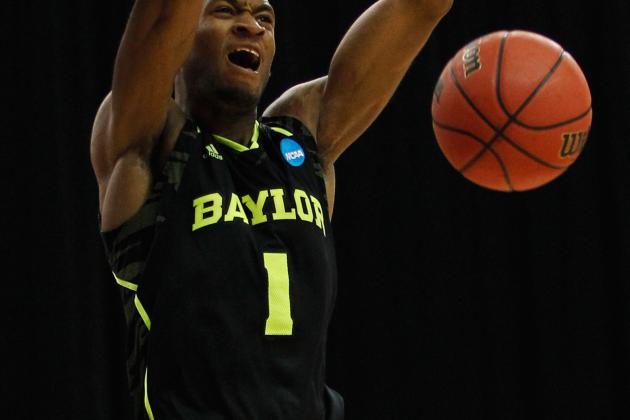 Streeter Lecka/Getty Images
Jones's size and versatility are key to the Hornets rebuilding plan.
With Chris Kaman as good as gone, the rebuilding Hornets are going to need an inside presence.
So, what better place to start than with Baylor stud forward-center Perry Jones, as versatile a big man as there will be in this draft?
Jones can score from inside or outside, rebound and block shots, run the floor and jump out of the gym. The Hornets would be hard-pressed to find a better combo in a big man not named Anthony Davis.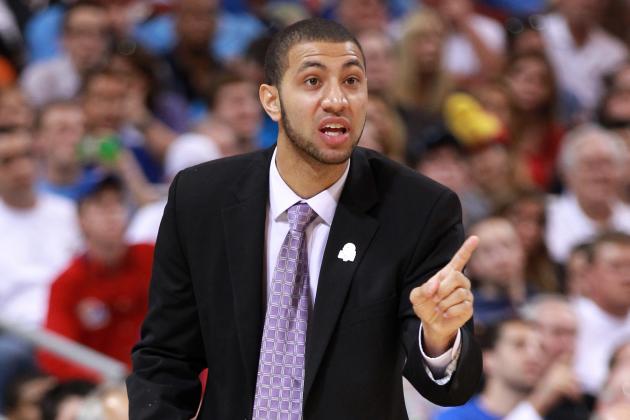 Andy Lyons/Getty Images
Marshall will be in uniform for the upcoming season.
Marshall, the Tar Heels' point guard whose second-round wrist injury derailed his team's Final Four hopes, is regarded as the best pure point guard in the draft.
The Blazers, who have been killed by the mediocrity of Raymond Felton (another Carolina alum) at that position this year, would be wise to address this issue ASAP on draft day.
Marshall averaged just under 10 assists per game and shot 47 percent from the floor for Carolina this year. Portland needs a leader, which is exactly what this sophomore is.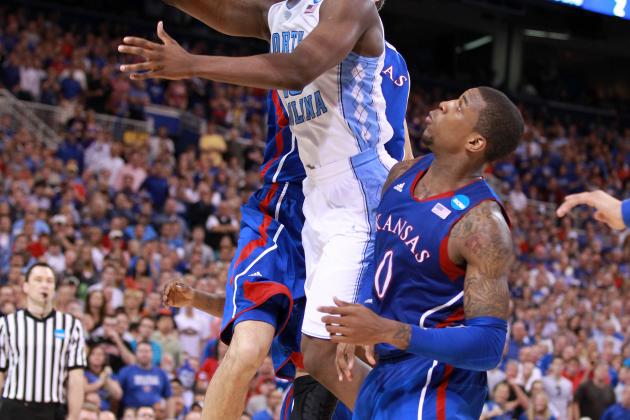 Andy Lyons/Getty Images
Barnes's scoring prowess is crucial to a team like Toronto.
The Raptors need scoring in a big way. Andrea Bargnani is frequently injured, and while DeMar DeRozan is very good with the ball, he can't carry the load by himself.
Enter Barnes, a sick shooter who is also more than adept at getting to the rim. There isn't much more to his game as of yet. (At 6'8", he only averaged five boards per game this season for the Tar Heels.)
But that shouldn't concern the Raptors. What should is his deadly shooting range and ability to score from anywhere.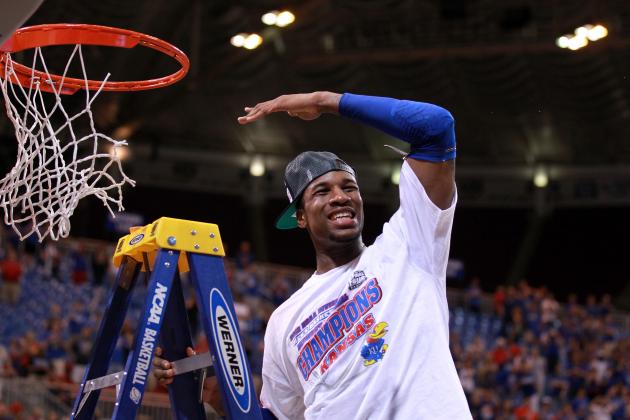 Andy Lyons/Getty Images
Robinson is a winner, something Detroit needs more of.
One of this season's revelations in the NBA has been the emergence of Pistons big man Greg Monroe, who has played at an All-Star level for a young, rebuilding team.
Getting Monroe some help up front should be a priority for Detroit, and a tough bruiser like the Jayhawks' Robinson fits that mold.
During this—his breakout—season, Robinson averaged 18 points and 12 boards for a Final Four team, and being a junior, he has experience. If he's around when the Pistons pick, they should snag him.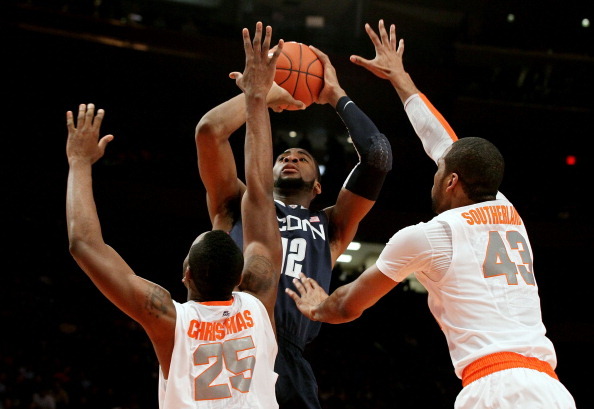 Jim McIsaac/Getty Images
Drummond looks like he has the potential to be a dominant big man.
The Kings have played so much better since DeMarcus Cousins got Paul Westphal fired. And given their raft of young talent in the backcourt (Tyreke Evans, Marcus Thornton, Isaiah Thomas, Jimmer Fredette), why not grab another big guy to form a monstrous frontcourt tandem with Cousins?
Enter Drummond, a raw but super-talented big who looks like he has the potential to develop into a force up front. He's the perfect pick for a team like Sacramento, which is already OK down low with Cousins and Jason Thompson and could afford to bring Drummond along at his own pace.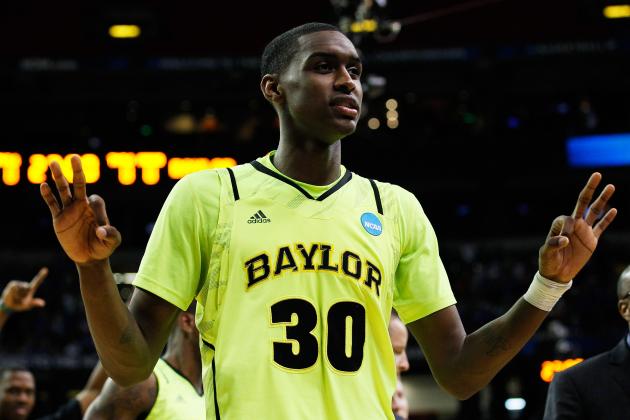 Kevin C. Cox/Getty Images
Miller looks good on the wing, even in that hideous uniform.
Miller hasn't declared for the draft yet, but if he does and the Cavs—desperately in need of some help on the wing—don't get him, they'll be bummed big-time.
At 6'9", Miller has the size to play the 4, but also has the ball-handling and shooting ability to play the 3, which is where Cleveland needs him. Additionally, he rebounds very well for a wing player, giving him an instant advantage over the lot of other 3's.
Look for the Cavs to look elsewhere for small forwards should Miller decide to stay in school.
Ethan Miller/Getty Images
Lillard (left) is the highest scoring point guard available in the draft.
The Jazz have overachieved this season, and that's despite a black hole at the point guard slot, where the formerly very good Devin Harris has declined at a breakneck pace in his first full year replacing Deron Williams.
Enter Lillard, a scoring point man from mid-major Weber State who can shoot and get to the rim equally well. He averaged 24.5 points per game this season and managed to grab five rebounds per night despite being just 6'2".
The Jazz are very strong up front, with Al Jefferson, Paul Millsap and emerging rookie center Enes Kanter. A guy like Lillard will suit them perfectly.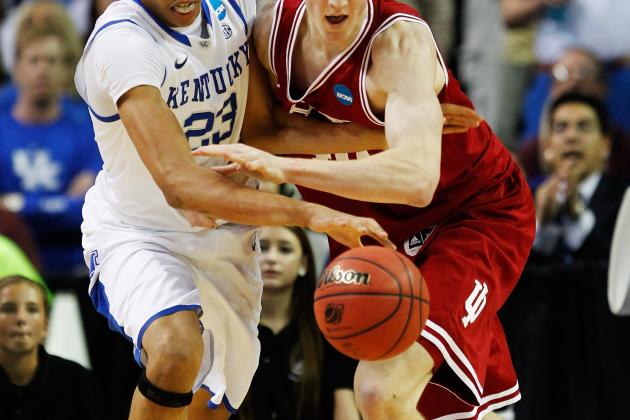 Streeter Lecka/Getty Images
Zeller more than held his own against Davis and the Wildcats.
Anyone see Zeller play in the Hoosiers' Sweet 16 loss to Kentucky the other night? He scored 20 points and grabbed seven rebounds against Anthony Davis, only the best defensive player in the country and a shoo-in for the No. 1 overall pick.
The point is, after dealing Andrew Bogut for another guard in Monta Ellis, the Bucks are stacked in the backcourt and thinner up front. Enter Zeller, who should thrive in Milwaukee should the Bucks get their hands on him.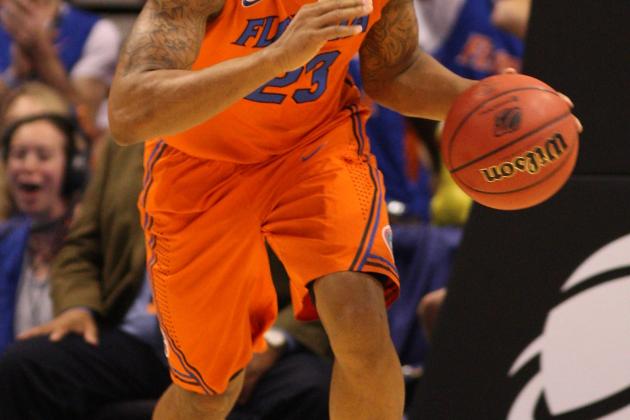 Christian Petersen/Getty Images
Beal blew up in the Sweet 16 against Marquette.
Steve Nash may well be gone after this season, which would immediately put the Suns in the market for a point guard. But the pickings are slim in this draft after Marshall and Lillard, which means Beal, a top-flight scoring guard, may be the best fit in the desert.
Ford compared Beal to Eric Gordon after his otherworldly performance in the Sweet 16 against Marquette (21 points on 8-of-10 from the floor, six rebounds, four assists, two blocks, two steals), and if that's the case, he could go higher than this.
But if he's around when Phoenix picks, the Suns should take him.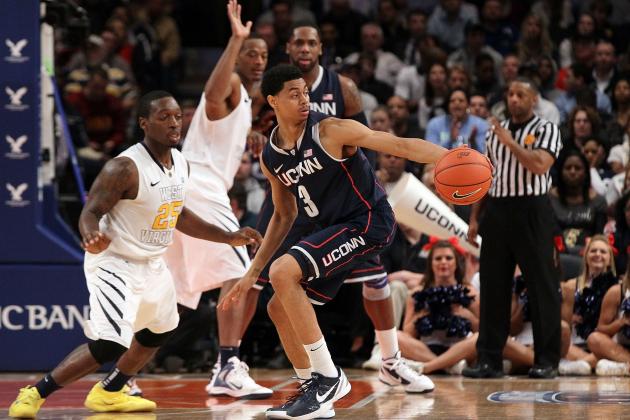 Jim McIsaac/Getty Images
Lamb can score, shoot and defend.
The Wolves are all set at the point (Ricky Rubio), the 4 (MVP candidate Kevin Love), the wing (Derrick Williams and a host of others) and in the pivot (the surprising Nikola Pekovic).
Where they need an infusion of talent is at the 2, where Wes Johnson isn't cutting it. Enter another Big East star in Lamb, who came on during the Huskies' run to a national championship last year and is a super-athletic slasher who can shoot and defend multiple positions thanks to a seven-foot wingspan.
He fills Minnesota's biggest (and only) real need.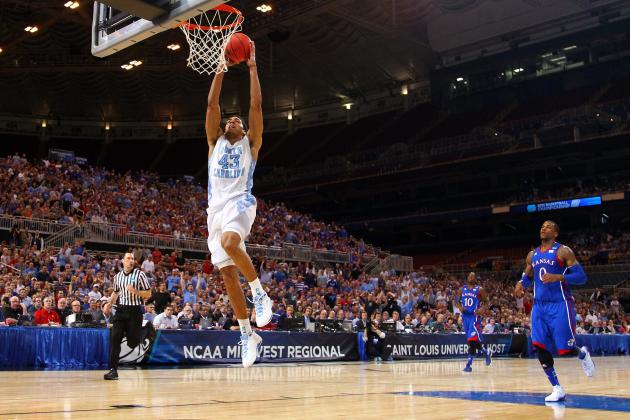 Dilip Vishwanat/Getty Images
McAdoo should help cure what ails the Rockets.
The Rockets have been trying to get Pau Gasol all year in order to get bigger and stronger up front. They still might, but if they can't, drafting a big guy who plays well around the basket seems to be the best move.
McAdoo fits the profile. He's looked especially impressive since North Carolina's other power forward, John Henson, went down with a wrist injury and had his best game in the Tar Heels' biggest game of the year, Sunday's Elite 8 loss to Kansas.
Houston needs help in the frontcourt, and McAdoo should be around once the draft hits the teens.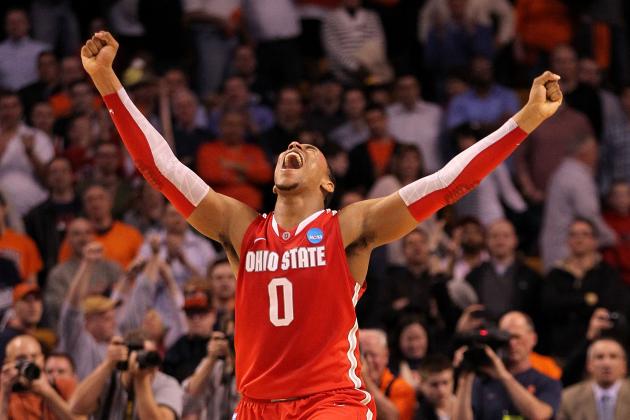 Jim Rogash/Getty Images
Final Four-bound Sullinger should have a solid pro career.
So much of what the Nets may or may not do will hinge on whether they sign Dwight Howard and/or keep Deron Williams. Sullinger should be able to help whether New Jersey accomplishes its offseason goals or not.
Sullinger is a bit undersized for a power forward, but his game is traditional for that position; he is really tough to move and can score without being flashy. Sullinger will make a solid pro for anyone. However, playing alongside Howard may well make him great.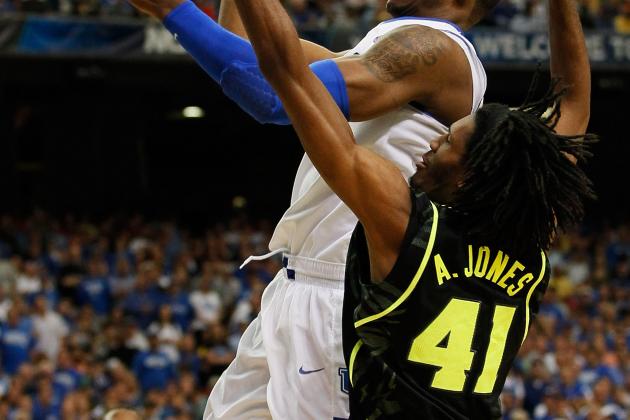 Kevin C. Cox/Getty Images
Jones is big, just what the Celtics need.
The Celtics need size, size and more size, and while guys like North Carolina's Tyler Zeller and John Henson (or even potentially McAdoo) could be around when they pick, if Jones is there, they best grab him.
Jones will step in and rebound for the C's right away. But, what makes him more appealing than the other possible bigs mentioned is that he's adept at excelling down low and from further out.
He's a couple of inches shorter than Kevin Garnett, but his game feels a little like the Big Ticket's.
Wouldn't it make sense to pair the two up next year?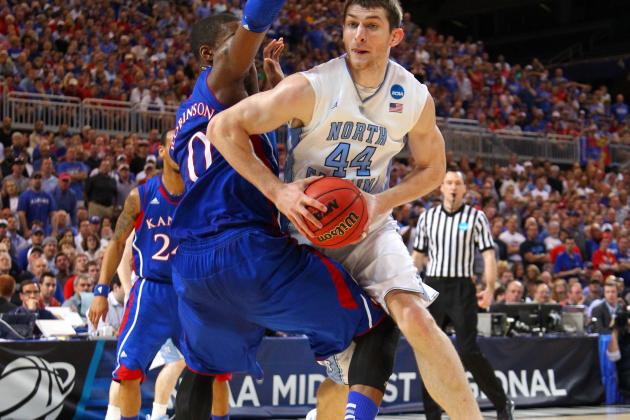 Dilip Vishwanat/Getty Images
The Nuggets need size and Zeller's got it.
The Nuggets acquired JaVale McGee at the trade deadline, but the jury is still out on whether he can even tie his shoes, let alone anchor the center position for a playoff contender.
Zeller, a solid big man who will never be a star in the NBA, but does all the things a center needs to do in order to succeed, will be able to help Denver immediately while providing insurance for the next, inevitable McGee mishap.
Plus, he's a Tar Heel, which will appeal to coach George Karl.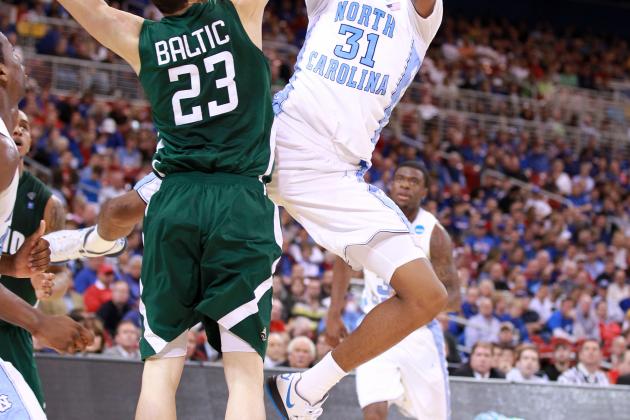 Andy Lyons/Getty Images
Henson's game bears a resemblance to Josh Smith's, who may well be gone from Atlanta.
Atlanta may decide to go point guard when their time comes, but again, this isn't a draft teeming with stars at that position.
Henson, a very athletic 4 who can rebound, block shots and defend, may be just what the Hawks need—especially if they trade Josh Smith.
Don't discount that possibility, but also bear in mind the last time Atlanta took a North Carolina guy in the first round, it was Marvin Williams, one of the biggest draft misses of the century.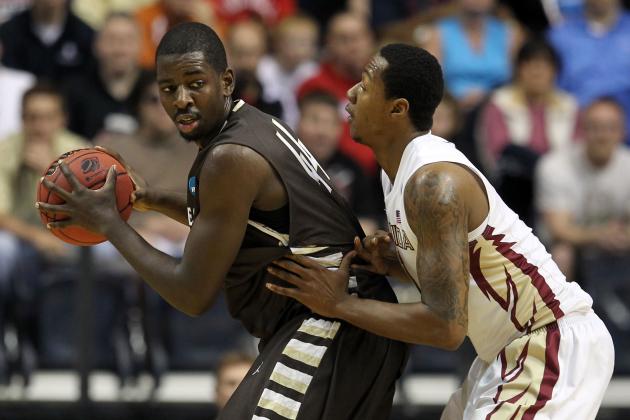 Jamie Squire/Getty Images
Nicholson is good, big and experienced.
The Sixers' best players are all guards and wing guys, which makes drafting size a priority. Nicholson, who blew up in the postseason, could slide right in behind Elton Brand at the 4 and eventually take over that spot.
Nicholson, whose four-year senior status marks a great deal of experience, has averaged 19 and 20 points over the past two years, respectively, and is also a solid shot-blocker.
He could not only take a lot of pressure off Brand, but Philly's chief offensive options, Lou Williams and Thaddeus Young.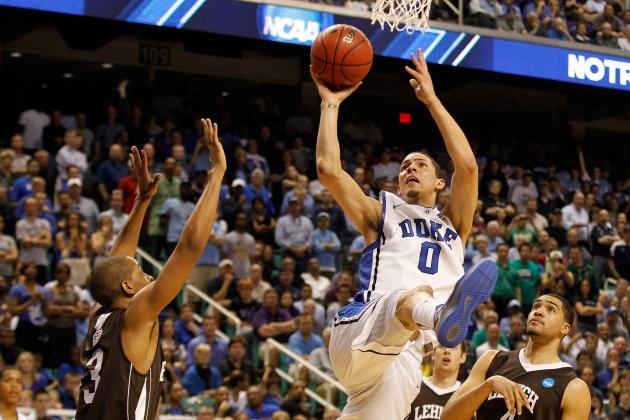 Streeter Lecka/Getty Images
Rivers could be a star, but is he ready for the NBA?
The Grizzlies are stacked throughout their eight-man rotation. So, why not take a flier on one of the biggest mysteries of this draft in Rivers?
Projections on Doc's kid are all over the map; some seem to think he's a future star, while others seem to think he could use at least one more year in school to learn how to be more of a team player.
No one doubts his ability and killer instinct, but some serious seasoning and development can't hurt at all.
With a team like Memphis, he could take his time learning and getting better, without needing to be depended on too soon.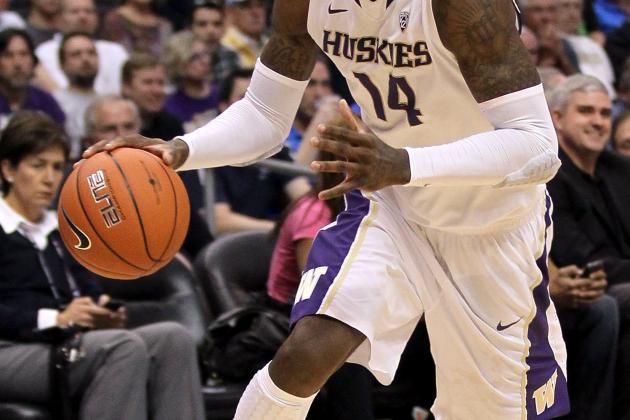 Stephen Dunn/Getty Images
Wroten could fill the Warriors biggest need.
The Warriors tried to play with no true point guard until they finally ended that experiment with the trade of Monta Ellis.
Now, they need to go out and get a true point, and if they can't get Marshall or Lillard, why not Wroten, a very good passer who can also finish with flair?
The point-guard spot has been Golden State's biggest burden since Baron Davis left town. The Warriors need to address it in this draft. Nate Robinson is not the answer.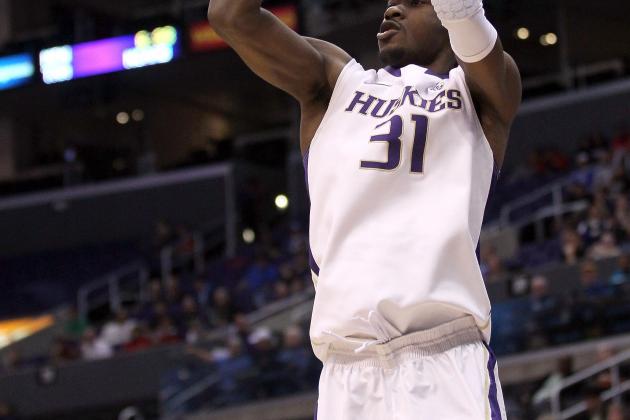 Stephen Dunn/Getty Images
Ross could use some more size, but he's super smooth from the perimeter.
What exactly do the young, exciting, developing Pacers need? It's hard to say. But on first glance, they may need someone to light a fire under second-year shooting guard Paul George. Ross, a silky-smooth shooter, could fill that role.
Ross needs to get bigger (he weighs in at just 190 lbs. despite being 6'6"), but he already has a very quick first step, great range on that jumper and can defend.
It's easy to see him fitting in well behind George and Danny Granger at either the 2 or on the wing.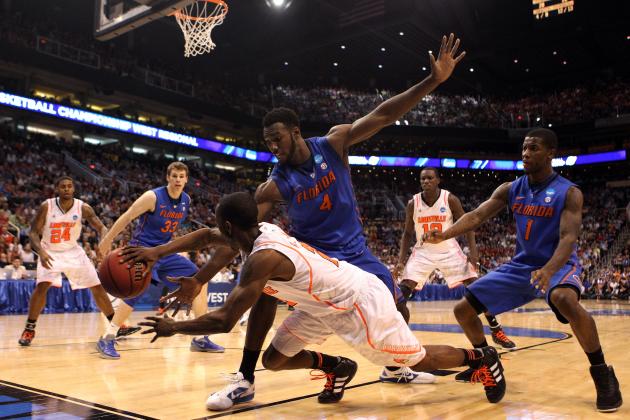 Christian Petersen/Getty Images
Young (center) is a defensive maven, something the Knicks need badly.
No one will ever accuse the Knicks of being a good defensive team. So, maybe they should go out and draft someone like Young, an intimidating, low-post defender who doesn't care about offense.
He's already built like an NBA power forward (6'9", 245 lbs.) and is an energetic rebounder.
The Knicks, who have one guy who looks to shoot first and ask questions last after another, need toughness and defense as badly as anyone. It's a perfect match.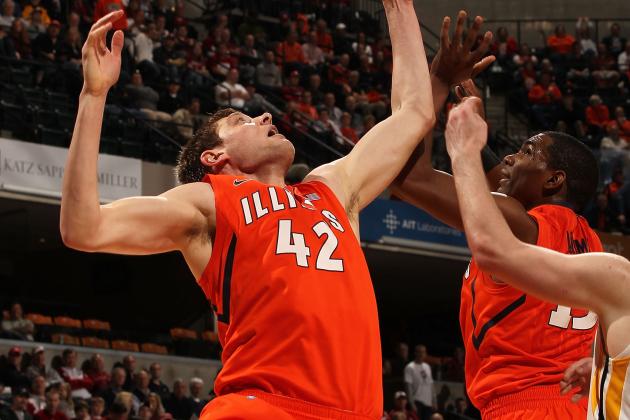 Jonathan Daniel/Getty Images
Leonard might be the best man left for the Clippers to draft.
The Clippers, despite their recent slippage in the standings, are loaded pretty much everywhere. Where they seem to lack consistency is at the 2 and in the middle, where Nick Young is not a long-term answer.
Chauncey Billups is old and injured, and DeAndre Jordan has seen his playing time and numbers fluctuate wildly.
Leonard, a seven-footer who's good around the rim, quick for someone his size and can both rebound and defend at a high level, might work best for the Clips.
He could be a bit a of a project, but again, it's not like the Clippers lack depth. He could come in, play 15 minutes a game off the bat, learn and be a big part of their future.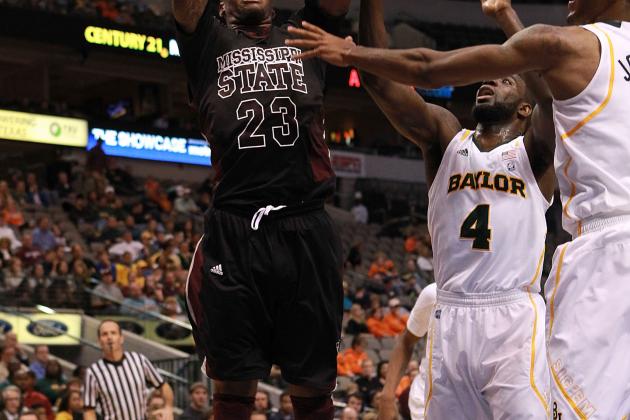 Ronald Martinez/Getty Images
Moultrie appears to be a reasonable facsimile of Howard.
Sure, Dwight Howard signed the paperwork to guarantee a return to the Magic Kingdom next year. But the Magic still could trade him. And if they do, they'll need to replace him. Enter Moultrie.
A big, stud athlete, Moultrie could step right in and score both inside and out, rebound and block shots.
While he won't make anyone forget Howard, the Magic—who will surely be picking late in the first round—should be looking for the most reasonable facsimile of D12 they can find, no matter where he winds up, and Moultrie fits the bill.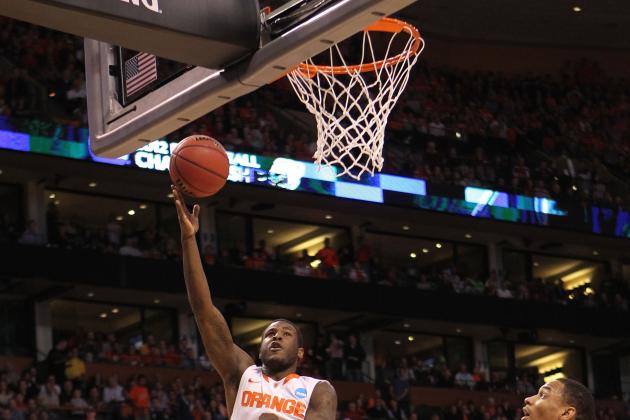 Jim Rogash/Getty Images
Waiters attacks and like Terry, scores.
This is likely Jason Terry's swan song in Big D, which means replacing him should be a priority for the Mavs. Waiters is like Terry version 2.0, a similarly sized scorer who can come off the bench and fill it up.
Waiters is an attacking guard, a slasher who never hesitates when he's going to the basket. Terry is more of a shooter, but has no trouble creating his own offense.
Neither does Waiters, who feels like the perfect replacement and, if you believe the Deron Williams-Dwight Howard-to-Dallas rumors, could also be the perfect complement.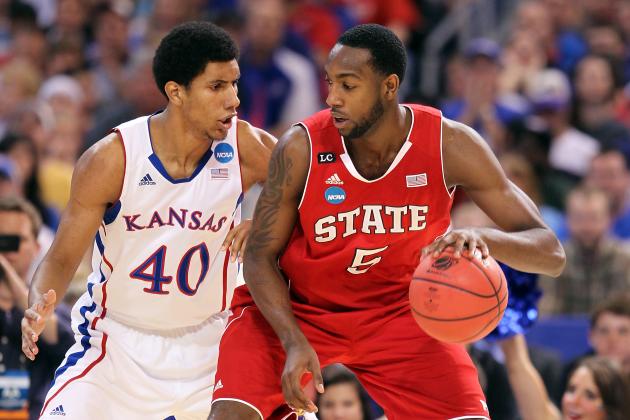 Andy Lyons/Getty Images
Leslie is raw, but he could wind up a more than adequate replacement for Duncan.
No one will ever be the next Tim Duncan, but it's about time the Spurs think about their power forward of the future, Maybe it's Tiago Splitter, enjoying a good second NBA season. Or maybe it's Leslie, a stud athlete with a truckload of talent.
Leslie is not a post presence, which is a problem at the 4. But, he has so much ability, it's hard to imagine him failing to learn.
He's super-quick for his size, can block shots and jump out of the gym. The skill on offense will come. San Antonio could get themselves a steal with Leslie.
Streeter Lecka/Getty Images
If he winds up with the Lakers, Plumlee won't need to worry about scoring.
The Lakers have been trying to move Pau Gasol for months, so if they do this offseason, they'll need someone to help replace his rebounding. Plumlee could be that guy.
There will be no pressure on Plumlee to score with Kobe Bryant, Andrew Bynum and Ramon Sessions around, and that should suit this Greg Stiemsma clone just fine.
He can be free to rebound, block some shots, be solid and enjoy sunny L.A.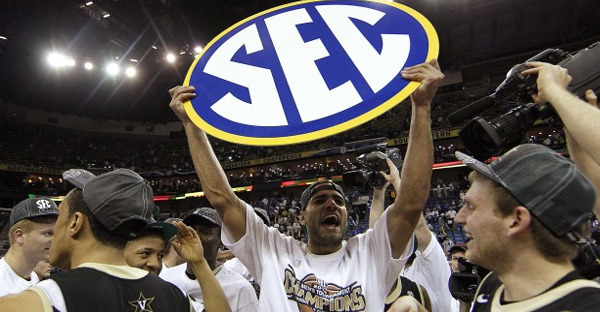 Taylor feels like a great fit for the Bulls.
A guy like Waiters or Ross would suit the Bulls better, since they already have Luol Deng manning the 3. But, if they decide to shake things up or don't mind having a tweener type play the 2, Taylor works here.
The Vandy senior is a freakishly good athlete who plays well above the rim, runs like a deer and defends. He's not the best shooter, but he seems to be improving in that regard.
Plus, at the 2, he could be a matchup nightmare for opponents on both ends.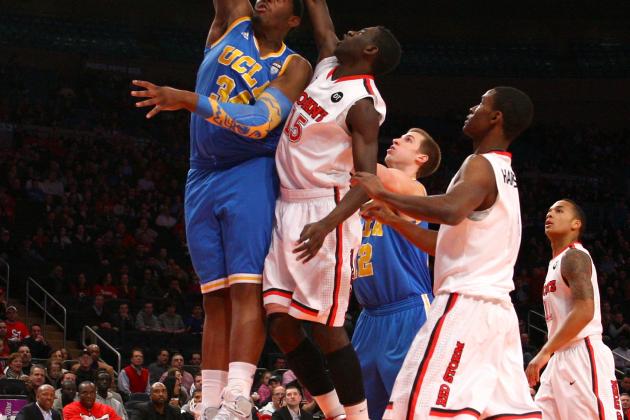 Chris Chambers/Getty Images
Smith is huge and can score down low, big needs for the Thunder.
The Thunder are mostly set on offense, thanks to Kevin Durant, Russell Westbrook and James Harden. But, what they lack is a presence on the block offensively. Neither Kendrick Perkins nor Serge Ibaka are exactly proficient, low-post scorers.
Smith is. He's been plagued by attitude and weight problems in college and looks a lot like he doesn't really care. But, he's big and can score, which makes him worth a gamble—particularly for a team on the doorstep like Oklahoma City.
Maybe being around consummate pros like Durant and Westbrook and a winner like Perk will motivate Smith. It's worth a shot at the end of the first round.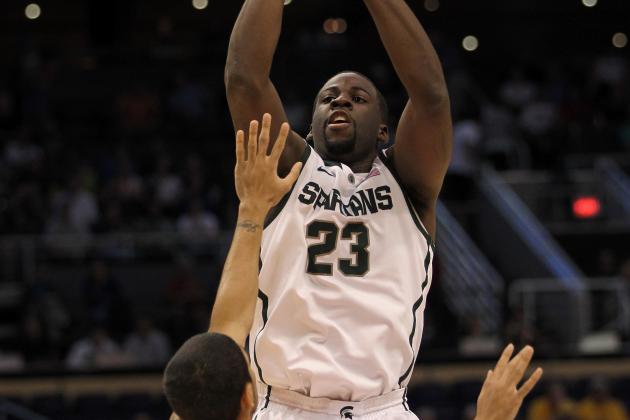 Jamie Squire/Getty Images
Green's intangibles make him a great fir for the Heat.
What do the Heat really need? It's hard to find depth, given how much they pay LeBron James, Dwyane Wade and Chris Bosh.
So draft some. It's cheaper.
Green, known throughout the college game as a great leader, spent four years playing under a great coach in Tom Izzo and has a reputation as being someone his teammates look up to.
Obviously, James, Wade and Bosh won't do that, but what Green could be for Miami is a glue guy, a role player who doesn't need to be anything more than that.
It helps that he can shoot, rebound well for his size (6'6") and is a great passer. And he'll surely be around late in the first round. This is as good a fit as any in this draft.