Fantasy Baseball Rankings 2012: Top Outfielders You Should Avoid
March 26, 2012
Koji Watanabe/Getty Images
There will always be those over-hyped players who go early in fantasy baseball drafts.
Then, when they don't lead to wins, owners wonder where it all went wrong.
One way you can gain an advantage over your competition is by weeding out the over-hyped and making sure you avoid them.
Here's a look at some top outfielders you should avoid (outfield rankings according to Yahoo! Sports).
3. Ichiro Suzuki, Seattle Mariners (28)
Yes, Ichiro hits for a high average. Yes, he steals bases. But he's 38 years old now, and his average has dropped considerably in the past two years.
After hitting .352 in 2009, Suzuki hit .315 in 2010. Then he hit .272 last season. Even when he hit .352 in 2009, Suzuki only scored 88 runs. He's on a poor team and his greatest value—batting average—isn't the same as it once was.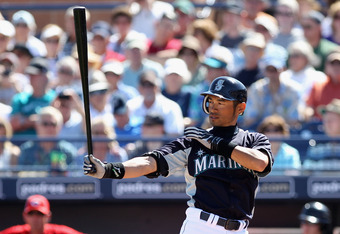 Christian Petersen/Getty Images
2. Drew Stubbs, Cincinnati Reds (25)

Drew Stubbs will get you runs, stolen bases and an average amount of home runs. But none of that makes up for his batting average.
Stubbs is a career .251 hitter and he hit .243 last season. Everyone always says, "If he only bumped up his average a bit, he'd be a great outfielder to have."
But, given his career averages, that's like saying, "If only Michael Bourn had Albert Pujols' power. Then he'd be the top pick."
I'm not a fan of players who can single-handedly lose categories for you.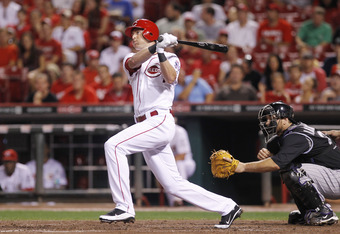 Joe Robbins/Getty Images
1. Adam Jones, Baltimore Orioles (24)

Adam Jones had a good season for the Orioles last season. He hit .280 with 25 home runs, 83 RBI and 68 runs.
But I'm still trying to figure out how that makes him the 24th-best outfielder in fantasy baseball.
Jones has put up similar numbers throughout his career, and the reality is, those aren't eye-popping numbers for a position that regularly proves to be productive.
If Jones continues to escalate and ramps up his home run and RBI numbers, perhaps he would be worth it. But I just don't see it happening. He hasn't considerably improved as a hitter in my opinion.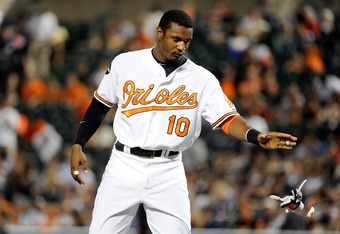 Greg Fiume/Getty Images
Follow me on Twitter. We can talk about overrated fantasy baseball players.