Boston Bruins: Brian Rolston Finding His Game as B's Head for Home Stretch
March 27, 2012
You don't have to look closely at the Stanley Cup to find Mark Recchi's name. It's on there three times. Likewise, you don't have to look closely at the 2010-2011 Boston Bruins Stanley Cup season to find Mark Recchi's fingerprints all over it.
Capping off his incredible 22-year career with a third Stanley Cup championship, Recchi called it quits for good, and left a hole in the Bruins lineup and locker room; one not so noticeable during the good times, but made alarmingly obvious in the past three months.
On Feb. 27, Bruins GM Peter Chiarelli acquired veteran winger Brian Rolston from the New York Islanders, in a move reminiscent of the trade that brought Recchi to town on deadline day in 2009. 
Along with the hopes that Rolston could provide some much-needed depth to an injury-riddled Bruins squad, many fans hoped to see the same leadership and veteran presence that Mark Recchi brought to the table. A presence that seemed to be sorely lacking as the Bruins remained in a multi-month downward spiral.
The 39-year-old Rolston spent the first half of the season on Long Island, wallowing in the quagmire that has become the New York Islanders franchise. With little to be excited about in terms of cup hopes, Rolston found no impetus to stay motivated, leading many to declare the winger's tank officially empty.
Now, Rolston finds himself dusting off his old No. 12 for a second stint in Boston, on a team with as good a shot as any in recent memory to repeat as Stanley Cup champions.
After a rough start—posting one assist and a minus-two rating in his first nine games—Rolston has seemingly found a home on Boston's third line, with Benoit Pouliot and Chris Kelly. Currently riding a six-game point streak, Rolston has exploded for 11 points in those six games, highlighted by a four-point performance in an 8-0 beatdown of the Toronto Maple Leafs last week.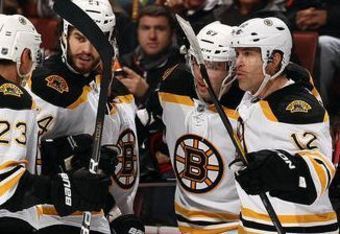 While Bruins fans with memories of "The Recching Ball" hoisting the cup last season may look to compare the two veterans, and the impact made by each, the exercise will likely be in futility. After all, comparing any player with a legend like Mark Recchi is a bit unfair.
Recchi's influence in the locker room on the young core, in particular Patrice Bergeron, is well documented. But Brian Rolston has plenty to add to this team without doing his best Mark Recchi impersonation.
With each game, Rolston appears more comfortable and in better game shape. Always a tremendous skater, Rolston remains one of the faster guys on the team, surpassing many of his younger counterparts. Not to mention, his booming shot has been showcased multiple times over his recent hot streak. A solid passer and welcome presence on the Bruins' inconsistent power play, Rolston has the ability to help his team on both ends of the ice.
No team understands the importance of balanced scoring like the Bruins, who can thank their offensive depth for getting them through three seven-game series to hoist Lord Stanley's Cup. Now, with a serious injury to Nathan Horton, and the departures of Mark Recchi and Michael Ryder, the Bruins will look to Rolston and the third line to contribute on the score sheet in similar fashion. 
If the last six games are any indication, they appear more than capable of doing so. Strong play by this line will allow Rich Peverley to skate on the top line in Horton's absence, giving the Bruins three balanced, responsible lines that can put the puck in the net.
With seven games remaining in the regular season, the Bruins have turned things around as of late. Winners of four of their last five, the B's have received strong goaltending from Tim Thomas (as well as Marty Turco in a 3-2 win Sunday night in Anaheim), and have returned to the strong team defense that has been their bread and butter under Claude Julien. 
Perhaps most noticeably, the Bruins have begun finding the back of the net, opting to score first in each of those four wins, as opposed to falling behind early, which had been the habit. Large thanks to Brian Rolston and his linemates are in order here.
Both Brian Rolston and the Boston Bruins appear primed to crawl out of their respective funk at the best possible time, and have already taken steps to do so. With healthy bodies returning to the lineup, the Bruins seem poised to enter the home stretch in firm grasp of the Northeast Division and the No. 2 seed overall. A hungry Rolston could pay huge dividends, and go a long way to keeping the Stanley Cup in Boston for another year.