Report: Cleveland Browns May Trade Down in NFL Draft, Have 5 Players in Mind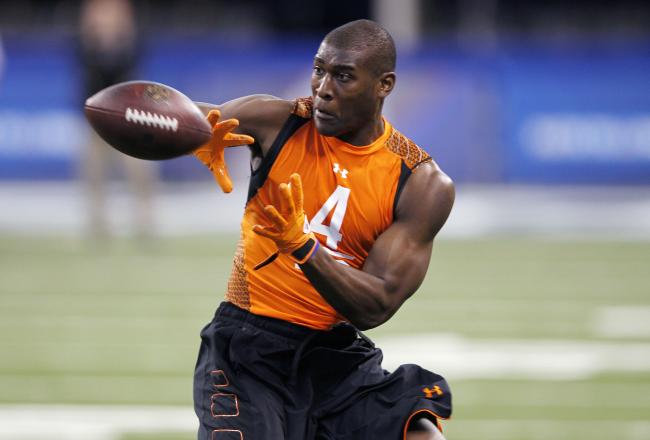 Browns GM Tom Heckert confirmed WR Justin Blackmon is one of five players the team is looking to draft this year.
Joe Robbins/Getty Images
The Cleveland Browns don't have one specific player they're looking to pick up with their first-round picks in this year's NFL draft, which has opened up the possibility of trading down from the No. 4 overall spot.
Browns general manager Tom Heckert spoke to Mary Kay Cabot of the Cleveland Plain Dealer today about their potential draft strategy, saying that there are five players they're looking at most closely to take with their first of two first-round picks.
He confirmed that two of the players who have drawn a high level of interest are LSU cornerback Morris Claiborne and Oklahoma State wide receiver Justin Blackmon.
Considering that the Browns are still in the market for one of the draft's highest-tier players, Heckert made it clear that if they do choose to trade down, they wouldn't go any lower than pick No. 8.
That means that the Tampa Bay Buccaneers, St. Louis Rams, Jacksonville Jaguars and Miami Dolphins are all potential trade partners.
If they agree to trade down and get one of those teams' second-round picks, that could mean a number of much-needed playmakers added to the roster, ones who could ultimately prove more valuable than standing pat with the fourth overall pick currently in their possession.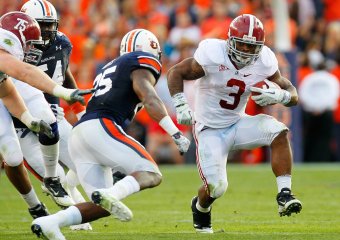 It's safe to assume that Alabama RB Trent Richardson is squarely in the Browns' draft radar
Kevin C. Cox/Getty Images
But who are the other three players the Browns have their eyes on? One could ostensibly assume that running back Trent Richardson is among the five, as he's been linked to the Browns for quite some time.
If they trade down with a team set on Richardson, perhaps Iowa right tackle Riley Reiff is one of Browns' five draft targets. They have an immediate need at starting right tackle, and Reiff is easily the best draft prospect at the position.
But the fifth player might not even be a player available in this year's draft: USC quarterback Matt Barkley.
Though the Browns' front office and coaching staff have reiterated a number of times since the start of free agency that Colt McCoy is the team's starting quarterback in 2012, another struggling season might force them to look elsewhere for a starter in 2013.
The Browns' troubles on offense cannot be solely pegged on McCoy, and scooping up an additional early-round pick this year would certainly be useful to both his chances to remain a starter and the Browns' chances to improve.
But having more than a passing shot to grab Barkley—already pegged to be the top quarterback in next year's draft—would be a solid backup plan if things go awry this season.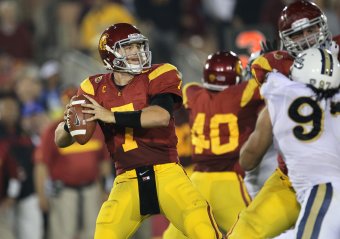 Could the Browns already be thinking about next year's draft and USC QB Matt Barkley?
Stephen Dunn/Getty Images
Of course, the Browns would have to make a few major assumptions if they were to trade their first-round pick this year for one valuable enough to draft Barkley in the next.
One is that their trade partner would end up having a poor enough season to end the year in the top five or six in draft order in 2013.
The other is that the Browns would ultimately be willing to trade two first-rounders next year to move up high enough to pick up Barkley. There's no guarantee the Browns will have a top-five or 10 pick in 2013 (and it's highly doubtful this is a scenario they're hoping for).
If not, then it would be as expensive to pick up Barkley in the 2013 draft as it was proven to be to move up to No. 2 overall in order to select Robert Griffin III this year.
So, while Barkley may be in the back of the Browns' mind, he's not among the five players they're concentrating on now. More likely is that they're thinking of another receiver—Notre Dame's Michael Floyd—as an option if Blackmon proves not to be the right fit.
Clearly, the Browns need to focus primarily on offense with their first three picks in this year's draft; Claiborne, as I see it, is the most outside of possibilities for Cleveland, with Richardson, Floyd and Blackmon having the highest odds to wear brown and orange this year.
The Browns are in a good position no matter what they decide to do. With five top-10 players catching the Browns' attention, it seems likely they'll be able to get their man and an extra pick if they so choose.
This article is
What is the duplicate article?
Why is this article offensive?
Where is this article plagiarized from?
Why is this article poorly edited?