Cleveland Browns: Report Card Grades for the Last 5 Drafts
March 26, 2012

Matt Sullivan/Getty Images
A look back through the Browns last five drafts is a trip into the wild... or at least the savage.
GM Phil Savage ran the show through 2008, then head coach Eric Mangini and GM George Kokinis took the reins for a year before they were handed to team president Mike Holmgren and GM Tom Heckert.
The muddled five year picture reflects the many cooks that have had a hand in the Browns draft kitchen, but Heckert/Holmgren has an extra first to work with this year to help continue to clean up the mess left by Savage and company.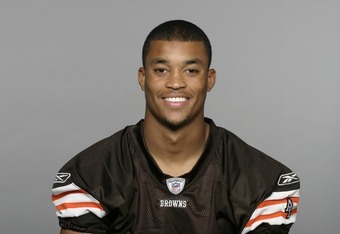 Handout/Getty Images
2007
No one can argue with taking OT Joe Thomas No. 3 overall, but giving up the 2008 first plus No. 36 for QB Brady Quinn will probably go down as the beginning of the end of the Savage era, even though the team's quality 2007 campaign diminished the value of the first rounder. 
Savage then gave up a third, fourth and bump in the sixth to move into the end of the second to get CB Eric Wright, who was a solid starter for four years before leaving in free agency.
They didn't pick again until the fifth round, and snagged CB Brandon McDonald, who was a big contributor in 2007 and 2008 before falling apart in 2009. The Browns picked up an extra seventh round pick trading down in the sixth, but none of the last three players they took made significant contributions.
Grade: C-
2008
Phil Savage must have thought the championship window was open, because in addition to dealing away the team's first-round pick to get Quinn, he dealt a second to get DT Corey Williams (more on that later) and CB Leigh Bodden plus their third to get DT Shaun Rogers.
Then, faced with the prospect of no picks in the first three rounds, Savage gave up the Browns fifth to move up in the fourth for LB Beau Bell (who ended up being a bust), and their 2009 third to get an additional fourth for TE Martin Rucker (who was also a bust).
Savage did make two moves in the sixth round that worked out, trading QB Charlie Frye for the sixth-round pick used to take DT Ahtyba Rubin (who is still starting for the Browns), and trading the team's natural pick for C Hank Fraley (who started 52 games for the team).
He then proceeded to trade the team's 2009 fifth for WR Paul Hubbard (who was a bust).
Seventh-round LB Alex Hall showed some promise before eventually being a throw-in in a later deal with Philadelphia.
Grade: D
2009
Savage was out, having pushed all-in to make the 2008 team a winner, and the Mangini/Kokinis regime's first move was to trade down not once, not twice, but three times in the first round, recouping a second (LB David Veikune who is now in the CFL), two sixths (CB Coye Francies and RB James Davis, who are no longer with the team), DE Kenyon Coleman, S Abram Elam and QB Brett Ratliff (all no longer with the team) in the process.
At least the player finally taken at No. 21, C Alex Mack, has turned into a mainstay starter on the offensive line.
The second round also brought a pair of wide receivers, Brian Robiskie (who is no longer with the team), and Mohamed Massaquoi (who has been disappointing, but starting by default).
The team traded Kellen Winslow to Tampa Bay, for the pick that turned into Massaquoi. The fourth round pick (the only one between the second and sixth because of Savage's 2008 trades) became LB Kaluka Maiava, who is still with the team, but is a marginal contributor. 
The team's natural sixth-rounder, CB Don Carey, is no longer with the team, and the seventh-round pick was traded for CB Travis Daniels, who lasted one year with the team.
Grade: D-
2010
Time to start over again with Holmgren/Heckert, and CB Joe Haden was a terrific first pick at No. 7. He is already one of the league's best.
Safety T.J. Ward was also an instant hit in the second round.
The Browns gave up two fifths (one of which was upgraded from a seventh in exchange for DT Corey Williams) to jump from the third to the second for RB Montario Hardesty, who has been hurt and underperformed, but they are counting on him to produce this year.
OLB Kamerion Wimbley was traded for a third that became QB Colt McCoy, a trade that will likely be defined by whether McCoy can ever become the stable starting QB for the team.
The new regime inherited an extra third and fifth from the Braylon Edwards deal the previous year (in addition to WR Chansi Stuckey and LB Jason Trusnik), and those picks became OG Shawn Lauvao (who is now a starter), and safety Larry Asante (who was stolen from the practice squad by the Tampa Bay Buccaneers).
On the flipside, the new regime dealt their fourth and fifth, plus Alex Hall for CB Sheldon Brown (who has been an adequate starter) and LB Chris Gocong (who has also made decent contributions as a full-time starter).
Sixth-round WR Carlton Mitchell is still in development, and seventh-round DE Clifton Geathers didn't last the year.
He was acquired with a pick that was gotten in exchange for DT Louis Leonard.
Grade: B-
2011
Another top-10 pick, and this time the team traded down again, getting an extra 2011 second and fourth, plus a 2012 first and fourth from Atlanta to move down from six to 27.
The Browns then surrendered a third-round pick to move up six spots to 21 to get their guy, DT Phil Taylor, who looks like a long-term starter already. 
With the pair of seconds, the Browns added DE Jabaal Sheard (who looks like another long-term starter) and WR Greg Little (who started, but disappointed as a rookie).
The fourth-round duo ended up being TE Jordan Cameron (a project who got on the field late last year) and FB Owen Marecic (who started a handful of games, but also suffered two concussions).
Fifth-round CB Buster Skrine could take on a larger role this year, as could OL Jason Pinkston, who was taken with the other fifth-round pick (that was acquired for the Browns sixth and another sixth, which they got in the Brady Quinn-for-Peyton Hillis deal).
They traded their seventh for QB Seneca Wallace, who has been a quality backup, and then picked up safety Eric Hagg with their compensatory seventh. He could get playing time this year.
Grade: B
What Have We Learned
Phil Savage went off the rails at the end of his stint as GM.
Eric Mangini and George Kokinis were in over their heads.
Mike Holmgren and Tom Heckert are wiser, but have already missed out on using their extra ammo to get a franchise QB in this year's draft, losing out to Washington in the RG3 sweepstakes.
The Browns are in arguably the toughest division in the league, so even if they can get a good return on their many picks, their work is cut out for them.