WWE: Will Randy Orton Replace the Lackluster Sheamus After WrestleMania 28?
March 26, 2012

Gallo Images/Getty Images
Randy Orton believes more people want to see his match with Kane than the Daniel Bryan vs. Sheamus heavyweight title match.
In a recent interview, he said exactly that.
When I initially received a couple of emails asking about this, I expected Randy Orton had said something outrageous or overambitious. The language he used, however, was more curious than anything else.
Randy Orton said, "I think there might be a little more people out there who want to see Kane-Orton as opposed Sheamus-Daniel Bryan."
A little more people.
It's like saying there are millions (and millions) of people waiting to see The Rock vs. John Cena and at least many thousands looking forward to CM Punk vs. Chris Jericho. But when it comes to Randy Orton vs. Kane and Daniel Bryan vs. Sheamus, while there may be five people looking forward to the heavyweight title match, at least eight are looking forward to Randy Orton and Kane.
While this may seem a harmless comment, when you look at the should-be expectations of the two matches, you realize Randy Orton said more than just a little bit with his little comment.
Randy Orton vs. Kane was an add-on match, probably to get Randy Orton onto the card. The fact that there is little to no talk of this match is expected, and any talk of it (such as right now) is a plus for Randy Orton. Whereas the match he compared his to is meant to be the headlining match for the blue brand.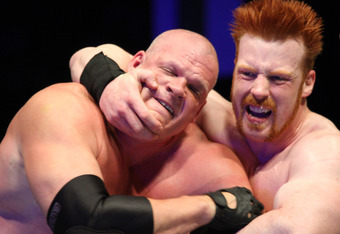 Gallo Images/Getty Images
It is the world heavyweight title match and it features the Royal Rumble winner.
But isn't that the problem? Isn't the problem Sheamus?
It's certainly not Daniel Bryan. Despite the lackluster program with Sheamus, Daniel Bryan continues to grow his appeal in his relationships with AJ Lee and his stance as the top heel on the SmackDown brand.
No matter what happens at WrestleMania 28, that role is safe for now.
It is the role of Sheamus at which I believe Randy Orton was taking a swipe. The Great White has done next to nothing with the Great Hype that comes with challenging for a world title at WrestleMania. Initially, I blamed the booking, but I have since found some of the promos by Sheamus (like the Catholic school girl comment to AJ) quite baffling.
The road to WrestleMania is winding down and Sheamus has still not made a real statement with the opportunity in front of him.
Do you think it would be this way if Randy Orton was facing Daniel Bryan? Do you think anyone would be discussing whether or not a Sheamus vs. Kane match could outshine Randy Orton vs. Daniel Bryan?
Absolutely not.
Randy Orton has often made his voice and feelings known when he is not happy. His character does well when coming back from the shadows. Add to that the recent release of a WWE Over the Limit poster that features Randy Orton.
Perhaps we should start asking if it's a matter of time before Randy Orton replaces Sheamus at the top of the SmackDown roster.
Do you see what Randy Orton is doing with a little bit? Do you see what Sheamus has failed to do with a lot?
In just a couple weeks, we may be looking at either a Sheamus vs. Randy Orton vs. Daniel Bryan match, or perhaps a Randy Orton vs. Daniel Bryan match, with Sheamus buried underneath.
If ever there was a moment that matters, it's WrestleMania 28 for the Great White Sheamus. He has to come out and deliver a performance that will endear fans to him like nothing he has done in the last two months.
After all, just because most people are not looking forward to the match, it doesn't mean many people won't look back on it. But that will only happen if Sheamus can make a statement at WrestleMania 28.
His presence as a challenger for the world title has to be at least as significant as the presence of Randy Orton in his match with Kane.
Randy Orton wants the matches compared to each other; that much is for sure.
WrestleMania 28 will mean a lot of things to a lot of people.
For Sheamus, however, it may be the night where he goes hard or goes away.