Boston Bruins: Why Joe Corvo Shouldn't Play During Stanley Cup Playoffs
March 27, 2012

Elsa/Getty Images
Boston Bruins defenseman Joe Corvo has been a healthy scratch for the last five games, starting last Saturday at home versus the Philadelphia Flyers, and the Bruins are 4-1 since.
Coincidence? I don't think so.
Corvo has not played well this season and hasn't upgraded the Bruins power play or their offensive production from the blue line.
As an offensive defenseman, Corvo was supposed to be an upgrade over Tomas Kaberle, who left in the offseason through free agency. The team's abysmal power play from last year's playoffs needed to be fixed, and Corvo was supposed to be the solution.
However, Corvo has not been the offensive star many people though he would be, and in his own zone he's been a constant defensive liability.
Corvo is not physical enough and he's not the playmaking defenseman he was with the Carolina Hurricanes last season.
Right now it's very hard to see Corvo returning to the Bruins lineup, even when the playoffs arrive on April 11. With Greg Zanon playing well and giving the team another physical player on defense, there is no need for Corvo.
Here is what I believe the defensive pairings should look like in Game 1 of the Eastern Conference Quarterfinal (first round):
| | | |
| --- | --- | --- |
| Players |   | Why This Pairing Works |
| Zdeno Chara | Dennis Seidenberg | Dominated playoffs last year, elite shutdown pair |
| Andrew Ference | Johnny Boychuk | Two physical D-men who can excel at both ends |
| Adam McQuaid | Greg Zanon | Two D-men who play physical without taking penalties |
While the Bruins would like to get a bit more offensive production from their blue line, it's not a necessity. In the playoffs, the Bruins will need to play very strong defense and get consistent performances from star goaltender Tim Thomas, just like last year.
Corvo's inability to be good enough defensively is a risk Claude Julien cannot afford to take. The Bruins need defenseman who can play on the penalty kill, be physical with opponents, be positioned well in their own zone and be smart about when to take risks.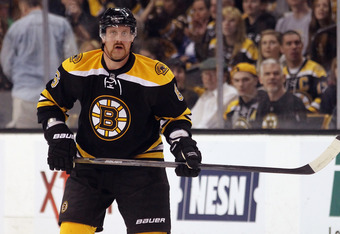 Bruce Bennett/Getty Images
Corvo cannot be relied on to do any of those things consistently right now. 
With his confidence likely low and his inability to play at the level of defense required on the Bruins, Julien cannot let Corvo regain his spot in the lineup come playoff time.
On a team like the Bruins that relies so heavily on its strong defense and physical style of hockey to win games, putting Corvo in the lineup during important games just makes no sense.
Nicholas Goss is a Boston Bruins Featured Columnist for Bleacher Report and was the organization's on-site reporter for the 2011 Stanley Cup Finals in Boston.