Tottenham Hotspur: 5 Keys to Getting '5 Wins'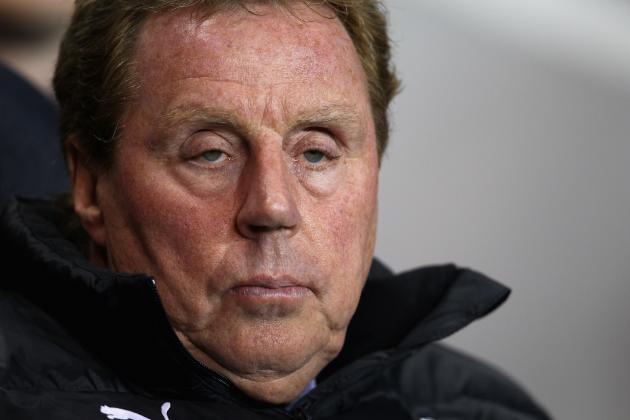 Julian Finney/Getty Images

Harry Redknapp has challenged his Tottenham squad to get five wins to seal a return to the glory nights of Europe.
Earlier this season, that would not have been a challenge so much as an expectation. Once upon a time, Tottenham went on a run of 11 games unbeaten (as Spurs fans were no doubt reminiscing during the past five weeks).
They were the side least battered during the brutal festive period, and they were the league's only hope to break Manchester's monopoly on the Top 2 positions. Most importantly, there was a 10-point gap between them and fourth.
Then came March.
After Arsenal's desperate comeback against—and subsequent obliteration of—Tottenham in the final game of February, Spurs went through the entirety of March without a win. The collapse saw Tottenham's once-assured position of third usurped by the red half of North London, and their chances of Champions League football seemed jeopardized.
Things did not look good.
But, after Sunday's (rather comfortable) win against Premier League overachievers Swansea, Tottenham ended their five-game, league-winless slump. Before that, they dismantled Bolton in the FA Cup. It is not yet time to declare a Tottenham comeback, but it is a welcome return to form for a team that has had its confidence shattered and mettle tested.
Elsewhere in the capital city, Arsenal lost to QPR in another example of a London derby's proclivity to defy every notion of logic, talent and table position, and they have the good fortune to follow that up with a meeting with a desperate (read: motivated) Manchester City.
So, all is not lost. Tottenham can reclaim third with positive results this weekend, and their remaining schedule is relatively easy—as long as the Tottenham players focus.
With Chelsea still vying for Champions League victory, it's plausible(ish) that only the Top 3 will be invited to Europe next season. If not, their hunt for fourth will be even stronger.
Five wins? Challenge accepted, Mr. Redknapp. Here's what needs to happen.
Begin Slideshow

»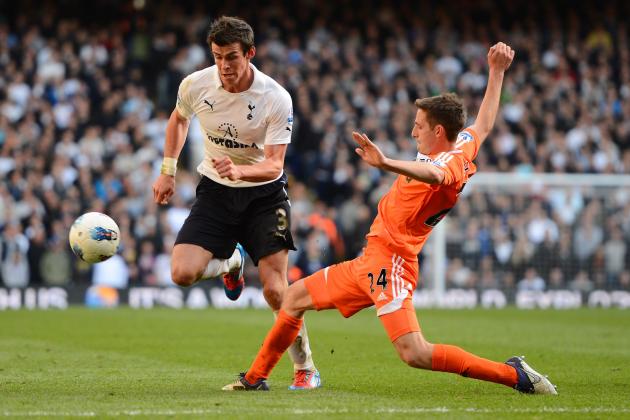 Mike Hewitt/Getty Images

Sunday saw Gareth Bale return to his high-flying best. No, he didn't score or provide any assists, but he did induce Freddy Krueger-style nightmares in Swansea's Angel Rangel for the weeks to come. Hopefully, it is a sign of Bale's return to his role as a left-winger.
I'm thrilled that Bale is enjoying his new role as any-position-on-the-pitch. During the festive period, especially, it worked wonders—Tottenham's win against Norwich was solely due to his free role and, when used properly, it is an excellent weapon.
But, Bale's marauding across Tottenham's formation has outlived its usefulness.
Tottenham are reliant upon width and fluid play, two things that come to a grinding halt when the midfield becomes congested. Luka Modric and Rafael van der Vaart need space to work their magic, and Bale wandering across the field stifles their ability to operate.
As the past weekend demonstrated, Bale is most dangerous when surging down the flank (though, admittedly, it helps when Swansea isolates a subpar full-back to mark him). Cuts inside should be kept to a minimum so as to maximize their effect.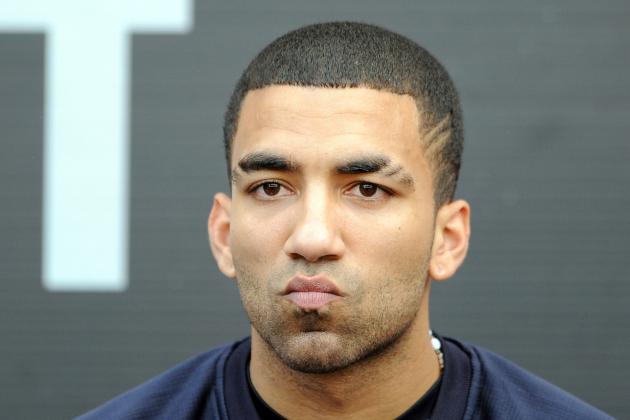 Chris Brunskill/Getty Images

The cross that provided Emmanuel Adebayor's second goal (Tottenham's third) was delivered on a silver platter, and I could not have been more excited to see it come from the foot of Aaron Lennon.
His overall play during his 20-minute cameo certainly showed signs of rust, but his speed immediately caused problems for Swansea's back line. When he's confident and fit, he's an absolute menace—just ask AC Milan's Luca Antonini.
Lennon provides natural balance to Tottenham's lethal midfield and takes the pressure of the entire right side of the offense off Kyle Walker's shoulders (since van der Vaart refuses to accept responsibility).
He's fast, he can defend when necessary and his final ball, when accurate, is killer.
A return to form for the diminutive speedster is a must for Tottenham.
No, this does not mean I think Lennon is the best player on the team, but that brings me to my next point...
Mike Hewitt/Getty Images

Fielding the best team is different than fielding the best players. Fielding the best team means fielding the best cohesive unit—which means assigning players to the correct position.
This was a major issue during Lennon's absence. Redknapp, for whatever reason, insisted on playing van der Vaart in the vacated right-wing position despite the fact that, time and again, the Dutchman has refused to occupy that role.
And he should not have to—Tottenham needs the link between the midfield and strike-force that van der Vaart provides.
Niko Kranjcar could have easily occupied the right, as he did earlier this season, but he has barely made an appearance in recent weeks. So yes, while van der Vaart is a better player than Niko Kranjcar, putting him in the wrong position negates his abilities.
The same goes for Modric, who would sometimes be forced to the left wing to allow for Bale's free role. Ask Juande Ramos how well Modric plays out of position.
And while I'm happy Sandro is getting playing time (because he fully deserves it), fielding him alongside Scott Parker is a bit redundant unless you really need to stifle a passing team (of which there are none on Tottenham's remaining schedule). Save Sandro for when Scott Parker picks up another yellow.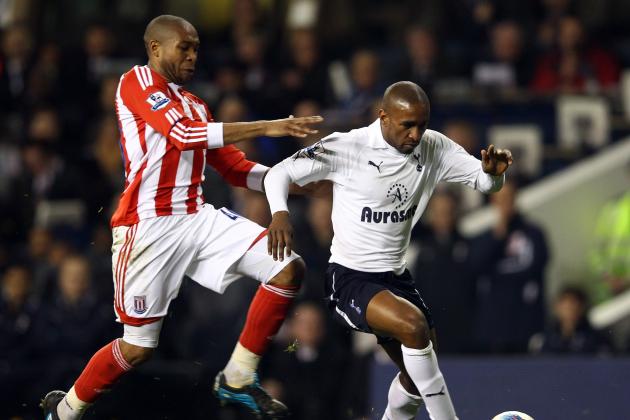 Julian Finney/Getty Images

The March slump was eerily reminiscent of last season's late collapse in that Tottenham simply forgot how to find the back of the net. Either that or they come up against a keeper in the game of his life (who is Adam Bogdan again?).
How many Spurs fans jumped up at the sight of Adebayor rounding Petr Cech in the 81st minute of the match against Chelsea, only to see the gangly striker scuff his shot and allow the otherwise underwhelming Gary Cahill to get a foot in to block?
You know who would have put that shot away?
Jermain Defoe.
He did it against Manchester City in an almost identical play. Against Stoke City, Tottenham managed 26 shots, seven of them on target. Plenty of shots are being taken—what Tottenham needs is a goal. Defoe has proved all season that he is the most clinical finisher on the team.
That's not to say he should jump straight into the starting XI. Instead, use Adebayor's constant movement for the first hour to run the opposing defense ragged, and then introduce Defoe for the final half hour to finish them off.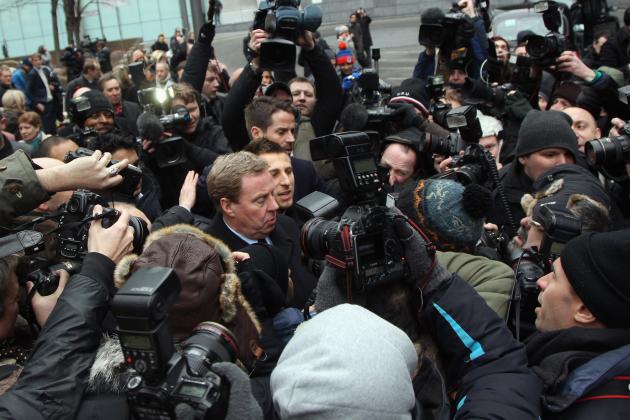 Dan Kitwood/Getty Images

More and more, it looks like Harry Redknapp will be leaving Tottenham's helm, but every so often he'll say something like this to give Spurs fans hope.
Stop that.
Make a decision, Redknapp.
Stay at Tottenham or take the England job—either way, put a stop to the rumors flying around the club. To say it is not distracting the players exhibits a severe misunderstanding of team dynamics. If it wasn't on their minds, why would the players be talking about it?
Oh, and there's the small matter of Modric refusing to sign a new contract until the managerial situation is cleared up.
Obviously, relinquishing his pursuit of the England position and declaring his loyalty to Tottenham would be most conducive to getting those five wins. The morale boost it would provide would be significantly stronger than the one brought on by Redknapp's February acquittal.
But, if he does announce his decision to leave for the national team, it's his call, and I wish him the best. The very least he can do, however, is tell his team so they can give him a proper send-off.