NFL Drops Hammer on Saints: Could This Be the End for Drew Brees in New Orleans?
March 26, 2012

Thearon W. Henderson/Getty Images
If there ever was a NFL franchise and a city in need of a savior it was New Orleans in early 2006. Six years later the New Orleans Saints are hoping Drew Brees can work his magic once again to repair a tarnished team reputation.
There are many Saints players and staff who helped aid in the "rebuild" of New Orleans but none more prevalent than Brees and Head Coach Sean Payton.  Payton is now suspended for the season after news broke that he had knowledge about a program that paid his defensive players bonus money for injuring others.
With Payton, The Saints are real contenders every year as long as Brees is under center. Without Payton, it's hard to see the offense being as effective. Peyton is just as vital to the success of New Orleans as Brees, and with news coming that numerous defensive players might face suspensions too, the 2012 season is starting off ominously in the big easy.
So, now it's up to Brees to use his good name to help place the Saints back on the nice list.
The question is:  Does he want to?
It's no secret that Brees and the Saints are far apart on a long term contract and word is that he is upset about being stuck with the one year franchise tag. It has also been rumored that he will not sign his franchise tender, resulting in a holdout.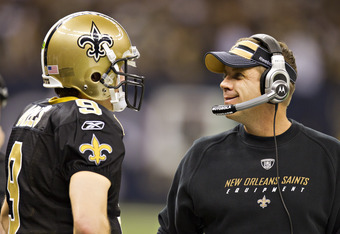 Wesley Hitt/Getty Images
While rarely the classy way to go, a holdout just might be Brees' best move. It may not result in a trade or a ticket out of the mess created in the New Orleans, but it could become a way for him to distance himself from the scandal and provide leverage for contract negotiations.
If there ever was an athlete who was worth more to a franchise than Brees, I would like to see him. Not even including his work in the community and importance in the resurgence of the city,  here is what Brees has done for New Orleans.
Wins? Check.
Ticket Sales? Check.
Plays Premium position? Check.
Championship? Check.
Now, with the new uncertainty surrounding this franchise, it might be time for Saints General Manager Mickey Loomis to pull out a blank check and fork it over to the former Super Bowl MVP.